Gear Review: Segway Ninebot E45 Electric Scooter
Fun and Easy to Ride, These Scooters will Change the Way You Camp
Camping is a great way to get out of your daily routine and enjoy new adventures outdoors. Once you get to your destination and finish setting up your campsite, what's next? Anytime we get to a new place, the first thing we do is explore the campground. One of the most common ways to explore that setting is to walk around and get acquainted with everything it has to offer. Nowadays, there are more options for exploring, and one of our favorite ways to do so is with our Segway Ninebot E45 electric scooters.
We still love the exercise walking provides, but ever since getting our Segway Ninebot scooters, we've had a blast zipping around on wheels. Thanks to the compact nature, powerful motors, batteries, and affordability, it's been a tremendous tool to help us explore more. The Ninebot E45 is a perfect camper companion for all your RV adventures. Read on to find out why.
Segway Ninebot E45
Segway is an innovative brand that has been around for quite some time. Best known for its original PT model, the company—which Ninebot now owns—has branched out by creating everything from single-wheel devices to go-karts. They've also used their innovations to bring a line of electric scooters to market. We both grew up riding kick scooters as children, and these electric scooters help us relive our childhood whenever we go for a ride.
The Perfect Size
Unlike the scooters of our youth, the Segway Ninebot models are designed to accommodate our adult size. Although larger, they're still easy to carry and transport. The Ninebot scooters have a quick-folding feature that enables us to fold or unfold them in seconds. When folded, we easily fit both scooters side-by-side inside a compartment in our RV.
Once we're settled at a campground and decide to head to town, we put them in the back seat or trunk of our car, eliminating the need for a bike rack. We've found that they're much more convenient to transport than our electric bikes. Especially since the scooters only weigh about 36 pounds, which is half that of our e-bikes. They're easy to stow away for transport when folded up, which is a big win while RVing.
Design
By now, you know that a reputable brand makes this scooter and that it's the perfect size for RV life. So what else makes this scooter a great option? A lot of it has to do with the well-thought-out design. Let's start from the top.
Handlebars
The Ninebot is easy to ride and has nice, wide handlebars with rubber grips. They have a thumb throttle on the right side that controls your speed and a thumb brake and bell on the left side. Unlike riding a bike, there is no gear shifting required.
The LCD display is mounted directly in the center of the handlebars for easy viewing. This screen displays your speed and battery level. It also allows you to control your headlights and change riding modes at the touch of a button.
Riding Modes
Speaking of riding modes, the E45 has three different options to choose from. Each is great for different reasons.
Energy Saving Mode: The first mode is "energy saving mode," also known as "limited mode." This mode helps conserve your battery so you can ride longer. You can even set parameters on the speed limit between 4-9 mph using the Segway Ninebot App. This is perfect for anyone wanting to take it slow or set speed limits for younger riders who want to take your scooter for a spin.
Normal Mode: The second mode is "normal mode" or "standard mode." We most frequently use this option as it provides adequate power yet still conserves battery life. We've found that its 8-10 mph cruising speed works well for us.
Sports Mode: The third mode is "sports mode," which provides stronger acceleration and a higher top speed. This is a fun option, but it does drain the battery faster. Stick to normal mode if you want to conserve battery and ride longer distances.
Deck and Tires
We were impressed the first time we stepped onto the deck platform of the scooter. It's a sturdy rubber base with a lot of grip. We like the rubberized surface compared to the sandy skateboard-style platform some scooters use. We haven't experienced any slips or issues keeping our feet firmly planted on the scooter and found that the board's width is a perfect size.
The tires of the Ninebot E45 are 9 inches in diameter, which are perfect for cruising over small clutter on the road and even rougher surfaces. The scooter comes with a front suspension to complement the larger tires and help smooth out the ride. The wheels are rated for ~3,100 miles, so there's no stress about replacing them anytime soon.
With oversized tires and a front suspension, riding on hard surfaces like asphalt and concrete is a super smooth ride. We've even taken them on hard dirt trails, grass, and roads with seashell gravel. The ride wasn't quite as smooth as on asphalt, but the scooter handled the different terrains surprisingly well.
The tires are dual-density and don't require air or maintenance, eliminating the potential of a flat tire. We've had plenty of flats on our e-bikes, so knowing that we can ride worry-free is a significant advantage in our book.
Ride Day or Night
We are very impressed with the various lights found on these scooters. They are bright and easy to see, making the scooter perfect for riding day or night.
Headlight
The front headlight is 2.5 watts and shines up to 44 feet. The front lights are so bright that they put all of the lights we've used on our bikes to shame.
Brake Light
The E45 has a bright tail light that illuminates when braking. There's even a selectable option in the Segway Ninebot App that causes your brakelight to flash when you brake. We keep this option turned on for added safety. Knowing that our brakelight draws a bit of extra attention from those behind us when we're stopping helps us to feel extra safe.
Under Glow
The atmospheric under glow lighting is another super-cool feature that we love about these scooters. The app allows you to choose different color combinations and light effects to display while riding. The lights under the scooter look stellar, but they also increase visibility at night.
Thanks to all the built-in lights, these scooters are a blast to take out on evening campground rides.
Power
The first time riding our scooters, we couldn't believe how much power they had. After kicking off and engaging the throttle, you easily cruise along at your desired speed thanks to the 300-watt motor. The scooters have a max speed of 18.6 mph and a max distance of 27 miles on a charge.
On our first ride, Lindsay got exactly 27 miles, and I was able to go 19 miles. I also weigh almost 100 pounds more than Lindsay, but needless to say; I'm still impressed with how far I was able to travel. The type of terrain, rider size, and riding style all impact the range of the scooter. You'll burn through the battery quicker if you zip around at full throttle. On the other hand, you'll achieve longer ranges if you're a little more conservative with the gas.
Battery and Charging
Part of the reason the E45 has such an impressive range is because it has two batteries. The first battery is built into the scooter's body, and the second battery is mounted on the handlebar post. We wish the batteries were detachable like those found on our e-bikes, as that would allow us to take the batteries inside for charging rather than plugging directly into the scooter. It's not a significant issue, but it definitely would be more convenient to be able to pop the battery off for charging. For the record, most other scooters do not have detachable batteries either.
Each scooter comes with a battery charger. To charge, you plug the charger into a port covered by a rubber seal. Charging is quick, requiring just a few hours to complete.
Triple Braking System
When traveling at max speed, it's good to know that you can stop quickly. We were hesitant and cautious when using the brakes at first but quickly realized that stopping is no problem on the Ninebot.
The E45 boasts safe stopping thanks to its triple braking system, which uses both the front electric motor and rear electro-mechanical brakes to slow down and stop. It also has a third brake found on the back fender that is applied by pressing down on it with your foot.
The handlebar thumb brake has more than enough stopping power, but we use the fender foot brake on steep hills or when we need to come to a sudden stop. The triple braking system has been very effective for us, and we're glad there are no disc or drum brakes to maintain like on other scooters. As with the dual-density tires, the less work for us means more time spent riding, exploring, and having fun.
Segway Ninebot App
When we got the Ninebot scooters, we downloaded the free Segway Ninebot App from the App Store and made an account. The app activates the scooter and customizes its settings. Some of the things that you can change using the app include adjusting power recovery, turning cruise control on and off, and changing the lights.
Power Recovery
Power recovery is customizable and controls how the scooter's regenerative braking system works. A higher setting means the Ninebot slows down quickly and doesn't coast as far when you let off the throttle. The benefit of this is that the kinetic energy created by the scooter as it slows down feeds back into the battery to help maintain a charge and extend the range.
Cruise Control
Cruise control is one of our favorite features and can be turned on or off. After turning it on, you can enter cruise control by holding the throttle at the same speed for a few seconds while riding. After maintaining a steady pace, an audible beep sounds. This indicates that cruise control is activated, and you can take your thumb off the throttle. The scooter will continue to roll along at that speed until cruise control is disengaged by tapping the brake or throttle.
Lighting Effects
The app also allows you to adjust the settings for the E45's lights. For instance, you can turn on the brakelight's flicker mode and activate the scooter's under glow option. Once turned on, you can further customize the settings by choosing your favorite colors and effects. The under glow lights are a lot of fun to play around with and give Ninebot owners the ability to express their personality and creativity.
Key Info
The app also displays essential information, including your scooter's estimated range based on current battery life, percentage of remaining battery, and your scooter's lifetime odometer. You're even able to record your rides on the app, which shows you a GPS map of where you went and the distance, time, and max speed throughout the ride.
Perfect for RVing
We've had a lot of experience traveling with e-bikes and love having them. But compared to an electric scooter, they're a lot heavier and a little more challenging to transport. The compactness and ease of taking these scooters RVing has been a huge improvement to our trips. It's so much easier having the scooters with us because it eliminates the hassle of needing a bike rack. We love that these scooters fit in so many places allowing us to carry them almost anywhere.
We picked up our Ninebots right before embarking on a camping trip and found they were quick and easy to set up. They went from box to charging in a matter of minutes. Once charged, we connected to the scooters through the Segway Ninebot App to complete the activation and registration process. After just a few steps, we were out smiling ear to ear, enjoying our new rides.
Scooters have become increasingly popular, especially in cities. Instead of spending money on scooter rentals, we love being able to use our own. We take these scooters just about anywhere, and they provide a lot of fun for us. If you're looking into options to help you cover more ground, either at campgrounds or around town, we highly recommend the Segway Ninebot E45 kick scooters.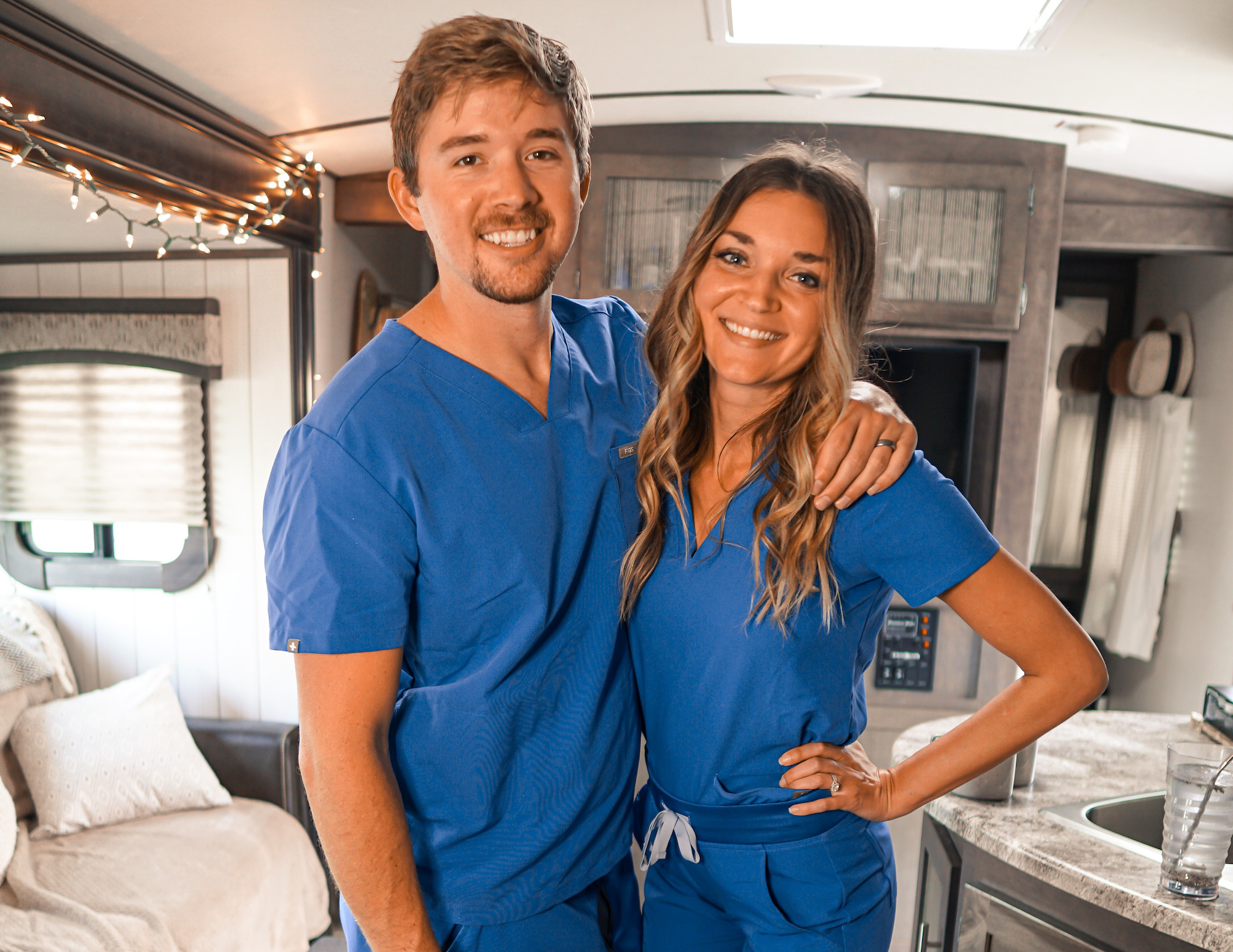 Chase & Lindsay of We're Out N' About
We're Lindsay + Chase from We're Out N' About on social media. We're married traveling nurses who live full-time in our RV with our cat, Moka! We've been traveling the country in our home on wheels for over 3 years, moving city to city every 3-6 months for work. When we're not working, you can find us road-tripping around the US or traveling internationally!