Gear Review: EcoFlow Delta River
This Portable Power Station Rivals Gas Powered Counterparts
Is the EcoFlow DELTA RVer Approved?
We absolutely love to camp off-grid in nature, but we still need to stay powered. Over the years, we've tried out several different portable power stations and this time we're testing out the EcoFlow DELTA. Read on to see if the EF DELTA earns our approval to power our adventures.
The EcoFlow DELTA is a portable power station that allows us, Chase and Lindsay of We're Out N' About, to take power with us on the go. Using portable power stations keeps our devices charged and helps run some of our essential appliances, which makes camping off-grid less challenging and keeps us exploring longer.
We recently boondocked with our family in Sedona and lent our EF DELTA to them so they could avoid running their gas generator. They used the DELTA to run a CPAP with the heater on for eight hours during the night, and we were still able to charge two iPhones and two Apple watches, and brew three 12 cup pots of coffee (leaving the warmer on in between pots). This used up the entire battery bank, but there's nothing like brewing coffee and watching the sunrise over the Sedona red rocks.
Compact Size
Not only is this a desirable gadget for RVing and boondocking, but it's also perfect for beach days, tailgating, picnics, and any occasion that you may need to stay powered when away from home. The EcoFlow DELTA only weighs 31 pounds and measures 15.7 x 8.3 x 10.6 inches. The compact size + lightweight makes it easy to transport and store in your RV or vehicle. The DELTA even has built-in handles making for easy carrying and comes with a protective cover for safe storage.
Packing a lot of Power
Don't let the small size of the DELTA (comparable to the size of a 12 can cooler) fool you — it packs a powerful punch! The EF DELTA is capable of providing 1800 continuous watts of pure sine wave power. This means that any appliance that operates at 1800 watts or less can successfully be powered by this portable power station and since it produces pure sine wave power, it is suitable for powering even the most sensitive electronics such as laptops and TVs. The EcoFlow DELTA even boasts that it can handle a power surge of up to 3300 watts! This is proof that powerful things can come in small packages.
Diverse Device Ports
Another thing we love about the EF DELTA is that it has multiple power port options:
6 AC outputs
2 USB-A outputs
2 USB-A fast charge outputs
2 USB-C outputs
1 DC 12V car output
The DELTA really stands out with its 13 plug options as you have the ability to power several different electronics at the same time.
Charging the EF Delta
The EF Delta comes with three charging options: AC wall outlet, 12V car plug, and solar. We love that it has multiple charging options because it's easier to stay charged when you're on the go.
X-STREAM Fast Charge
A feature that really sets this product apart from other portable power stations is how fast it can charge. EcoFlow claims that their DELTA charges from 0-80% in under an hour, which is accurate based on our personal experience. We've charged our EF Delta from 0% to 100% in just 90 minutes using the AC outlet X-STREAM charge feature.
Solar Supplied
For those who love to boondock, the solar charging option is a huge benefit. The DELTA comes with a solar-capable charging cable — all you need are the panels! The brand claims that you can fully charge your DELTA in approximately four hours. Keep in mind that charging times vary with solar based on the size of your solar panels and the amount of available sunlight. Make sure to follow EcoFlow's recommendations on using solar energy.
Charge while Cruising
If you're interested in the EcoFlow DELTA, odds are you're a fan of adventure and road trips. While you're roadtripping, you can keep your portable power station topped off by using the provided 12V car charging outlet. While it's not as fast as the AC X-STREAM charging option, it's a great way to recharge your DELTA's power bank while on the go.
Data Center
The EcoFlow DELTA really impressed us with its large, easy-to-read data center. The information presented is clear and helps you stay in control of your power bank.
When you turn your DELTA on, a large illuminated screen appears that provides you with all of the information you need to know to help you track your power. The data screen includes the DELTA's battery percentage, input watts (for charging), output watts (when powering devices), and hours of run time at current power load.
We love that the DELTA helps predict how much run time we have remaining rather than us having to keep a close eye on the battery percentage. Having access to this key information helps us stay mindful of our power usage and allows us to plan ahead.
Is the DELTA RVer approved?
We are extremely pleased with the EcoFlow DELTA and we would definitely recommend this product for RVers and for those that need power on the go.
We love the portability + compactness of this powerful power bank. The size allows us to take it anywhere — even to a brewery to recharge.
This leads us to our favorite feature: the AC outlet X-STREAM fast charge. We've used many portable power stations and have never been able to recharge so fast. In the amount of time it took us to enjoy dinner and drinks at a brewery, we were able to fully charge our DELTA for the night of boondocking that we had ahead of us.
We love having 13 ports with five different plug options to power our devices as well as having three different ways to recharge our EF DELTA. Not to mention the 1800 watts of continuous power that the DELTA provides — making it one of the most powerful portable power stations on the market.
Our final favorite feature is the data center that helps us track our power usage and plan ahead. When you're on the go, it's nice to know how much power you have remaining so you can make changes as needed and you don't lose power by surprise.
When comparing the EcoFlow DELTA to fuel-powered generators, it's quiet, ultimately cheaper as it's a one-time cost and you're not constantly paying for propane or gas to operate it, and it's overall more environment friendly. After using our EcoFlow DELTA for the past several weeks, we can highly recommend the DELTA to anyone who needs to stay powered at all times!
Buy the EcoFlow DELTA Power Station at Camping World or Electric World.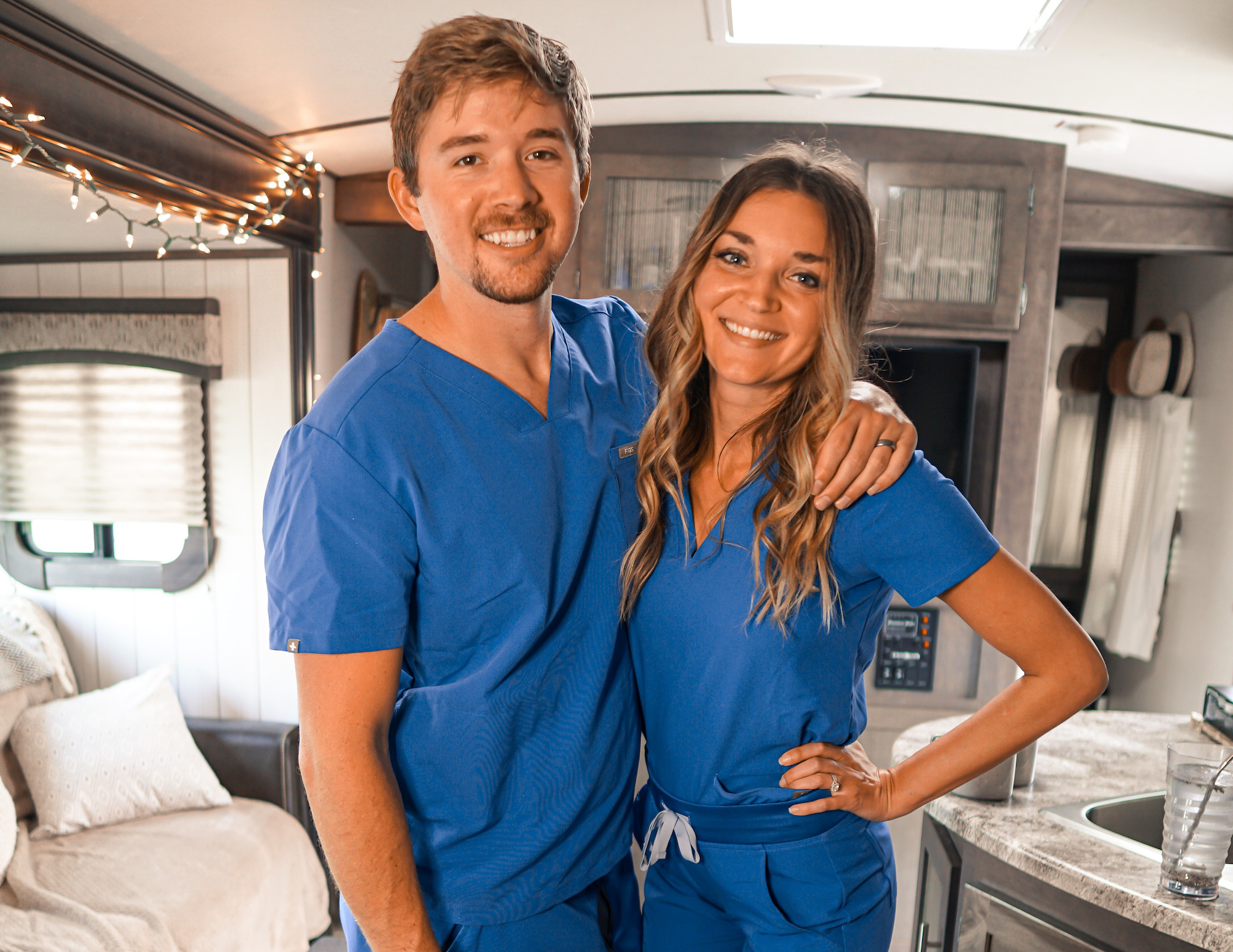 Chase & Lindsay of We're Out N' About
We're Lindsay + Chase from We're Out N' About on social media. We're married traveling nurses who live full-time in our RV with our cat, Moka! We've been traveling the country in our home on wheels for over 3 years, moving city to city every 3-6 months for work. When we're not working, you can find us road-tripping around the US or traveling internationally!