Hughes Autoformers Power Watchdog Bluetooth Portable Surge Protector Review
Protecting your RV with the Power Watchdog + EPO
One of the most important purchases you can make to protect your RV is a surge protector. Think about it! You just made a major investment by purchasing an awesome new RV, so wouldn't you want to make sure you are protecting your vehicles's electrical system from common hazards you may encounter at the campgrounds?
The Power Watchdog from Hughes Autoformers was the first accessory we purchased for our RV. It has been such a great asset for protecting and monitoring our RV electrical system, so we upgraded it to the latest model: The Power Watchdog Smart Surge Protector + Emergency Power Off.
Hughe's Autoformers has been engineering products here in the USA for twenty years. They provide options for voltage boosters, surge protectors, and other accessories for RV power protection and monitoring. We have had over three years of experience with their first Power Watchdog model and loved it so much that we upgraded.
The original Watchdog is still available and a great option for surge protection for your RV. However, the new and improved model includes a very important feature called "Emergency Power Off." More on that later, but first let's talk about the electrical dangers to watch out for and why we love the Power Watchdog for keeping our RV protected.
The Need for a Surge Protector
When we first got into RVing, we found that there is endless research to be done. When we heard RVs should have a surge protector for safety reasons, we immediately thought of the common household surge protector that you plug computers and TVs into. But that is not the type of surge protector to use to protect your RV.
RV surge protectors are specifically designed for RV power. You can find them for both 30 amp and 50 amp RVs. Using a surge protector helps your RV withstand the elements your unit endures while plugged into the power podium in a campground. The dangers your RV may face include voltages that are too low or too high, power surges, and high amperage.
Low Voltage
Low voltage occurs in older campgrounds or at locations that are enduring a high demand of power usage from their visitors. One example of high power usage occurs in summertime when everyone is running their air conditioners at the hottest time of the day. When the campground's electrical grid has such a high demand for power, the voltage drops. This is sometimes common in older campgrounds because RVs didn't use as much electricity in the past compared to today's high-tech, larger RV designs.
Ideal voltage is between 110-120, but it can vary from 105 volts on the low side up to 130 on the high side. Any voltage outside of those ranges may damage your electrical equipment. It can also cause premature failure of appliances leading to costly repairs. The Power Watchdog + EPO provides low and high voltage protection.
High Voltage
High voltage isn't as common as low voltage but is still a danger. Too high of voltage can also damage your electronics and appliances leading to failure and costly repairs. This can be caused by a malfunctioning power podium in RV parks and may cause high voltage surges with high power appliance usage such as the microwave or the initial start-up of your air conditioner. The most severe form of high voltage is caused by power surges.
Power Surge
Power surges are a huge danger to RVs and can quickly fry your RV's electrical system and appliances. Power surges can occur in lightning storms or due to a malfunction within the power grid. This surge in high voltage can cause damage and possibly fires. The Power Watchdog + EPO helps to protect your RV from all types of power surges by continuously monitoring your electrical hook-ups.
High Amperage
High amperage occurs when your RV draws more amperage than what it is rated for. For example, a 30 amp RV has electrical wiring rated to handle 30 amps. Pushing the RV power usage above 30 amps will lead to a tripped breaker either at the power podium or on your RV's main fuse box. Sometimes breakers fail, which prevents them from tripping. This can cause your RV electrical system to fry and can cause a fire.
High amperage can also occur with a 50 amp RV when the vehicle draws greater than 50 amps from the power podium. But the newest model of the Power Watchdog has a built-in Emergency Power Off feature that detects when this is happening and automatically shuts down, preventing damage to your motorhome in the process.
Emergency Power Off
The Emergency Power Off (EPO) feature of the Power Watchdog provides surge protection of 2400 joules for the 30 amp model and 4800 joules for the 50 amp model. EPO automatically shuts off power to the RV in the event the Watchdog identifies a hazard such as low voltage, high voltage, power surges, or high amperage.
The initial Watchdog didn't have EPO capabilities and could only notify users of a hazard via push notifications from a phone app. The new model still sends an alert via the app, but now it also protects our RV by automatically utilizing emergency power off when unsafe conditions are detected.
After the EPO feature is used, the Power Watchdog actually monitors the hazard and once the hazard resolves, the Power Watchdog waits 90 seconds before safely turning the power back on to the RV. This new safety feature protects your RV from events that have the potential to damage your electrical system or appliances, or could cause a fire.
Replaceable Surge Module
There are multiple surge protectors on the market that can protect an RV from electrical surges, but the Power Watchdog is the first advanced smart surge protector with emergency power off and a replaceable surge module. If the surge module gets fried during a surge, you can actually replace the module rather than buying a whole new surge protector. Hughes Autoformers also states that they will replace one free surge module within the first two years of ownership.
Luckily, we haven't endured any power surges and haven't had to replace our surge module. Having the two year warranty gives us a sense of relief that if we do endure a power surge, we can easily get the module replaced rather than having to buy a brand new surge protector. Also, if the surge module unfortunately gets destroyed during a power surge such as a lightning storm, the Power Watchdog will still work. It continues to provides power, stays connected to the app, and utilizes the EPO functions for the RV; it just won't provide surge protection until that surge module is replaced.
Bluetooth Connectivity
One of the features that really drew us to purchasing the Power Watchdog was the Bluetooth connectivity with our phones via the app. We absolutely love products that can connect to our phones and provide extra monitoring and control. Below we will go over the benefits of having a surge protector that connects directly to an app.
Phone App
The app for the Power Watchdog is available for free on the Apple App Store and Google Play Store. We find that it is really easy to set-up the app and connect it to the Power Watchdog. Continue reading to learn about all of the cool app functions.
Set-Up
Hughes made the process of connecting your surge protector to the app extremely easy. To start the process, you'll want to ensure that your phone's bluetooth is turned on. Next, you simply open the app and select "add device." The camera automatically turns on allowing you to scan the QR code on the outside of the Power Watchdog. The app then connects directly to the Watchdog.
From there, the app will walk you through the set-up process. This only needs to be completed on your initial configuration of the device. Once connected, it immediately provides feedback on your kilowatt usage, voltage, and the amount of amps and watts you are using.
Name Your Device
The app also allows users to give the Power Watchdog a name, which helps if you are using multiple units. For instance, we use one with our travel trailer and one with our truck camper. Having a name also helps you keep track of your own device rather than accidentally connecting with another RVers surge protector.
Discover your Appliance Usage
Because we own a 30 amp RV, we actually utilize the Power Watchdog to figure out how many amps our appliances and electrical devices use while camping. Instead of constantly tripping the breaker in our vehicle, we are able to watch our Power Watchdog app as we use each appliance. This let us see how many amps are being drawn by each individual appliance and takes the guessing out of the equation.
Initially, we actually wrote down how many amps each appliance used. This allowed us to quickly learn which ones we could use at the same time without tripping any breakers. It is also possible to do this through trial and error without using the app, but seeing the exact amperage usage saved time and frustration. We love that the Power Watchdog provides this information. It's also a good assurance for us that if we accidentally go over our amperage rating, the Power Watchdog + EPO will protect us by utilizing the emergency power off function.
Hazard Notifications
While connected to the app, you will get alerts if any hazards arise. If a hazard does occur, the app sends a notification indicating exactly what issues your surge protector encountered and what may have caused it.
On and Off
The app gives users the ability to turn the power to the surge protector off and on as needed. This allows you to activate or deactivate the Power Watchdog remotely or restart it without leaving the comfort of your RV.
Reconnecting
If we are away from the RV for some time and lose connection, we have found that our phone app and Power Watchdog do a great job of reconnecting automatically when we return to the campsite. When you lose the Bluetooth connection to the Power Watchdog, you get a notification on the phone indicating that you disconnected from the surge protector. This doesn't mean you've lost protection, it just means you won't get alerts on our phone or be able to view the power usage on the app. However, once you are back in range of the Watchdog's Bluetooth transmitter, it will reconnect automatically and resume its full functionality.
Monitor from Anywhere
Recently Hughes has teamed up with RV Whisper to integrate an additional monitoring unit that connects to the Watchdog. If Wi-Fi is available at your campsite, the monitoring unit can wirelessly connect allowing you to monitor your Watchdog from anywhere. Without utilizing this new feature, you will only be able to monitor it while within Bluetooth range, which is typically about 30 feet.
We don't currently have the RV Whisper monitor, but it would be a great peace of mind to have constant real-time monitoring of our RV from anywhere.
Watchdog Design Features
The Power Watchdog has several integrated design features that led us to purchase this surge protector over other models on the market. Those features include the following:
Watchdog Install Options
The power watchdog has two different designs depending on your needs. Your two options are "plug and play" or "hardwire."
Plug and Play
The model we have is simply plug and play. The Power Watchdog + EPO plugs into the power pedestal and the power cord from your RV plugs directly into the Watchdog. Once connected in and the app opens, Bluetooth connectivity automatically initiates, and the device begins monitoring. We found this option to be quick and effortless.
Hardwire
Alternatively, Hughes Autoformers offers a model that allows RV owners to hardwire it directly into their vehicle. This requires a more in-depth installation, but is a great option if you want to skip having to plug the Power Watchdog into the power podium at the campground. It is a nice feature, although considering how easy the plug-and-play option is, we have found no need to buy the hardwire version.
Weather Proof
The Watchdog has an IP65 water-resistance rating which means it is safe to use it outside in the elements. We RV full-time and have never had any issues with our Watchdog decomposing in the sun, suffering the ill effects of cold weather, or malfunctioning due to rain.
Anti-Theft
Another handy feature is the Watchdog's integrated anti-theft bracket. This allows you to use a simple cable lock to safely secure your Watchdog, preventing anyone from stealing it while at the campsite.
Compact Design
This surge protector's plugs were designed with large, easy pull handles and the unit itself is small and lightweight. We've had no issues with fitting it into our storage compartment and it takes up no more room than a six pack of your favorite campsite beverage.
Universal Adaptability
Another great feature is the surge protector's universal compatibility. The Power Watchdog claims to be compatible with adapters that are frequently used by RVers. These products are commonly called dog bone adapters. Dog bones allow you to adjust your RV power cord to the size of the outlet that is available. For example you may have a 50 amp RV but only have a 30 amp outlet at the campsite. By using a dog bone adapter the 30 amp outlet becomes compatible with your RV's 50 amp plug.
Keep in mind that this would only provide you with 30 amps of power because that is all that is currently available. The watchdog can't give your 30 amp RV 30 amps of power if connected to a 15 amp outlet nor increase your available amperage when your 50 amp RV gets plugged into a 30 amp outlet. It just includes plugs that are compatible with the dog bone adapters allowing you to still be able to utilize your Watchdog even when not directly connected to the same amperage power podium that your typically RV uses.
Always keep in mind the type of power outlet you are currently plugged into and what limits that will entail on the power that is available. It is important to take electricity seriously and to consult an electrician with any questions about your electrical system and power needs.
The Power Watchdog with Emergency Power Off is a great product for RVers who want to protect their RV from common electrical hazards and are looking to closely watch their power usage. This surge protector reduces stress and worry by automatically monitoring for hazards and shutting down power when dangerous situations are detected. It is a cost effective option for preventing damage to your vehicle, while keeping you safe at the same time.
The Power Watchdog + EPO is a worthy investment that comes highly recommend for all RVers. Happy camping!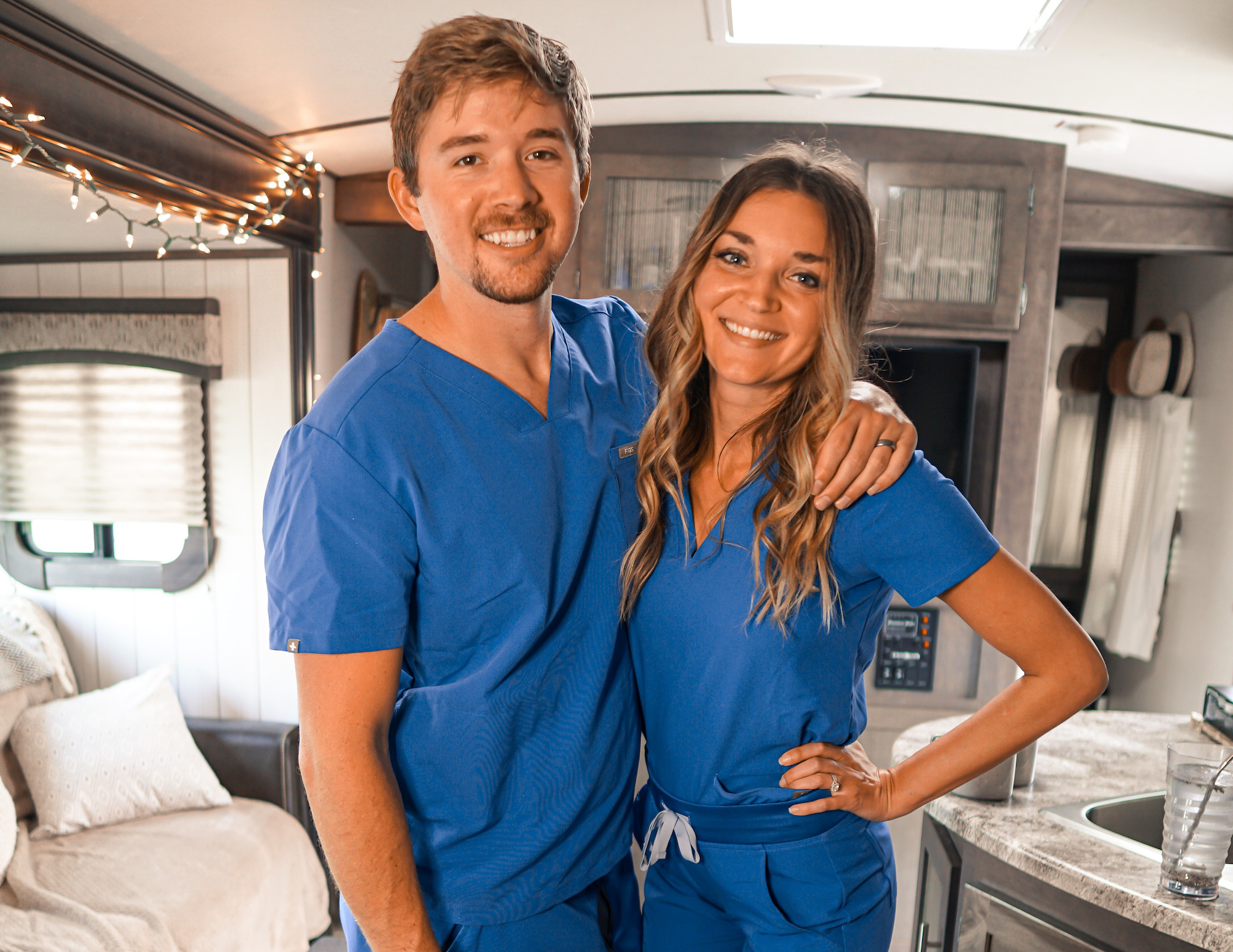 Chase & Lindsay of We're Out N' About
We're Lindsay + Chase from We're Out N' About on social media. We're married traveling nurses who live full-time in our RV with our cat, Moka! We've been traveling the country in our home on wheels for over 3 years, moving city to city every 3-6 months for work. When we're not working, you can find us road-tripping around the US or traveling internationally!