Gear Review: Mr. Bar-B-Q Portable Outdoor Fire Pit
Get Around Those Pesky Fire Bans with This Propane Fire Pit
Imagine spending the weekend away on a camping trip. What do you see as the sun sets and dusk rolls in? Do you envision yourself sitting around a glowing campfire? That is the only way we picture spending our evenings at the campsite!
Having a campfire is a staple for camping. Whether using it for cooking dinner, staying warm, or merely creating a cozy atmosphere — a camping trip doesn't feel like a camping trip without one.
As full-time RVers, one of our favorite accessories is the Mr. Bar-B-Q Portable Outdoor Fire Pit. We love a good campfire, but the hassle and mess of building one from scratch can be a deterrent. Now that we have a propane-powered option, we don't have to worry about that quite so much. The convenience, portability, safety, and ease of use are just a few reasons RVers will love this model.
Features
The Mr. Bar-B-Q Portable Outdoor Fire Pit is exactly what your campsite is missing. It's the perfect accessory for all of your adventures, whether on the go or hanging out at home. Here's what you need to know.
Accessories
This portable fire pit comes with almost everything you need to enjoy your first campfire. It includes:
A locking lid with a handle for easy carrying
LP (propane) tank stand
10 ft regulator hose
Lava rocks
Aside from your campfire treats and beverages of choice, all you need is a standard propane tank to enjoy your first campfire.
Ambient Design
This fire pit was designed with lightweight steel and coated with an antique copper finish. The appearance alone makes it a great addition to any campsite or patio. The cutouts along the side of the fire pit ring give it a decorative look while allowing heat and light to escape, warming anyone who gathers nearby.
Warmth
Mr. Bar-B-Q's fire pit boasts that it burns at 58,000 BTUs, which is equivalent to the heat of 58,000 candles! A typical electric space heater provides about 4,000 BTUs, and most patio heaters provide around 40,000 BTUs. Based on research, a 58,000 BTU fire pit allows you to feel the warmth even when standing ten feet away.
Lava Rock
This fire pit uses lava rock to help with heating and appearance. When looking into the best fire pit fillers, lava rock and lava glass beads were the top two choices. The lava rock adds a nice decorative touch and helps disperse the flames around the fire pit. Once they heat up, they help radiate heat similar to a wood fire.
Portability
Unlike some other models, the Mr. Bar-B-Q propane fire pit comes with a lid to keep it covered when not in use. The lid provides protection from the elements and prevents debris from getting inside. It also has a locking mechanism that secures it in place, allowing the fire pit to be picked up and easily carried around.
Size
The fire pit is 18.5″ in diameter and 15.5″ tall and weighs 29 pounds. The compact size makes it easy to store and transport in our RV's storage compartment. Despite not being especially large, the fire pit is still large enough for six people to comfortably gather around.
Take it Anywhere
The name says it all — "portable" fire pit. Designed to be lightweight, compact, and easy to carry, the Mr. Bar-B-Q is essentially a campfire that you can take anywhere you go. It's perfect for the campsite but also comes in handy while tailgating or hanging out on the backyard patio.
Easy of Use
This propane fire pit is incredibly simple to use. After connecting your fire pit to a propane tank using the included 10′ regulator hose, just push the button and turn the dial to "on." You don't even need a match or lighter as it comes with a built-in ignition.
In seconds the flames will start to dance, and you'll have a roaring campfire. The same dial can be used to control the heat and height of the fire. And when you're ready to call it a night, just turn the dial to "off" to shut things down.
No Clean-Up
Because this fire pit doesn't use wood, you don't have to worry about cleaning up coals, ash, or soot. Having a propane-burning model will be the cleanest campfire you'll ever enjoy. It doesn't even produce much smoke, so your hair and clothes won't smell like a fire for days.
Forget Firewood
Back before we had our propane fire pit, we had to look for places to purchase firewood. Not only can that get pricy at times, but the wood is often damp. That can result in a smoky fire making your night around the campfire a dud.
Worse yet, your campfire gathering is over if you run out of firewood. With a propane fire pit, you should have hours of campfire time, provided you filled your tank before you embarked on your trip. With a standard 20 lb. propane canister and the fire pit set to low, we've enjoyed about two hours of campfire time each night for a whole week. How long your propane tank lasts depends on how high you set the flames and how much time you spend around the fire.
Money Saver
We've found that we actually save money with our Mr. Bar-B-Q Portable Outdoor Fire Pit due to the difference in cost when buying firewood versus propane. From experience, we've seen firewood vary in price depending on the campground. Some firewood bundles cost around $10-20 each, and sometimes we'd use two bundles a night. That adds up to $20-40 every time we burned a wood campfire. With our propane fire pit, we get way more campfire time on a $20 propane tank.
Safety and Burn Bans
When the conditions for a wildfire are right, the National Weather Service issues a "Red Flag Warning." While these warnings are active, building a fire is prohibited. However, there are often exceptions for propane fire pits. Since these models burn cleaner and don't produce embers that can inadvertently start a forest fire, some authorities deem them safe to use. Still, it's always important to follow the local laws and make sure using your propane fire pit is allowed at your specific location.
Campground Fire Restrictions
During your travels, you may come across campgrounds that prohibit building campfires at various times throughout the year. This is usually due to dry and windy conditions. But, you may discover that even though an open wood-burning campfire is prohibited, propane fire pits may still be allowed.
Park rangers or camp hosts have never told us that using our Mr. Bar-B-Q portable fire pit is unacceptable. We've even had rangers notice the flames and come by to check it out to make sure it's not a wood-burning fire. As with burn bans, it's essential to double-check that using a propane fire pit is still acceptable where you're staying.
Putting Out the Fire
When you're done enjoying your campfire for the night and are ready to head to bed, you can rest assured that your fire is completely out once you turn the propane off. This is different from a wood campfire where you have to wait for the fire to die down or dowse it with water to be safe. With this fire pit, you don't have to worry about the flames potentially reigniting or continuing to burn for hours.
Cooking
Since you can get the flames blazing in just a few seconds, cooking over a campfire is quicker and easier than ever. As with a wood-burning fire, you can make s'mores, roast hot dogs, heat mountain pies (aka hobo pies, camper pies, campfire pies, etc.), and more.
Since you don't have to spend time building a fire every time you want to cook, the Mr. Bar-B-Q fire pit makes food preparation quick and easy. We've used our fire pit to cook many meals and love being able to prepare dinner while enjoying the evening outside.
Perfect for RV Life
If you're looking for an effortless campfire experience, this fire pit might be the perfect option for RVers. Simply take it out of your compartment, turn on the propane, and push the ignition, and you'll have a fire going in seconds. No more gathering firewood, playing musical chairs to escape the path of smoke or worrying that your fire will continue to smolder when you've turned in for the night. Every time we use our fire pit, we always talk about how much we love it compared to a wood fire. It has given us countless nights outside with all fun and no worries.
The Mr. Bar-B-Q Portable Outdoor Fire Pit was designed with convenience, portability, safety, and ease of use in mind. These are just a few reasons why every RV needs this propane fire pit onboard.
Happy camping!
The Mr. Bar-B-Q Portable Outdoor Fire Pit is available at Camping World.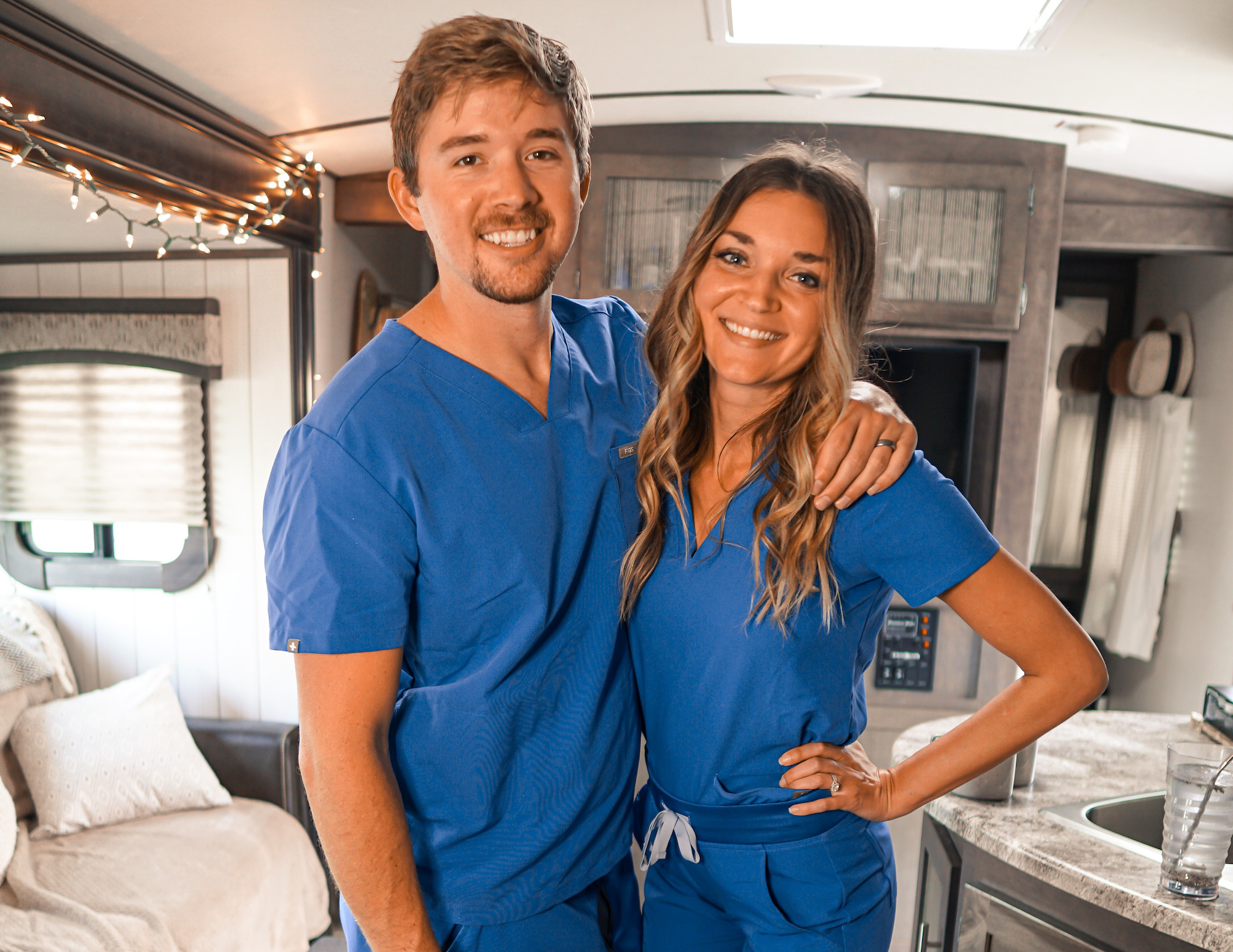 Chase & Lindsay of We're Out N' About
We're Lindsay + Chase from We're Out N' About on social media. We're married traveling nurses who live full-time in our RV with our cat, Moka! We've been traveling the country in our home on wheels for over 3 years, moving city to city every 3-6 months for work. When we're not working, you can find us road-tripping around the US or traveling internationally!