Gear Review: Cummins ONAN P4500i Generator
A Versatile, Powerful, and Feature-Packed Generator
There are certain must-haves for every RVer and a generator is right at the top of the list. If you camp often enough, sooner or later you'll lose power, which is why it is important to have a backup plan when you are faced with an outage. A generator can be that backup plan, provided you have the right one.
Why Every RVer Needs a Generator
We've been full-time RVing for four years and have found ourselves needing our generator several times. A common situation that warrants the use of the generator is when a campground loses power. Going several hours in an RV without power can become intolerable fast, especially during the hotter months. Thankfully, we always have our generator ready to go so we can run our air conditioner and other appliances during an outage.
A generator also comes in handy when camping off-grid, where other sources of power aren't readily available. Our RV's DC battery bank can only store so much, and we sometimes find ourselves needing extra capacity to run our microwave and air conditioner. Additionally, RV battery banks dwindle fast and if you don't have a generator or solar panel to replenish your battery, you can find yourself without power in no time.
Did you know that even your propane appliances require energy from the battery or another source of power to function? We learned this the hard way when we once ran out of battery while camping off-grid and were unable to use our furnace in below-freezing temperatures. Luckily, we had our generator and were able to get the heat back on quickly.
If you are an RVer who is in the market for a generator, or if you have one but are looking to upgrade, we highly recommend the Cummins Onan P4500i because of its power, portability, effortless start-up, and helpful control center.
Portability
The Cummins Onan P4500i is designed in such a way to make it easy to take with you on your adventures. At ninety-eight pounds, we've found that it's easy to load and unload at campsites especially with its large, dual carrying handles. Having two handles makes it convenient for one person to lift, but is even easier for two.
Even though this generator has durable handles, you don't have to lug it around the campsite. This model comes with a built-in telescoping handle like those found on luggage. The handle is paired with two large wheels that allow you to comfortably pull the generator over all types of terrain at the campsite.
We didn't have the luxury of easily pulling around our old generator as it didn't have wheels or a handle for easy maneuvering. The first time we used the Onan P4500i, we were thrilled with how easy it was to move around our campsite. We no longer had to struggle to carry it everywhere.
Powerful
When we were searching for a new generator, we found that the Cummins Onan P4500i had more than enough power for our needs. It features a 7.3 horsepower, 224 cc four-stroke engine that provides 4500 peak watts with 3700 running watts. Cummins says that this model can run for eighteen hours at a 25% power load, making it surprisingly energy efficient.
We didn't want a smaller generator that would require paralleling to produce enough power. That's a feature of some models that allows two units to connect to one another to provide double the output. The P4500i provides plenty of juice to keep all of our appliances running.
30-Amp vs. 50-Amp
We recommend the P4500i model because it generates enough power to efficiently run all the appliances in our 30-amp RV. It can also temporarily power a 50-amp RV, although you'll have to monitor your power usage much more closely. That means limiting the number of appliances and gadgets that you're using at any given time.
If you want to supply your RV with a full 50 amps of power, you can either parallel this generator with another Onan P4500i or you'll need to purchase a 50-amp generator instead. Just keep in mind generators of that capacity will be much larger and heavier than this model. Some are even twice the size and weight. Most RVers don't find that they need that level of output and can achieve enough power using a single 30-amp generator like this one.
Clean Power
Another feature of this generator is its built-in inverter, which creates pure sine wave power. This is the cleanest form of electricity and is the best for use with smaller devices including laptops, tablets, and TVs. Using modified sine wave power can cause appliances to run at hotter temps and can potentially cause damage to delicate electronics. That isn't a worry with the Onan P4500i.
Effortless Start-Up
In addition to being extremely powerful, the Cummins Onan P4500i generator is effortless to start up too. Many generators on the market are "pull-to-start" which can be inconvenient at times and difficult for some people. But, thanks to its onboard battery, automatic choke, and starter, this generator offers not one, but three ways to fire it up.
Push to Start
Just like many modern vehicles, this generator has an easy-to-use push-to-start option. This is our go-to method for starting our generator. The feature works exactly as you would expect— simply push the button to start the motor.
Remote Start
As with modern-day vehicles, you can start your generator from a distance by using the included remote start. To use this feature, make sure your generator is in standby mode so it can receive the signal from the remote control fob. Then, just start the motor with the push of a button.
We love this option when we want to conserve fuel. The remote allows us to turn the generator off and on from inside the RV without ever having to step foot outside. This is a gamechanger when brewing your morning coffee, but aren't quite ready to face the world just yet.
Traditional Pull to Start
Of course, the Onan P4500i does have a pull-to-start option should you need it. This is the "old" way to start a generator and for us, it has become the last resort.  We only need to pull the cord on the motor if the onboard battery hasn't been recharged in a while or the generator has sat without being used for an extended period of time.
Control Center
The Cummins Onan P4500i has an easy-to-use control center where you will find everything you need to navigate and operate your generator. Those features include:
Outlets
The 4500i contains five different outlets which make it easy to charge and power a variety of electronics. This consists of:
●      one 30-amp RV ready camper outlet
●      two 20-amp AC outlets
●      two 5-volt USB outlets
Having the 30-amp RV outlet makes powering your vehicle extremely convenient. Most generators require an adapter to plug your motorhome directly into the generator, but that isn't the care here. The P4500i can accept a 30-amp power cord, which allows it to supply power to the entire RV.
Buttons
The control center provides access to all the buttons you need to operate the generator. Those include the on/off button, the push-to-start button, the fuel on/off switch, and the eco-mode button—which allows the generator to conserve gas. Having all of these controls in one location makes operating this generator as simple as possible.
LED Data Center
The LED data center is a small electronic display that allows the user to keep track of power and fuel consumption at all times. This easy-to-read screen is located within the P4500i's control center and helps you understand how well the generator is performing. It displays the following information:
●      percentage of fuel remaining
●      percentage of power output
●      hours of remaining run time
●      power output in kilowatts
●      fuel level in liters
●      voltage
●      lifetime run hours (this makes it easy to keep up with maintenance)
Is This the Right Generator for Me?
If we were, to sum up, this generator in just one word it would be convenient. It provides plenty of power to keep everything in our RV running and is effortless to operate. It is also easy to maneuver around the campsite and the control center organizes the P4500i's important features for the most efficient use. Add in remote start and fuel-efficient operation and it is easy to see why this is a popular option for boondocking.
After RVing for four years, and experiencing multiple generators over that time, this model is our favorite. We highly recommend it to all RVers looking to upgrade their power options while camping.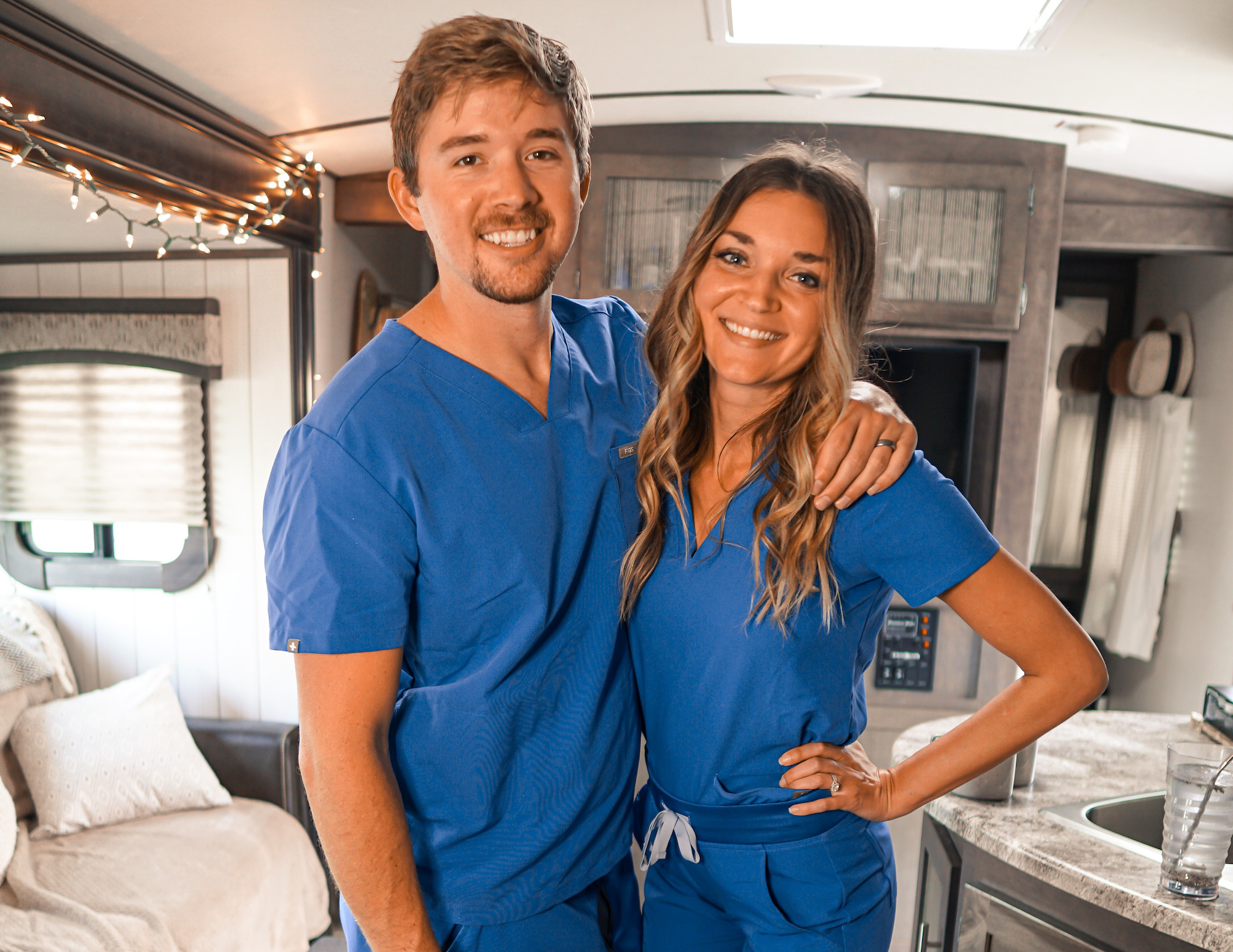 Chase & Lindsay of We're Out N' About
We're Lindsay + Chase from We're Out N' About on social media. We're married traveling nurses who live full-time in our RV with our cat, Moka! We've been traveling the country in our home on wheels for over 3 years, moving city to city every 3-6 months for work. When we're not working, you can find us road-tripping around the US or traveling internationally!