5 Off-Road Ready Travel Trailers
If you're planning on going off the beaten path, then you need to make sure you have the right travel trailer.
For most RV buyers, it happens as a natural progression. You're already a camper, love being outdoors, and haul your tent around to set up a campsite somewhere like a state or national park. And whether it's one bad experience or several, eventually, an RV just sounds pretty nice. 
But maybe not everyone. For many, the ideal part of camping is actually getting away from it all. Going as far off-grid as possible. That means going down the untrodden path, getting outside the realm of campsites with their electrical poles and their perfectly flat, paved campsites. To them, an RV seems like a barrier to the lifestyle they love to live. 
Let's hang on for a minute. Because not all RVs are created equal. Sure, there are plenty of classes, but more importantly, there are also plenty of RVs made specifically for this type of camper—the one who wants to take their rig off-road and be ready to set up wherever nature calls. 
Here are five off-road-ready travel trailers that you can take off the lot and out into the boondocks. 
Black Series HQ21 
Let's be clear about one thing: Black Series doesn't do weak trailers. These things are built to be tough, to handle obstacles that would make normal travel trailers quake, and to help extreme campers get to precisely the places they're going. That's all made possible primarily due to an extremely sturdy independent suspension. Each wheel on the HQ21 is designed to be able to move independently—which makes the ride smoother on both off-road terrain and highways alike. It also uses a monstrous set of four shocks to displace more of the rough ride. 
That's of course not all. The lower half of the HQ21 is protected by diamond plating so you don't have to worry about scratching a precious paint job as you're cutting through an untrimmed trail. Corner bash bars also protect the rig from nastier obstructions. Yet with all of this extremeness on the outside, it's still perfectly elegant and comfortable on the inside. 
Learn more about the HQ21
Venture Sonic X
Venture focuses exclusively on accessible travel trailers. The Sonic X was built specifically for the more adventurous crowd—those who like getting a little outside the gates and exploring a little more. This ultralight travel trailer is also pretty highly touted in the RV world, winning both RV News Best of Show – New Unit in 2019 and RV Business RV of the Year in 2020. Yeah, it's pretty serious. And they built it for those who want to be all on their own.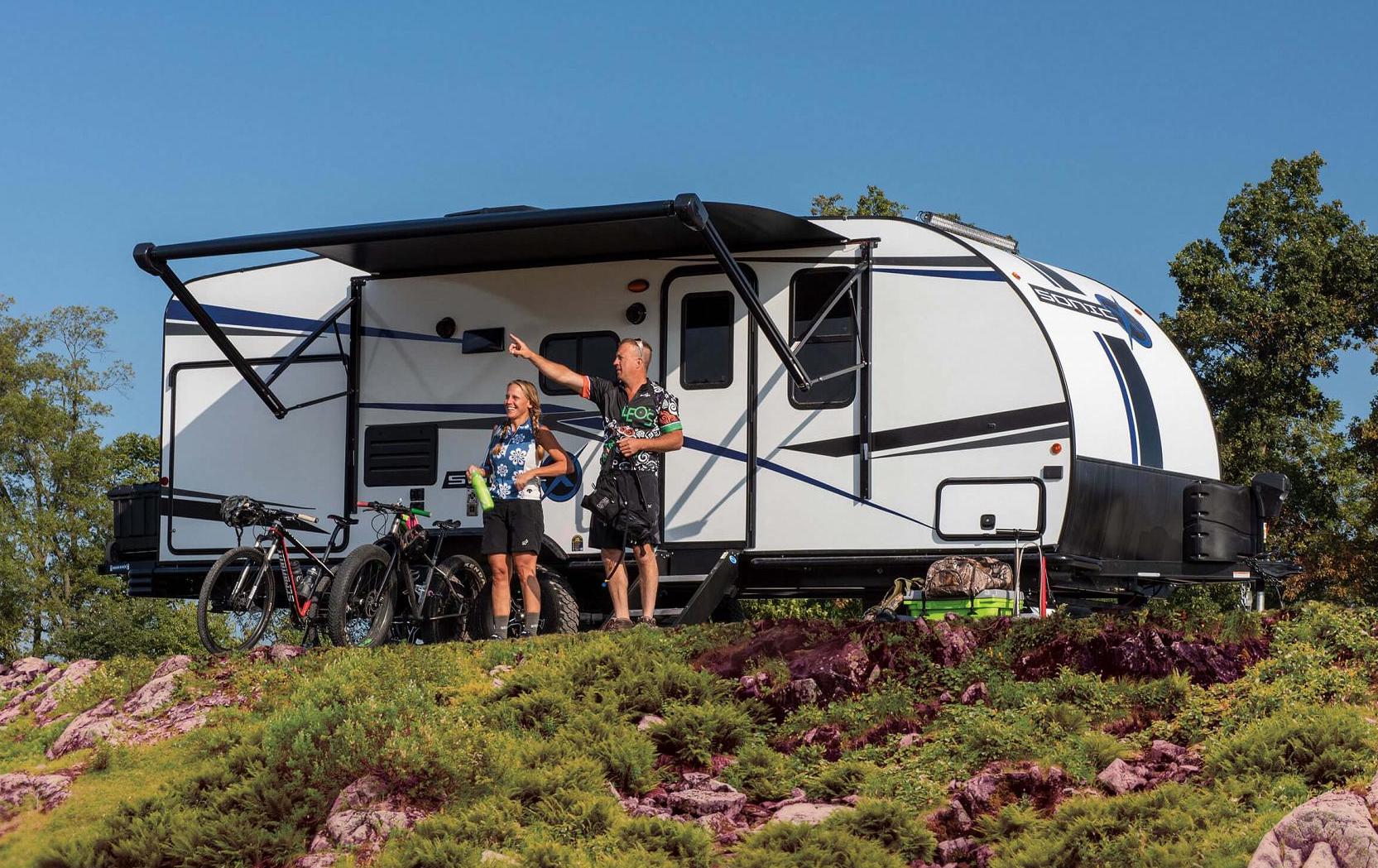 LevelMatePRO, a technology that's exclusive to the Sonic X, allows you to use your smartphone to automatically level your rig—something that comes in particularly handy when you're off the beaten path. But it's the XTREME Off-Road Package (which comes standard) that really sets this trailer apart. A tubular brush guard is welded completely around the bottom of the Sonic X, and a triple-stack welded bumper helps protect your rig as you drive along a trail. It also comes with four 15" off-road tires. Beyond that it's loaded to the gills with impressive amenities. And if all of that isn't enough, you can also add an XTREME water filter and a larger refrigerator. 
Learn more about the Sonic X
Forest River No Boundaries 
When Forest River calls their travel trailer "No Boundaries," they're not kidding. The entire line is designed for the off-road crowd, who are busy searching for the next great place to camp. More than that, any outdoor enthusiast will love this trailer, with plenty of space and specifically designed racks for SUPs, kayaks, bikes, and more. And there's plenty of options for you to figure out precisely how you want to camp, because there are length options that range from 12 feet to 25 feet.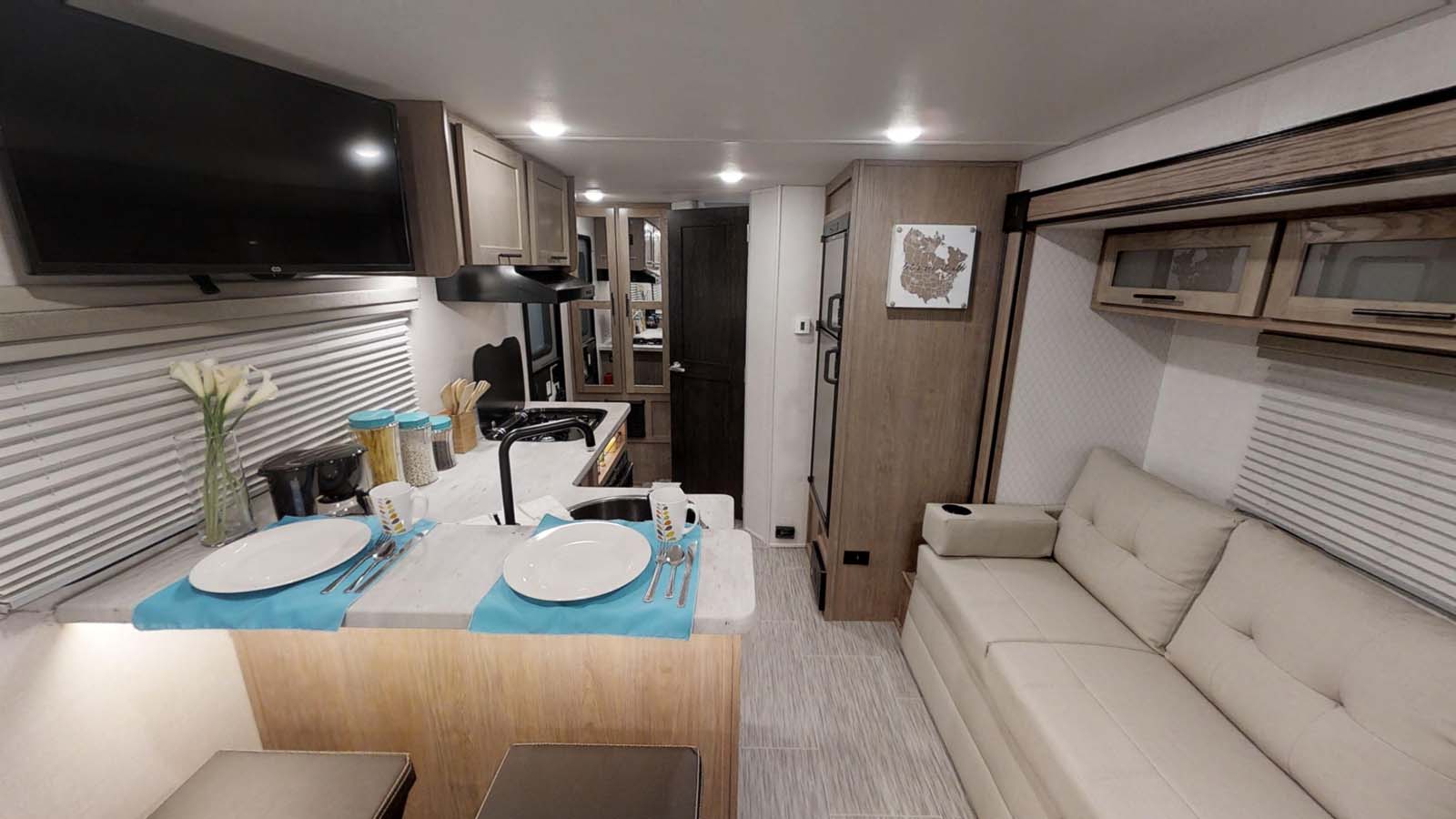 What makes the No Boundaries so off-road friendly? Industry-leading ground clearance, for one. Rather than just protecting the undercarriage of the trailer, Forest River lifted it to better allow the coach to go just about anywhere. The tires come in a large diameter, ready to handle things like rocks and small stumps, and a strong suspension system lets the tires move as they need to without risk of toppling the trailer. And like all Forest River trailers, they don't skimp on the interior, either, so you can enjoy plenty of comfort in the middle of nowhere. 
Learn more about the No Boundaries
Dutchmen Coleman Rubicon
If you've been on an RV lot any time in the last 10 years, you're probably familiar with the Coleman Lantern—one of the best-selling travel trailers on the market. They're back at it, but focusing a little more on the off-grid crowd in the Coleman Rubicon. Specifically, when you add the Outlander package, you're getting yourself a reliable, trustworthy RV that's ready to get out on the trail.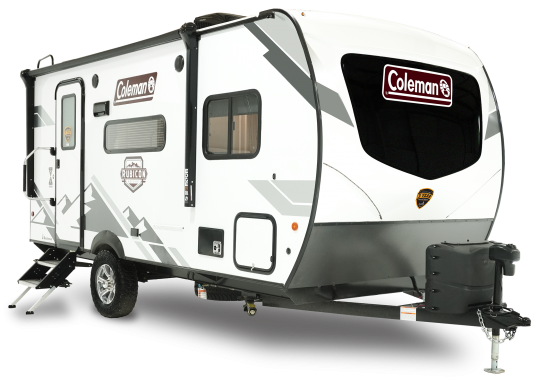 While the Rubicon is already a sturdy trailer that's perfectly enjoyable, the Outlander package adds all of the specialties to let you really get out in the wild. It includes a solar package and an inverter so you can get off and stay off-grid. A torsion axle makes towing on difficult terrain easier. All-terrain tires can easily handle chunky rocks or small stumps, and there's also a refrigerator to help you keep your cool no matter where the trail takes you.
Learn more about the Coleman Rubicon
Outdoors RV Timber Ridge Titanium with Off-Road x4 Package
The Timber Ridge Titanium is a serious RV as it stands. Add to it the Off-Road x4 Package, and you're looking at one of the most comfortable and formidable off-road-ready travel trailers on the market. Not only is it loaded with comfortable furniture and plenty of additional space inside, but it's also packed with huge windows, letting you take in all of the scenery around you from the comfort of the trailer. Given that you're planning to take this guy off-roading, that's precisely one of the biggest perks, right?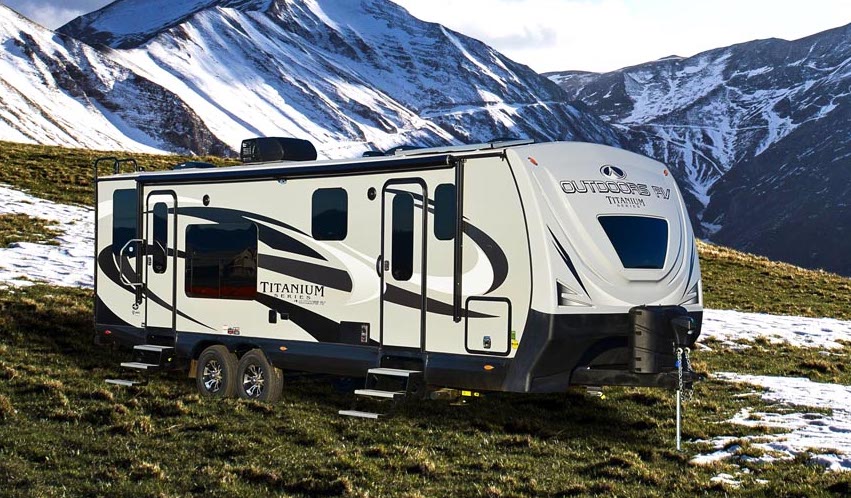 The Off-Road x4 package is what makes this shine. That adds gas shocks and an extra-large shock plate, a MorRyde CRE 3000 Suspension which adds three additional inches of clearance. It upgrades you to a custom-built off-road chassis and gives you heavy-duty axles. And, of course, it also includes Goodyear Endurance Tires, designed to drive 15 miles down a backcountry trail. When you're ready to go off-road and still do it big, The Outdoors RV Timber Ridge Titanium is the way to do it. 
Learn more about the Timber Ridge Titanium