5 Midwestern Road Trips Worth Taking
Skip the direct flight and hit the road with a road-trip route that's sure to be a hit with your family.
The road trip. It's practically as American as the Grand Canyon and apple pie. For decades, this was the way to travel in the United States, highlighting the fun of getting there as much as the actual "there." But, over the years, things changed. Interstates brought efficiency and air travel brought the term "flyover states."
But, there's no time like the present to change that. Check out these five midwestern road trips that pack in adventure, fun, and memory-making moments that just can't fit in an overhead compartment.
Chicago to St. Louis
A direct flight from Chicago to St. Louis takes approximately one hour and 18 minutes. On that flight, the only views you'll get are from 42,000 feet and the only food you'll sample is a small bag of pretzels. But, opt for a road trip and open yourself up to a world of opportunities. The journey by road from the Windy City to the Gateway to the West takes about four-and-a-half hours. Break it up with a night in the Illinois capital—Springfield (a bucket list for quite a few road trippers). Or, spend a day or two at Starved Rock State Park—just outside Chicago.
It's great for hiking, fish, and boating. Also, make sure to devote some time to each bookmarked city. Chicago is home to great museums, parks, and destinations like the observation decks at both the Willis Tower and John Hancock Building. It's also famous for its deep-dish pizza, Chicago-style hot dogs and Garrett popcorn. On the other end of your trip, St Louis has the famous Arch National Park, a great downtown area, and its own style of pizza to rival Chicago's.
St. Louis to Kansas City
If you don't want the road trip fun to end in St. Louis, don't let it. Carry on with the second leg of your trip en route to Kansas City, Missouri. As mentioned above, St. Louis is full of adventure, fun, and history with great museums, historic architecture, and plenty of local cuisine. Once you hit the road you'll also discover great destinations on your route. You can stop in Hermann, Missouri – a small town with several wineries, breweries, and distilleries.
Also, the state capital also isn't too far off the path if visiting each and every one is on your bucket list. Columbia, Missouri is also on the way, home to the University of Missouri or as the locals know it, "Mizzou." Walk the immaculate campus and visit the Mizzou Botanic Garden. Before you know it, you'll be in Kansas City—famous for its jazz and barbecue. The city is home to some great museums including the National World War I memorial. And, if you visit at the right time, you can even take in a football game from the hometown team – The Kansas City Chiefs.
Milwaukee to Door County
If any state is Midwest, it's Wisconsin. From its love for beer, cheese, and football to its rolling grassy hills and that very specific accent, it's definitely not coastal but definitely not a place you want to coast on through. A great way to experience the Badger state by car is with a trip from Milwaukee to Door County. Milwaukee doesn't get enough credit, due in part to its proximity to Chicago. But it has it all – spacious parks, national sports teams, renowned breweries, and five-star restaurants. You'll definitely want to visit the Milwaukee Public Market and try and get in as much traditional German cuisine as you can.
As you leave Milwaukee, skip the interstate and opt for the Lincoln Memorial Drive. You'll get breathtaking views of Lake Michigan plus you'll skip traffic jams on the interstate and construction. The drive may be short, but you can break it up with a stop at Harrington Beach State Park. It offers swimming, hiking, birdwatching and is a great way to stretch your legs. Stay for a snack or for the night.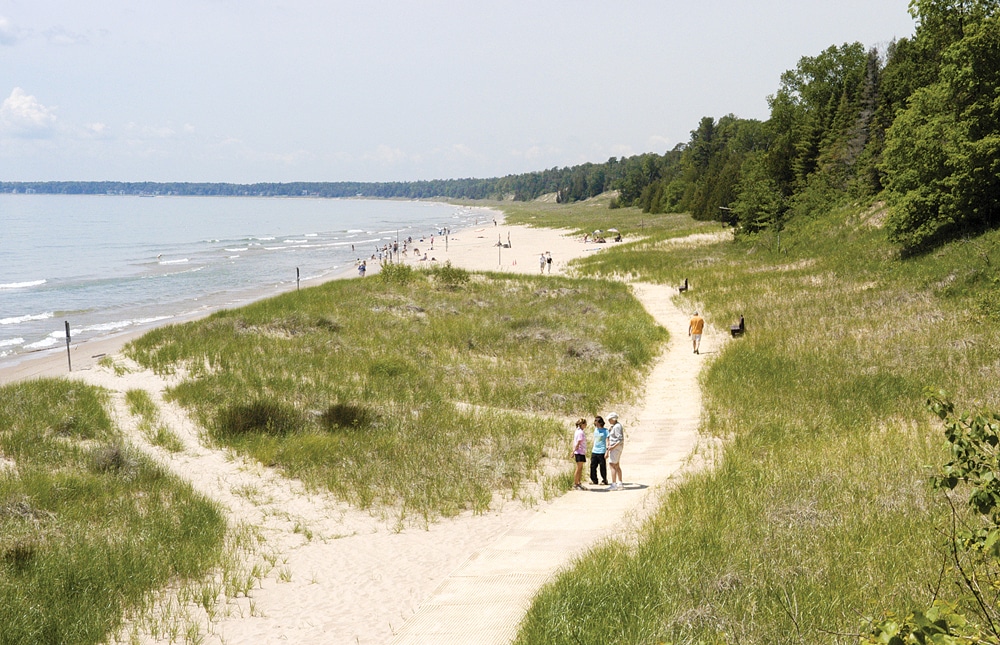 Then, before you know it, you'll be in Door County, known by many as "The Cape Cod of the Midwest." This finger-shaped Wisconsin county juts out into Lake Michigan making it the ideal summer vacation destination for water-loving nature enthusiasts.
Minneapolis to Omaha
Start your road trip in one half of the Twin Cities and hit up the famous Minneapolis Sculpture Garden. You'll also want to plan some "R&R" at one of the many nearby lakes and trails. Count on one to two days to truly see all there is to see in Minneapolis. Then, hit the road for Omaha and make sure to plan plenty of stops along the way. An early one is just south of Minneapolis in Bloomington—Mall of America. This mall earns the title of the largest indoor shopping mall in the United States. There's also an indoor amusement park and movie theater so, if it's raining or cold, you've got a full day of fun right there.
Your next stop? Estherville, Iowa: home to rustic wineries and home to the site of the largest known meteorite crash in North America. Stay for an afternoon or for the night. You can also head west to Lake Okoboji—home to shopping, dining, and, of course, plenty of water activities. Before you know it, you'll be in Omaha.
Check out the Henry Doorly Zoo and Aquarium—the largest tourist attraction in the state! Visit North America's largest indoor rain forest, feed giraffes, walk under sharks in the aquarium, and so much more. In the evening, you can also check out The Old Market in downtown and grab something to eat.
Indianapolis to Mackinac Island
Start out in the heart of the Hoosier state and end up in a one-of-a-kind resort destination free from stress, worries, and also cars on this epic road trip route! Kick-off your trip to Indy and plan on a day or two. The Circle City is home to the Indianapolis Children's Museum – the largest in the world. You can also check out the NCAA Museum, enjoy the canal walk or just take in all the great food and bars.
From there, you'll head north and have plenty of options for stops along the way. Spend a night in Fort Wayne, Indiana, and visit the Fort Wayne Children's Zoo. Or, venture a bit off the direct route for a visit to Elkhart, Indiana—home to the RV Hall of Fame. You can also stop in Lansing, Michigan, the state's capital.
Then, you're just a short jaunt up to Mackinac Island. You'll have to take a ferry to the island as cars aren't allowed. But, once there, you'll be within walking distance of plenty of fun including beaches, shops, famous fudge, and kite flying. You can also go for a ride in a horse-drawn carriage or go on a bike ride along the shore.
---
So, when it's time for your next getaway, skip the TSA lines and put a nostalgic twist on your vacation with a family road trip. You'll see what everyone up in that direct flight or whizzing by on the nearest interstate is missing and make memories that can't fit on a postcard home.