Portable Generators Under $1,000 Worth Buying
Get the power you need for less.
A portable generator is a great campsite addition if your RV doesn't come with a built-in generator. It is also a consideration for tent campers and for those of you towing smaller teardrop trailers or travel trailers without a generator tucked neatly in an underneath compartment.
Having a way to power larger appliances without relying on electricity is also essential if you are into boondocking or dry camping. So let's take some time today to assess a few portable generators under $1,000 worth buying.
Who Needs a Portable Generator?
Investing in a portable generator isn't an absolute necessity for all types of campers. However, consider these scenarios/environments in which having a portable generator will be extremely helpful:
Trailer owners without an onboard generator
Tent campers who need power for larger appliances
Owners of older RVs with a busted generator
RV owners with perfectly functional generators who still need additional power for outdoor gear and appliances
Boondockers and dry campers that want to save fuel for driving their RV.

RV generators use about one gallon of fuel per hour of use.

Homeowners that need a backup power source in case of a power outage.
Of course, this should not be viewed as a complete list. There are many scenarios in which you can use a portable generator to provide power at your campsite or supplement your RV's built-in generator.
Five Portable Generators Under $1,000 Worth Buying
 Once you have decided you need a portable generator for your camping trips, it is time to go bargain shopping. Check out these portable generators with reasonable price tags that still offer quality performance.
Champion 5500-Watt Dual-Fuel Portable Generator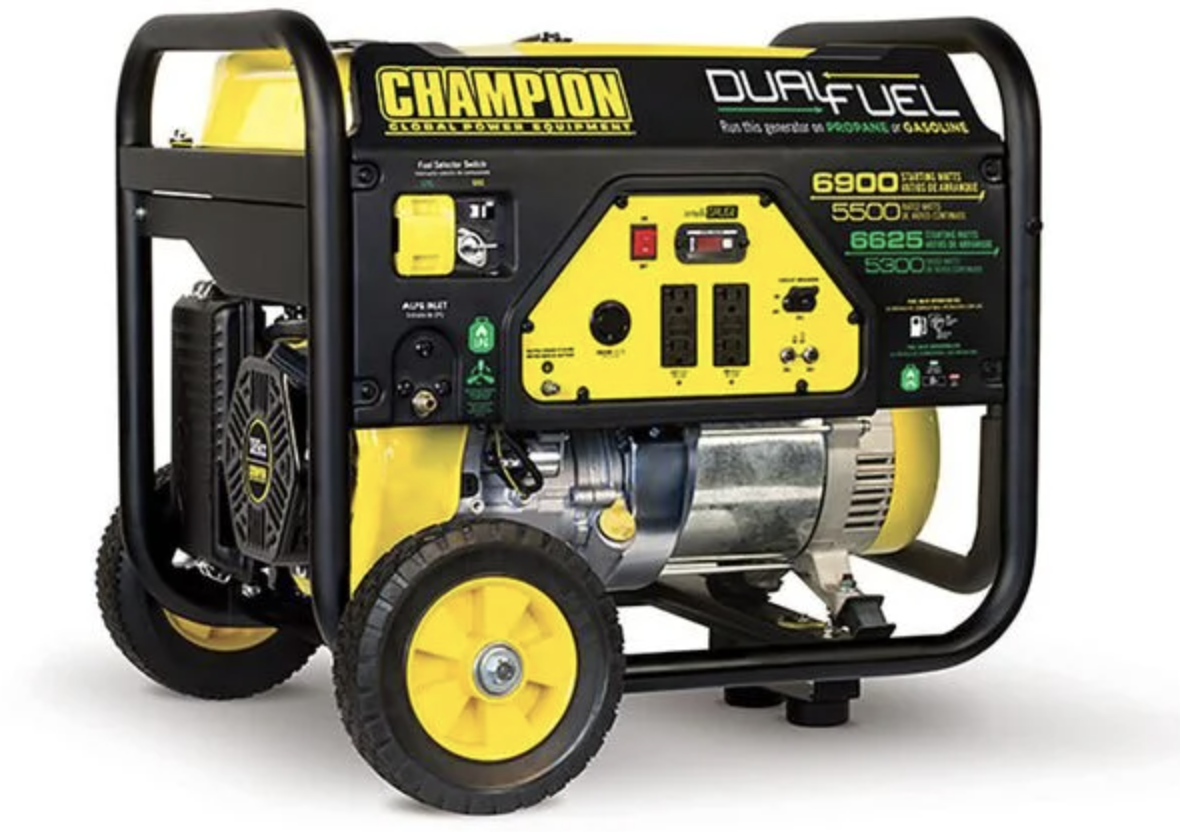 This Champion portable generator is one of the highest-powered models under $1,000. It runs on either gasoline or propane and comes with a propane hose. It has its own gas tank, but can also be hooked up to a 20-pound propane tank.
The generator will run for up to 9 hours at 50 percent load on a full tank of gas and up to 10.5 hours on a full tank of propane. In terms of noise output, it produces approximately 75 decibels when operating at half capacity.
The Champion Dual-Fuel generator can handle up to 6,875 starting watts and 5,500 running watts. It is equipped with several outlet options for plugging in your RV, including four 120-volt 20-amp GFCI outlets and one 120V/240V 30-amp locking outlet. There's also a built-in surge protector that will keep you from damaging appliances.
A-iPower 1500 Watt Inverter Generator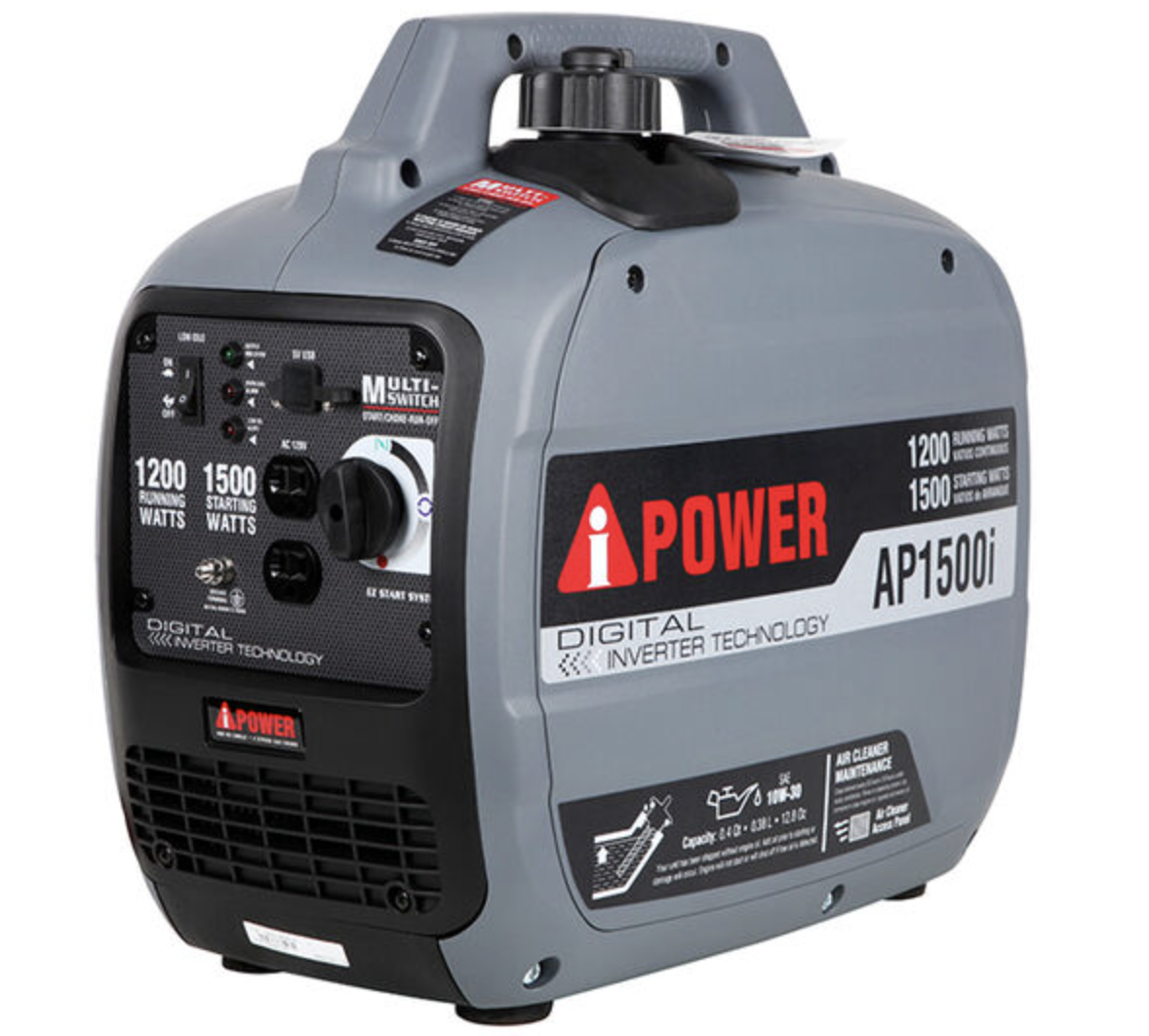 The A-iPower AP1500i inverter generator is a great solution for powering all of your portable electronics and small RV appliances. At 46 pounds, it is also one of the lightest and most compact portable generators out there, which makes it easy to store underneath your RV.
It is also a relatively quiet model and produces roughly 58 decibels when running at full capacity. It can handle up to 1,500 starting watts and 1,200 running watts and runs on unleaded gasoline only.
It offers two 120-volt AC outlets and a 5-volt USB plug-in as well. This A-iPower portable generator is also equipped with low idle technology, which extends its overall run time for multi-day camping trips.
Sportsman 2000 Surge Watt Dual-Fuel Portable Generator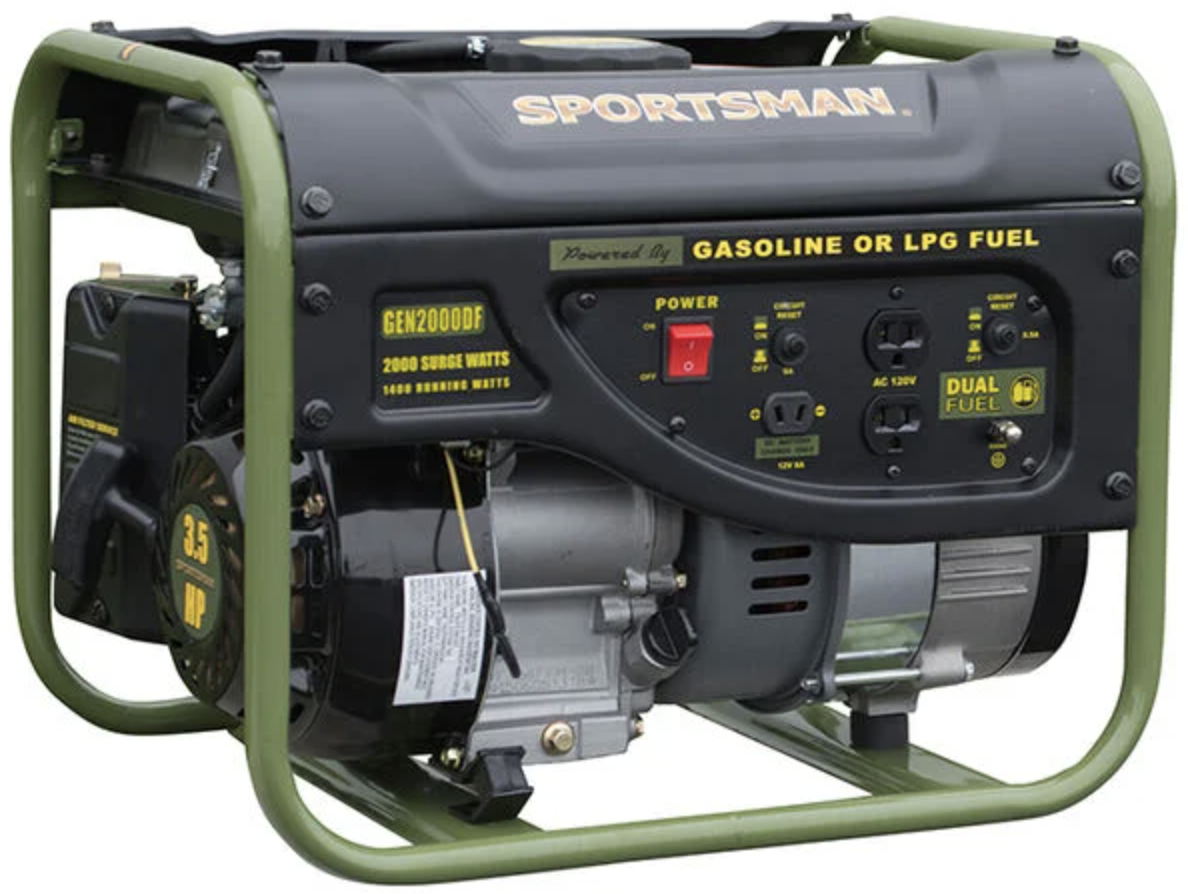 The Sportsman 2000-watt portable generator can handle up to 2,000 starting watts and 1,400 running watts. It runs on either gasoline or propane and comes with its own five-foot propane hose to help make the transition seamless.
When running on gasoline, this generator will run for approximately 9 hours on a full tank of unleaded gasoline. If you choose to operate it on propane, it will run for up to 12 hours on a full 20-pound propane tank.
The 3.5 horsepower engine in this generator operates relatively quietly and produces roughly 68 decibels. The generator also includes several useful safety features, including low oil shut-off, spark arrestor, circuit breaker protection, and an automatic engine shut-off switch. A word of caution here, be careful of sensitive electronics with a generator like this, but for your larger appliances, you should be just fine. Also, a surge protector is never a bad idea.
Westinghouse iGen2500 Portable Inverter Generator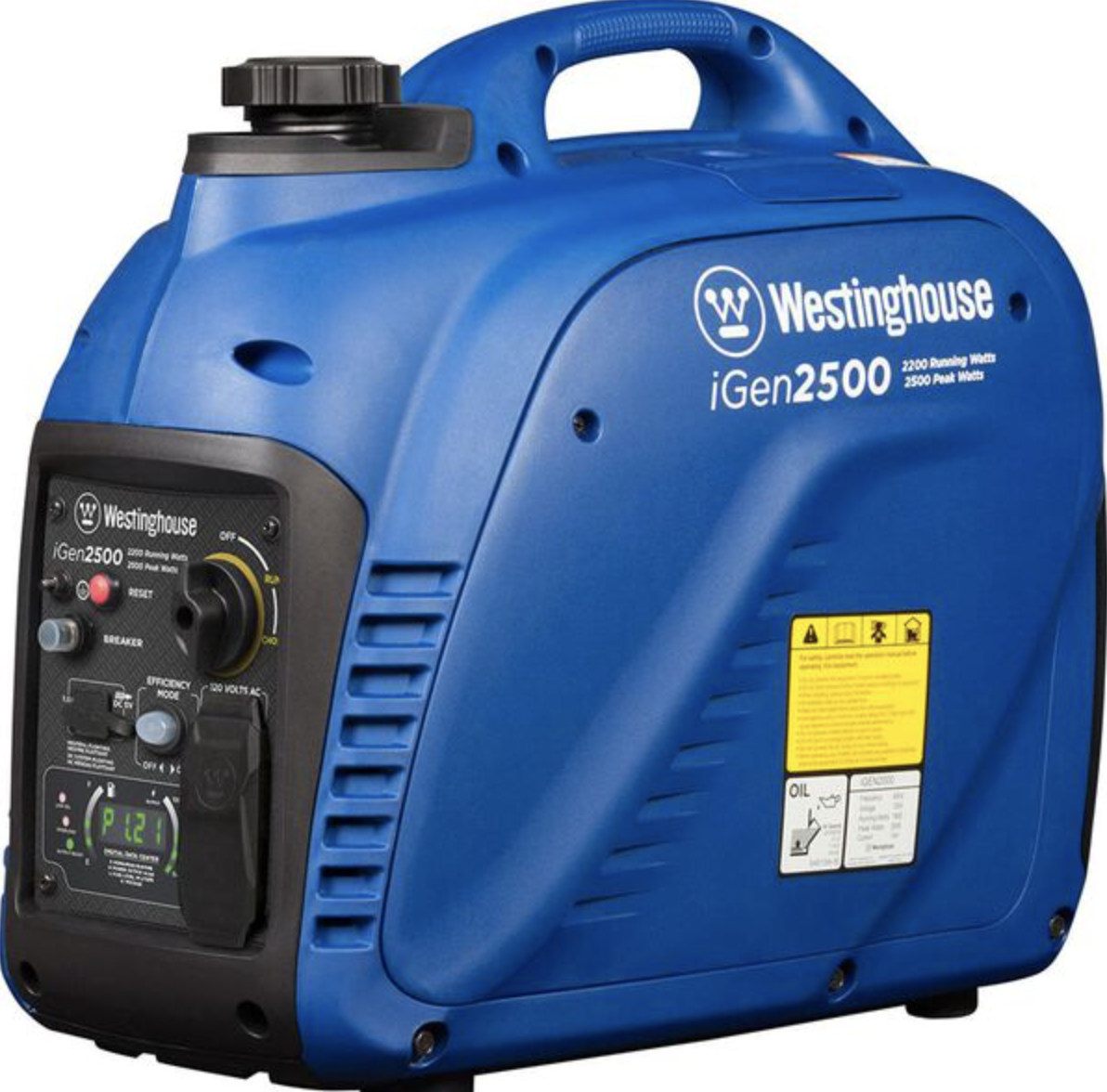 The Westinghouse iGen2500 is a great portable inverter generator for tent campers, tailgaters, and supplementing your existing RV generator. It can handle up to 2,500 starting watts and 2,200 running watts while producing a paltry 52 decibels of noise output due to its double-insulated acoustic enclosure.
It also weighs just over 46 pounds, which makes it easy to transport and it is compact enough to easily fit in the underneath storage compartments of all RVs and travel trailers. This generator runs on unleaded gasoline and can run for up to 10 hours on a full tank.
The iGen2500 also gives you an LED display that provides information on your generator's vitals. This display includes a fuel gauge, estimated run time remaining, a power output monitor, and a running ticker of your generator's lifetime hours.
It includes two 120-volt AC outlets and two 5-volt USB outlets for providing cleaner power to all of your smaller electronics and appliances. This generator can also be run in parallel with a second unit to provide clean energy for a 30-amp RV.
Conclusion
When you are shopping for portable generators, pay close attention to the type of fuel they require. Some models allow you to flip back and forth between regular gasoline and propane, which provides additional flexibility and allows you to choose the most affordable type of fuel depending on your location.
Many of these generators will perform differently depending on the type of fuel you choose, however. Just be aware of that before you finalize your selection. If you have more questions, check out this article on tips for buying a generator for your RV!