5 Reasons Why Jayco's Jay Flight Line of Campers are Perfect for Families
Lightweight, Feature-packed, and Affordable—What More Could You Want?
Camping season is coming fast, and if you don't have the right RV for you and your family, you might want to take a close look at Jayco's line of Jay Flight travel trailers. The company's lightweight towable options are designed to give families everything they could need in an affordable, well-appointed package that won't break the bank.
Jayco has a few different models each with its own list of floorplans for you to choose from. They include the Jay Flight, Jay Flight SLX 7, and Jay Flight SLX 8. 
Here are five ways the Jay Flight line of campers gives families everything they need. 
1. Lightweight and Easily Towable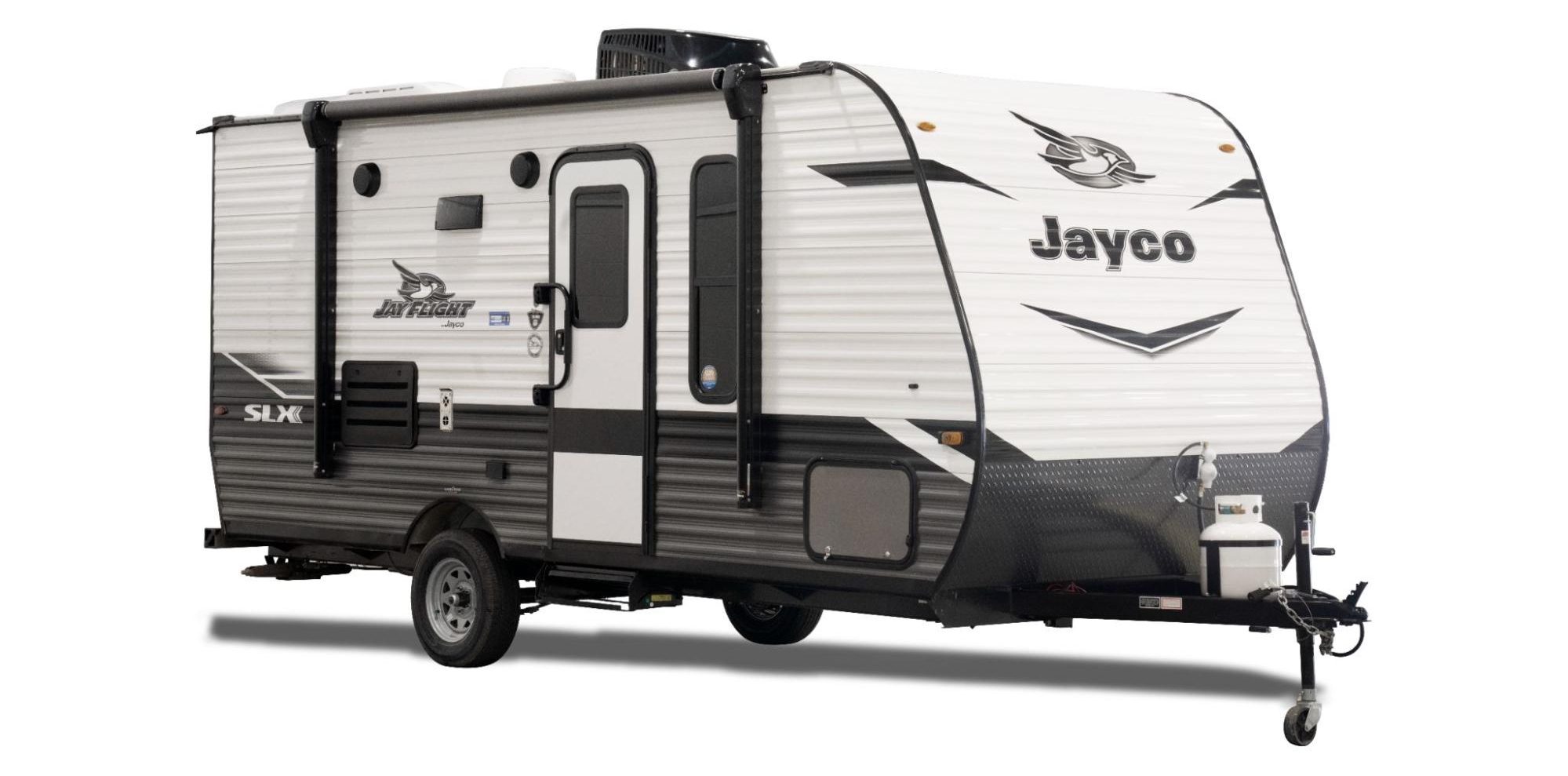 Towing can be stressful, and many of Jayco's competitors don't make it any easier with heavy options that require a heavy-duty pickup truck. But with the Jay Flight line, you're getting options that can be towed either by a regular full-size pickup or your typical family SUV or minivan.
The Jay Flight SLX 7 offers the lightest options ranging from 2,645 pounds to 3,460 pounds. All of the Jay Flight SLX 7 floorplans are under 22 feet long, meaning they're easy to maneuver, too.
Take a step up and you'll find the Jay Flight SLX 8. The options here range from 4,235 pounds to 7,760 pounds. In terms of length, these travel trailers range from 25 feet eight inches to 36 feet four inches.
If you need something that offers even more for your family, then you're looking at the Jay Flight. The options here range from 5,335 pounds to 9,165 pounds. The length of the Jay Flight floorplans starts at 28 feet 10 inches and goes all the way up to 40 feet six inches.
All options are designed to be easy to tow and maneuver, and the best part is that you don't need a heavy-duty pickup truck to get the job done.
2. Versatile and Numerous Floorplans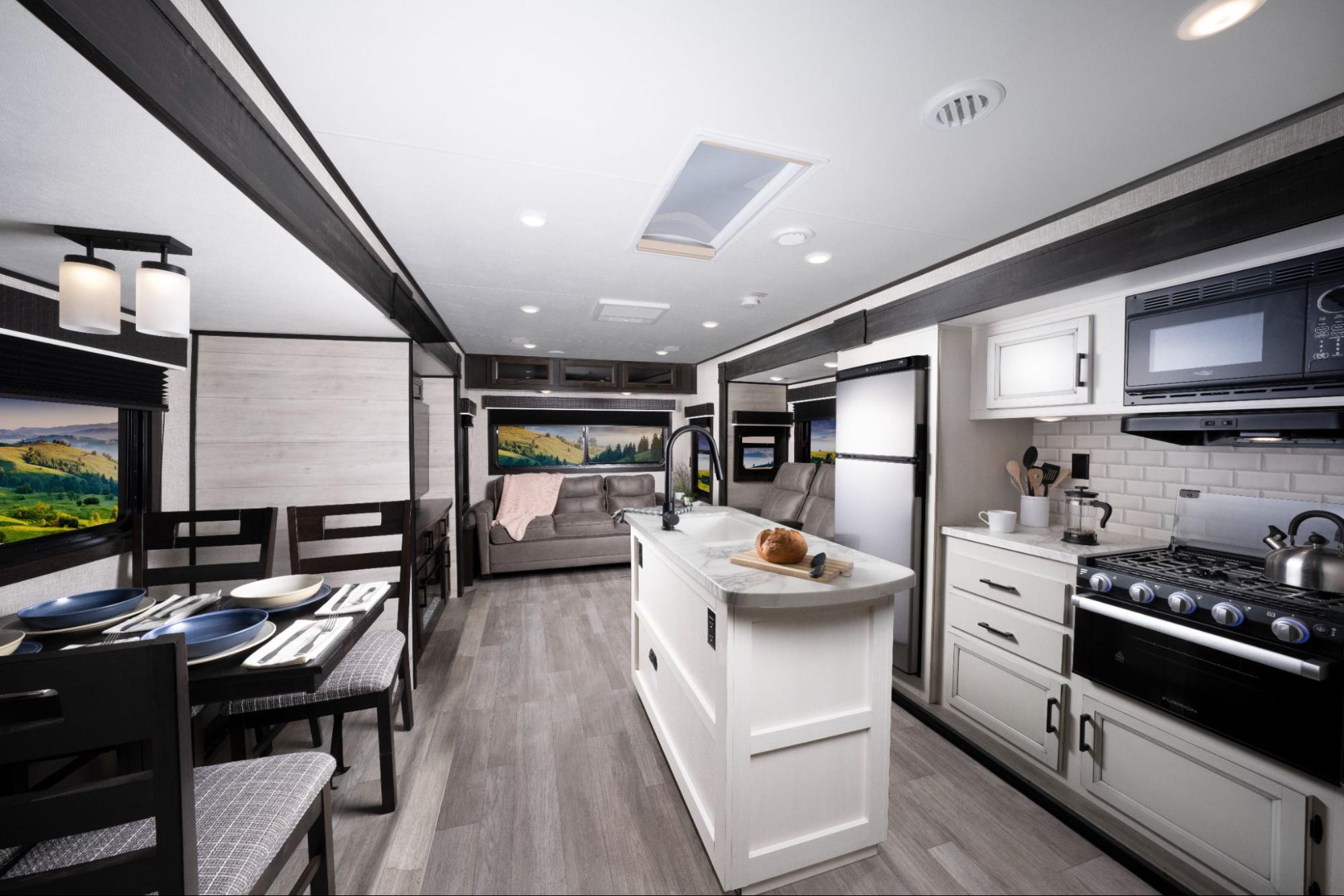 With the Jay Flight lineup spanning three separate models each with its own list of floorplans, you might expect to have plenty of options, and you'd be right.
The Jay Flight SLX 7 offers five floorplans for the eastern region. For the western region, another floorplan is offered, making the total six. There is some crossover between regions so you'll see many of the same floorplans in both regions.
The Jay Flight SLX 8 provides 14 options for the eastern region and nine for the western region. Again, many of the layouts are similar despite the region you're in.
Jump to the Jay Flight travel trailer and you'll find 10 floorplans, each with its own arrangement, advantages, and slideouts.
As you can see, there's no shortage of options. Many of these models offer bunks, which are perfect for kids, but even the models lacking bunks offer additional sleeping accommodations, so you'll have a place for the whole family to rest up.
3. Modern Features and Amenities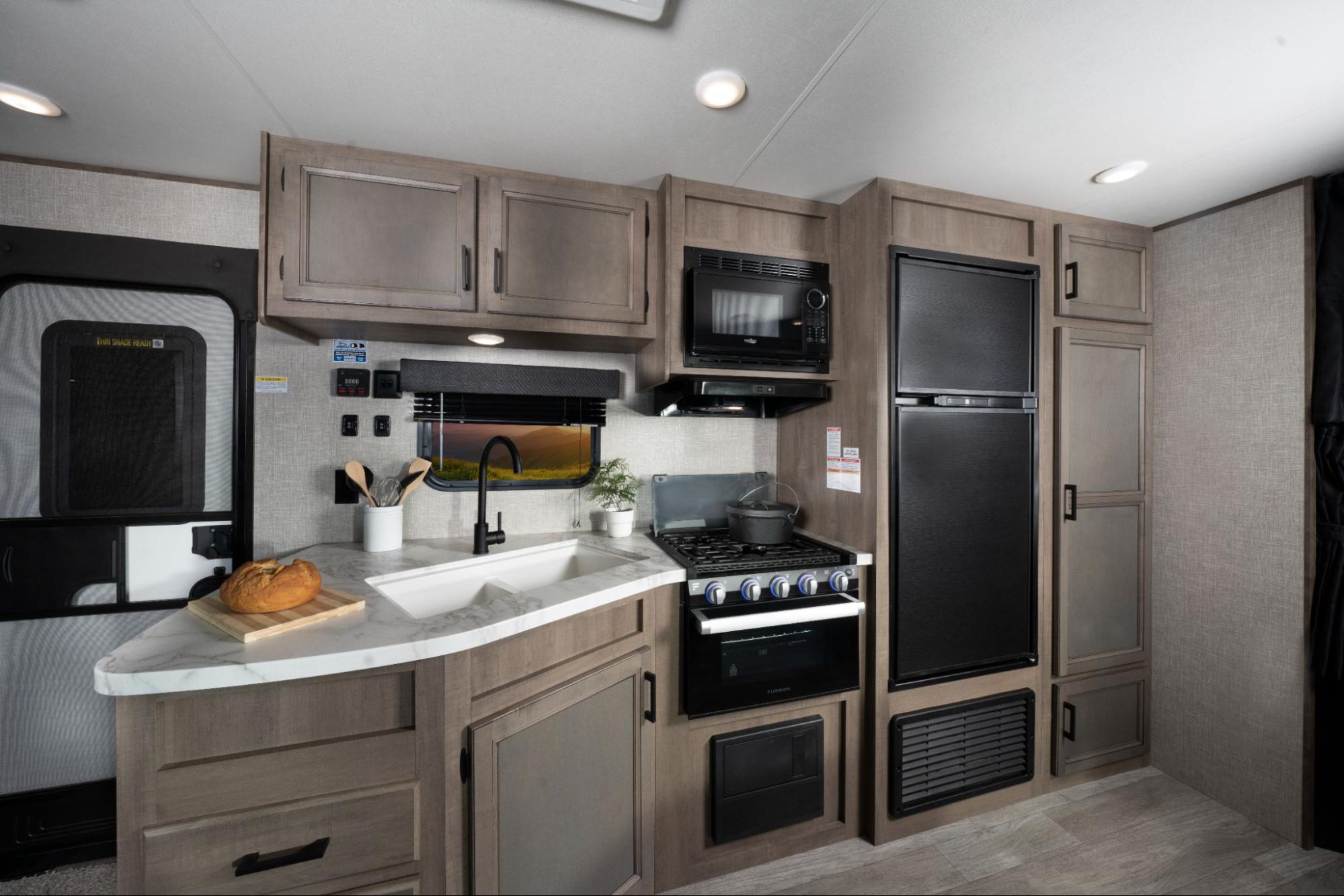 Perhaps the best part about all of the Jay Flight models is that they're designed to feel like home, not like a camper. What that means is residential-style appliances, high-quality materials, and plenty of amenities.
We're talking hardwood cabinet doors, beautiful vinyl flooring, residential-style kitchen countertops, decorative dinette, sleek LED lighting, and more. Obviously, the standard and available features and amenities will vary from floorplan to floorplan, but every single Jay Flight you can buy is well-appointed. You and your family won't feel like you're roughing it.
4. Built to Last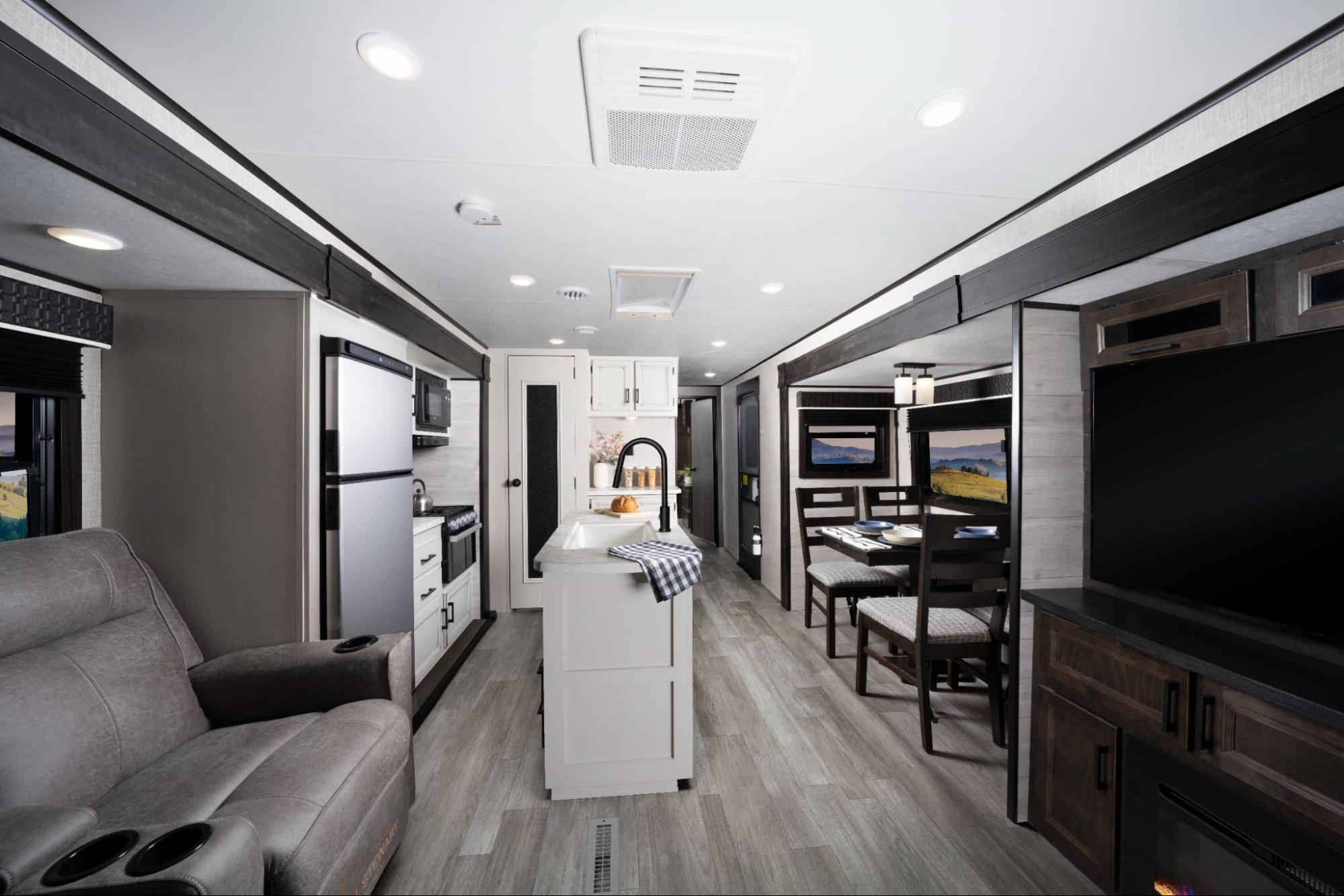 Top-quality materials are used in the construction of the RV, making all of the Jay Flights some of the toughest and longest-lasting travel trailers out there.
Jayco utilizes I-Class cambered structural steel I-beams, a fully-integrated A-frame, the Magnum Truss™ Roof System, ⅝-inch tongue-and-groove plywood floor decking, galvanized steel in the wheel wells that's impact-resistant, and a front diamond plate. 
The roof material comes with a 20-year warranty if that tells you anything. In short, the Jay Flight models are all different, but they're built to the same uncompromising standard, so they're here to stay.
5. Affordability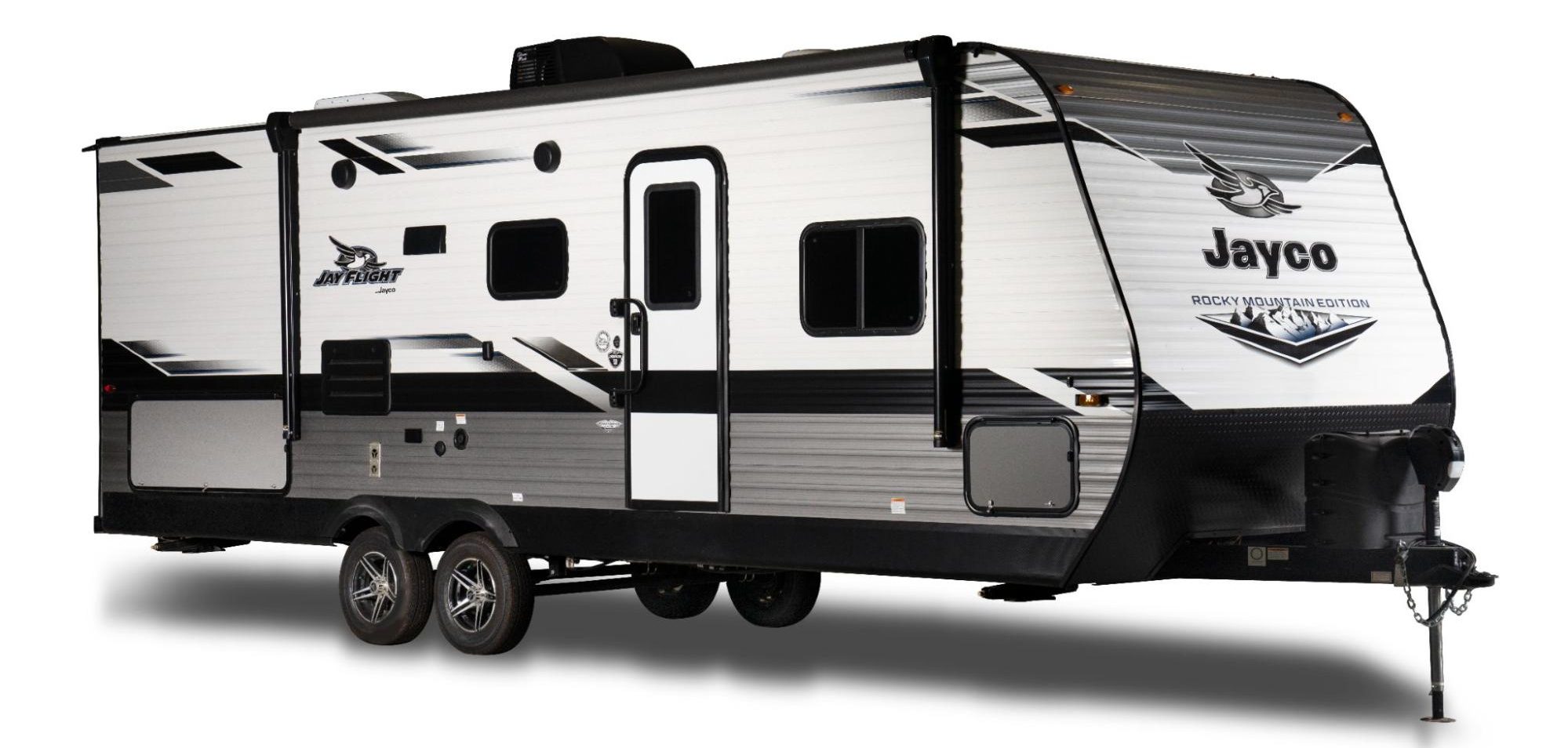 If you look around the industry, you'll notice numerous travel trailers with higher MSRPs than the Jay Flight and Jay Flight SLX models. This speaks to Jayco's commitment to put out affordable products that regular people can afford to purchase and use.
The Jay Flight SLX 7 starts at only $22,134. The Jay Flight SLX 8 starts at $30,065. And the Jay Flight's MSRP begins at $40,664. Obviously, with added equipment, those prices will increase, but when compared to some of the other RV options for families out there, these RVs from Jayco are a clear winner. 
To learn more about Jayco's travel trailer offerings, visit the company's website.