Living Large: Family RVs
These five home-away-from-home RVs sleep 5–9 happy campers and deliver on residential features, comfort, and a lifetime of memories.
With summer in full swing and many of us enjoying RV travel with our families, we got to thinking about those folks who are hitting the road with three or more kids in tow. Or maybe you're playing Airbnb host to loved ones who pop in for occasional overnighters while you have the luxury of endless days on the road. Either way, having comfy living accommodations where a family can gather, enjoy meals together, and get a good night's sleep are key to enjoying this treasured time.  
When it comes to little campers, some parents prefer having their kids' beds within earshot to hear what mischief they may be rustling up, while other mamas and papas like the set-apart bunk-room arrangement that accommodates separate sleeping schedules and keeps the living area free of toys that may get stepped on.  
We've mixed it up a bit and selected five RVs in various classes that deliver the comforts of home and can harbor at least five campers. After all, not everyone has the same opinion of what RV is ideal for their family, no matter the size. The one thing these RVs do have in common is that they are geared for big-family fun and score high on delivering on adventures in comfort and style.  
Truck Camper: Lance 1172
It's hard to match the versatility of a truck camper—it can widen your camping options and you can park in a "regular" parking space, which is handy for spontaneous stops when cruising down the highways and byways. With an overall length of more than 20 feet and a floor-length of almost 12 feet, the 1172 is the largest of Lance's campers and can sleep five-six. This two-slide big boy for longbed trucks has a dry weight of 4,174 pounds so you'll want a heavy-duty pickup to carry this cozy home with all your gear.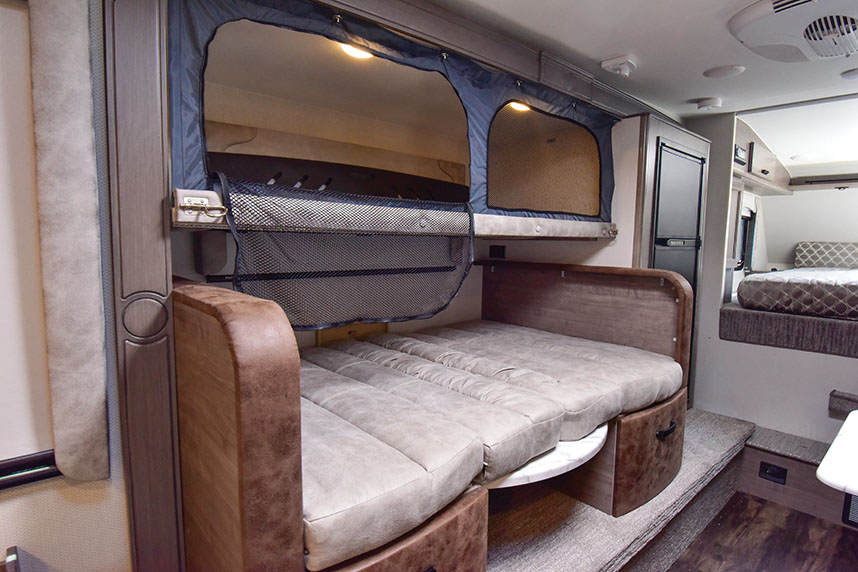 The Super Slide four-seater dinette converts into a bed by simply pulling a latch, pressing down, and rearranging some cushions. A second slide at the rear of the camper contains a jackknife sofa (36-by-59 inches in bed form). This makes for lots of floor space and a straight shot to the bathroom without bumping into a loved one who is preparing dinner in the kitchen. Need more safe sleeping space? A tent-style optional drop-down bunk with child restraint over the dinette is so cute that your kids may wrestle for it. The dry bath with a seat in the shower has a 12-inch-deep tub, simplifying getting the little ones to sparkle after a day on the run.  
While the kids snooze in comfort on the lower level, mom and dad can claim the deluxe queen pillowtop mattress over the cab that's sectioned off with a curtain. With huge windows on the side and rear walls of the 1172 the whole family will have a wonderful view of all the pretty places you visit in luxury. Base MSRP: $54,366 ($54,837 with drop-down bunk). 
Class A Gasoline: Thor Windsport 34J
With 27-by-74-inch bunk beds just outside the master bedroom with its king walk-around bed, parents can keep tabs on what their kiddos are doing when they're supposed to be sleeping. And there's plenty of room for a little one to snuggle in with mom and dad in their big bed. Or for more privacy (and quiet), use the sliding door to close off the bedroom from the bathroom and living area. The bunks also convert into a closet complete with a hanging clothing rod and sliding doors by simply folding the top bunk up against the sidewall. The 34J's single streetside slide runs almost the entire length of this 35-foot, 9-inch Class A.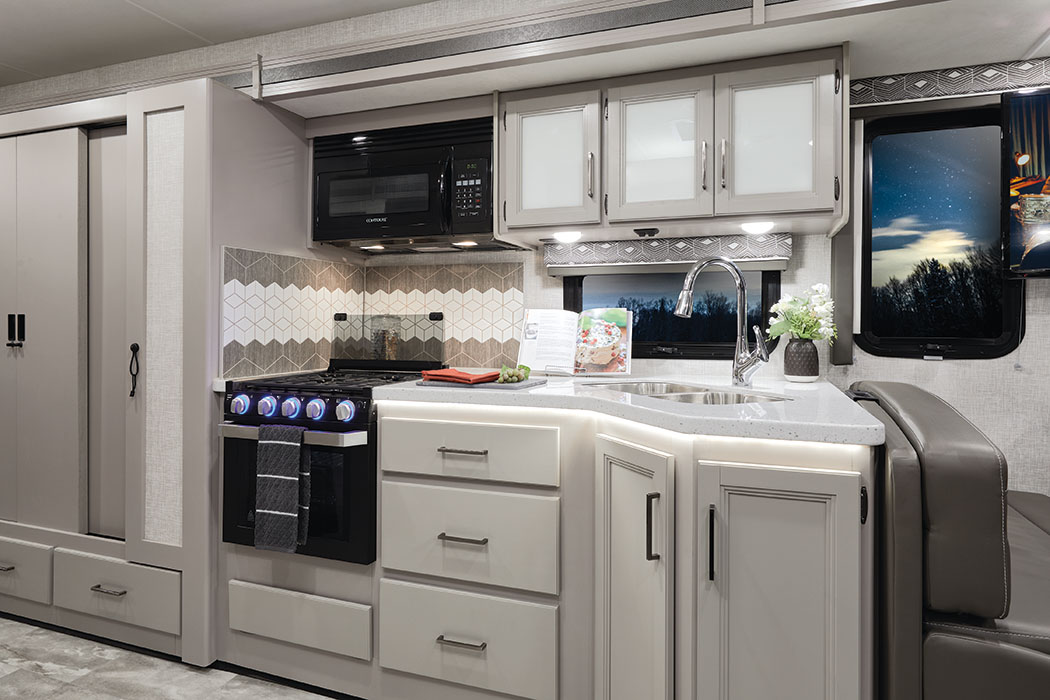 Set on a Ford F-53 chassis, the gasoline-powered 34J sleeps seven–nine with its Power Drop-Down Hide-Away Overhead Bunk with Cotton Cloud Mattress, Dream Dinette, and 68-inch-long sofa bed, and has seat belts for seven. Optional is a Single Child Safety Tether in the dinette. 
Included in this upscale-living motorhome is solar prep, a Winegard ConnecT WiFi Extender +4G, a 39-inch TV over the dinette, a 32-inch TV in the bedroom, plus an exterior 32-inch TV on a swivel bracket with a Bluetooth built-in soundbar and radio under an 18-foot electric awning. There's an outdoor kitchen and exterior storage measures 107 cubic feet. Base MSRP: $182,850. 
Class A Diesel: Fleetwood Discovery LXE 40G
This two-slide diesel-powered luxury home on wheels is built on a Freightliner XCM Series chassis and can have nine happy campers comfortably snoozing when the sun goes down. In addition to bunk beds with storage next to the master bedroom with king bed, family members and guests can bunk on the converted U-shaped dinette, full-size sleeper sofa, and optional Hide-a-Loft drop-down twin bed over the LXE 40G's cab. There are seat belts for TK total in this 41-foot, 4-inch motorhome.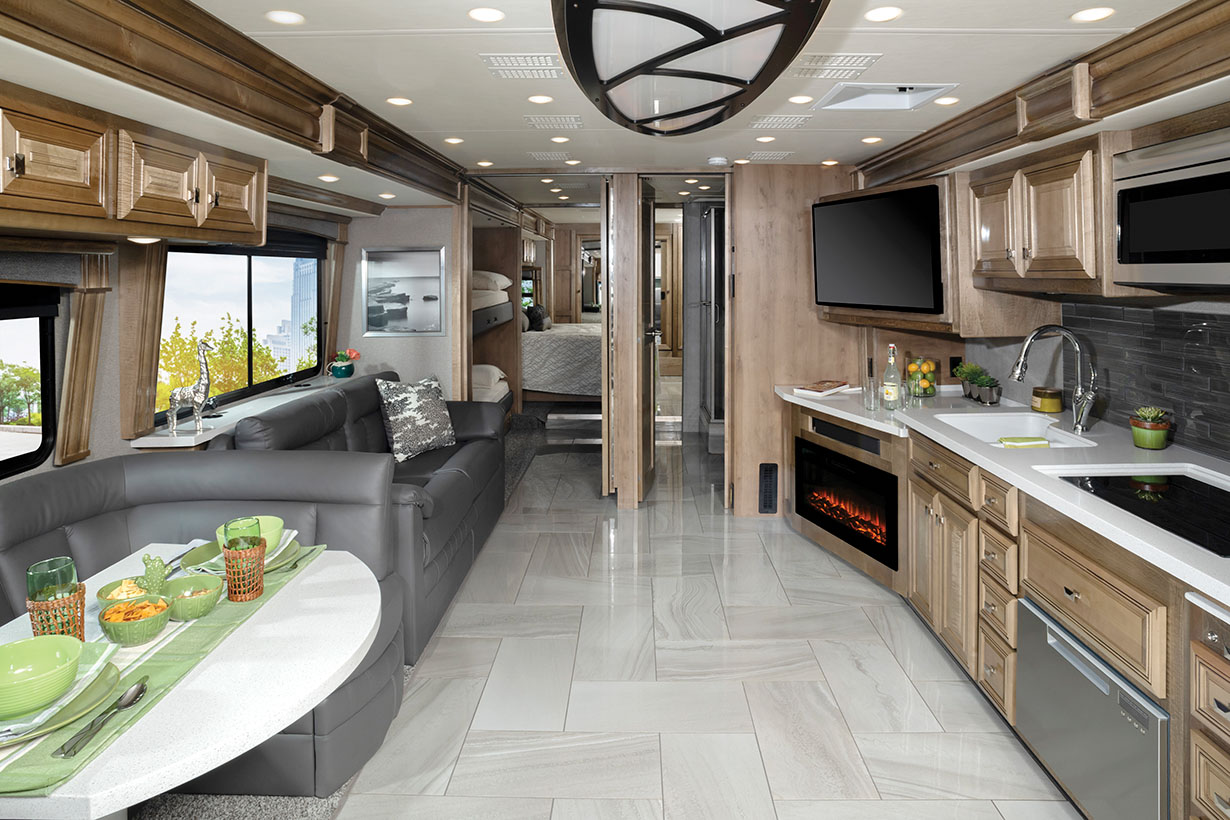 Standard are a stackable washer and dryer alongside a full-length wardrobe in the master suite, full-coach water-filtration system, Aqua-Hot on-demand hot water, a tiled shower, and porcelain macerator toilet in the full-size three-entry bathroom, and a fireplace and 43-inch LED TV in the spacious living area. The kitchen sports abundant solid-surface countertops, a stainless-steel farmhouse sink with covers, a two-burner induction electric cooktop, a dishwasher, and a TK-cubic-foot residential refrigerator. Plentiful storage comes in the form of upper and lower cabinets and drawers throughout the RV. 
Moving the party outdoors, you can enjoy the 40G's entertainment center under a TK-foot awning with motion sensor retract. Several compartments have pass-through storage, including one with a slide tray that can be reached from either side of the 40G for easy access to family toys. Base MSRP: $418,037 (2022 model). 
Fifth-Wheel: Highland Ridge Open Range 395BHS
The Open Range line is available in fifth-wheels and travel trailers, and our focus here is on the new-for-2022 42-foot, 6-inch 395BHS fifth-wheel with its L-shaped sofa made for large families who love to cozy up together. At least six people can pile on the comfy couch that converts into a full-size bed and faces a 50-inch HDTV over an electric fireplace. In the spacious kitchen with an island you have a choice of an 18-cubic-foot LP-gas/electric refrigerator or, if that's too small for your clan, a 21-cubic-foot residential model. Large windows back the sofa, and if more seating room is needed, two can claim the recliners.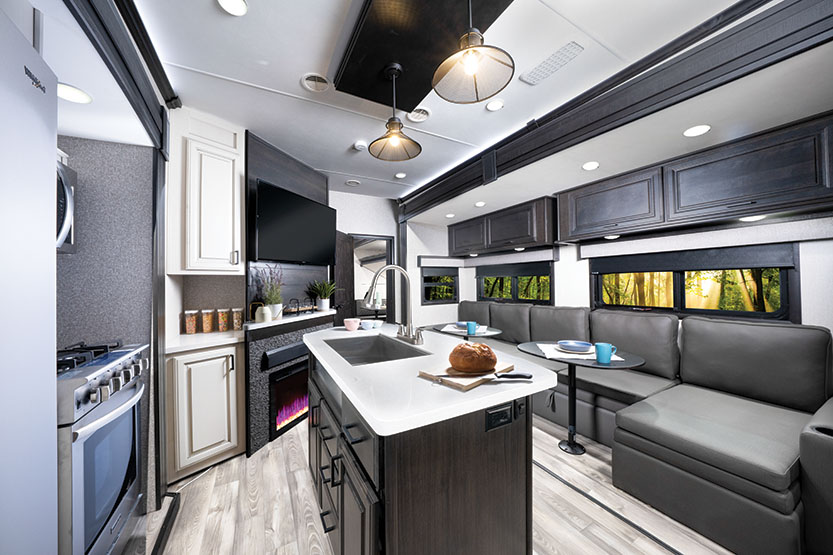 This five-slide RV that sleeps seven has a rear bunk room with its own half bath and separate entry. Various sleeping configurations can accommodate four siesta takers, including a fold-up-and-down bunk that's part of a four-seater dinette. There's also a flip-up desk in the bunk room and an entertainment center with optional TV. 
At the front of the 395BHS is the master bedroom with a queen-size bed, washer and dryer prep, and a two-entry bathroom. Outside, separate electric awnings cover the two entry doors and there's a kitchen with a griddle, fridge, and sink. With its 85-gallon freshwater tank, the 395BHS has the largest such capacity in our roundup. Base MSRP: $TK. 
Class C: Winnebago Minnie Winnie 31K
The "Minnie" portion of the name in Minnie Winnie is an oxymoron for the 32-foot, 9-inch Class C 31K that can comfortably sleep seven campers, including two at each end of the unit with beds ready to crawl into when it's lights out for the eve. In minutes, the dinette and sofa morph from relaxed sitting to sleeping for three, and contain five seat belts (seven total). The 31K's single slide incorporates the 45-by-82-inch U-shaped dinette and a 40-by-60-inch sofa bed for an open and airy living room.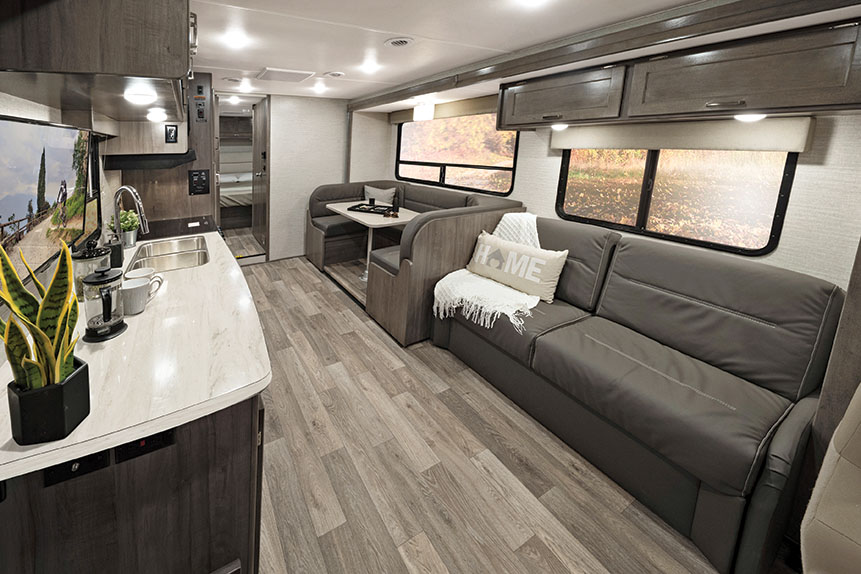 The kitchen's spacious solid-surface countertop offers lots of food-prep room, and the cavernous pantry with five pullout trays can be packed with supplies for big families. All appliances, including a three-burner range, overhead microwave, and 6.3-cubic-foot electric refrigerator, are in-line on the motorhome's curbside wall.
Blackout shades cover the large windows behind the dinette and sofa for the best of both sunshine and darkness, and you can spin the captain's chairs around for seating for two more. A split-bath (shower on one side, toilet, and sink across the hall) and master bedroom at the rear of the motorhome are sectioned off from the living area by a sliding door. Base MSRP: $130,467. 
Travel Trailer: Forest River Wildwood 32BHDS
The two-entry, two-slide Wildwood 32BHDS is the bee's knees for families who like being couch potatoes together. The connecting U-shaped dinette and L-shaped Versa-Lounge are housed in a slide with panoramic windows. Shift around a couple of cushions and the seating becomes one big sofa on the streetside that accommodates at least 8–9 happy campers in view of a 30-inch electric fireplace and entertainment center with an optional 42-inch HDTV.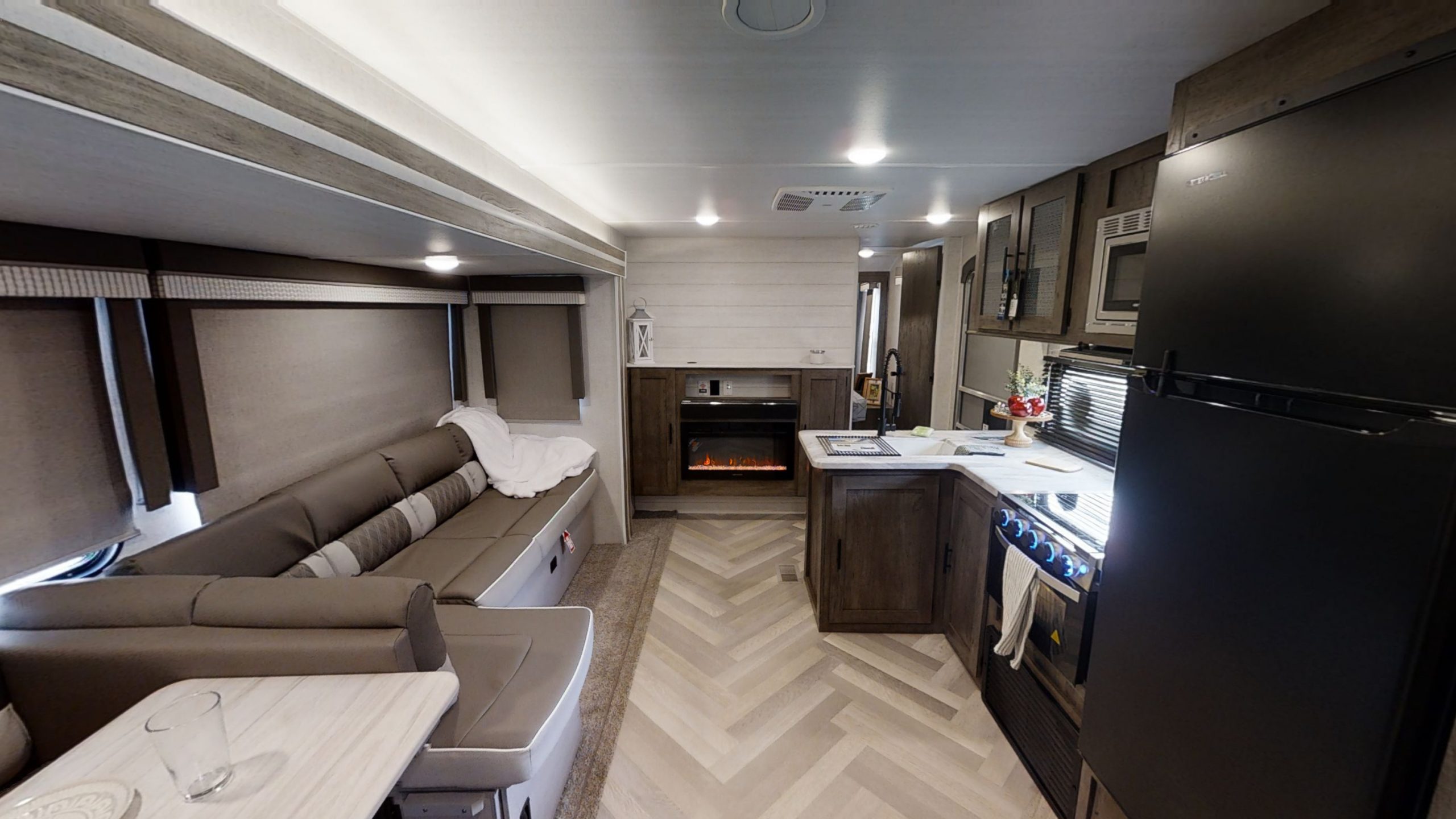 There's so much room under the Versa-Lounge that three large bins can fit under it for stowing items out of sight, plus there's room for a bin under each side of the dinette's seating. The lounge and dinette each convert into full-size beds. In addition to the walk-around queen bed up front, four more sleepers can claim the 32BHDS's rear bunk room with its drop-down bunk and Versa-Queen bed, upping the sleeping space in this travel trailer to 10. Or remove the lightweight Versa-Queen for more storage. The bathroom is at the rear of the 32BHDS and has a separate entrance from the outside.
Freshwater capacity is 40 gallons. The 11-cubic-foot 12-volt fridge holds lots of food for your clan and the L-shaped kitchen offers counter space between the sink and four-burner range. Tasty snacks can also be whipped up in the outdoor kitchen with fridge, sink, and grill, while enjoying sun protection under an 18-foot awning. Keep the party going with a barbecue hooked up to the T32's LP-gas quick-connect. Base MSRP: $46,081.
Travel Trailer: Keystone Passport SL 282QB
With a queen up front, two double bunks at the back, and a U-shaped dinette and tri-fold sofa sleeper that converts to sleeping for 1–2 each, the 282QB can accommodate up to 10 sleepy campers. There's plenty of storage in the bunk room and each bed has its own window and LED light. Housed in this QB's single slide in the living area, the seating has the option of Pivot furniture where the backrest flips back and forth for dinette or sofa position.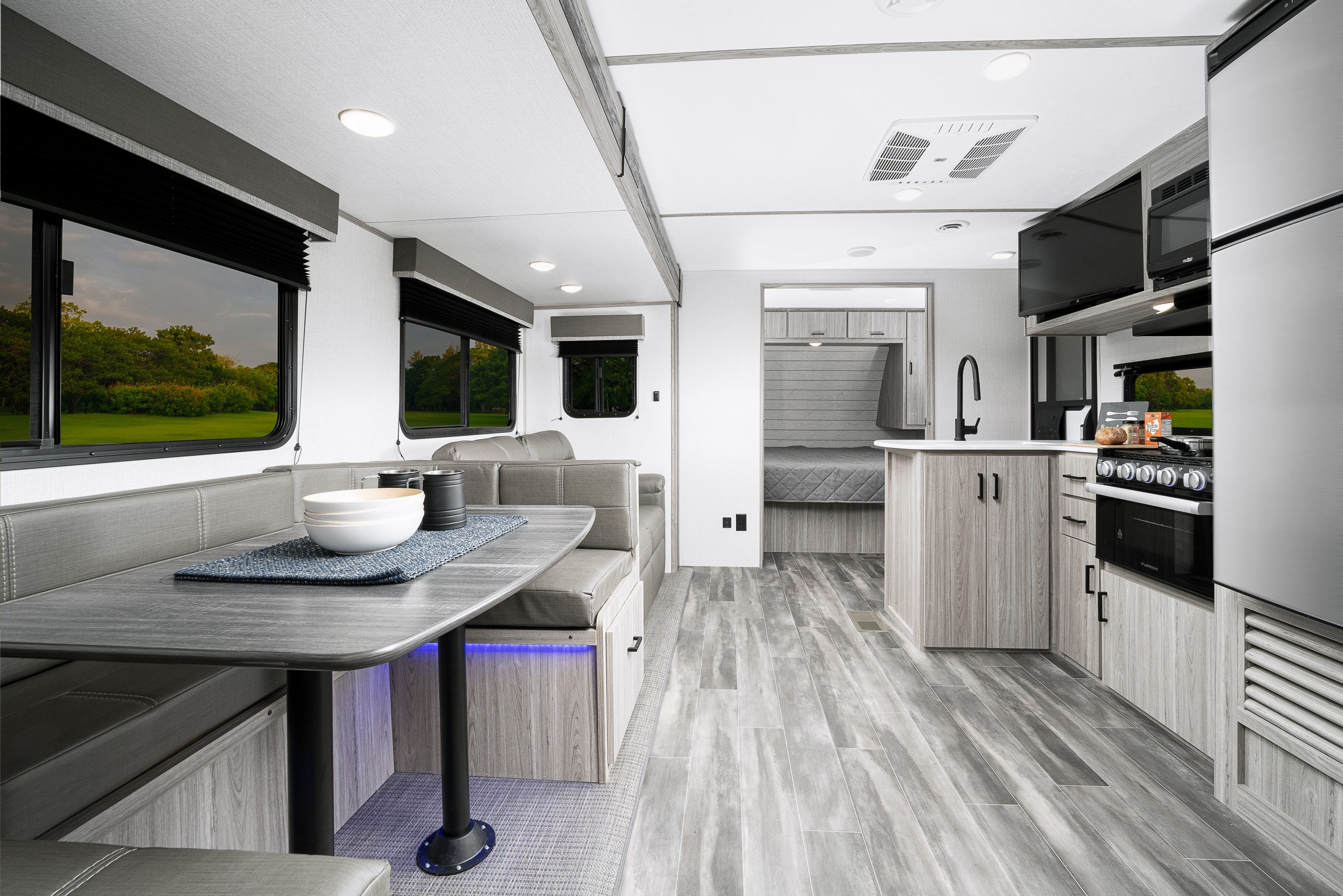 The kitchen's floor-to-ceiling corner-style pantry has lots of room to pack in food for big families and the cabinet under the farmhouse-style stainless-steel sink can be accessed from two sides.
The 282QB is just under 33 feet long and has a dry weight of 5,743 pounds. Every Keystone RV includes the Winegard Air 360+ antenna with wiring connecting it to a receiver plate to make installation of a Wi-Fi router easy. This antenna receives AM, FM, and over-the-air television signals, and is HDTV compatible. It also features dual 4G antennae to optimize reception, two times the signal strength, and a built-in low-noise amplifier to minimize interference.
Outside, at each end of the RV is pass-through storage, including U-shaped basement storage at the rear of the trailer that can also be accessed from the left and right sides of the RV. Base MSRP: $34,562.