The Black Series HQ19 Was Built for Off-Roaders
Luxurious Inside and Rugged Outside, Just Like it Should be
Off-roading is by its very nature a rough and challenging endeavor. It's not an activity for the faint of heart, but your camping accommodations don't have to be as rough or difficult as the journey. The Black Series HQ19 brings luxurious camping features and amenities to the off-road community.
What this means is that you can bring the camper with you, drive the trails all day, and then come back to a comfortable home base that lets you rest up for more fun the next day. The 25.8-foot camper weighs just 6,525 pounds, meaning many off-road vehicles will be able to tow it without issue. 
Off-Road Capability
Built specifically with off-roading in mind, the HQ19 features all the off-road equipment you'll need to go far off the beaten path. You'll find two sets of independent suspension, off-road tires providing stability and smooth towing no matter where you go, and an armored chassis to protect the underside of the travel trailer. 
These unique construction features help make the Black Series HQ19—or for that matter any of the Black Series off-road travel trailers—fantastic for folks who want to go beyond the typical dirt road. Additional features include larger water tanks (64-gallon and 12-gallon) and a triple filter drinking water system, four different 150-watt solar panels, and a 2,000-watt inverter. 
Luxurious Interior With Impressive Features and Amenities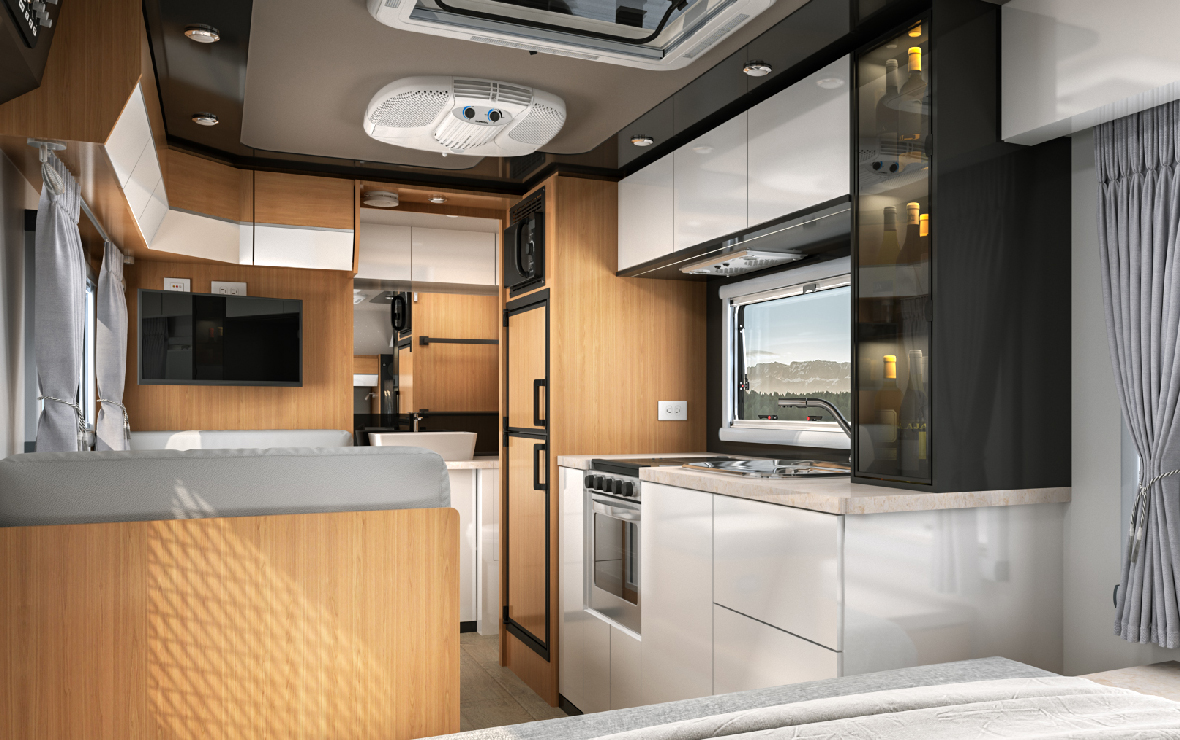 While the off-road capability of the HQ19 is impressive, it's just one of the things that set the travel trailer apart. The interior of the RV is quite luxurious, proving you don't have to rough it while you off-road or overland. 
With a modern interior design, the HQ19 delivers a comfortable and aesthetically pleasing experience. Materials are top-notch and include wood vinyl flooring, faux leather seating, real leather accents, and timber finish veneer. The large windows provide ample light during the day and the smartly-placed interior lighting means you can enjoy the space well into the evening. 
The interior offers a pair of sofas, a separate private bathroom and shower with vanity and a washing machine, an ergonomically designed queen bed, and a home-like kitchen with all expected appliances, such as refrigerator, oven, microwave, and stove. 
If you want to learn more about the Black Series HQ19, check out the company's website. It also has plenty of other travel trailers ready for your off-road adventures.