The Winnebago HIKE 100 Can Make Your Adventures Better
A unique travel trailer for almost any trip!
For those who like to head further off the beaten path or whose adventures tend toward the rugged side, the new Winnebago HIKE 100 may be just the ticket.
Although the towable might be compact, the HIKE 100 is fully outfitted with the features and amenities modern campers have come to expect. And the best part may be that it can be easily towed by many smaller vehicles, like your family SUV, thanks to a dry weight that's less than 3,000 pounds for most floorplans.
Floorplans for Adventurers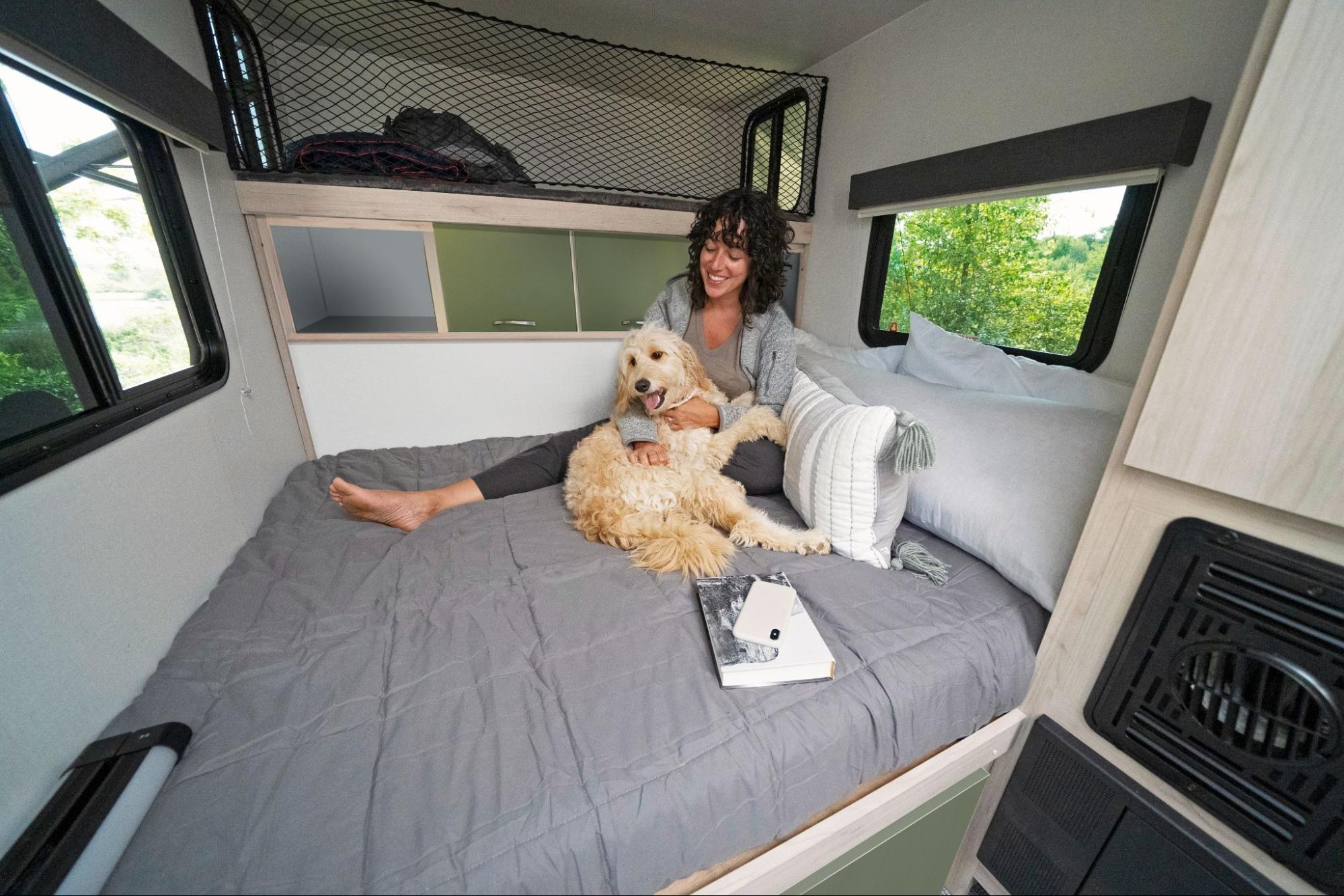 While adventurers need a towable option that's as tough as they are, they also need a comfortable place to relax at the end of a long day. The HIKE 100 meets both criteria, with five distinct floorplans that let you choose the layout that works best for you while maximizing the trailer's space.
Some floorplans sleep two, some sleep three, but all fit in the HIKE 100's 15-foot, 9-inch compact footprint.
The H1316FB features a large east/west queen bed plus a loft bed, as well as a wet bath/gear closet, galley, and exterior kitchen. The H1316MB includes a sofa/Murphy bed,  galley, wet bath/gear closet, and folding table. The H1316DB provides campers with a U-shaped dinette that transforms into a bed, plus a loft bed, wet bath/gear closet, galley, and an exterior kitchen.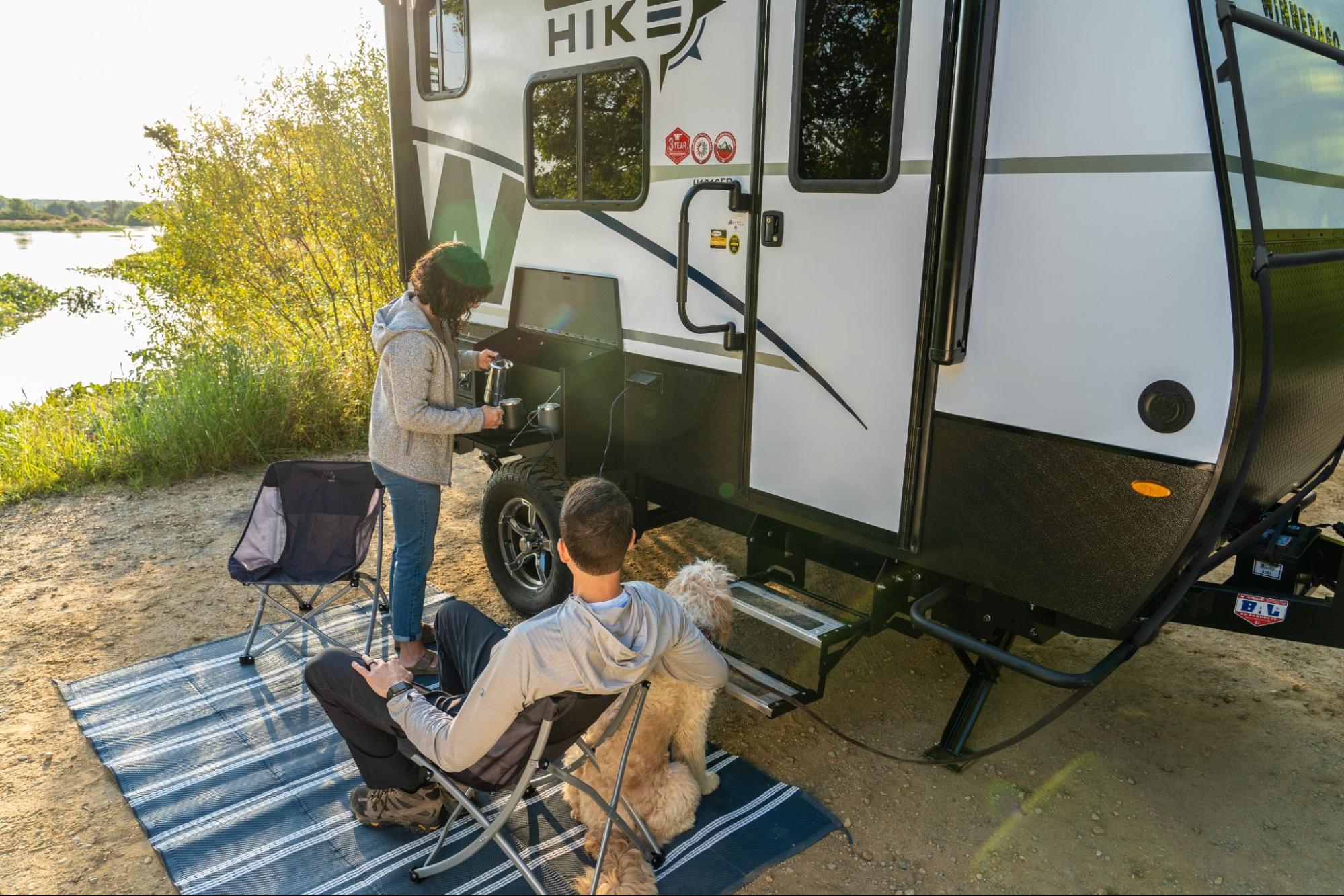 The H1316SB features rear double doors for easy access, a folding table and bench seats, and a bed that can be raised toward the ceiling to give you 40 cubic feet of interior storage space. The H1315TB offers a similar folding table and bench seat, but instead of double rear doors, you get a rear bike door that opens to the interior storage.
Excellent Features Make the HIKE 100 Comfortable and Versatile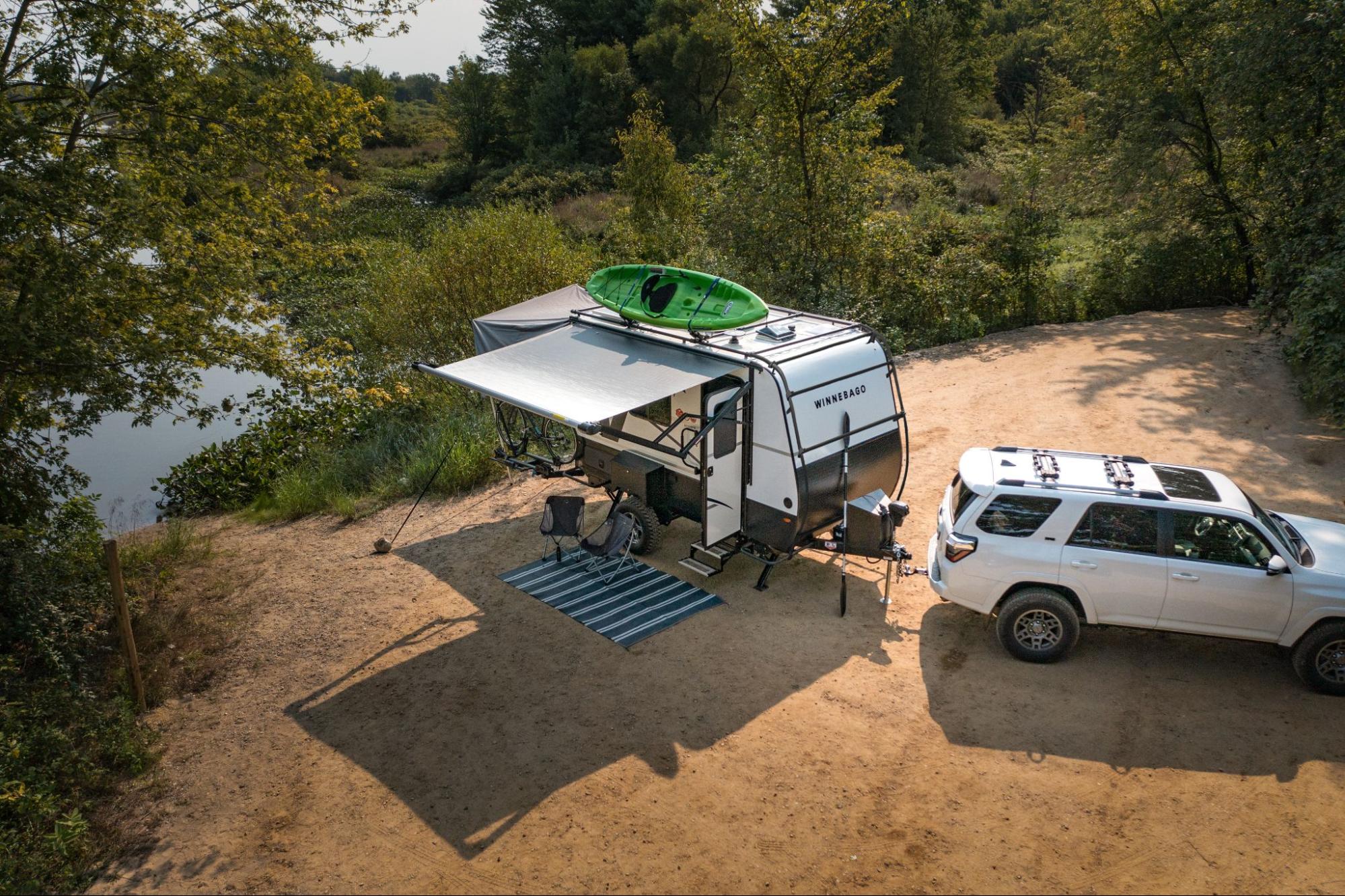 The HIKE 100 is specifically outfitted to provide a versatile gear hauler and base camp for active adventurers. There's an innovative roof rack system that accepts Thule attachments, a 2-inch receiver that's ideal for a bike rack and other hitch accessories, fender storage compartments, and additional protections for taking the rig off-road.
Add to all that a fully-equipped galley with a portable induction cooktop, 1.1-cubic-foot microwave, sink, a 3.1-cubic-foot compressor-driven refrigerator, and a wet bath, and you have everything you need for a wilderness getaway.
To help keep the power coming, the HIKE 100 has a 190-watt solar panel with a 30-amp controller, plus side-mounted prep for an additional portable panel. The holding tanks are equipped with 12-volt pad heaters and there are 1.5-inch sidewalls with a radiant foil barrier that reflects UV rays to keep cool in summer and help prevent heat loss in the winter, so the HIKE 100 is ready for any season.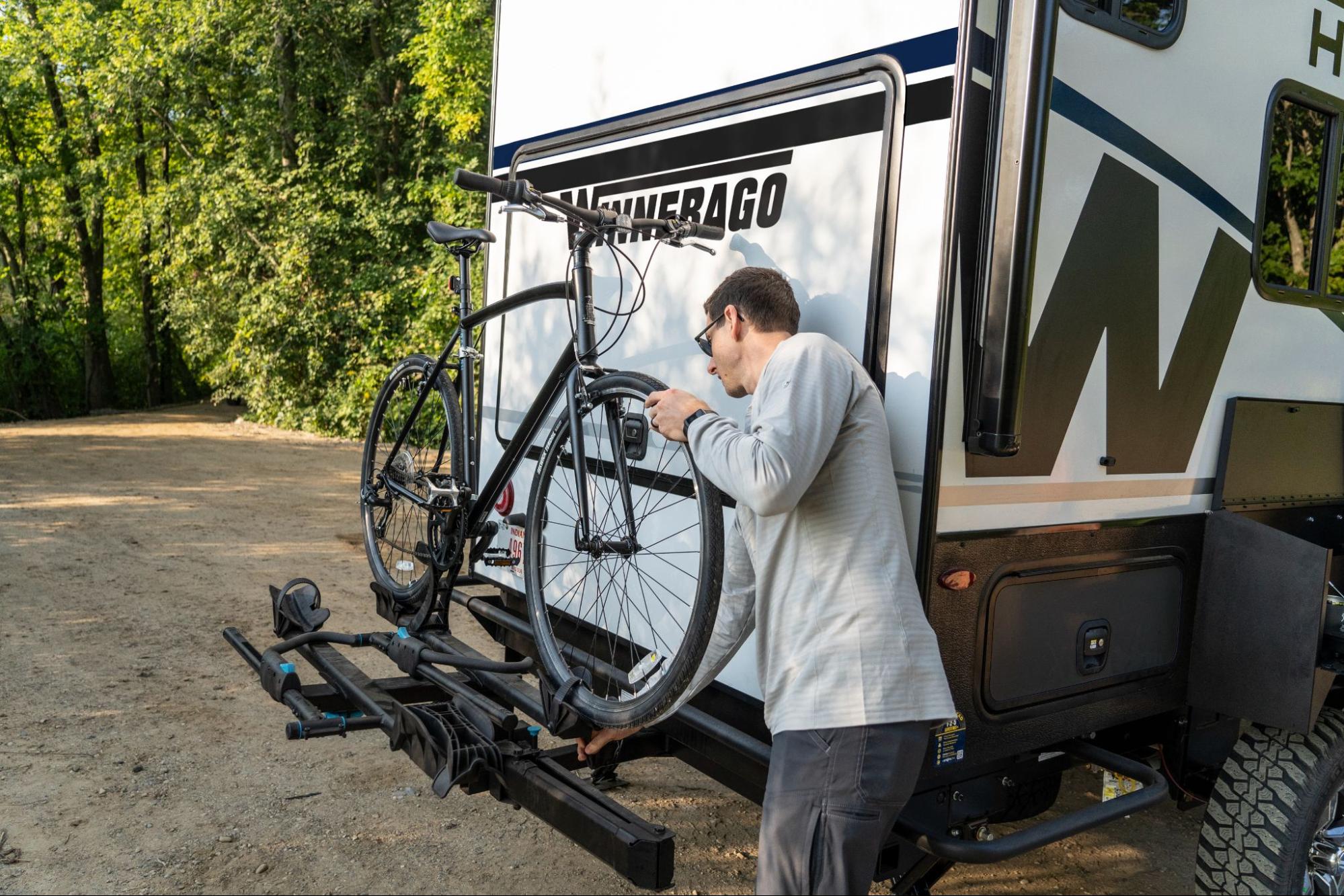 Campers will also enjoy a powered awning with LED lighting, an additional batwing awning to expand outdoor living space, TV prep in the living room, Wi-Fi prep, Bluetooth speakers, and a wireless cellphone charger.
To sum it all up, the HIKE 100 punches well above its weight class. It's designed to be ready for any adventure, with well-thought-out, highly functional features that can work for a wide variety of campers.
To learn more about the Winnebago HIKE 100, visit the company's website.