Throw an Outdoor Graduation Party with Your RV
A Step-by-Step Guide
Daaa Da Da Daa, Daaaaaa Daaaaaa… Can you name the tune? What I was shooting for was the classic commencement soundtrack, "Pomp and Circumstance."  The chances that you've got a soon-to-be graduate somewhere in your family are pretty good. As we get into the back half of May and the ceremony draws closer, you may be wondering how to make your grad's party extra special. Well, look no further than your motorhome or travel trailer.
Yes, your RV is an awesome way to camp on wheels and explore the country, but it can also be a unique hub for your graduation party this spring. We've put together a few ideas about how your weekend warrior rig can be converted into the ultimate grad party pad.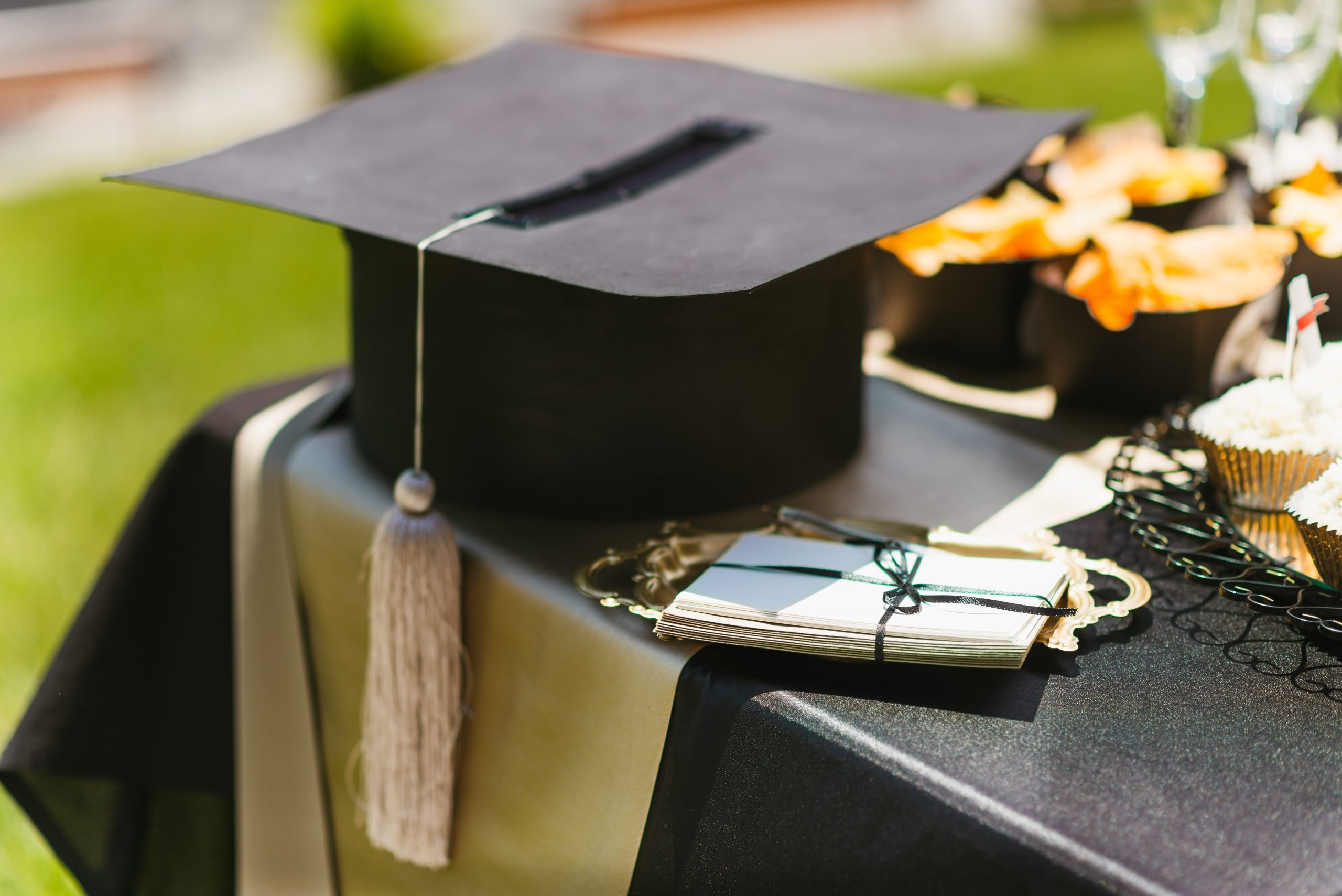 Party Off-Site
We've all had that one weekend where it was one grad party after another, hopping around in the suburbs. One way to really make your party stand out is to hold it off-site. Your RV offers the comforts of home (A/C, a restroom, possibly a full kitchen), so why not change it up?
Imagine holding the event in the natural beauty of your favorite state park. Many state parks should have plenty of parking for your guests as well as restroom facilities, picnic tables (or even group shelters), and outdoor grilling stations. Your RV can serve as a modern comfort station for guests to enjoy conversation and snacks in a climate-controlled environment with padded furniture. You could also use your RV as a primary logistics hub to coordinate food and activity prep.
One thing you may consider is reserving a large group campsite. This will keep you from violating park rules for visitor numbers and, depending on the campground, will offer access to full hookups for your RV as well as additional electrical access for your guests.
Use Your RV as the Slideshow Venue
Many families like to compile a slideshow of their grad to share with their party guests. This is a sweet way to recall all of the great memories that have led up to this big life event. Connect a computer to the TV in your rig and make this the venue for your guests to view the slideshow. Small groups can rotate in and enjoy a little A/C  as they walk down memory lane or you can use an exterior TV if you have one.
Set up a Great Seating Area
When throwing a party, the comfort of your guests is a huge factor in their enjoyment. Having an inviting and comfortable seating area can go a long way towards achieving this goal. Your RV offers a number of advantages to help make this possible in an outdoor environment, and adding additional seating is as easy as adding a few camp chairs outside the door.
Shade
Many RVs have awnings or canopies. During the hot afternoons of late spring, the sun a little intense. Extending your canopy or awning will provide your guests a reprieve from the harsh rays. Consider adding a new awning or canopy if your rig currently doesn't have one.
Lighting
Your RV is also a source of electricity, so you can add great accents like outdoor lighting. If you're on your own property, you can drive a few posts into the ground and string a nice canopy of winding and whimsical lights. If this isn't an option, you can always decorate the exterior of your RV instead. Either way, adding some patio lights signals "party time" to your guests and this relatively small addition will have a huge impact on the overall vibe.
Fire Feature
Just like 'moths to a flame', people love to seek out and congregate around the fire, especially on a crisp afternoon or evening. Adding a fire feature to your seating area is almost always a good call (unless there are a lot of small children running about) to keep your guests happy and entertained.
Although we love the crackle of traditional fire pits, someone has to keep an eye on the flame and continually stoke the fire. This can be an inconvenience that cuts into your time with your guests. Instead, you can opt for a propane-fueled version that doesn't require the same watchful eye as the usual wood fire. Chances are, you have a spare propane tank or two in your RV (as well as a handy fire extinguisher) that can easily be utilized for your new fire feature.
---
With these features, tips, and items you'll have everything you need to throw a special outdoor graduation party with your RV. So, prep for your party and celebrate and honor your new degree-bearing grad while celebrating and enjoying the outdoors!