The Best Dog Harnesses for Hiking
Make sure you have the perfect harness for your dog as you travel!
Man and woman's best friend. Dogs are wonderful camping companions and bringing your pooch along for the journey can make the whole experience even sweeter. Perhaps the best and most accessible activity to enjoy with your canine friends while camping would be hiking.
Taking your dog along for a hike is a blast for both pets and their owners. Watch their eyes light up and nose twitch as they explore new and unfamiliar terrain, taking in all the sights and smells. Due to their natural curiosity, all of this wonderful new stuff can pose some risks for your dogs' safety, however. For instance, perhaps your suburban pooch has never encountered a mountain or the ocean.
For their protection and your peace of mind, it is important to make sure you've got a secure way to handle your dog at all times on your hikes. While the standard leash and collar setup works great at your local park, the steep and unpredictable angles, as well as the stimulation of a new environment, can be better handled by a harness that securely wraps around your pet's chest for maximum control.
Now, there are a lot of dog harnesses out there and not everyone might be right for you and your dog. We've put together some great options to consider for a variety of scenarios that are sure to do the trick. Let's see which one might work best for you.
For the Puller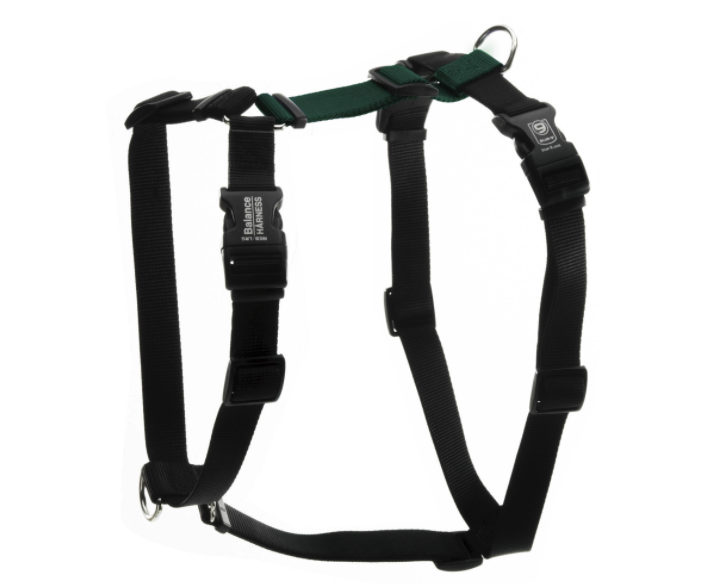 When out for a walk or hike with your dog, do you find yourself asking: who is walking who? A pup that has a tendency to pull and drag you all over the place can make hiking on uneven terrain dangerous for you both. Luckily, you can find harnesses that are specifically designed to deter excessive pulling by your pooch.
A highly-rated harness for these exuberant dogs, the Balance Harness by Blue-9 features a fully customizable six-point adjustment system to ensure a perfect on any body type. Other dog harnesses can somewhat 'choke' a dog that constantly pulls too hard on the leash, but the v-shaped design of the Balance Harness will leave your canine companion breathing easy.
For Swimming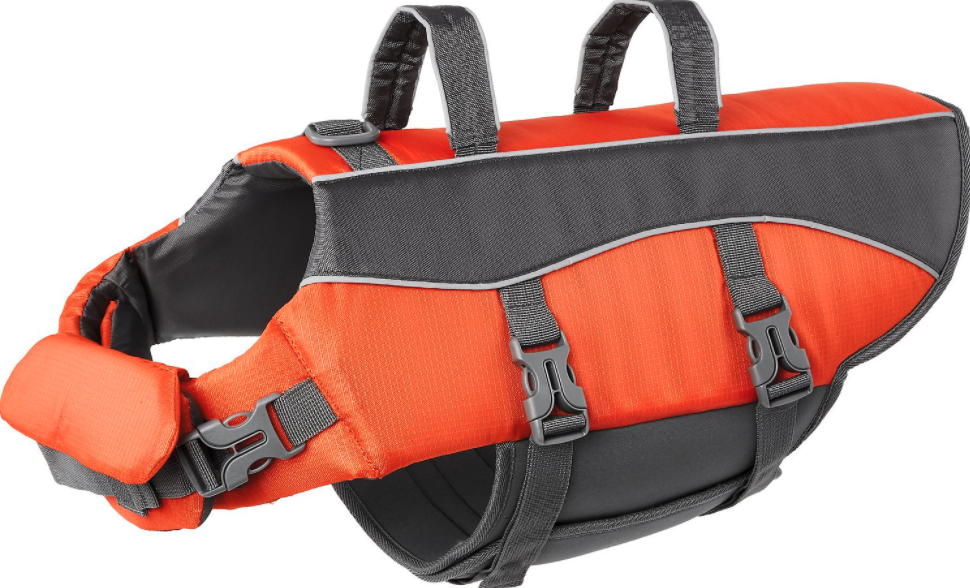 Do your hikes frequently take you by the water? Do you have a lab or retriever? Or, does your dog simply love splashing around any chance he/she gets? If any of these apply to you and your pet, you might be looking for something a little more specialized.
Enter the Ripstop harness by FRISCO (a brand by the popular pet site Chewy). This harness also acts as a flotation device for your pup. So when you reach your target lake, ocean, river, etc., you can unclip Fido from the leash (if the dog is well-trained) and they can dive in.
Now, you might be asking yourself, "why do I need a life jacket for a dog that knows how to swim?" Well, long hikes can take a lot of you and your dog and your pet may be more tired than they usually are. With the assistance of flotation, your dog won't have to work nearly as hard to cruise around in the water and you can rest easy knowing they'll be safe as they splash and play.
For Extra Toughness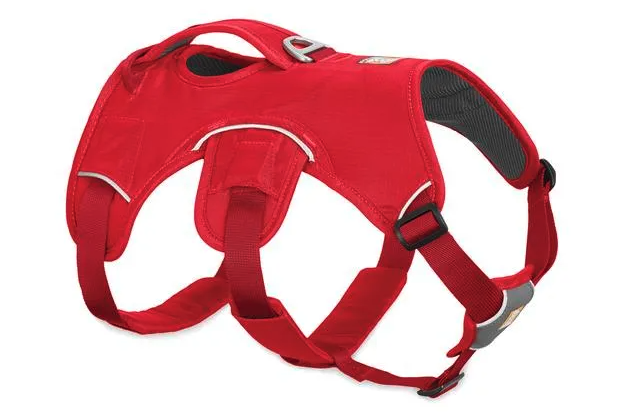 If your dog is anything like mine, all of your pet gear seems to essentially disintegrate in the blink of an eye. She will run through thick forests with wild abandon and jam herself through any rock crevice she can find. I don't even want to think about how many new collars I've had to buy over the years…
For pups that are really tough on their gear, you'll want to check out the Web Master harness by RUFFWEAR. Rated as a preferred harness for avalanche rescue dogs, you know this thing is up to the challenge. It also offers reflective features on its exterior for added safety at night and a super sturdy handle to assist your dog in getting over or through any tough obstacles
For Rain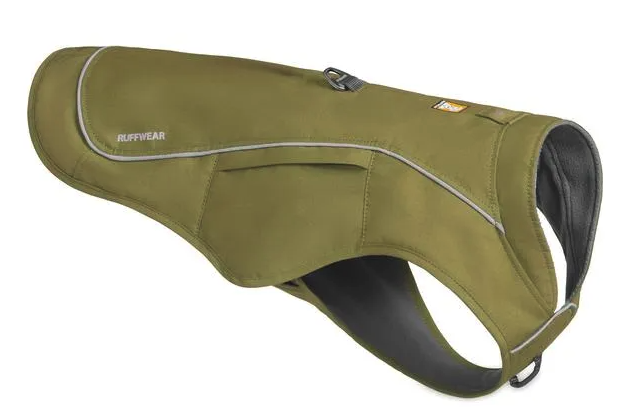 Especially for folks living in the Pacific Northwest, rain is a seemingly near-constant presence. At any given moment, a sunny day can turn into a sporadic downpour. Although your dog may enjoy playing in the rain, it can make them uncomfortable and in cooler climates, it can make them really cold.
Help keep your dog warm and dry in any rainy region with the RUFFWEAR Overcoat Fuse Jacket Harness. The 300 denier polyester shell is water-resistant while the fleece lining will help keep your pet toasty warm. For an added bonus, you'll find two small pockets to carry waste bags or other small items like treats.
For Added Safety
Am I the only one that gets a little anxious that the car doesn't have a seat belt for your dog? Surely not. For the safety-conscious pet owner, you can find harnesses that interface with your standard seat belt to ensure that EVERYONE has a safe trip.
The Drive Harness by EZYDOG is crash test certified to protect your pup should the unexpected happen. After an initial fitting, getting your dog secured takes only a matter of seconds. The strong D-rings on top allow you to seamlessly transition to a leash for your hike when you reach your destination.
Final Thoughts
Harnesses elevate the control and ultimately the safety of your dog-walking experience. This is crucial in typical hiking environments which can be unpredictable for you and your pet. After you switch to a harness from a conventional leash and collar setup, you'll probably never return!