Easy RV Meals to Make on Your Next Trip
Don't spend too much time on your vacation prepping and cooking, these easy meals make everything better.
One of the best perks of opting for RV travel for road trips is that you have a full kitchen at the ready. With an oven, a stovetop, a microwave, a sink, and a prep area, your kitchen is ready for whatever you can dream up. Although you may have all of the equipment you need to whip up a fancy seven-course French-inspired spread, you don't have to.
Let's face it, RV kitchens are small, and doing lots of dishes every night probably isn't what you imagine for your next RV adventure. While you might enjoy making something special now and again, focusing on easy and simple meals will cut down on prep and cleaning chores, giving you much more time to enjoy the great outdoors.
Read on below for some low-maintenance meal ideas that are perfect for your next RV road trip.
Breakfast
Breakfast Burritos
Pleasing your whole crowd is easy when breakfast burritos are on the menu, including the chef. All the cooking you'll really have to do is whip up some scrambled eggs (10 minutes or less). From there, let your hungry travelers top their tortilla with whatever they please.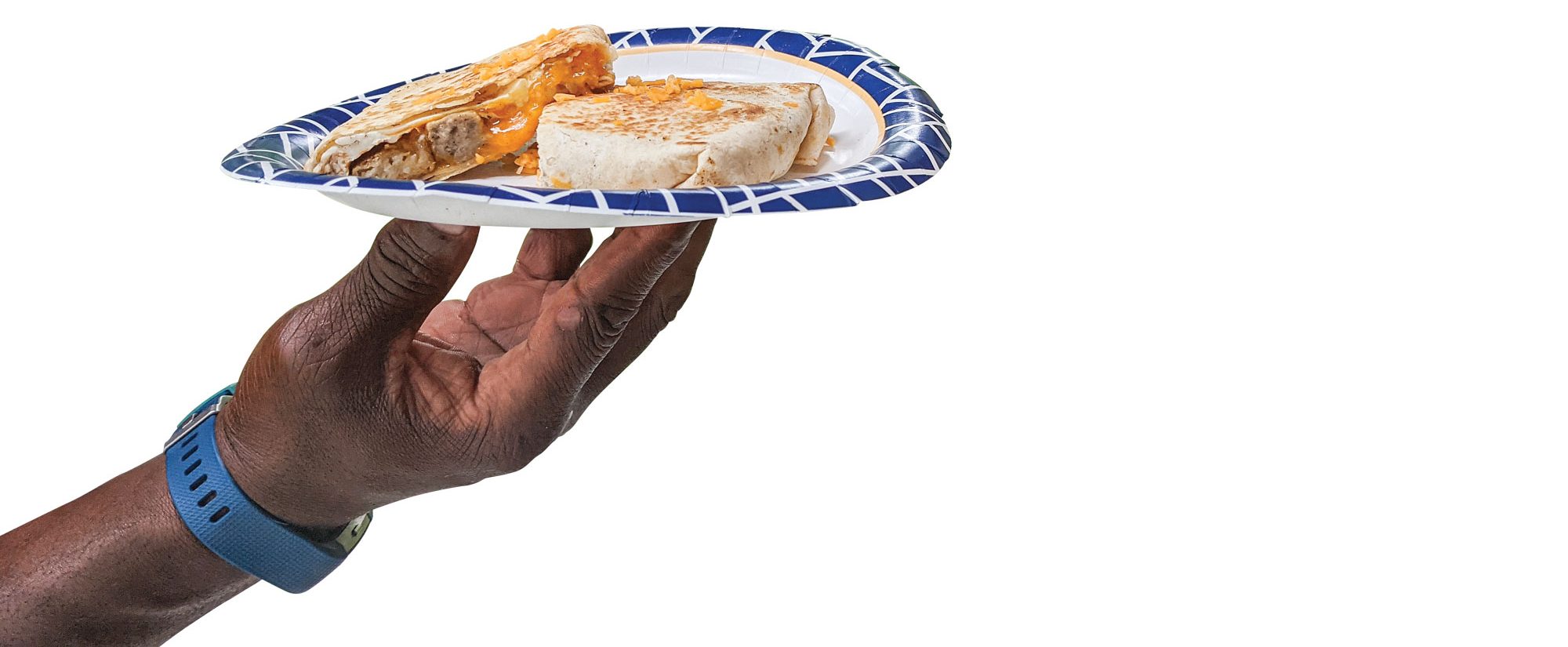 Time-saving options include jarred salsa, shredded cheese, frozen sausages or pre-cooked bacon, sour cream, and canned beans. Another plus is that burritos are highly mobile and can be wrapped up in foil for breakfast on the go.
French Toast Bake
If your camping crowd has more of a sweet tooth, french toast is probably a breakfast favorite. When you're out on the road, you might not want to stand over the stove cooking one or two pieces at a time, though.
Enter the french toast bake solution! Essentially, all you'll need to do is assemble everything in a baking dish and toss it in the oven. This means less time cooking and fewer dishes.
Lunch or Dinner
Chili
As any busy family knows, one-pot meals can be a lifesaver. My family's favorite has always been a nice and hearty bowl of chili. Although you could put in the effort of dicing dozens of tomatoes and measuring out all of your spices, a pot of tasty chili can be made incredibly simple.
After browning your choice of meat (I like ground beef or turkey), add in a high-quality chili seasoning mix (give Caroll Shelby's a shot). From there, toss in some canned diced or crushed tomatoes, a few cans of beans (I'm partial to a mix of dark kidney beans and black beans), and you're off to the races.
Foil Packs
For the ultimate combination of simplicity and customization, try out a foil pack dinner night. For those of you who may be unfamiliar, the main idea behind foil packs is that you can add your desired combination of protein, veggies, seasoning, and a little butter or oil to a foil pouch, toss it on the campfire (or in the oven) and BAM! you've got your own personalized dish (with no dishes).
Some easy veggies to have on hand that require little-to-no prep include baby carrots, pre-sliced mushrooms, new potatoes, broccoli or cauliflower florets, and sweet corn. For proteins, sausages (e.g. chorizo, chicken and apple, brats, Italian, kielbasa, etc.) are an excellent choice because they already have delicious seasoning mixed in. If you prefer beef, stew meat that is already conveniently cubed is a fantastic option.
Dessert
S'Mores Skillet
S'mores are a true classic in the camping world. Try this fun variation that toasts and melts all of the goodies in a skillet, leaving you with a sort of 'dip' for your graham crackers.
Think dessert nachos! If you don't have the ability (or desire) to get a fire going where your RV is set up for the night, this is a great alternative to bring the campfire experience inside.
Campfire 'Pies'
Sometimes referred to as "hobo pies", campfire pies are a fun and tasty (as well as easy) alternative to s'mores. You will need some special equipment for this one, though, so grab yourself a couple of pie irons.
With either butter or cooking spray, you'll grease each side of the pie iron. Next, you'll clamp the iron around whatever pie filling you choose (blueberry or cherry are traditional favorites) with two pieces of bread. After the campfire does it's work, you've got a fresh and tasty handheld pie ready to gobble up.
Final Thoughts
Preparing meals in your RV can be time-consuming, taking precious moments away from your vacation. With an open mind and a little ingenuity, you can find some tweaks on old classics that will save you tons of time in the kitchen. After all, wouldn't we rather spend more time eating and less time cooking?