Honda's Portable Generators Take Safety and Connectivity to the Next Level
The Future of Portable Generators Is Here
Among the many brands that sell generators to campers and RVers, Honda is the one known for reliability, ease-of-use, top-of-the-line performance, and innovative technology. Its latest lineup of generators for RV and camp use is no exception to this.
Of the generators available from Honda, the following four stand out as smart choices for anyone who RVs: EU2200i, EU2200i Companion, EU3000S1AG, and EU7000IAG. They offer a fantastic blend of high-performance and advanced features that help them stand apart from the competition.
Why a Portable Generator Makes Sense for Camping and RVing
One thing every camper needs is access to power, especially when camping in an RV. If you're in a developed campground, you'll likely have access to shore power, but not every campground offers an electrical hookup. That's where your generator comes into play. While many RVs come with a generator installed, there's never any harm in having an additional power supply on hand, too. And for those RVs that don't have a generator, then a Honda portable generator can be a much-needed addition.
A portable generator can provide you with emergency power and the convenience of camping when and where you want to with the ability to have all the power you need. You'll need to assess your power consumption to ensure you have the right generator for the job, but once you do you can pick the right generator for the job. From there, you should have few issues ensuring you're comfortable at the campground.
What Makes Honda's Lineup Special?
There are hundreds of generators on the market, but Honda's generators are different. They're known for being quiet and reliable above all else. These attributes alone set them apart from the competition, but they also offer some unique features unavailable from many other brands.
First and foremost is the new CO-MINDER advanced carbon monoxide detection system, with automatic shut-off. Another innovation is connectivity. Honda My Generator smartphone app puts the controls to your generator right in your hand via your smartphone.
Additional features that set these generators apart include fuel-injection, the ability to tether generators together for additional output, intelligent automatic voltage regulation, and more. It's these features and the performance of the generators in-general that help keep Honda's offerings at the top.
A Closer Look at the Top 4 Honda Portable Generators for RVers
Honda sells plenty of generators for both residential and commercial use, but it's the recreational offerings that we want to look at here. The company recently updated its lineup with new features. Here's a closer look at the four generators previously mentioned.
Honda EU2200iTAG
Standout features:
CO-MINDER advanced carbon monoxide detection system
Honda My Generator smartphone app
If you're looking for a generator that can provide you with 2,200 watts of clean and stable power for sensitive electronics and equipment, then the Honda EU2200i is a smart option. With quiet operation running 48 to 57 decibels, and an overall weight under 47 pounds, there's little not to like. Add to that the latest in generator technology, including CO-MINDER and Honda My Generator, and you're looking at one of the better generators on the market.
Honda EU2200i Companion
Standout features:
CO-MINDER advanced carbon monoxide detection system
Honda My Generator smartphone app
Say hello to the sibling of the generator above. The Honda EU2200i Companion is the perfect addition to your rig. It offers everything that the regular EU2200i portable generator does, but with the addition of a 30-amp 125-volt locking plug, making it ideal for RV use. It still comes with CO-MINDER, Honda My Generator, a light overall weight, and the same decibel rating.
Honda EU3000iS
Standout features:
CO-MINDER advanced carbon monoxide detection system
Need to step up the power output? Check out the Honda EU3000iS. Built to provide portable power to RVs of various sizes, the 3000-watt max power generator provides enough power to run most 13,500 BTU air conditioning units and provide some backup power should you need it. While this particular model lacks the Honda My Generator feature, it does have the more important CO-MINDER advanced carbon monoxide detection system so you can use it knowing you'll stay safe.
EU7000iS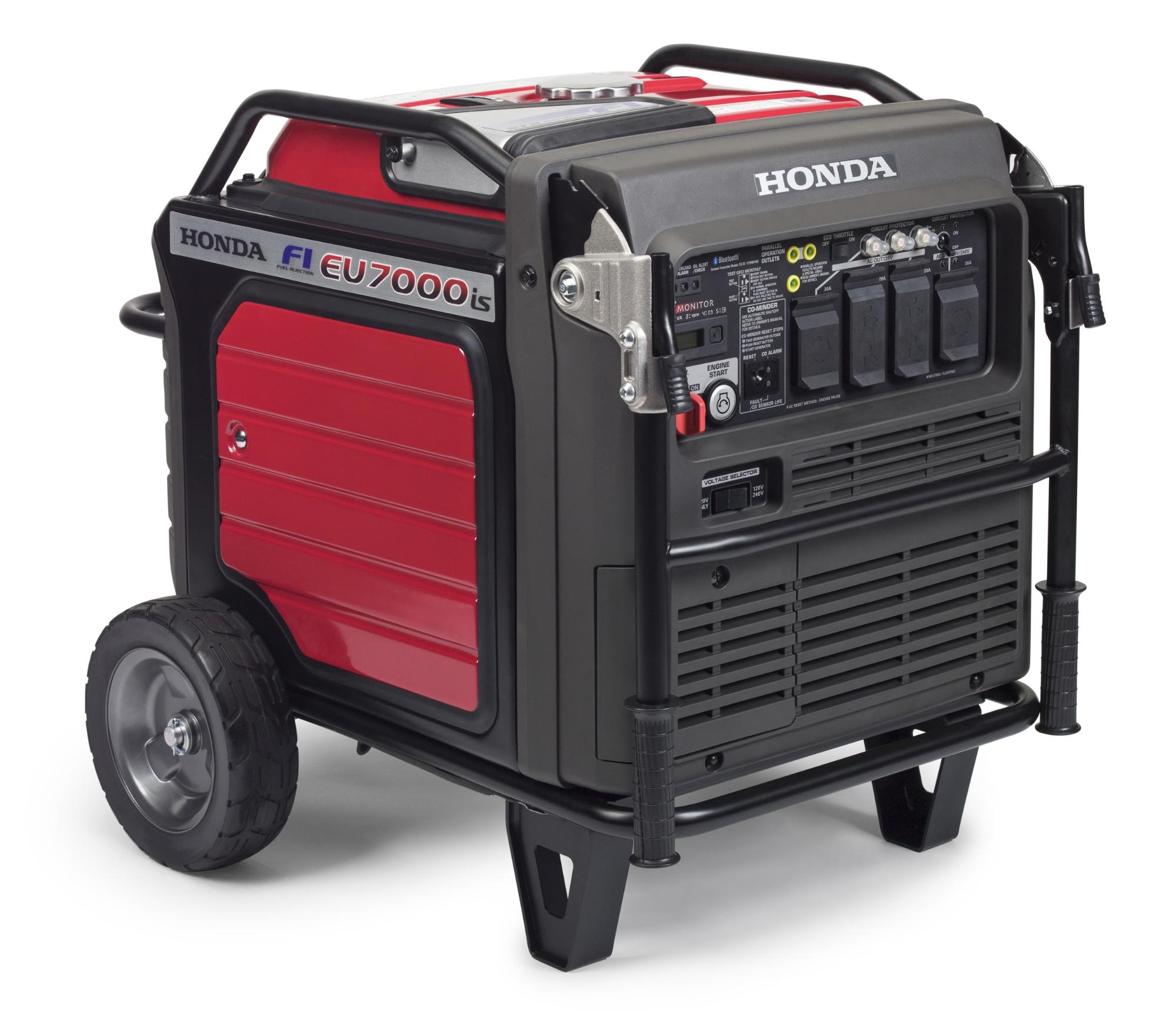 Standout features:
CO-MINDER advanced carbon monoxide detection system
Honda My Generator smartphone app
Of all of the EU line of portable generators, the Honda EU7000iS is the most powerful. This generator is still compact and packaged relatively small for its output, but it goes far and beyond the capabilities of the other generators discussed here. The EU7000iS is perfect for RVers and camper who need a significant amount of power. It provides enough power for RV appliances and electronics while still delivering a low 52 to 58-decibel noise level. Add to that the Honda My Generator app and CO-MINDER carbon monoxide detection system and you have all the generator you'll ever need at the campground. This unit is perfect for a larger RV or a family who has electricity demands that absolutely need to be met no matter where they go.