Should You Wax Your RV?
We get to the bottom of whether it's worth your time and your hard work.
The question of should you wax your RV or is it just a waste of time preoccupied much of my youth. Yes, I acknowledge that might be a weird thing to admit but regularly washing and waxing the RV was part of our summer chores as a kid.
Over the years, my brother and I became quite efficient at washing the RV rather quickly. It was the waxing that seemed to take forever. While it was certainly good character building, I often questioned if it was really worth it.
Flash forward a few decades and I am ready to answer this question definitively!
Is Waxing Your RV Worth It?
If you want it to look good, it is absolutely worth it. The reality is that even a wash and wax combination (like this one from Gel Gloss RV) will be better than simply washing your RV with mild soap and water.
Waxing your RV essentially places a protective coat over the paint that will slow down UV degradation and reduce the likelihood of extended exposure to the elements resulting in chips or cracks in the paint.
In other words, it will maximize the life of your paint and allow you to go longer periods before you need to re-paint your RV or replace the decals. If you aren't sure that your RV will be the right long-term solution for your family, it will also help you retain a high resale value when you place your used RV on the market.
To sum it up, here are the basic benefits of waxing your RV:
Protection against UV degradation
Protection from dust, dirt, water, and other elemental debris
Maximizes the life of your RV's paint and decals
Increases ability to get good value for your RV on the resale market
Turns heads and starts a conversation when you pull into "luxury" RV resorts with a 20-year-old RV that looks brand spanking new!
How to Wax Your RV
 If you are a new RV owner or you are just learning about the importance of waxing your RV, here are some basic tips to help you do it right the first time around!
Pick A Favorable Weather Day
 You will need a clear, dry day in order to wash and wax your RV. If there is any rain in the forecast (or it has rained recently), you may need to wait until things dry out in order to wax your RV.
Also, it can be good to wax your RV in the shade or on overcast days. Even if it is a clear, cloudless day, you should strategize to wax the various sides of your RV while they are in the shade instead of in direct sunlight. 
Get Your RV Waxing Supplies
 Here is a basic list of what you will need to wax your RV:
Ladder (always exercise caution when working on ladders. The best strategy is to have a helper who can stabilize the ladder while you are on it).
Soft microfiber towels (one for applying the wax and several for wiping it off)
Electric buffer (optional)
A Quick Note on Electric Buffers
Some RV owners avoid electric buffers out of fear that they will be too aggressive and damage their paint. If this is your first time waxing your RV, we recommend avoiding the use of a buffer until you have more experience.
That being said, a buffer can really help to speed the job up once you are comfortable using it (especially for those 40+ foot RVs and travel trailers). You just may need to do some research to make sure the buffer pads you use are gentle enough to avoid damaging the paint or fiberglass finish on your RV.
Wash It First!
Washing your RV from top to bottom should always precede waxing it. Otherwise, you will just seal in all of the dirt and grime that has accumulated on your rig during your latest adventures.
The good news is that washing an RV is relatively straightforward, but you still might want to check out our guide on how to wash an RV for some useful insights!
Work In Sections
 Depending on the RV wax you choose, it may dry rather quickly. So it is best to work in sections to avoid being unable to wipe it off. Working in sections will also help you keep track of where you have and haven't waxed so that you don't miss any spots.
You should also work from top-to-bottom to avoid dripping wax down onto sections that have already been done. This will also allow you to do the majority of your work on a ladder at the beginning and then get to more reachable and manageable areas later on.
Wax On, Wax Off
 This is where your Karate Kid practice can come in handy (or where you can practice your skills if it has been a while). Just to be upfront, waxing your RV is going to require patience, which is exactly why Mr. Miyagi put Daniel through those exercises in the movie.
Once you get some practice, however, you should be able to apply a coat of wax with one cloth, spread it around, and then wipe it dry with your other cloth. You will get more efficient as you go, which is good news because you may need to do multiple coats to get your RV shining like you want it to.
Step Back and Admire Your Work
You may need to devote an entire afternoon to waxing your RV. Things will go quicker if you are working as a team (or if you get the kids involved), but it is still going to require some serious time and effort.
So, it is a good practice to sit back and appreciate the job you have done at the end of the day. Ultimately, you probably only need to wax your RV once or twice a year, which means you can also toast to the fact that it will be a while before you have to do it again!
The Best RV Wax Products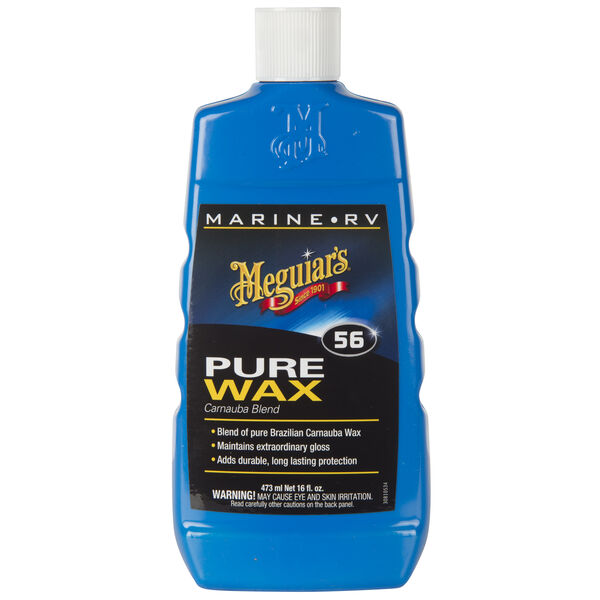 If you are looking for some ideas on RV waxes to use for your rig, check out these suggestions:
Meguiar's RV Pure Wax
Meguiar's is made for RVs with a fiberglass gel coat finish. It is a blend of Brazilian Carnauba wax with polymers, silicones, and resins that combine to provide great protection and an excellent shine for your RV's exterior.
Star Brite Premium Restorer Wax
 Star Brite's restorer wax is made for RVs with colored fiberglass exteriors. It is also great for removing heavy oxidation and works for either hand or buffer applications.
Mothers Marine Synthetic Wax
Mothers Marine engineered this synthetic polymer wax specifically for use on modern gelcoat RVs. It can also remove light oxidation and leaves behind a glossy shine while forming a protective layer against contaminants and UV degradation.
Conclusion
 RVing has grown in popularity by leaps and bounds in recent years. Growing demand has driven prices up, which means that getting into the RV of your dreams can become quite the investment. As you would with any other investment, it is important to protect the long-term integrity of your RV just like you would with a home.
Waxing your RV is akin to power washing and re-staining your home's siding on a regular basis. To be honest, waxing your RV is actually easier (regardless of how I felt about it when I was a kid!).
So we hope that you understand why it is important to wax your RV and how to do it after reading through this guide!