Great Lakes RV Camping Destinations You Have to See
Don't overlook this amazing part of the country on your RV travels.
During my recent time in upstate New York, Michigan, Wisconsin, and Minnesota, I was privileged to stumble upon several Great Lakes RV camping destinations you have to see. There is a ton to do around the Great Lakes and it is a huge region to explore.
So, in addition to highlighting some of my favorite Great Lakes RV camping destinations, I will also provide a couple of recreation recommendations to help you plan your next RV trip to the Great Lakes!
Great Lakes RV Camping Destinations
To be honest, everyone has a slightly different opinion on what makes a "great" campground. My choices below have been made based on sites that I've visited that offered great amenities, convenient proximity to natural and historical landmarks, and friendly staff interactions!
Four Mile Creek State Park
Four Mile Creek State Park is a great campground in upstate New York. It has a gentle rocky beach area right on the shores of Lake Ontario and a wide-open grassy picnic space on the hill above the beach.
The park was also a short drive away from Niagara Falls State Park and the town of Youngstown, NY. I went for a little paddle nearby at Wilson-Tuscarora State Park and also got a short little day hike at Whirlpool State Park, which is between Four Mile Creek and Niagara.
The best part about all of these New York state parks was that my pass for one campground got me free access and parking at all of the rest. So I didn't have to fight crowds at Niagara or incur a bunch of extra fees to explore the surrounding parks.
Port Crescent State Park
This is the only state park on this list that I didn't technically stay in, but I had to include it because of how much I enjoyed my time in the nearby city of Port Austin. This is the best launching point for paddling out to Turnip Rock, which is an iconic landmark at the "tip of the thumb."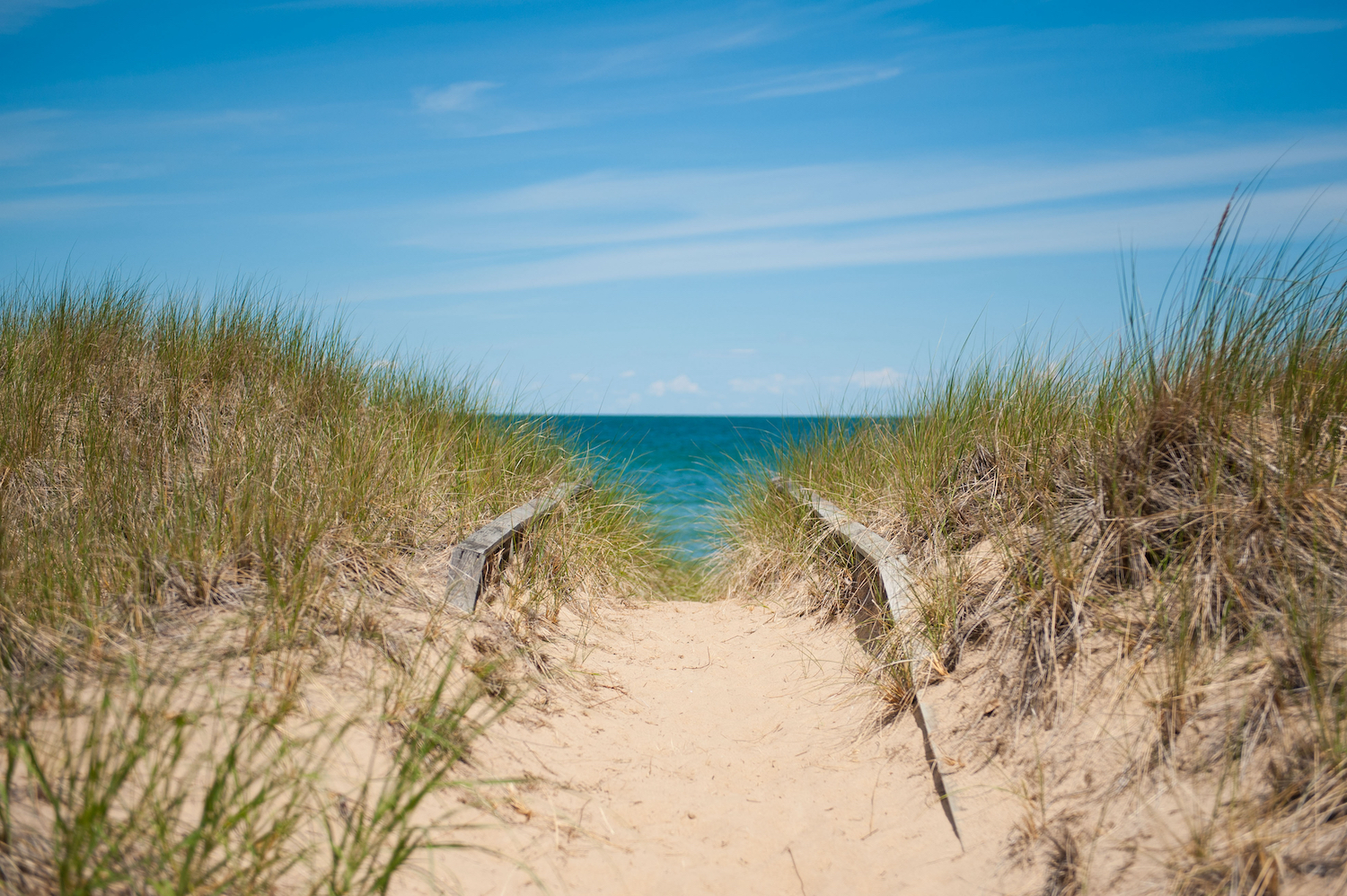 Port Austin was a small but bustling little town with a nice brewery, several small restaurants and bakeries, and a great city park right next to the harbor. There's also a great farmer's market in town during the summer months.
Traverse City State Park
Traverse City State Park was a great affordable destination for exploring Traverse City, paddling on the east arm of Grand Traverse Bay, and biking right to restaurants and breweries down the road.
There were tons of sites in the park, but it didn't feel crowded. The other campers I met were also very friendly and respectful of each other's space. One feature I enjoyed most was having great cell service for getting remote work done while being able to walk over to the beach for sunrise, sunset, and mid-day swims.
Also, I heard that this state park isn't too far away from one section of Michigan's wine country. If you have a separate vehicle, you can head up the road to explore some of the wineries on the Old Mission Peninsula between the east arm and west arm of Grand Traverse Bay.
Platte River Campground
The Platte River Campground is located in Sleeping Bear Dunes National Lakeshore. It is a great location for exploring the southern part of the park and offers a quick two-mile hike right from the campground down to the beach.
There is also a method for driving from the campsite down to the beach and this campground offers great proximity if you are interested in paddling on Lake Michigan, Crystal Lake, Platte Lake, the Platte River, or the Betsie River.
If you don't have your own kayaks or paddleboards, Crystal River Outfitters is located nearby. Other recreation ideas in the area include hiking to Sleeping Bear Point or touring the attractions in the Glen Haven Historic Village.
Big Knob State Forest Campground
If you are looking for remote RV camping in the Upper Peninsula of Michigan, check out Big Knob State Forest Campground. Accessing this campground requires a six-mile drive down a well-maintained dirt road, but I must admit I was there late in the summer (so I'm not sure what this road looks like in the spring).
At the end of the road, however, this campsite has water and bathroom facilities with sites that are well spaced out. The beach area is a two-minute walk from the campground, but you could walk for miles along the beach in either direction.
The southeastern-facing beach was also a great place to watch a rising full moon over Lake Michigan and the stargazing is also phenomenal here when there isn't a full moon. There is also tons of hiking and mountain biking trails that can be accessed right from the campground or from trailheads along the access road.
Bay Furnace Campground
Bay Furnace Campground was a cool historical find just outside of Munising, Michigan. It has a small area of sandy beach and great views of the western shore of Grand Island. The Bay Furnace Ruins are a quick walk from the campground and offer an intriguing glimpse into the history of this area.
Just down the road in Munising, be sure to stop into Falling Rock Café and Bookstore for a cup of delicious coffee or their signature smoked whitefish bagel. Munising is also a great launching point for a boat tour of Pictured Rocks National Lakeshore if that's your fancy!
If you want to hike, paddle, or enjoy some beach time in Pictured Rocks, Miner's Beach is about a 30-minute drive from the campground. This is also the location where many local paddling companies launch from, so check out Yooper Yachts if you are interested in a guided kayaking tour along one of the most scenic stretches of Pictured Rocks.
Things To Do At the Great Lakes
There is no shortage of things to do at the Great Lakes once you are set up in one of these great RV camping destinations. Check out some of my favorite Great Lakes recreation recommendations.
Paddle, Paddle, Paddle
Whether you are into kayaking, paddleboarding, or canoeing, you'll have so many options in the Great Lakes. Some of my favorite paddling destinations during my trip were Turnip Rock, Pictured Rocks National Lakeshore, and Waterloo State Recreation Area.
Hike Some Dunes
I heard tons of stories about the dreaded dune climb in Sleeping Bear Dunes. But it was truly a trip to experience dunes that reminded me a lot of Montaña de Oro in San Luis Obispo, California. The dune climb isn't easy, but it has great views of Lake Michigan and will help you burn off some calories acquired from drinking great Michigan brews during your trip!
Enjoy Tons of Epic Sunsets!
 If watching the sunset over the water just hits you differently (like it does for me), then the Great Lakes is the perfect place for you. During your trip, check out the sunset from spots like Esch Road Beach in Sleeping Bear Dunes and Bird Creek Park in Port Austin, Michigan.
Conclusion
We hope you have appreciated this guide to RV parks and recreation in the Great Lakes. I could have honestly spent a full summer up there, so give yourself plenty of time to fully explore the magic of the Great Lakes during your next trip!