5 Reasons You Should Consider Winnebago® Towables
Winnebago Towables are some of the best in the business.
Winnebago is known for its motorhomes—the brand is one of the most well-known RV manufacturers in the country—but it manufactures a wide range of towable RVs, too.
With this in mind, we wanted to take a closer look at Winnebago Towables, what makes them special, and why you should consider them for your next RV. Here are five reasons you should purchase a Winnebago towable. 
1. Winnebago's Legacy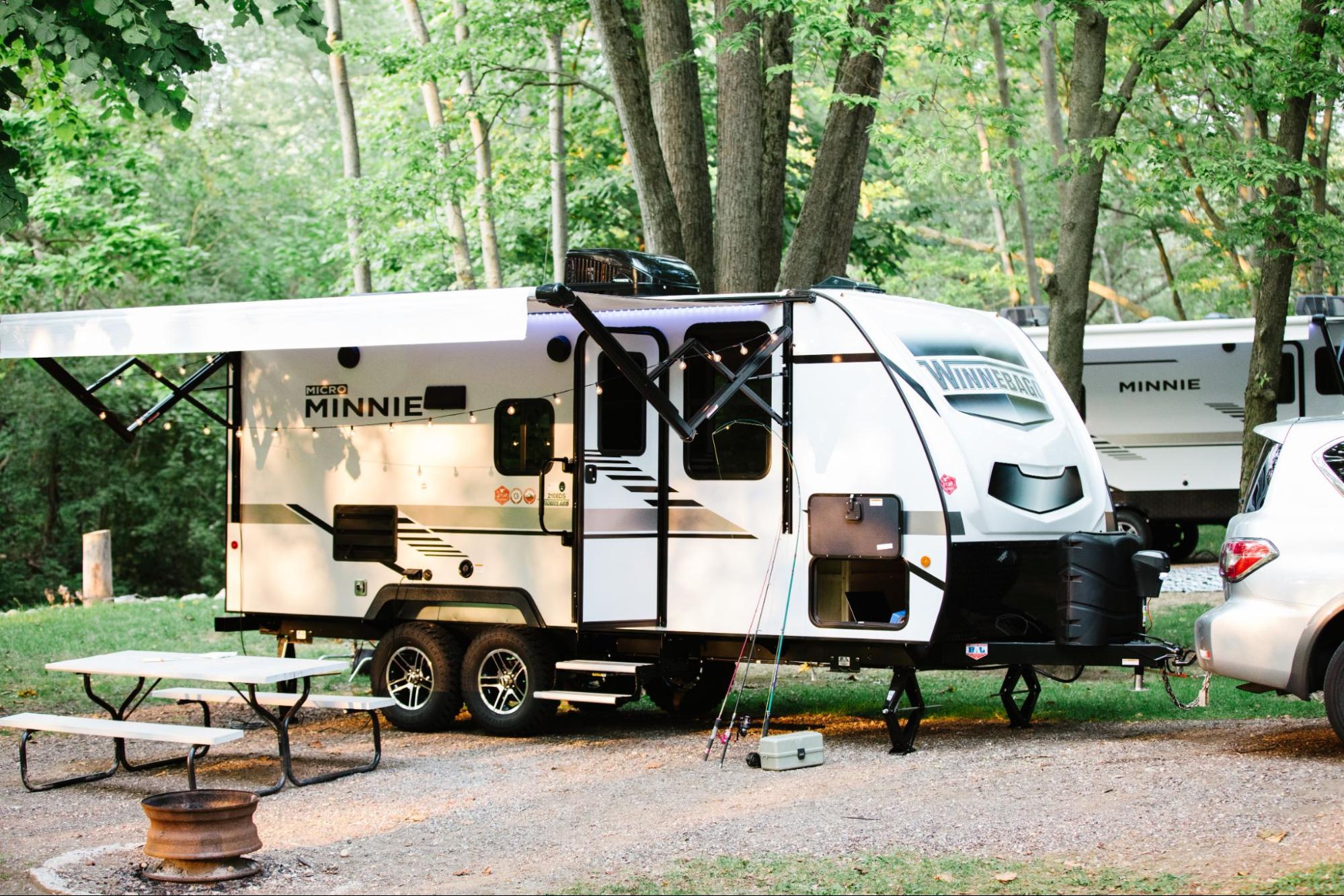 Winnebago has over 60-years of experience building innovative, high-quality RVs.The first trailer produced by Modernistic Industries of Iowa rolled off the line in March of 1958. A year later, the first Winnebago travel trailer was launched and an iconic American brand was born. However, Winnebago took a brief hiatus from building travel trailers in 1983 due to the rising popularity of motorhomes, but it began building towables again in 2010 when it purchased SunnyBrook RV.
Throughout the decades, Winnebago has stayed true to its brand pillars of Quality, Innovation, and Service. Winnebago sources all of its parts from industry-leading suppliers, and its RVs are carefully assembled in state-of-the-art facilities ensuring the highest quality. As the RV industry continues to evolve, Winnebago has been at the forefront with continuous innovation that drives major improvements, from groundbreaking RVs to game-changing features and spacious floorplans. In addition to building some of the best RVs in the industry, Winnebago also has a carefully selected dealer network supported by factory training and advanced parts supply system to keep your towable on the road.
2. Winnebago Towables Investments
Winnebago recently invested in a new 60,000 square foot manufacturing facility and a state-of-the-art lamination facility in Elkhart, Indiana. These new facilities feature advanced CNC routers, programmable saws, and laser projection to ensure each travel trailer meets the highest quality standards.
Winnebago has also invested in many new technologies like the Energy Management Switch for its Minnie® travel trailer. This device enables campers to seamlessly switch from two power loads to one—meaning they can run two 13.5 BTU A/Cs on 30 amp power.
3. New Models and Floorplans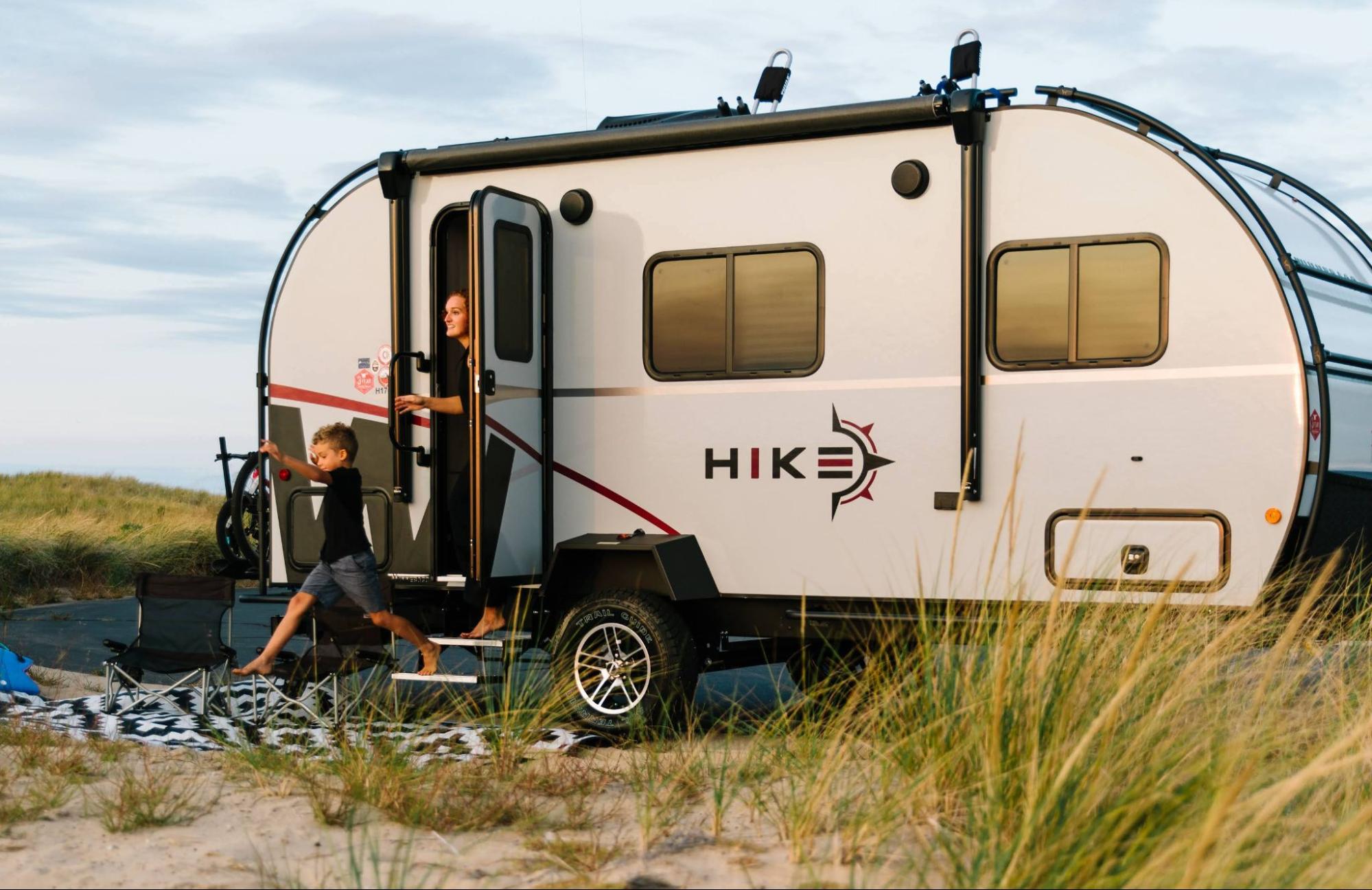 Winnebago models run the gamut from compact and versatile trailers for serious adventures to full-featured, home-away-from-home models that have it all.
If you're looking for a rugged travel trailer, the Winnebago HIKE is right for you. Designed to get off the beaten path, it is rugged and stylish and features an upgraded gear box, revolutionary exoskeleton for mounting things like kayaks and paddleboards, standard solar panels, and a bright and stylish interior that's comfortable and roomy.
The Micro-Minnie is exactly as its name suggests, mini. It's a compact trailer that's easy to tow, stylish in design, and offers up a 10.3-cubic foot, 12-volt refrigerator. Additionally, this small travel trailer features a convenient Murphy bed, stabilizer jacks, and 12-volt tank-mounted pad heaters. 
The Minnie is, you guessed it, a larger version of the Micro-Minnie. This towable offers five different floorplans, created through extensive customer feedback, now with new interior styling and exterior graphics. The Minnie is easy to control through the addition of the new Energy Management Switch, which allows you to operate two A/Cs on 30 amp power. The Minnie is an advanced camper prepped for a second A/C unit, solar panels, and power jacks. 
If you want to take those long voyages but you absolutely have to stay connected, then the Voyage Travel Trailer is the choice for you. Built for extended adventures, this travel trailer packs in a lot of amenities for campers of all kinds. There are seven floorplans available, washer and dryer prep, an optional king bed in the master bedroom, optional storage with drop frame design, walk-in pantries, and an enclosed universal docking station for easy hook-up to cords and connections. 
4. Upgraded Features and Amenities
Winnebago's classic American trailers are better than ever before. They've invested in new models, floorplans, and features that are designed to give you more. When you purchase a Winnebago towable, you can expect things like larger tires for a smoother ride and better performance and stability at high speeds.
There are also more options available including refrigerators and A/C units, standard prep for Wi-Fi and other appliances, and higher interior ceiling height and low-profile A/C units for more headroom. 
5. New and Modern Design and Styling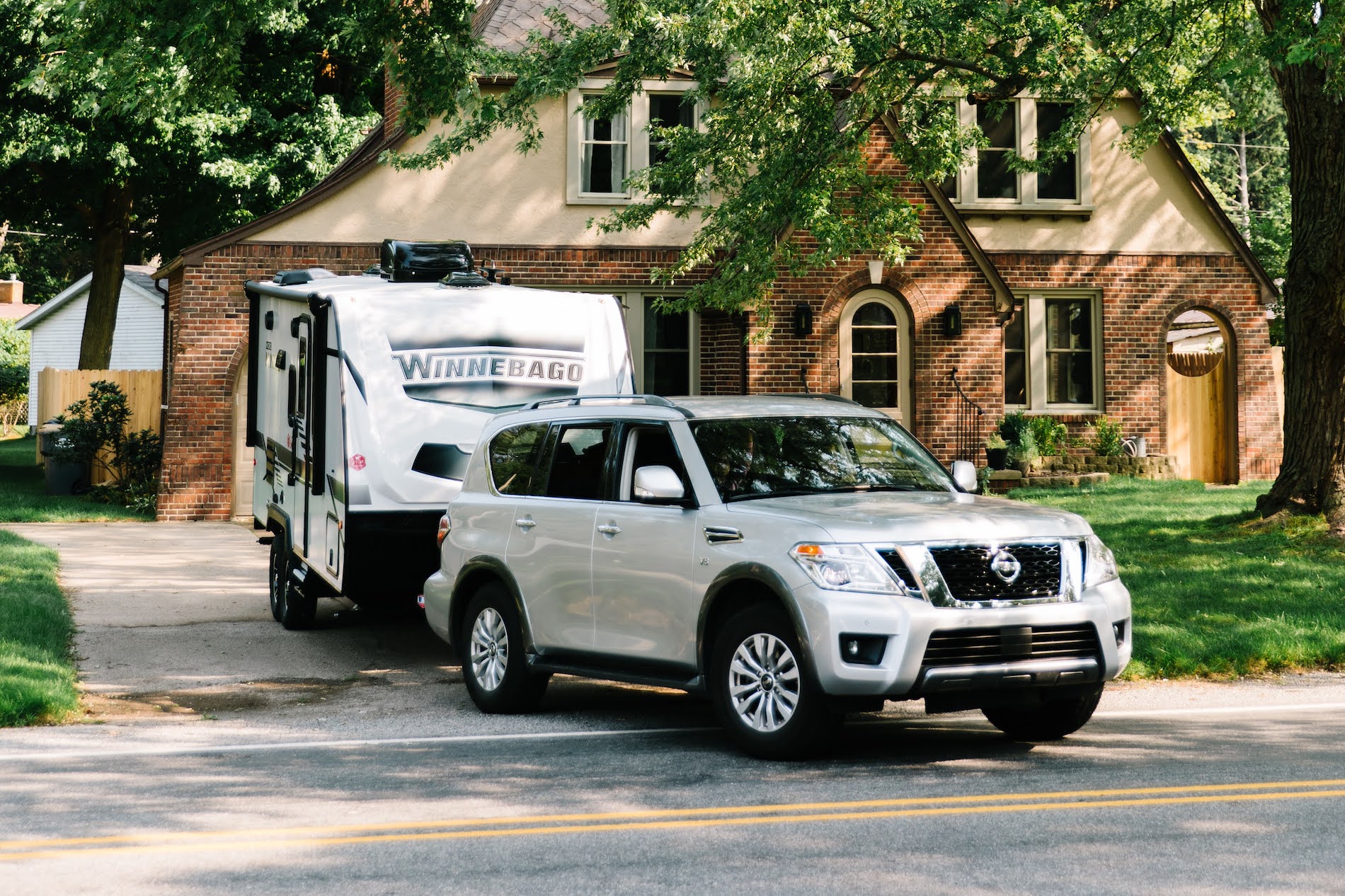 Winnebago's new design and styling shouldn't go unmentioned. The company focused on modern-European contemporary styling throughout the lineup, giving all of the Winnebago towable models a fresh, new look. 
You'll find things like overlay cabinets, stainless steel appointments, and other features and design elements that you're used to seeing in residential settings. These touches truly turn your Winnebago towable into a home-away-from-home.
Click here to learn more about Winnebago's towable lineup. There are over 180 Winnebago Towable Dealers located throughout the country. Click here to find the dealer closest to you.