RVs & NASCAR: High-Octane Adventure!
What happens when you combine camping, soaring grandstands, and vibrant blur-fast cars? A match made in NASCAR RV heaven!
Bring your own glamping celebration to the racetrack and rejoice in the twists and turns as stock cars roar past your campsite at speeds reaching 200 miles per hour.
With a full race season of 36 NASCAR Cup Series events and additional national and regional series and other local events, there are approximately 100,000 camping sites across all racetracks including NASCAR owned, SMI and independent racetracks.
NASCAR provides a one-of-a-kind camping experience through its outdoor festival-like race week events that offer fans and families an affordable and enjoyable way to fully engage in the sport.
Upcoming NASCAR Events
On August 20 – 22nd, Michigan International Speedway hosts the Henry Ford Health System 200, New Holland 250 and the FireKeepers Casino 400. Nestled on more than 1,400-plus acres in the Irish Hills of southeastern Michigan, the Brooklyn speedway boasts 18-degree banking and 73-foot-wide sweeping turns.
Camping at Michigan International Speedway has been a long-time tradition spanning more than 50 years. With nearly 9,000 campsites, MIS is the largest registered campground in the State of Michigan. See the cream of the crop at turn 4 campground, which includes one electric campsite, two adult grandstand admissions for Friday – Sunday and two weekend pit/driver introduction passes. And it's conveniently located just steps away from the lively fan plaza and the Saturday post-race concert! There's a camping experience to meet every budget and RV requirement.
NASCAR racetracks – like Michigan – offer unique and inclusive race week camping amenities and experiences featuring concerts, grilling, games, driver engagements and more for all ages including families, young adults and kids.
On September 24, 2021, the NASCAR Camping World Truck Series takes to the Las Vegas Motor Speedway tracks for the Westgate Resorts 200. Weekend packages include admission for each playoff race of NASCAR's three premier series – the NASCAR Cup Series, NASCAR Xfinity Series and NASCAR Camping World Truck Series, Sept. 24-26, 2021. The Geico RV Lot is the newest RV lot at LVMS. Conveniently located across the street from the speedway's main grandstand and ticket gates, this lot has full in-and-out privileges and features dry camping. Or elevate your RV experience in Las Vegas Motor Speedway's high-end and exclusive trackside Vegas Veranda. Amenities include full-service hook-ups, a concierge and RV Lounge, continental breakfast (Thurs.-Sun.) and more.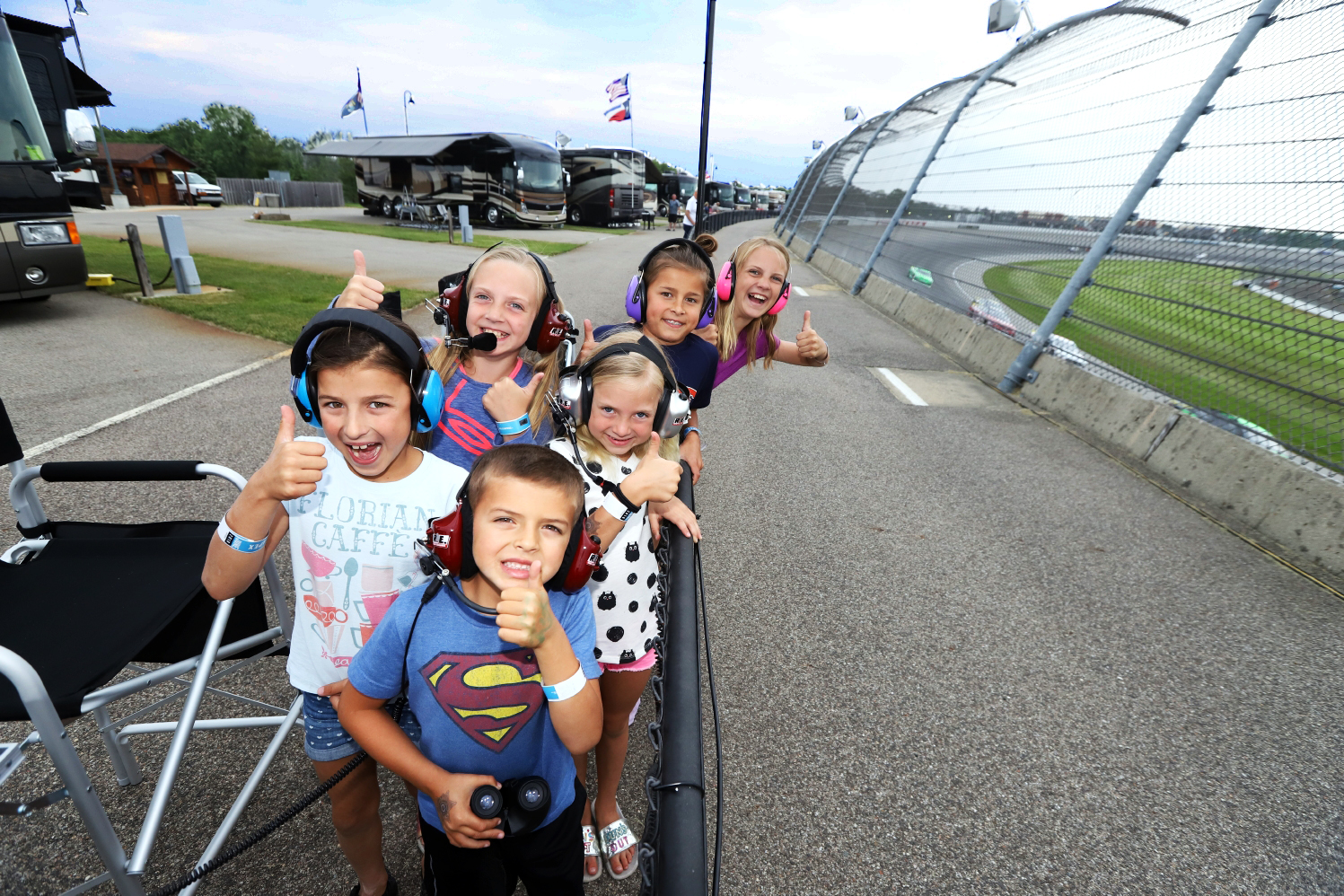 Talladega Superspeedway in Alabama is a 2.66-mile tri-oval track that has gained notoriety as NASCAR's largest superspeedway. Talladega has nine inside-the-gate camping areas, from infield camping to the Allison Motorhome Ridge, which overlooks the straightaway near Turn 3. On October 1-3, camp during the 2021 NASCAR Camping World Truck Series Race (October 2nd), the 2021 Fall Xfinity Series Race (October 2nd) and the NASCAR Cup Series YallaWood 500 (October 3rd).
Occupying 3,000 acres, the Talladega complex hosts a slew of fun events, with a traditional Saturday Night Infield Concert that features famous performers. Feel the motors running in the world-famous infield. Whether you want to party all night or just relax with your friends and family, NASCAR can help book the best spot for your group. Pro tip: ask about which sites have (or don't have) quiet times. Talladega is the only raceway that offers free camping with an admission.
Built in the city that birthed NASCAR, Daytona International Speedway features 31-degree banking and a "superstretch" that's 3,000 feet long. It hosts the DAYTONA 500, NASCAR's most prestigious race. RVers can camp on the banks of the Lake Lloyd in the track's infield or overlooking tight turns. On August 27th, enjoy NASCAR's Xfinity Series at the Wawa 250 Powered by Coca-Cola. Then the NASCAR Cup Series will take center stage for the unpredictable regular season finale Coke Zero Sugar 400 on August 28th.
This venue serves as a veritable shrine to NASCAR, with statues of iconic racers and the dazzling DAYTONA 500 Champions' Walk of Fame. Race lovers can stay right on property outside of turns 1 and 2 with the Geico Park West Premium RV package. NASCAR has an expansive roster of partners supporting and activating at racetracks and campgrounds throughout the race season including Camping World, GEICO and more.
Any Daytona veteran will tell you that you haven't truly experienced the World Center of Racing until you've loaded up the RV, called up your closest friends and set up camp somewhere in the 180-acre infield. And 29-acre Lake Lloyd is on the infield, giving Daytona the only lake and race view that you can get in an RV. And your vacation doesn't have to end at the Speedway. Soak up the rays on Daytona Beach and check out the local attractions. With 23 miles of white-sand beaches, it's wide-open fun.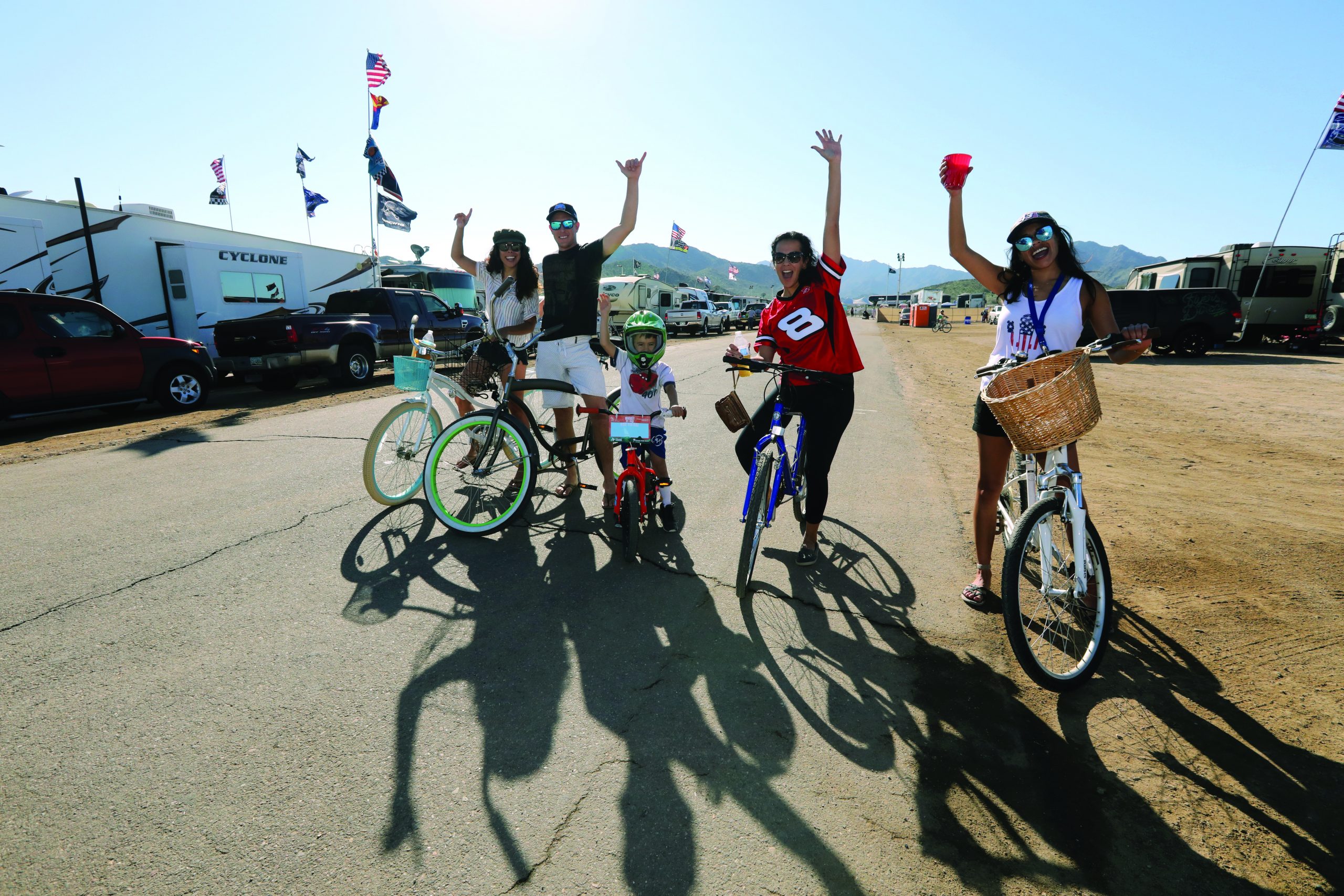 Mark your calendars for the first weekend this November— it's 2021 NASCAR Championship Weekend! Arizona's Phoenix Raceway will rumble with high-octane power as your favorite drivers converge to take home the title of "The Best of the Best." Things kick off on Friday, November 5, with the NASCAR Camping World Truck Series Lucas Oil 150.
Saturday, November 6th, brings the ARCA Menards Series for the West Series Championship race, while later the same day, watch the future stars of NASCAR battle for the 2021 NASCAR Xfinity Series Championship.
The NASCAR Cup Series Championship runs on Sunday, November 7th, as four of the top drivers in the world go head-to-head for the ultimate prize in NASCAR.
The INfield gets you inside the NASCAR Cup Series garages, up close to your favorite teams and drivers. Fans also get a live look into Victory Lane, Driver's meetings, interactive activities, entertainment and more.
Nestled amid the high-banked turns, nothing beats the thrill of watching colorful stock cars zoom near their site. And with a little planning and foresight, RVers can live the dream of a truly immersive NASCAR experience that blends camping and heart pounding thrills.