How to Prep Your RV from a Security Standpoint
Stay secure at the campground and you'll have an even better trip than you imagined.
You've been out hiking all day. The sun's been relentless, and you can't wait to return to the RV and blast some AC. As you pull up to your campsite, something looks a little off, but you can't quite put your finger on what it is.
Shrugging it off, you reach for your keys and notice the door is open. You're 100% sure you had locked up. Cautiously peeking inside the RV, you realize that your TV is gone, and the drawers are turned inside out. Your heart sinks as you realize you're the victim of a break-in.
Although we may not even consider it as a possibility out in the beauty of our state parks and natural lands, RV break-ins do occur. Sadly, many folks can't imagine burglary at their campsite and this relaxed mindset can make them easy targets for would-be thieves.
While RV break-ins are certainly less common than home break-ins, you can make some pretty straightforward adjustments to your rig for extra peace of mind. Let's go over a few theft-deterrent options that will help you walk away from your RV with confidence.
High-Security Locks
Is your entry door looking a little worse for the wear? Does your rig have a decade or two under its belt? You may want to consider replacing your lock with an upgraded model. For the most security, make sure you choose one with a deadbolt, like this one. The deadbolt adds extra toughness to your door and can hold its own against the toughest blows.
If you're hauling a camper or other trailer along your journey, you'll want to make sure you're the only one that can hook it up to a vehicle. Trailer locks are very easy to use and are one of the most straightforward security improvements for your camping gear.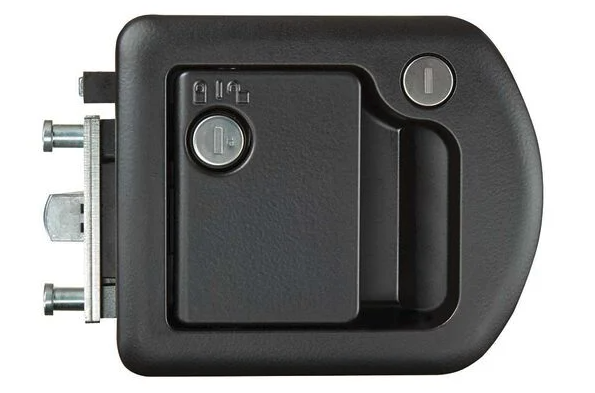 Security Cameras
If you want to know exactly who's coming and going around the campsite, you can't be a security camera. There are so many models to choose from so you can find the perfect one for your needs. Today's features are pretty impressive including night vision, motion activation, and ultra-wide lenses. The video feed can also be accessed live, and any recordings can be stored on the cloud. You can find conventional models like this one, or even install a more covert option like a video doorbell.
Lighting
One of the simplest ways to keep your RV safe is to set up some motion-activated security lights. When working in darkness, thieves know there's a low likelihood of getting caught or identified. Shine a light on their unsavory behavior and scare them off with a blast of powerful light. This solar-powered option is great for camping since it doesn't require an electrical outlet.
Window Coverings
Low-tech and easy to install, proper window coverings are an incredibly easy and affordable option to increase the security of your RV. Just like with your car, if would-be thieves can openly see something they want through the window, there's a much greater risk they'll act on it. Keep your valuables out of sight with some form of shades or blinds.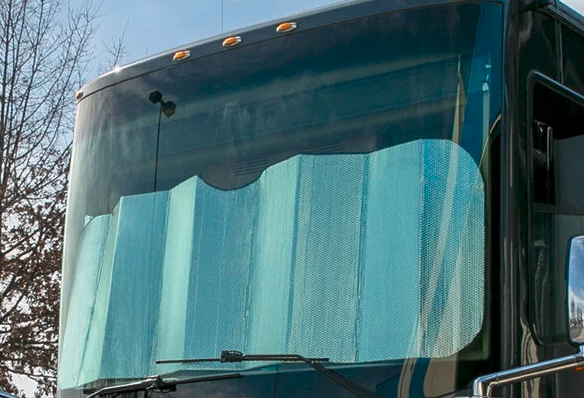 Tire Boot
If you want absolute certainty that nobody will run off with your rig, you can take the highest of precautions and install a tire boot when you're parked. Just like police officers use, tire boots prevent your tire from turning. So even if thieves somehow find a way to break in and start the engine, they're not going anywhere.
Other Considerations
While these additions can definitely increase the security of your RV, it's also important to consider where you set up camp for the night. Heightened caution should always be exercised at Campgrounds that are located near interstate freeways or busy areas, in general. Many campground facilities in these areas will have their own security staff, but it is a great idea to confirm someone will be keeping an eye on the property and monitoring who is coming and going.
Secluded campsites, while valued for their privacy, can also be a target for would-be thieves. If your campsite is not visible to the rest of the campground, nobody would be able to see if something fishy is going on. Although choosing a campsite that is out in the open may not be desirable for some campers, it is a surefire way to make sure there are always a few pairs of eyes around.
Final Thoughts
The likelihood of someone breaking into your RV is very low and shouldn't scare you from camping wherever you like but taking a few extra steps can really help put your mind at ease. Investing in the security of your RV is an important step towards ensuring your camping trips are fun and safe for everyone.