Why a Dutch Oven Should be in Your RV's Kitchen
A pot that's been a staple of travelers for decades.
Cooking in your RV can be as simple or as complicated as you want to make it. If delicious camping meals are a priority for you and your family, you need to know why a Dutch oven should be in your RV's kitchen!
What is a Dutch Oven?
 A Dutch oven is a heavy-duty pot that is usually made of cast iron. It has a lid that traps heat inside and also protects food from ash. When camping, most people put their Dutch oven on hot coals in the fire, but a Dutch oven can also be used in an oven or directly on a stovetop at home or in your RV.
Reasons to Add a Dutch Oven to Your RV Kitchen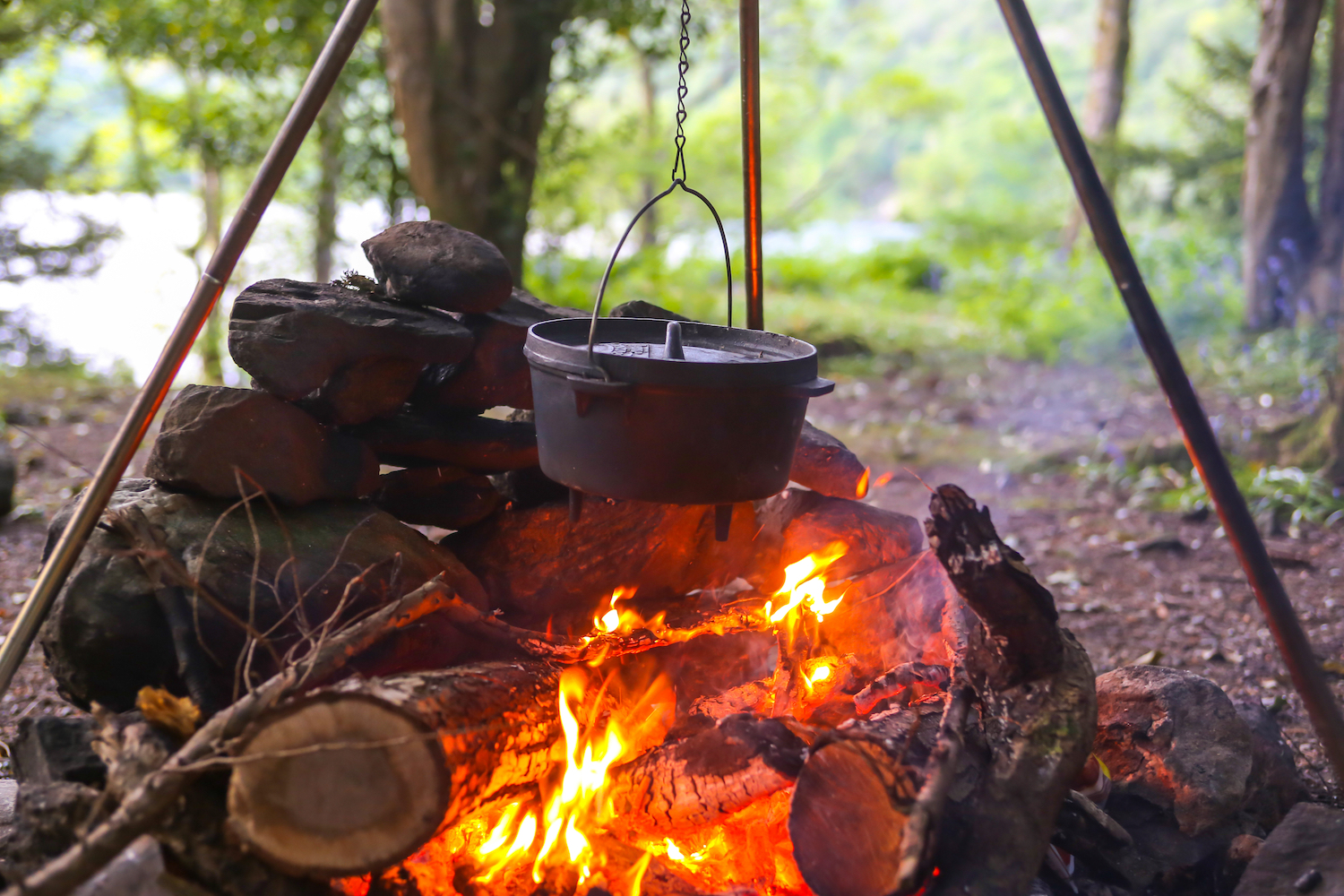 If you don't have much experience with Dutch oven cooking, it is really easy to pick up. Here are a few compelling reasons why a Dutch oven should be in your RV's kitchen:
Dutch Ovens are Really Versatile
A Dutch oven is one of the most versatile cooking tools you can add to your camp kitchen. As we mentioned, it can be used on your stovetop or in the oven when the weather isn't great outside.
If you can have a fire, however, Dutch ovens are durable enough to handle being set directly in the coals for campfire cooking. They also allow you to cook foods in multiple different ways, including braising, deep-frying, baking, roasting, searing, broiling, and browning.
While the most common Dutch oven size holds between five and seven quarts, there are larger and smaller models available. The list of foods you can cook in a Dutch oven is pretty much endless once you get the hang of how to cook with one!
A Dutch Oven Makes Delicious Homemade Pizza
 Dutch oven pizza is one of my favorite meals to make around the campfire. After a long day of hiking or paddling, I sometimes just crave pizza. But getting Domino's delivered to a remote campground is impossible (and probably not that healthy for me!).
With a Dutch oven, you can grab ready-made dough (Pillsbury will do), pizza sauce, and whatever toppings you prefer. You can keep things simple or get creative to make a one-of-a-kind pizza that you can't get in your average pizza parlor.
There are plenty of Dutch oven pizza recipes out there (we've even included one below!). The hardest thing when starting out is learning how many coals you need to provide the right amount of heat. With a little practice, however, you'll be creating delicious homemade pizza pies in no time.
A Dutch Oven Distributes Heat Evenly
Whether you are cooking in an oven, on the stovetop, or on an open fire, Dutch ovens will distribute heat evenly so that your foods cook from all sides. Specifically, when you are cooking on a fire, you will be able to place a handful of hot coals on top of the lid to provide even greater heat distribution.
The benefit of better heat distribution is the reduced likelihood that you get overly hot or cold spots in your food. If you are cooking meats, it also makes it easier to avoid having undercooked sections that remain raw and potentially dangerous to your health.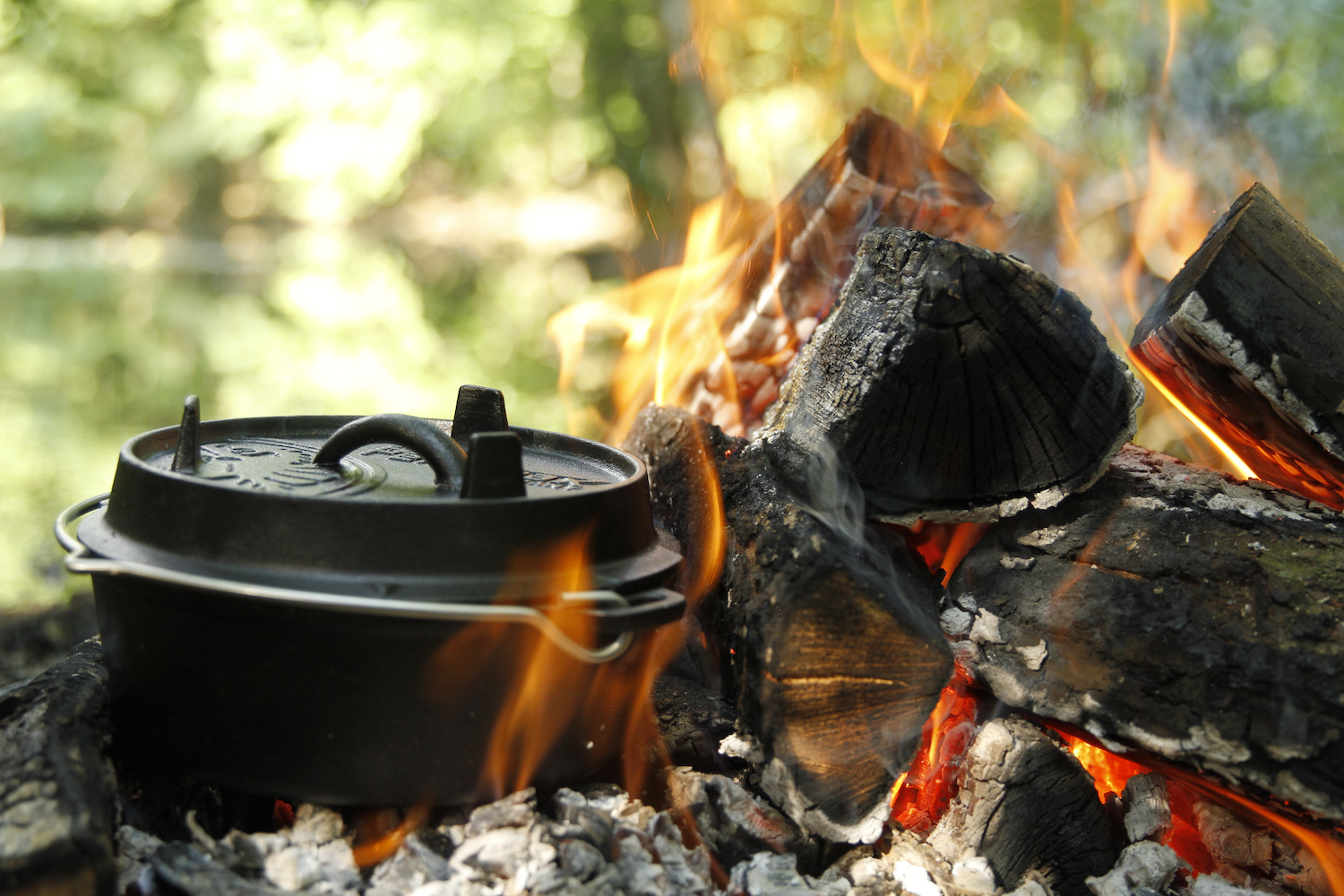 A Dutch Oven is Great For Cooking Large Meals
If you get a large Dutch oven, cooking for a large single-family (or multiple families) gets much easier. Recipes like chili, stew, and spaghetti require minimal prep. Then, you can simply toss everything into your Dutch oven and allow it to heat up.
Instead of having to cook a multi-part meal using a bunch of pots and pans, a Dutch oven will allow you to cook one-pot meals for large family camping trips. Just call on everyone to bring a bowl and utensils and you'll be set to go! 
Dutch Ovens Aren't Hard to Clean
In addition to making cooking easier for larger groups, a Dutch oven can also simplify the cleanup process. Dutch ovens also aren't as difficult to clean as you might think, as long as you take the right steps.
Here is a quick step-by-step Dutch oven cleaning process that we like to use:
Once the Dutch oven is empty, fill it one-quarter of the way with water.
Place it back on the fire or on your stove until the water comes to a boil.
Remove from heat and set aside to cool.
Once the water inside is cool enough to touch, use a compact pan scraper to remove any food scraps that are stuck to the inside.
Dump out dirty water and rinse with fresh water.
Repeat scraping as needed.
Perform a final rinse and then wipe clean and dry with camp dishrags or paper towels.
Some people also like to rub a little cooking oil into their Dutch oven to prep it for the next meal. Proper Dutch oven seasoning is often a topic of healthy debate in many cooking circles, so we recommend checking out this article for more Dutch oven cleaning and seasoning tips!
Three Awesome Dutch Oven Recipes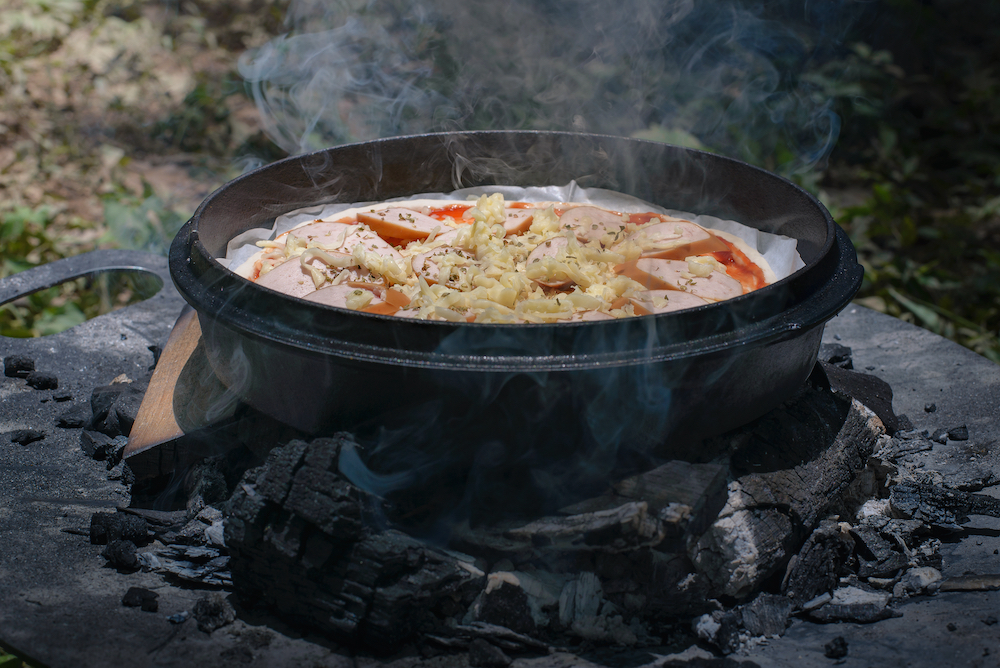 To provide a little cooking inspiration now that you are convinced to add a Dutch oven to your camp kitchen, check out these delicious Dutch oven recipes:
Deep Dish Dutch Oven Pizza
The creator of this deep dish Dutch oven pizza recipe created here own dough recipe that is capable of handling the higher heat that often goes along with Dutch oven cooking. The recipe takes about 30 minutes of prep time, which is perfect to get done while your coals are cooking down.
Dutch Oven Tortellini Soup with Sausage
Soups are always a great choice for cold weather camping. So why not light a fire to keep you warm while also using it to cook this epic Dutch oven tortellini soup with sausage recipe?! This soup recipe is a little more time and energy-intensive than some others, but it makes enough soup for you to have leftovers for up to three days after preparation!
Tip: Use sausage from local game to support local hunters and add a unique flavor to this soup!
Dutch Oven S'Mores Cake
 How can we have S'more cake if we haven't had any yet? Well, no need to worry about Sandlot musings with this easy 10-minute Dutch oven S'mores cake recipe! It uses all the regular ingredients for S'mores, plus a pre-baked angel food cake!
Tip: Substitute Reese's Peanut Butter Cups for the Hershey's milk chocolate squares to add a pea-nutty element to your S'mores cake!
Conclusion
 Dutch oven cooking can be a fun family task! Or it can be a way to make RV cooking easier so that you can spend more time relaxing around the campfire.
From pizza to chili to peach cobbler, there is so much deliciousness to enjoy if you add a dutch oven to your RV kitchen. We hope you are now convinced to invest in a dutch oven for your camp kitchen and we hope you liked the dutch oven recipes we have included!
Tucker Ballister is a Technical Content Writer for Camping World and a lover of the open road. You can check out more of his adventures and outdoor advice at thebackpackguide.com.