The Coolest Everyday Carry Items for Campers
You'll Want to Keep on Hand for Those "Just in Case" Moments
"Phone? Wallet? Keys?" It's a mantra many of us use before we leave the house to go just about anywhere, Once you've got those on you, you're ready to take on the world.
For a lot of others, though, preparedness doesn't stop there. In the world of everyday carry items (or EDC), people have all kinds of gadgets they prefer to have on them just-in-case, whether it's a tricked out pocket knife or a tube of lip balm.
When you take that person and put them in the middle of the woods, that set of gadgets and must-haves may change completely, or may stay mostly the same. Regardless, we've got a list of some of the coolest EDC items for campers—and some of these may just make their way over to your EDC when you're not camping, too.
Everyday Carry Items for Campers
We can be honest with ourselves: a lot of these items aren't really necessary for RV camping. Sure, a multi-tool is handy no matter what you're doing, but it's unlikely you'll find yourself in the kinds of dire situations in which most of these EDC items would come in really handy. That said: you never know. Which is why most of us choose to carry things with us every day anyway. And if you're going to carry things, they might as well be cool.
Rothco Paracord Survival Bracelet
Paracord—so named because it's the lightweight cord used to attach parachutes to their harnesses—has any number of uses out in the wild, or even just around your campsite. It's incredibly strong and can handle a lot of abuse. Whether you're tying up a hammock or tying off a food canister over a tree limb to keep it away from bears, it's up for the job. And in this format, it's easy to carry with you as it connects easily around your wrist thanks to its cobra weave pattern. Plus, this handy version comes with a compass, just in case your phone's compass proves to be useless.
iProtec Outdoorsman 400 Series Tactical Flashlight
Flashlights are getting almost as complex as phones with a variety of specific features available on some models. What we prefer for an EDC when you're camping is a small, lightweight, tactical model, like the iProtec Outdoorsman 400 Series. It's heavy duty so it's unlikely to break if you drop it on some rocks. It's also waterproof and has a 400-lumen light. There are five different modes to choose from, including a flashing tactical that can be handy in scaring off animals and a regular bright mode that's great for finding a shower house at night.
Leatherman Wingman Multitool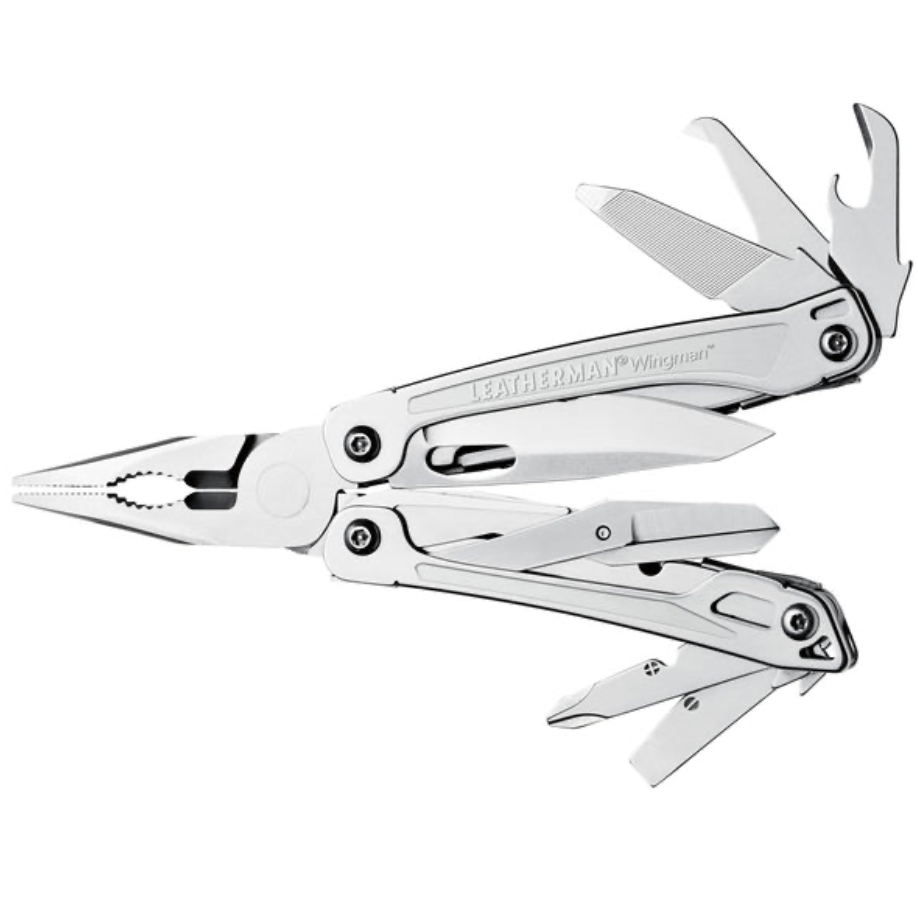 Leatherman is pretty much the name when it comes to multi-tools, and that's for good reason. The Wingman is the ideal thing to have at your side no matter the situation—whether you're setting up camp or you're stranded in the great northern wilderness. And it fits right in with your other everyday carry items at just seven ounces. The Wingman comes with 14 tools, including: needle nose pliers, regular pliers, wire cutters, wood/metal file, scissors, three screwdrivers, a bottle opener, and even more. Plus it's covered by a 25 year warranty. Seriously, how do you go wrong?
LifeStraw Portable Water Filter
Whether you're hard up for water or not, being able to drink out of a stream or any other body of water is a pretty cool trick to have up your sleeve. The LifeStraw Portable Water Filter makes that possible. In its package, it has an unlimited shelf life. After it's opened and activated, it can last more than five years if properly cared for. That's an easy choice for a "straw" that removes 99.999999% of bacteria, 99.999% of bacteria, and 99.999% of microplastics.
Reflective Blanket
There's no real trick to these, but reflective blankets (also called space blankets) are a must-have in any woodsy-situation gone awry. The surface reflects your body heat back at you so it's not lost through the material, plus it's waterproof. Even better? A large blanket comes folded into a square the size of your palm and it weights next to nothing.
Animal Facts Bandana
Don't know a cobra from a Coleman lantern? Do we have the thing for you. These animal facts bandanas not only give you a good idea of the imminent dangers (and non-dangers) you may come across out in the woods, but as a bandana, it also has hundreds of uses. Dunk it in water and wrap it around your neck to keep you cool on a hot day. Use it as a tourniquet in case one of the snakes featured on it bites you. Or, simply use it to wipe sweat from your head. These helpful bandanas are 100% cotton, which makes them easy to wash and care for.
Light My Fire Titanium Spork
You never think about how much you rely on silverware until it's not available. Sure, we've got perfectly good hands, but being able to dig into a piece of meat or fish right off a fire without burning your digits is invaluable. This titanium spork is made in Sweden, and, given its strength, you'll find it useful for much more than dining on food around the campfire.
Therm Pyrovalt Lighter Armor
Starting a fire is no parlor trick. Given the wrong circumstances, you can try and try to light something to no avail. That's one reason why the Therm Pyrovault Lighter Armor is such a must-have. You can slip a standard Zippo lighter right inside. It has an O-ring seal that not only keeps nasty elements out (keeping your lighter nice and dry), it also helps limit evaporation so your lighter fluid sticks around longer without being lit. Drop it, ding it, or drown it: this armor keeps your most valuable fire source safe.
Each of these everyday carry items make for a great addition to your packing list and, along with being useful, will also put you at ease as you seek out adventure – whether it's just down the road or across the country.