5 RVs with the Best Outdoor Kitchens
Here's a look at some of the best RVs for cooking outdoors.
Cooking at camp is one of the biggest joys for some campers. Some at-home (or even professional) chefs love to get a little primal, get in touch with their roots, and cook over an open fire. Fire up the cast iron, spread your stuff out on a picnic table, and cook for a hearty meal after a long day's hike. 
And sure, that's great. But sometimes the campfire just doesn't cooperate the way you want it to. And while it might be easy to cook a hunk of meat or a pot of chili, what if you're used to camp meals with a little more finesse? 
For that exact reason—and many more—it's common for a lot of RVs to feature some kind of an outdoor kitchen. These features combine the glory of cooking outside in nature, with many of the common amenities you might find in a more traditional residential kitchen. 
Which RVs have the best outdoor kitchens? We have five of the best below. 
Forest River Alpha Wolf 30DBH

In most outdoor kitchens, if there's anything that's lacking it's the fridge. Usually, you get a small, dorm-room size refrigerator. Which is fine, but what about holding a bunch of drinks as well as all of your prep food? The Alpha Wolf 30DBH ramps that up by double. In its outdoor kitchen, you get a large, two-door outdoor fridge. It also features a sink with running water to make clean up that much easier. While there's no burner option, you can add a bumper-mounted swing-arm grill to the rear of the coach, so you can tailgate to your heart's desire. There's also plenty of storage space included above the sink in an overhead cabinet. 
Learn more about the Alpha Wolf 30DBH
Heartland Cyclone 4014C

Not only is the Heartland Cyclone one monster of a toy hauler—with a garage space allowing you to bring along your favorite recreational toys—it also has one of the best outdoor kitchens on the market. So go out four-wheeling to your heart's content, then come back and whip up something delicious. While grills are fairly common in outdoor kitchens, the Cyclone also includes a griddle, which is one of the most versatile tools you can have in a kitchen. While they've been popular for ages in diners (and even well before), they're all the rage among home cooks now. Go from a hearty short-order breakfast with eggs, bacon, and the crispiest hash browns you could ever hope to make to serious smash burgers with lacy edges and toasted buns. 
Learn more about the Heartland Cyclone 4014C
Dutchmen Atlas 3302RL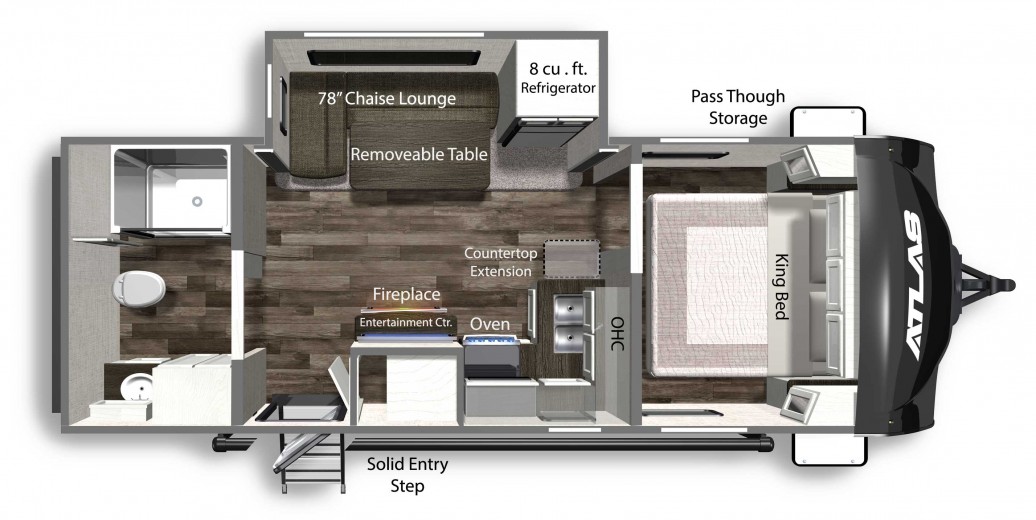 The Dutchmen Atlas is iconic in the RV world. It's a serious travel trailer that comes loaded with features and amenities. And one of those is a complete outdoor kitchen—one of the best that's available on the market. It includes everything you need, from a small refrigerator that's perfect for staging prepped foods, a small sink to keep things clean, and a two-burner propane cooktop so you can get water boiling and saute at the same time. Sometimes the simplest solution is everything you need, especially if you're able to have a roaring fire behind you for fire-roasted veggies. 
Learn more about the Atlas 3302RL
Forest River Cedar Creek 311RL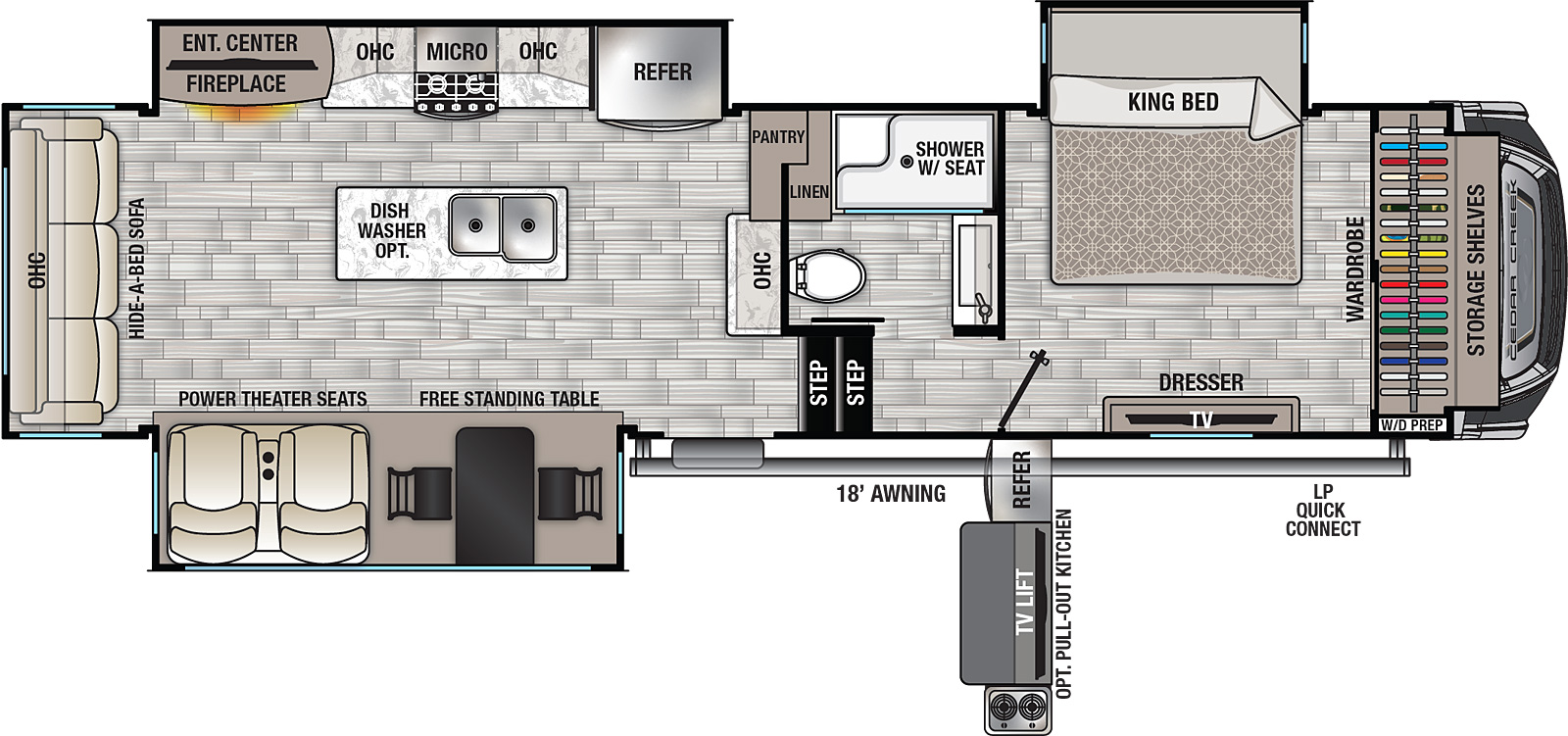 A lot of outdoor kitchens are either built into the outer wall of the rig, or they pull out from it (especially handy when you've got an open flame to worry about). The Forest River Cedar Creek 311RL ratchets that up. You can have the mother of all tailgates with the outdoor kitchen package, which swings out on an arm away from the coach. It includes a refrigerator, prep space, and a two-burner cooktop. Most importantly, though, it also includes a flat-screen TV with a built-in lift, so you and all of your companions can watch the game. The way the arm swings out and makes it easy for the crowd to stand or sit beneath the 18-foot awning and have a perfect view—both of the TV, and of the camp chef whipping up something delicious. 
Learn more about the Cedar Creek 311RL 
Forest River Forester Classic 2861DS

Not many motorhomes—especially Class C coaches—come with a full outside kitchen. The Forester Classic 2861DS, however, is one of them. Simply flip up a wall on the exterior of the camper, and you're greeted with a large refrigerator, perfect for holding both prepped food and even a few drinks, a small sink for cleanup, and a pull-out cooktop—not to mention plenty of both storage and prep space. There's even a flatscreen TV mounted above the kitchen, so you can either watch your favorite cooking shows while you're outside playing pioneer chef, or you and your friends and family can be sure to catch the game while you whip up a batch of wings and crudite. Chef's choice. 
Learn more about the Forester Classic 2861DS