Gear Guide: Solar Panel Kits to Add to Your Rig
Harness the Sun's Energy for Your RV
Whether you're a weekend warrior or a full-timer, a big part of the RV lifestyle is the independence that comes with it. You can go where you want, when you want, stay where you want, and live the lifestyle you want (all within reason, of course). 
To fuel that independence even more, you can break away from designated campgrounds that can get busy and loud. You may prefer boondocking, where you camp on public land without the use of any electric or water hookups. It's a different animal but can feel really rewarding when you're out on your own, enjoying a sunrise with a cup of coffee and without your neighbor's kids running around shooting each other with plastic dart guns. 
Being without hookups, of course, means relying on alternative sources of energy. A very safe, and very environmentally friendly, way to do just this is to add a solar panel kit to your RV. 
Why Get a Solar Panel Kit for Your RV?
Even if you're not primarily boondocking, not every campsite you'll stay at will offer hookups, and it's always a good idea to have a couple of backup power options. Generators are really nice, but they do require you to keep an eye on them and refuel them as necessary. That means toting around additional fuel, which adds weight to your rig. 
A solar panel kit is relatively easy to install on your roof, and obviously takes advantage of the sun's rays to help power your rig. They come in a variety of different wattages, so you can find one that either supplements your existing power plan or one that provides all of the energy your RV needs. 
Best Solar Panel Kits
Zamp Obsidian 100-Watt Solar Panel Kit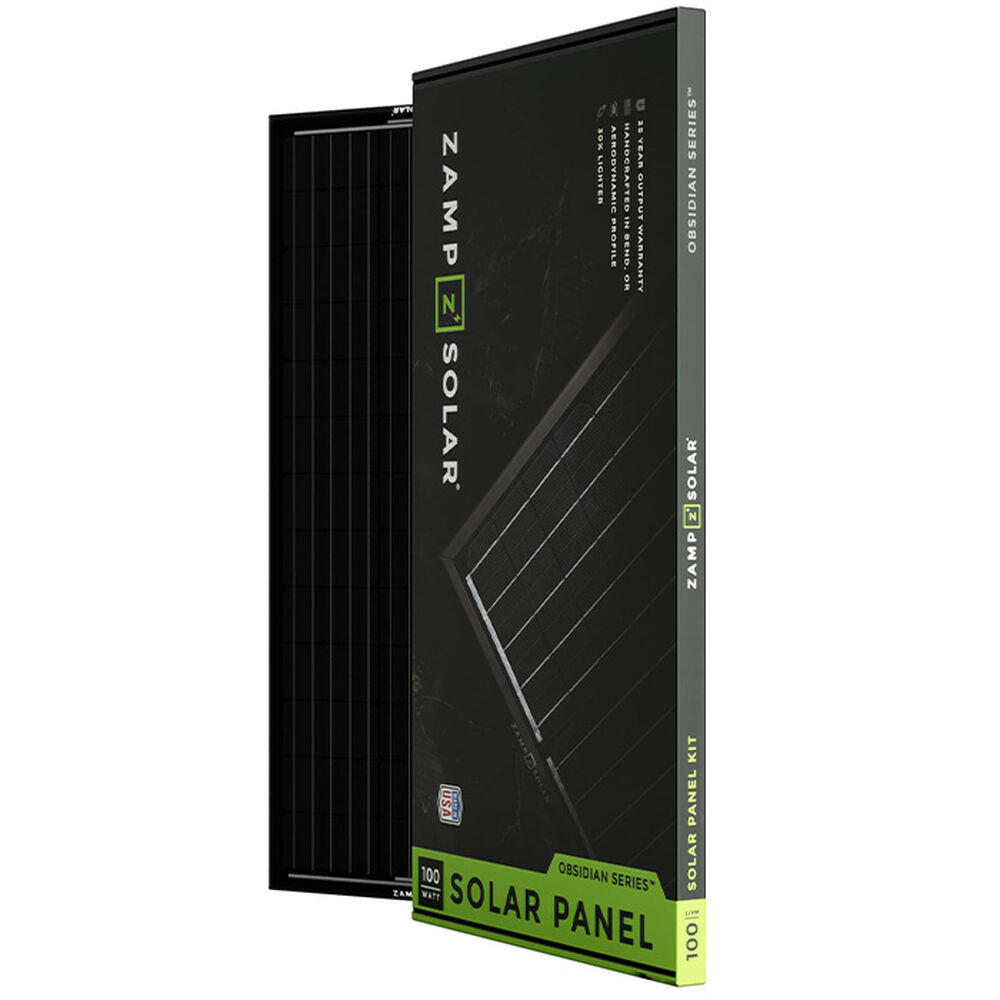 Key Takeaways
100 watts

10.78 pounds

Price Range: ($$$)
Learning to use solar power isn't immediate. It's great to have, but usually starting on the slower side can help you get used to just how much power they create. The Zamp Solar Obsidian 100-Watt Solar Panel Kit is an ideal size for those just starting to use solar power. 
If you already have a solar-ready RV, the Solar Obsidian is a plug-and-play system. It also works perfectly with any 12-volt battery. 
If you're looking to go completely off-grid, you can pair this panel kit with an integration kit, allowing you to more fully power your rig when you're far away from other power sources. 
ACOPOWER 100-Watt Foldable Solar Panel Kit
Key Takeaways
100 watts

26.1 pounds

Price Range: ($)
Especially if you're not driving around in a massive Class A RV (but even if you are…) portability means everything when you're traveling in an RV. You've only got so much space, and don't want to add a massive amount of weight to your rig as you're traveling. If you're looking for something small, as well as something that's a great entry into the world of solar power, the ACOPOWER 100-watt foldable solar panel kit fits the bill. 
The panels themselves are compact and foldable, but still easy to set up once you're at your campsite. While it won't pack enough punch to power your off-grid system entirely on its own, it does offer plenty of punch to supplement your energy use—and better yet, it pairs easily with expansion packs to produce a 200-watt system. The 20A charge controller comes pre-installed to make expansion easy. 
As it comes, the ACOPOWER 100-watt is ready for use with any 12V battery, or it can be used to power a solar generator with included MC4 connector design. It's foldable, it's flexible, and it's a great starter pack.
Nature Power Crystalline 200-Watt Solar Panel Kit
Key Takeaways
200 watt

30 pounds

Price Range: ($$$)
If you're looking for something with a little more oomph (and a little more permanence), the Nature Power Crystalline 200-watt solar panel kit gets you closer to going off-grid without the need for any kind of electrical hookups at your campsite. 
While other solar panels of lower wattage are made to be set up and taken down at each campsite, the Crystalline panels are more rugged and less flexible. They're scratch resistant and tempered glass tops. This also makes them ideal candidates for mounting to the top of your RV as a permanent structure. 
The kit comes with all of the cables you need for a proper installation, as well as a charge controller and a 400-watt inverter so you can use the power immediately. Otherwise, you can hook the solar connector up to a battery and use that as necessary. 
Zamp Obsidian 200-Watt Solar Panel Kit
Key Takeaways
200-watt

27.1 pounds

Price Range: ($$$)
As the big brother to the Zamp 100-watt model listed above, the 200-watt model brings twice the juice. It's ideal for medium or large size power projects. It includes two 100-watt solar panels and can be expanded up to 510 watts. It works with any 12V battery as well. 
These panels are made in America and are sleek and aerodynamic, making them ideal for mounting on the top of your RV if you so choose. What's more, they're lighter than you'll find in many other panels of a similar caliber so you're not packing on a ton of weight to your rig. Wire harnesses and mounting feet come supplied, though you may need an additional wire or adapter to complete your installation, depending on your RV.