EcoFlow Wave Review: A Portable Air Conditioner to Battle the Heatwave
This Battery-Operated AC Unit is Perfect for Use in RVs and Tents
With summer heatwaves sweeping across the country, temperatures are soaring. The intense heat can feel oppressive at times, creating potentially dangerous conditions. Whether you're at home, in an RV, or camping in a tent, staying cool can be challenging. But if you drink plenty of fluids, limit your time in the sun, and don't over-exert yourself, it can be a little easier to endure the hot weather. Of course, you could also beat the heat with an EcoFlow Wave portable air conditioner, a remarkable device that makes it easier to avoid a summertime meltdown.
Relatively small and compact, the Wave is a versatile and well-designed device. Despite its size, the unit can generate 4,000 BTUs of cooling power, making it one of the most powerful portable AC units on the market. But the Wave's strength isn't just how well it can cool down a contained space, but how many options there are for keeping it powered even at a remote campsite.
Fast and Efficient Cooling
EcoFlow, best known for making portable power solutions, says that the Wave can cool a 64-square foot space from 86ºF to 75ºF in just eight minutes. That's a quick drop in temperature over a short period and an indicator of how efficient and powerful the AC unit can be.
Under real-world testing, EcoFlow's claims feel accurate. The Wave is surprisingly adept at dropping the temperature of small living spaces, including residential rooms, tents, camper vans, and even larger RVs. Better still, the unit pulls humidity out of the air, making the space much more comfortable as a result. Cleverly, EcoFlow redirects the moisture to Wave's heating tubes, allowing it to evaporate without creating any moisture buildup, save when being used in extremely humid environments.
The Wave's temperature setting can be adjusted from 60ºF – 86ºF using a dial on the front of the unit. That same dial also sets the air conditioner's runtime and fan settings, allowing users to balance performance and battery life. A smartphone app lets owners customize the settings remotely, further tuning how the device operates. This feature is especially useful when the Wave is outside the environment that it is cooling and is using its included venting pipes to regulate the temperature.
Versatile Power Options
As a company specializing in portable power, EcoFlow has put a lot of thought into keeping the Wave functioning at home and in the field. As you would expect, the unit ships with an AC power cord, allowing it to be plugged directly into a wall outlet or an AC inverter found inside most RVs. Alternatively, a 12-volt DC cable is also available for use in vehicles that may not have an inverter. Using either of these options at home or a campsite with shore power ensures the air conditioner will continue to run as needed without worrying about running out of juice.
Out of the box, the Wave can only be used while plugged into an external power source of some type, including a portable power station. For example, EcoFlow's line of Delta power stations are optimized to work with the air conditioner, although similar products from third-party manufacturers will also work. These devices allow the EcoFlow to be used even in locations that are completely off the grid. And when paired with solar panels, it is possible to create a sustainable energy source to keep the cool breezes flowing.
EcoFlow also offers an external battery pack specifically built for the Wave. This device seamlessly attaches to the bottom of the air conditioner, allowing it to function independently of any power source. The battery pack turns the AC unit into a truly portable device that can go anywhere, giving it up to three hours of continuous runtime and eight hours of timed use. By comparison, an EcoFlow Delta Max power station runs the Wave continuously for up to six hours, while the Delta Pro can extend usage to 12 hours.
The Battery Add-On Adds Up
In some ways, the EcoFlow's add-on battery is an excellent addition to the Wave, allowing it to cut the tether of a power cord and be used in more places. The battery pack was made to seamlessly connect to the bottom of the air conditioner, locking in place like it was always meant to be there. And when the Wave connects to a power outlet, the battery will automatically recharge, ensuring it is ready to go when needed.
But ironically, the battery pack simultaneously makes the Wave both more and less portable. By adding 17 pounds of weight to the air conditioner, it becomes a little more challenging to lug around. Out of the box, the Wave weighs in at 38 pounds, but it jumps to more than 55 pounds when the battery is attached. That's a significant increase for a device designed to go just about anywhere.
With its $899 price tag, the battery pack is also a pricey upgrade. While it certainly enhances the functionality of the Wave, the money spent on this add-on might be better served going to one of EcoFlow's Delta power stations or Power Kits. Those units do cost more but can run the air conditioner for longer periods and offer more versatility when it comes to recharging other electronic devices.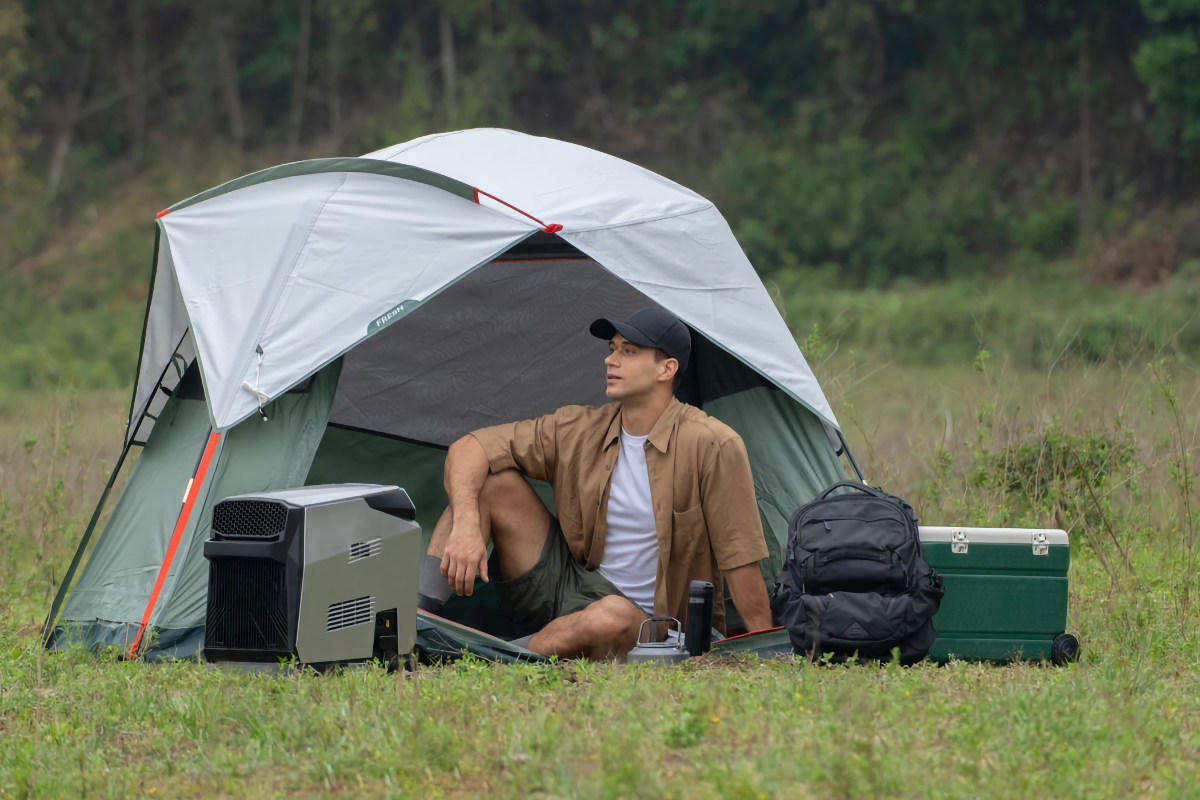 Four Modes and a Whole Lot of Noise
Wave users can optimize their experience with the portable air conditioner by selecting one of four different operating modes. These include "Cooling" for quickly dropping the temperature in a space and "Eco," which optimizes the device to get the most battery life. "Timer" mode allows owners to set the Wave to run for a set amount of time, while "Fan" mode engages the built-in fans to circulate the air.
These modes can be mixed and matched to maximize the Wave's performance. Additionally, EcoFlow's smartphone app makes it easy to set up a custom configuration to meet your personal needs. With a bit of tweaking, it's possible to utilize the air conditioner in a wide variety of ways, pumping out extremely cold air over a short span of time or maintaining a constant temperature for hours.
It should be noted that the Wave is relatively loud when the compressor and fans are running at full blast. EcoFlow says that the portable AC unit generates about 55 decibels of sound, roughly equivalent to an electric toothbrush. The device often sounded louder during testing, particularly when used in an enclosed space. Thankfully, that noise mostly melts into the background after a while, but it is still noticeable when the motors turn on and off.
Does it Work?
Of course, the question that everyone wants to know is, does the EcoFlow Wave actually work? In a word—yes! The device is quick, efficient, and does an excellent job of cooling down a tent or RV and maintaining the temperature over time. When plugged into a wall outlet, the unit functions like any other air conditioner, albeit one that is small and compact enough to be carried around. On the go, the Wave's portability becomes a real selling point, provided you have a way to keep it running.
RVers who don't have an AC unit in their rig will find the Wave to be a real game changer. The device makes camping in the heat a safer and more enjoyable experience, providing some much-needed relief from hot weather. Tent campers can also appreciate what it brings to the table, although portability and noise levels may be more of a concern.
Beyond that, a portable, battery-operated air conditioner can also be a great addition at home. The Wave can cool down an enclosed room in minutes and maintain a comfortable temperature during unexpected power outages or rolling blackouts. It can also be used on a porch or deck to cool down an outdoor space. When paired with an outdoor fan or two, it can make spending time in the heat much more bearable.
EcoFlow has priced the Wave at $1499, which is about the same as its nearest competitor. But the Wave is a more versatile unit with additional features and functionality than similar products. Its ability to use the EcoFlow proprietary battery pack, portable power stations and even solar panels make it an intriguing option for overlanding and boondocking. In short, you'll have a hard time finding a better option for adding air conditioning to just about any setting, which makes this a product that is easy to recommend.
Visit the EcoFlow website for more information.