RVing in Jackson, Wyoming
Jackson, Wyoming, known as "The Last of the West" is a hub for outdoor recreation and of course its dude-ranch vibe. Its close proximity to Grand Tetons National Park as well as Yellowstone National Park make Jackson a top destination if you're headed out west. Jackson is often referred to as Jackson Hole, Wyoming, which is actually the name of the valley between The Teton Mountain Range and the Gros Ventre Range in which the town of Jackson is located.
How to get to Jackson, WY
Jackson really is situated in a hole due to the surrounding mountain ranges which makes for only a handful of ways to drive in.
Driving to Jackson from the North
Heading in from the North, is probably the most spectacular way to enter Jackson. You will love the views along U.S Route 191 because you will drive right through the heart of Yellowstone National Park, across the continental divide, and then through Grand Teton's National Park before arriving in Jackson.
Driving to Jackson from the South
Route 89 will likely be your highway of choice. This funnels you into Hoback Junction, which is 20 minutes outside of Jackson. Route 191 is an alternate southern option and it joins Route 89 at Hoback Junction as well.
Driving to Jackson from the East
If you are coming from the east, like Idaho Falls, ID, US 26 makes for easy access. After crossing the 9,655-foot Togwotee Pass, located on the Continental Divide, head north on Route 89 through Hoback Junction. Be wary of the weather in winter time if this is your route. The high Togwotee Pass will close under threat of winter storms.
Driving to Jackson from the West
The westerly route is definitely an interesting drive. It will offer you views of the not often seen backside of Teton Mountain range. Be aware of road conditions in the winter time, as this entry point will take you over the famous Teton Pass and can be unsafe and/or closed during winter storm conditions.
Home While We Roam Tip:
The Home While We Roam Crew prefers to arrive in Jackson from the south. This allows us to stay over in Heber City, UT after visiting the Southern Utah National Parks. Jackson is around a 5.5-hour drive (RV Time) from Heber City. US 89 is the southern highway and is well maintained, with minimal climbing and easy downhill grades.
When to go to Jackson, Wyoming
Jackson offers nearly unlimited activities during all seasons. If you are a ski bum, Winter is going to be your best choice. With three world class ski resorts situated near by and as long as you feel comfortable potentially driving your rig with chains, it is hard to beat this season.
Summer is a beautiful time to visit Jackson. Average daytime highs in August just edging into the low 80's while staying cool in the evenings with temps in the low 40's. Of course, the crowds will likely the be at their peeks so consider that if your goal is to avoid crowds.
Home While We Roam Tip:
For our crew, early October is the best time to go to Jackson. The Aspen trees will be in full color as their leaves change to their fall golds. The crowds are much thinner, and the first snow is still a few weeks off. The animals will also be in their fall rut which makes for lots of bison, elk, and moose sightings. You may even get to hear an Elk bugle! This will also increase your chance to see wild wolves who are out on the hunt.
Jackson Eats
Jackson is a great destination for foodies. From simple fare like burgers from Wyoming's Oldest Brewery Snake River Brewing or for the more adventurous gastro fare like the steamed Pork Buns from Gather, you simply can't go wrong. When we are in Jackson, we use Yelp and sort the results by highest rated.
Also, because Jackson is a small town, don't forget to ask locals for their favorite restaurants. We always ask our servers where they like to eat when we are in a new spot and have found great options that we might not have found using Yelp.
Home While We Roam Tip:
Head to Cafe Genevieve just off Jackson's main square during happy hour from 3pm to 5:30pm daily with a hungry belly. Order the Fried Bologna Sandwich for a treat of flavors that you didn't even know you would love. Caution: You may crave it long after you've left Jackson in your rearview mirror.
What to To Do in Jackson
There is so much fun stuff to do and see while in Jackson. If you are staying in Grand Tetons or at a nearby campground, we suggest at least planning a day trip to this old west styled town. Here is list to get you started:
Dinner Theater at Jackson Hole Playh ouse
Shop downtown
Buy cowboy hats – Who doesn't need a Stetson from Jackson, WY?
Take a guided fly-fishing trip
Ski at Jackson Hole Mountain Resort, Snow King Mountain Resort, and/or Grand Targhee Resort
Visit the famous town square and see the Arches made from shed Elk Antlers
You can't take a trip to Jackson, WY and not go to the two of the most famous National Parks in the united states while you are there. It is only 5 miles from town to the first Grand Teton National Park entry gate. It is a bit longer of a trek to Yellowstone as you will need to follow Route 191 through the park, across the continental divide and into Yellowstone. That journey is 80 miles over some beautiful country so expect an RV trip to take about 2 hours. We would recommend getting your Jackson and Grand Teton visits done together before moving to Yellowstone. If you follow this route, it sets you up for points further west like Idaho and Oregon or north like Montana and Canada.
Where to camp In Jackson, Wyoming
There are a lot of camping options to choose from in and around the Jackson Hole valley. We will focus on two of our favorites inside Grand Teton National Park that are good for RV Camping. Stay in the park allows for easy access to the town of Jackson and the enjoyment of the open wilderness that is Grand Teton National Park
Our favorite place to stay is Colter Bay Village. It is nestled on the shores of lake Jackson and offers full hookup rv camping situated nicely amongst a pine forest. Amenities include Showers, Laundry, and a NPS Visitor Center. During the warmer months, the marina offers kayaking, canoeing, fishing, and swimming! If you plan to arrive during one of the last weeks of the season (think late Fall) you'll literally have the place to yourself.
The RV Park at Headwaters Campground at Flagg Ranch is another great spot for RV camping. They can support large rigs and have full hookups and the other amenities you would expect. Note that this campsite is about 16 miles further north into the park than Colter Bay so just plan for that extra drive time as you head south into Jackson.
Get out There
If Jackson, Wyoming, wasn't on your list make sure to add it to places you consider journeying to. Regardless of if you are seeking outdoor recreation and adventure sports or just want to sit quietly and soak up its small-town vibe, you will find a part of Jackson to enjoy. It is a magical place filled with amazing wildlife, scenic vistas, and will be a trip you won't soon forget!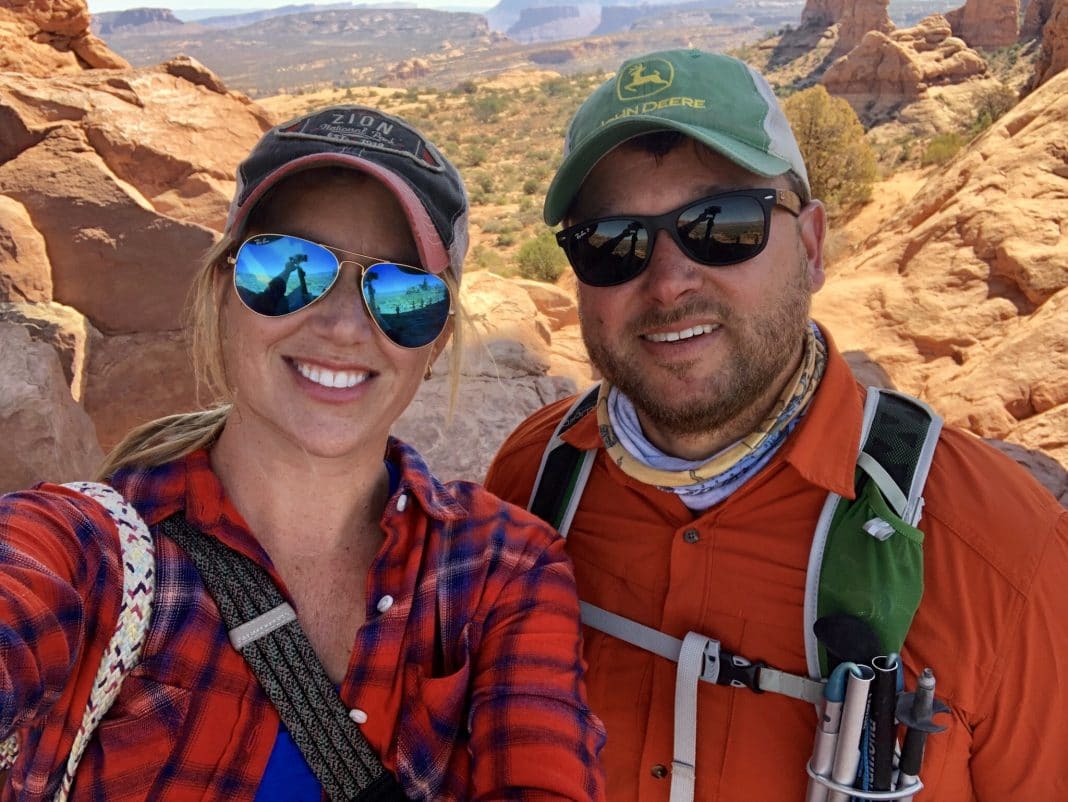 Home While We Roam is an Atlanta, Georgia-based family who love RV life. They've traveled more than 15,000 miles around the United States with their red Winnebago Minnie Plus travel trailer in search of simpler living, deeper family ties and epic adventures! Find them on Instagram @homewhileweroam.