How to Get Internet in an RV
The Home While We Roam crew loves hitting the road and heading into nature, but we also love staying connected while we're gone. We're firmly in the camp that believes Internet access should be a public utility. In fact, if we were to rank our utility requirements while staying in our RV, we would say:
Water
Internet
Sewer
Gas
Electricity
We would also bet that other campers are starting to feel a similar way as the digital world and physical world continue their march to merge together. To be clear, we are not suggesting that you should negatively impact one of the prime reasons you go camping, to get away from it all. We are saying, in the same way you still need water to get away from it all, there is an ever-growing population of digital nomads who need Internet access to do things like keep up-to-date with medication, banking and bill payment, and streaming entertainment when the sun sets.
Our philosophy to support getting away from it all is to be prepared and as self-sufficient as possible. Because we understood the impacts of no Internet access, we prepared this post with special vigor. Would you believe that after staying nearly 200 consecutive nights in RV parks across the US, we've never once connected to an RV park's available Internet access? Would you also believe that we did it for a less than $500 investment and less than $100 per month for Internet fees? It's true, here's how we did it.
Assess Your RV Internet Needs
Make your plan
What is your existing phone service?
What are your existing data needs?
Will you need a new mobile Internet provider to support your needs?
Do you camp in areas with spotty cell coverage?
Choose a Wireless Provider
Let's talk about wireless providers and coverage for a minute. The top 4 largest US Wireless providers are AT&T, Verizon, T-Mobile and Sprint. They all have their pros and cons, especially as you factor in marketing, technology, coverage, customer service and price. We are going to discount everything but coverage for our purposes.
We have camped all across the Southeast, Southwest and Pacific Northwest, with visits to the Midwest and Northeast as well. During our travels, we've always had AT&T and Verizon Internet at the same time. This has given us a really nice test platform and, in our opinion, they both crush all other competition when it comes to coverage. Now this comes from personal, anecdotal, non-scientific research, but we feel it is pretty accurate.
Here is our experience:
When AT&T had coverage, Verizon had coverage.
When Verizon had coverage, there were times AT&T did not.
At no time in our travels and camping did we run into a scenario where AT&T was accessible, and Verizon was not.
Our official recommendation is to go with Verizon if you have the opportunity, but AT&T is a good alternative.
What Gear You Need for RV Internet
Now that we have a wireless vendor in mind, let's talk the technology we need. First off, we are talking wireless LTE providers, not satellite providers. LTE is the same technology your cell phone uses. Satellite is too slow for downloading, and especially slow for uploading. Think taking 10s of minutes at a minimum to upload a really small picture to Facebook and Instagram. When we say go with AT&T or Verizon, we mean to get a data service and an LTE cellular modem that has an Ethernet port. We need this because we are going to recommend how to set up your Easy RV Internet System in exactly the same way you would set up your home Internet system.
Here are the major components:
An LTE wireless data account with a vendor like Verizon, AT&T or other
A cellular modem (this takes the place of your cable or any other integrated modem you use to access your home Internet)
A router with Wi-Fi to save space in your rig
Optionally, a device to boost your cell signal in your rig
Talking About Cellular Modems
There are lots of good options out there. We use a modem from Netgear, but D-Link and others have good options, too. There are two key phrases you want to see as features of your model.
Supports 4G LTE (or 5G)
Gigabit Ethernet WAN port
This is so you can plug in your wireless router and share connection with all your Wi-Fi and wired devices.
It is important to know which wireless vendor you will select, before you purchase your modem, as some trade a less expensive purchase price for carrier-specific lock-in.
Home While We Roam Tip:
Hotspots like JetPacks will not work in our Easy RV Internet setup. A hotspot is not robust enough in its routing function and typically won't offer a physical Ethernet port. Both are critical to support future add-ons like an RV Home Media Center.
Connecting Your Devices to Your RV Internet Network
Next you need a Router/Wi-Fi combo for your RV network. Most people have a router/Wi-Fi combination in their home Internet connection setup. Many will even have a combination, Modem/Router/Wi-Fi combination. For our purposes, we are talking a Router/Wi-Fi only as we have the modem covered in the section above.
If you are a gear head, you can go top of the line or if you just want something that will work reliably and provide good Wi-Fi coverage, any $40-$80 model that supports 802. 11AC will do fine.
Hook Up in 4 easy steps:
Put your newly ordered SIM card in your new LTE Modem and go through setup and activation
Create a space to install your two new pieces of hardware
Follow the steps to configure your new Router with Wi-Fi
Connect the two and start surfing the web on your own, private, broadband, mobile Internet, using Wi-Fi, on all your devices.
Optionally, boost your RV Internet signal strength
There are two schools of thought in the wireless boosters camp. Again, our research is not scientific but is anecdotal. We have met folks who swear they get amazing connectivity when using a cell booster and some say they have seen no impact. We have had good success with our booster. We can't always say that when our neighbors can't send or receive texts or check email where we can. We also have personal experience of being on calls that drop as soon as we walk away from the rig and leave our boosted coverage area. If you do go for a booster, we recommend an RV Specific model from weBoost.
We also recommend having your local Camping World do the install because it involves running and hiding an internal cable and antenna as well as one hole in the roof for the external antenna. This shouldn't be more than 2-3 hours on the labor charge.
Home While We Roam Tip:
A cellular booster like the WeBoost (which we have) is a great choice to improve your signal but is not carrier specific. Don't worry whether you have Sprint, Verizon, AT&T or other. All should benefit from a cellular booster in your rig.
RV Internet Wherever You Roam
Having your own RV Internet allows you to achieve a new level of self-sufficiency. We have heard countless stories from camping friends who have pulled into a campsite and been disappointed when they discovered that the Wi-Fi coverage doesn't quite reach their campsite, or the available bandwidth isn't sufficient for their needs. Talking these few steps will give you a solid of never running into this scenario at a price point that is reasonable.
At the very least, you can stream Netflix to your heart's content without worrying about the bandwidth you are consuming from your fellow campers! Stay tuned for our companion post on Easy RV Home Media Setup.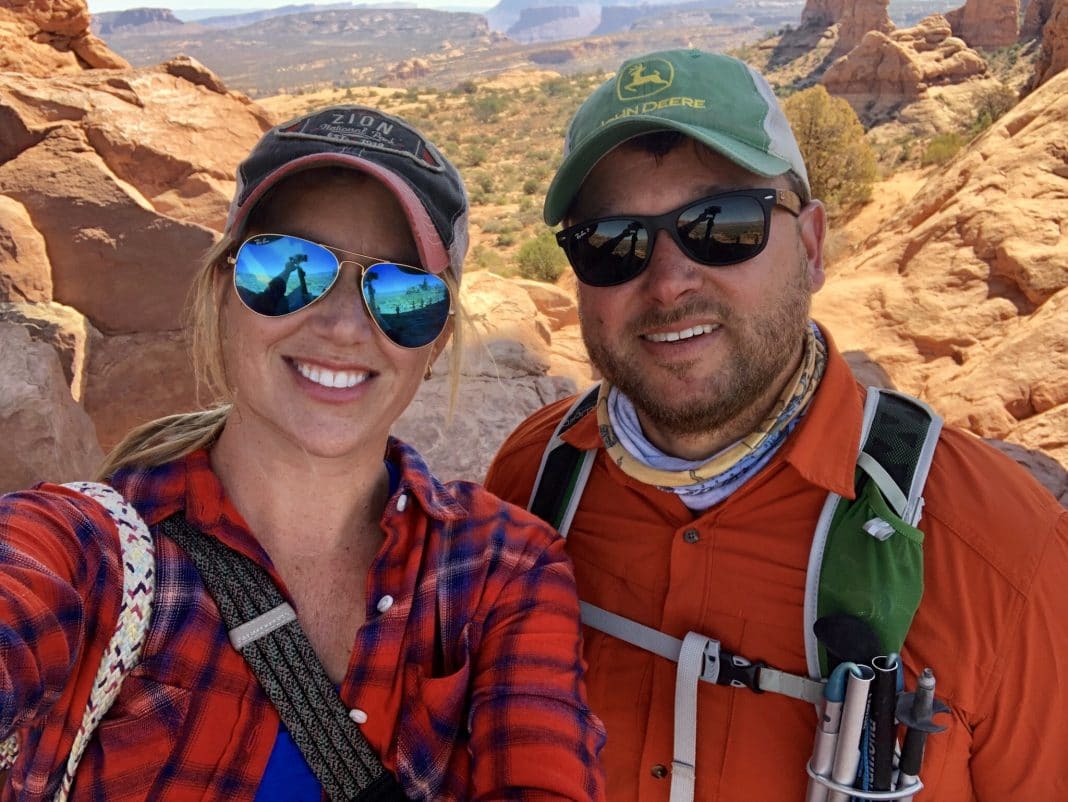 Home While We Roam is an Atlanta, Georgia-based family who love RV life. They've traveled more than 15,000 miles around the United States with their red Winnebago Minnie Plus travel trailer in search of simpler living, deeper family ties and epic adventures! Find them on Instagram @homewhileweroam.