Six Sweet and Salty Camping Snacks You Have to Try!
No oven, no problem. These tasty treats can be whipped up with nothing but a fire and are sure to put a smile on every camper's face.
Summer is when the days get their longest and most packed with outdoor activities – swimming, hiking, kayaking, exploring. Sometimes you just need a snack (or two) to pick yourself up and get going. Other times, you just need a snack for snack's sake. Whatever the reason, check out this list of six sweet and salty camping snacks you can make right at the campfire and enjoy whenever, wherever, and for whatever reason!
1. S'mores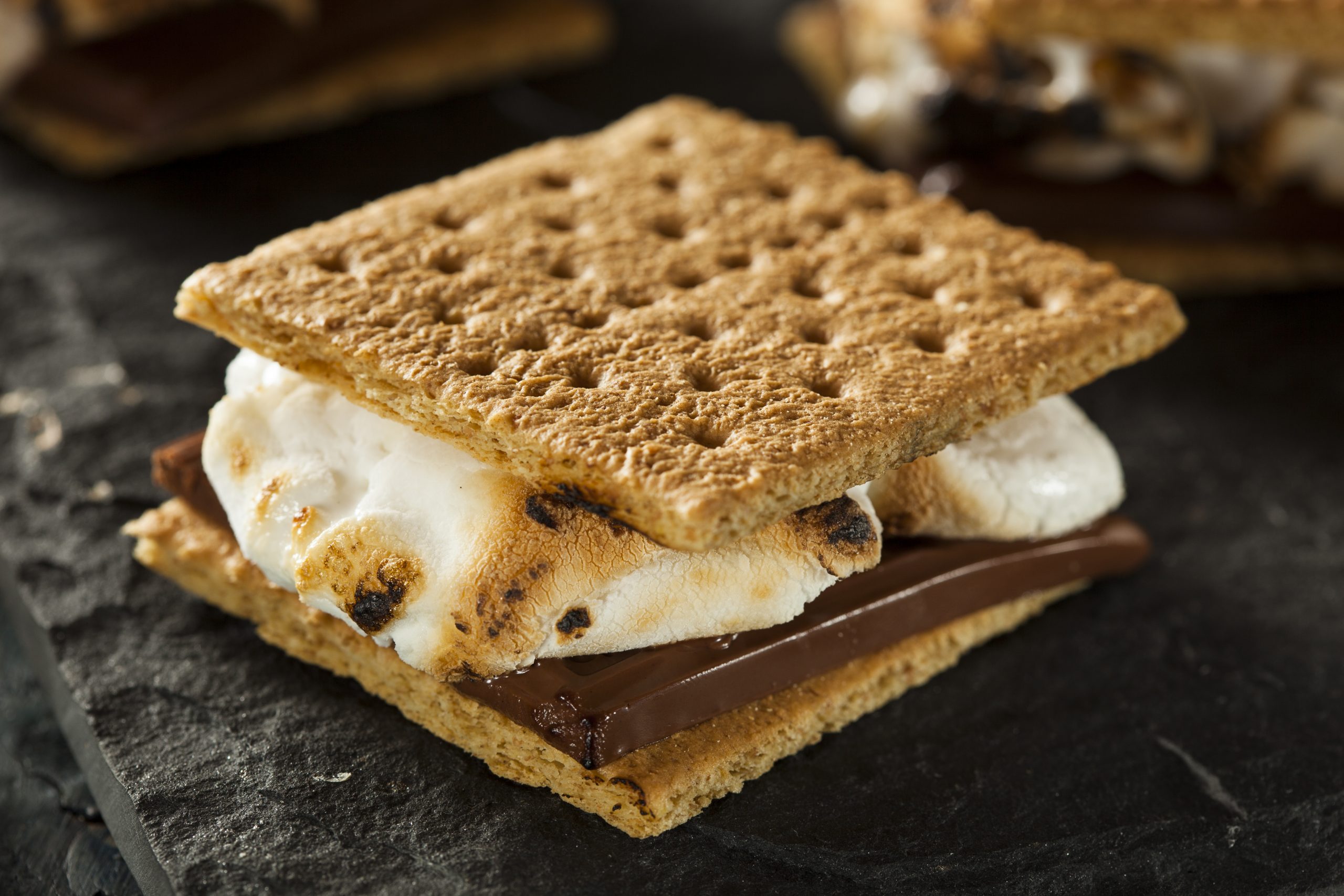 Campfires and s'mores. You just can't have one without the other. Part of what makes the s'more so great is how easy it is to make. You just need a roaring fire, some marshmallows, a pack of graham crackers, and some chocolate bars. Ohh and something to roast the mallows on. And just like that, you have a warm and gooey tasty snack.
Part of what makes the s'more so popular is how easy it is to tweak and upgrade to your own tastes. Swap out the chocolate for peanut butter cups, maybe even the graham crackers for pound cakes. Add in some Nutella and bananas or go the umami route by throwing some bacon in the mix. Of course, you can always go the classic route, the one that started it all and was so good it had the first person who tried one begging for "some more."
Ingredients:
Marshmallows
Graham Crackers
Chocolate bars
Directions:
Heat two marshmallows over an open fire with a roasting stick until toasted to desired crispness.
Ready two graham crackers and a chocolate bar.
Take marshmallows off the heat and immediately sandwich with the graham crackers and chocolate.
Pull marshmallows off the roasting stick and enjoy.
Trail Mix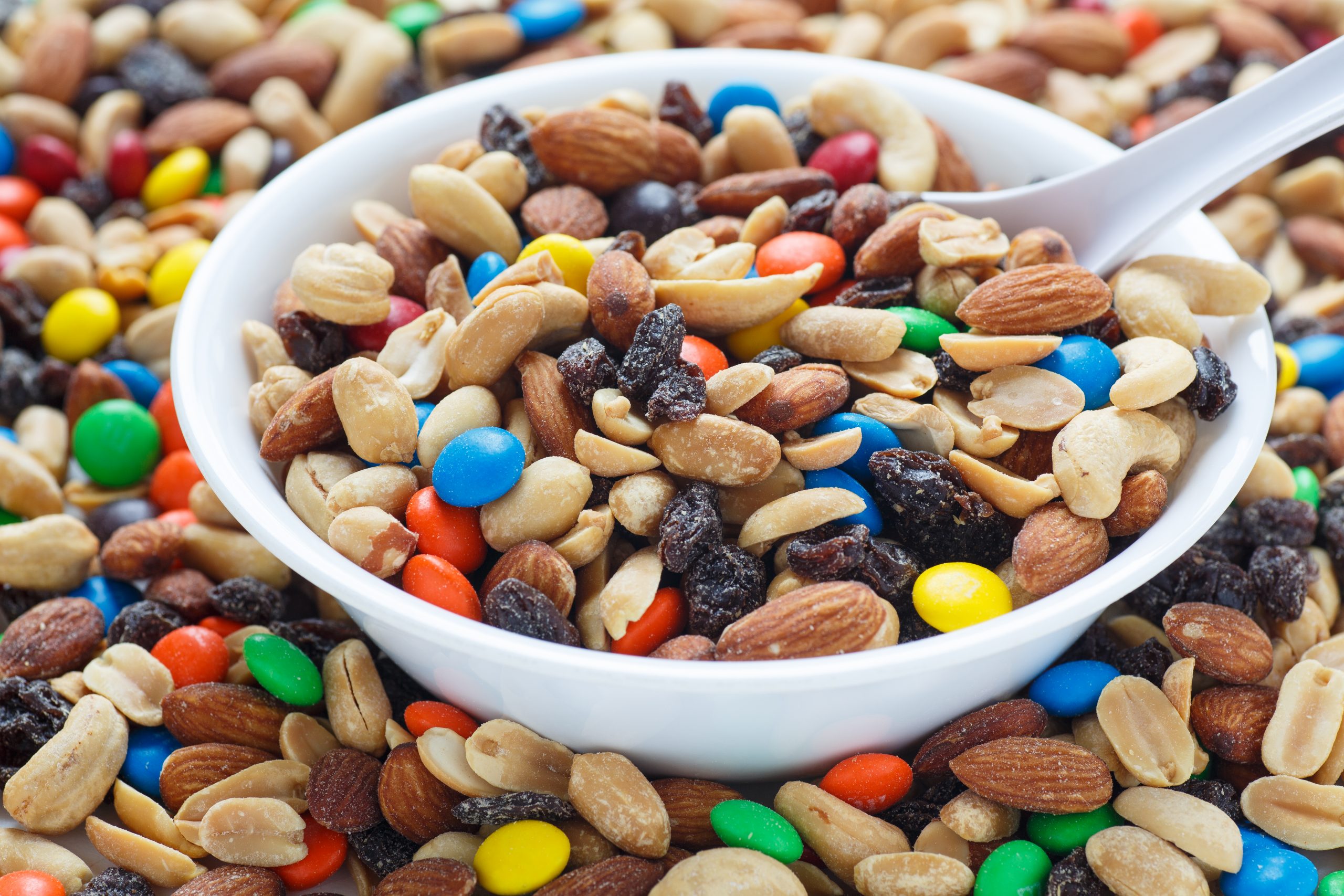 Speaking of classic camping snacks, it doesn't get more quintessential than trail mix. The popular trail snack dates back to the 1910s when outdoorsman Horace Kephart recommended it in his camping guide. Again, like s'mores, it recently exploded in popularity, and there now seems to be as many flavors and varieties available as there are miles of hiking trails in the U.S.
You can always buy your own, but when you're camping it can be more fun to do things yourself. Come up with your own recipe. Traditionally, trail mix ingredients include nuts and legumes, dried fruits, something sweet like chocolate, pretzels, and maybe some granola. Mix it up, literally, and discover what your camping party likes best!
Ingredients:
Nuts
Legumes
Dried Fruit
Chocolate
Directions:
Measure equal portions of each into a bowl.
Mix together and enjoy.
3. Ants on a Log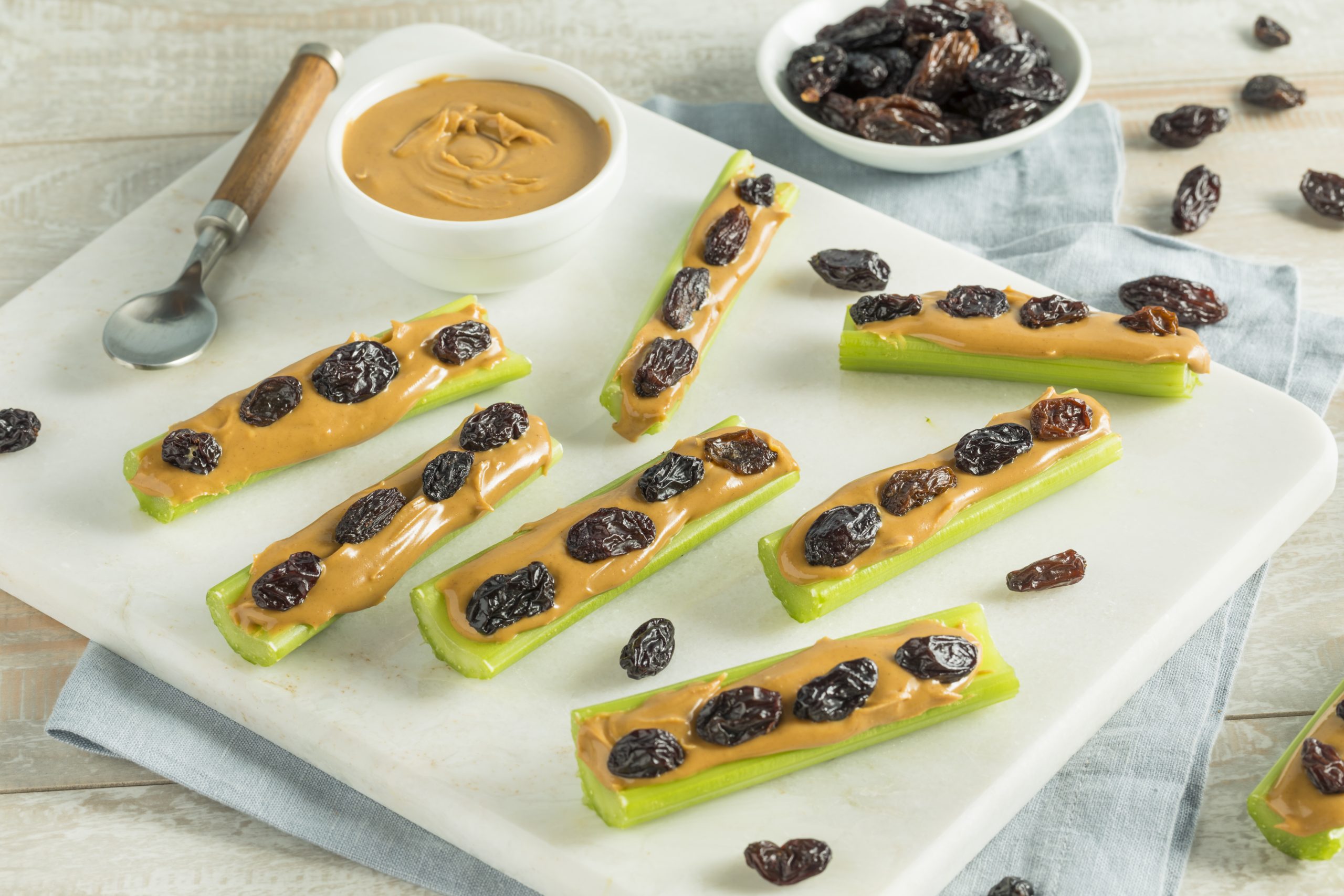 Those four words and you're transported back to a childhood filled with designated reading time, carpet squares, and learning the ABCs. But, this snack isn't just for kids. Everyone can enjoy the crunchy, sweet taste of Ants on a Log, around since the 1950s. Assembly is quick and easy – with just some celery, a knife, some raisins, and peanut butter, you've got the famous snack that mimics a fun occurrence in nature.
Of course, with allergies always a concern, this snack is easily adaptable. Swap out peanut butter for Nutella, cream cheese, almond butter, or why not even some cookie butter? You can also go for "red ants" with some dried cranberries or cherries. It's completely up to you!
Ingredients:
Celery Stalks
Peanut Butter or some other spread
Raisins or some other dried fruit
Directions:
Cut celery stalks into "logs"—roughly six inches in length or half of each stalk.
Spread peanut butter, or your filling of choice, into the concave part of each celery stick.
Top with raisins or other dried fruit, pushed into the filling to represent "ants."
4. Campfire Popcorn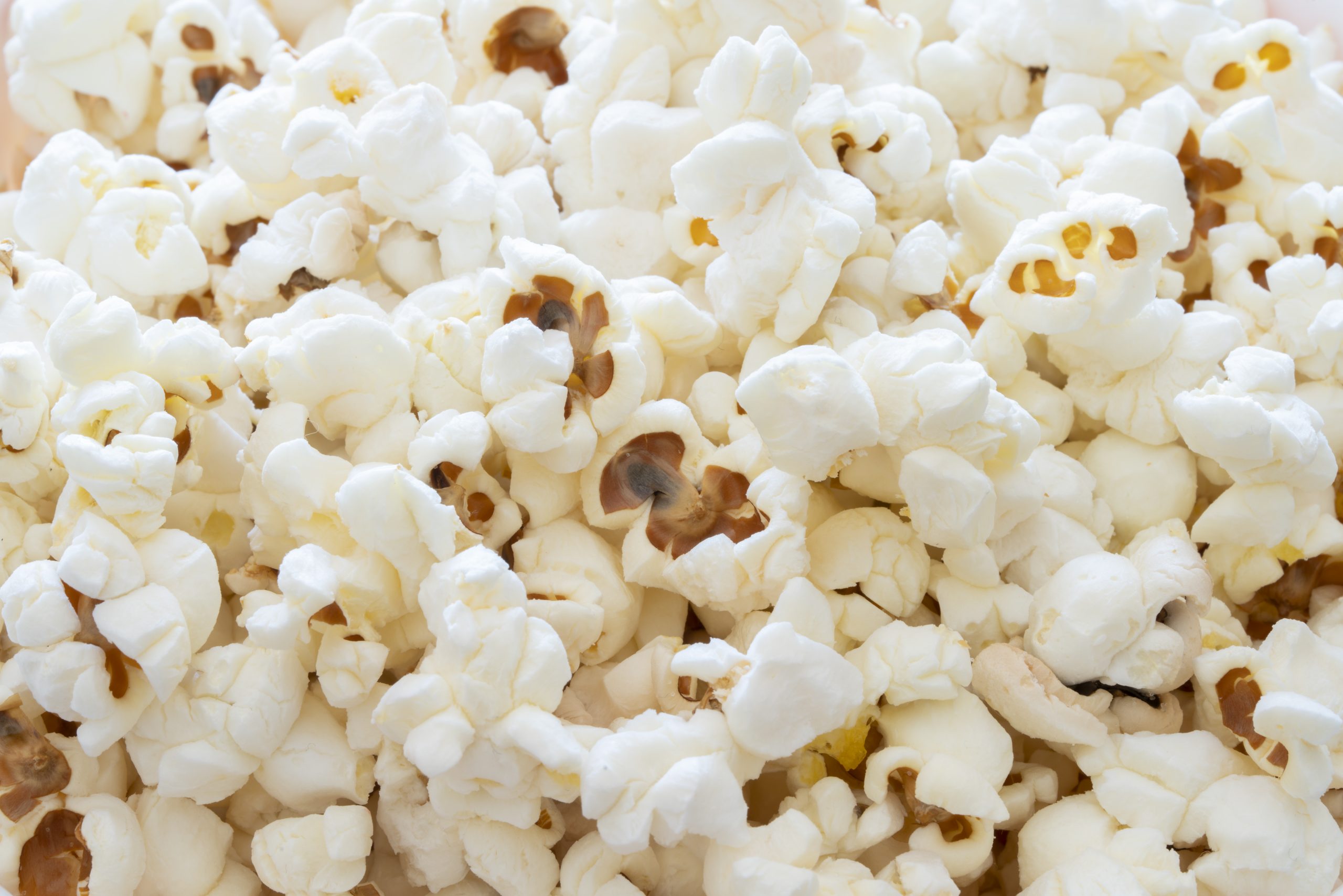 It's salty, it's buttery, it's delicious. It's popcorn. A perfect snack whether you're watching a blockbuster or just gathered around the campfire, popcorn is one of the easiest camping snacks to make. Instead of relying on a microwave, you can pop up this treat courtesy of your campfire.  All you need is a grate to place over the open flames, a pie tin, or even your own cast-iron skillet, as long as you have a lid, and then some kernels and oil.
Once it's popped you can also dress up popcorn however you wish. Keep it classic with salt and butter. Go "gourmet" by sprinkling some shredded parmesan cheese over it, or make it spicy route with some chili powder. Maybe satisfy your sweet tooth by throwing in some chocolate chips or M&Ms leftover from your trail mix for a sweet and salty treat. Just make sure the popcorn has cooled first.
Ingredients:
¼ cup popcorn kernels
1 tbsp oil (vegetable, canola, or coconut work well)
Popcorn salt (yes, there's a difference)
Melted Ghee or another "low water content" butter
Directions
Toss the popcorn kernels and oil in a pie tin or other cooking utensil.
Cover, leaving enough room for kernels to pop, and place on the campfire.
Using tongs or a potholder, shake the tin or pot until the kernels stop popping.
Season and butter to your desire and enjoy.
Puppy Chow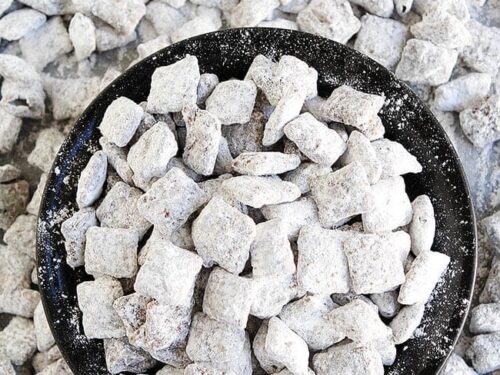 Depending on where you live, you might call this tasty treat muddy buddies, but it's the same powdery sugar goodness, trust me. A popular holiday treat, puppy chow can easily be modified for enjoyment around the campfire. After all, the only heating required is the peanut butter and chocolate and a campfire can do just that. You will have to chill the puppy chow once you mix the melted chocolate and peanut butter with the cereal. So, unless it's cool enough outside for this, you might have to rely on your RVs fridge or freezer for the job. Regardless, you'll have a tasty snack that everyone can't wait to get their hands on.
Ingredients:
1 cup semisweet or dark chocolate
1 cup creamy peanut butter
6-7 cups Rice Chex cereal
1-2 cups powdered sugar
Directions:
Melt peanut butter and chocolate together in a large pot over the campfire.
Once melted, add 3 cups of cereal to a large bowl, then pour half of your chocolate-peanut butter mixture on top. Add the remaining cereal and chocolate peanut butter mixture and stir until the cereal is coated evenly.
Let the mixture cool to room temperature then add 1 cup of powdered sugar. Mix until combined.
Let cool for about 15 minutes. Add more powdered sugar ¼ cup at a time until your mix is coated to your satisfaction.
Store in an airtight container at room temperature. Enjoy.
Granola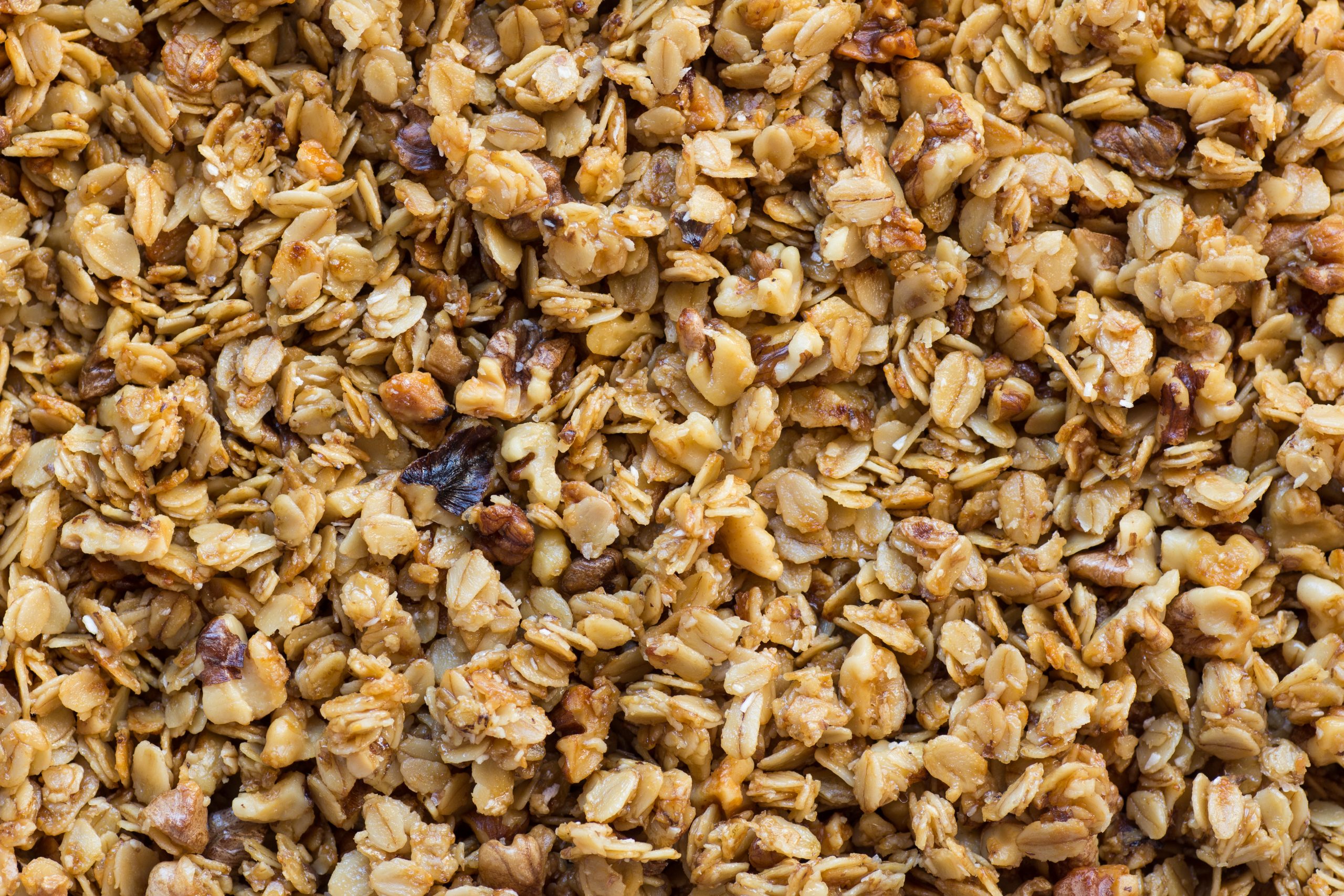 Similar to trail mix, but a little more "breakfast friendly," granola is one of the most tasty (and healthy!) camping snacks you can make at the campfire. As is the running trend with these campfire snacks, you can cater it to your tastes and wants – cinnamon and spices, fruit and toppings, whatever you want. Make it into a parfait or eat it by the handful and enjoy the crunchy, sweet taste whenever you feel a craving for it!
Ingredients:
3 cups rolled oats
¼ cup oat bran
¼ tsp cinnamon
Pinch of salt
1 tbsp butter or oil
¼ cup maple syrup, honey, or agave
Directions:
Coat a large sheet of tin foil generously with oil cooking spray and set aside.
In a large mixing bowl, combine the oats, oat bran, cinnamon, salt and mix well. Add the oil of choice (if using coconut, make sure it's melted) and maple syrup and stir until fully incorporated.
Lay the mixture in the center part of the tin foil, preferably in a single layer, ensuring there is sufficient room around the edges to wrap.
Wrap the granola up without any room for air- We don't want steamed granola here. Lay the foil patch on the heated stone/coal and allow to heat for 5-10 minutes. Using tongs, shake the foil pack roughly every 2-3 minutes to avoid sticking.
Remove and carefully open and allow to cool for five minutes. Enjoy.