Spruce Up Your RV's Patio Area
Small items that will make a big difference in how you enjoy and entertain in your outdoor living space.
Being outside. It's why you got an RV. Hiking, kayaking, swimming, and boating are all fun activities and RVs provide great ways to visit and explore the best places for them. But, when you're done with all the adventuring, you don't have to be done with being outside. Continue to take in the fresh air, clear skies, and warm sun by hanging out on your RV's patio area. Here are some great ways to spruce up your RV's patio and log even more time outside.
String Lights
Stay up long past sundown with a set of stringed lights for your RV's patio area. They not only help define the perimeter of your space but also add ambiance and, of course, help you to see. Stringed lights are easy to store and tow and simple to set up, which makes them great for the RV lifestyle.
There are as many options of lights available as there are RVs, so pick a set that matches the style you're going for with your space. Some options even allow for you to have strobes and colors. Just make sure you adhere to any and all rules set forth by the campground you're staying at and always remember to be respectful to your fellow campers. No one wants to be neighbors with a nightclub.
Outdoor Fire Pit
If you go camping and don't have a fire did you really camp? A campfire is essential when it comes to RVing and a great focal point of an outdoor party. However, if you don't want to deal with all the responsibility that comes with putting out a traditional fire or all the smoke—opt for a Solo Stove.
Their portable fire pits come in three sizes and feature a low smoke design so your party can actually spread out around the fire instead of strategically avoiding wherever the wind (and smoke) is blowing. Speaking of breeze, that's what clean-up is with a Solo Stove and packing up too. Each comes with a portable carrying case so you can be on your way to your next campsite in no time.
Comfortable Chairs
Hay bales and blocks of wood may have a nostalgic, rustic look and feel but after sitting on them for an hour you'll certainly be feeling something. Spruce up your RVs patio area, and do your back a solid, by swapping them out for some MacSports Club chairs.
They come in a variety of sizes, are foldable (and thus easy to pack and travel with) and seriously comfortable. The fabric is also durable, water-resistant polyester so if you're campfire bash or just evening winddown gets rained out, you won't have to scramble to pack them up.
Bug Repellent
Pests can ruin any party or get-together. Citronella candles offer a natural way to keep mosquitos and most flying insects away, while also adding a nice ambiance and aroma. You can also go the modern route with a repellent fan like the one from Treva.
It's a non-toxic way to repel insects and works great near food, where you might not want the smell of a candle mixing with the smell of barbecue or burgers. And, finally, you can really put a firm no on bugs crashing your RV's patio space with a mesh screen. Most also work to block harmful UV rays from the sun so it really is a two-for-one.
Outdoor Rug
Depending on where you camp, you might not have the best ground—sand, rough terrain, rocks, patchy grass — to stand on. That's where an outdoor, durable mat or rug comes in handy. This mat from Camping World is weather-resistant and UV-stabilized to prevent fading.
It's also resistant to mold and mildew. Plus, the material is breathable, so you won't have to worry about harming the grass, if there is any, underneath it. And, what's more, it will add a fun "pop" of color and further define your RV's patio space. Who knows, it might even function as a dance floor.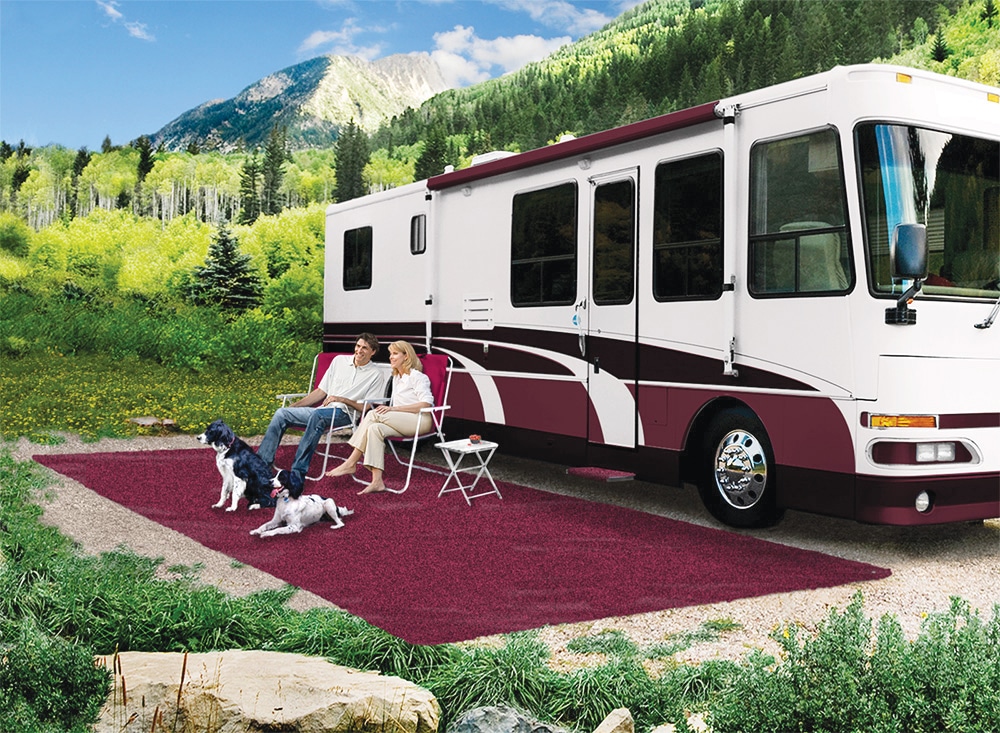 Outdoor Table
Whether you're mixing drinks, prepping barbecue, putting out a spread, or just need a place to set things down, a table is a patio must. But, it doesn't have to be sterile and generic. Get one that fits with your space, like this foldable cedar table. Not only is it functional (see foldable) but it's also expandable with a center leaf that allows for additional elevated table space. Plus, it's handcrafted with red cedar so it will endure from campsite to campsite.
Ice Chest or Cooler
Sometimes, a patio is great for just sitting back, relaxing, and cracking open a cold one. But, you'll need a cooler for that. Sure, you could get up and walk inside to your RV's fridge, but it's so far when you're already so comfortable. Plus, if you are in fact, entertaining guests or have a large party, you won't want people trudging in and out of your RV all night every time they want a drink. Instead, get an ice chest/cooler for your patio area.
The Permasteel 80 qt. patio cooler is as stylish as it is functional. With vibrant coolers, it will add brightness to your space—and plenty of ice-cold drinks. Of course, if you are RVing with limited space, you can opt for a more portable option (without sacrificing style) with the Igloo Legacy 54-qt cooler. Featuring a vintage design, it will still pop on your patio and keep all your pop and soft drinks cold and crisp.

---
When it comes to RVs, the patio space is just as important as the kitchen, bedroom, and bath. Make your outdoor patio space an extension of your RV—stylish, functional, portable, and fun with these helpful items and enjoy every last minute of enjoyable outdoor weather.