Gear Guide: The Best Snowboard Bags
These will provide the needed storage for you gear.
Travel is a known element when it comes to snowboarding. Whether you're flying to competitions or throwing your gear in the back of a van to hit the local slopes, your snowboarding gear comes with you, and you need a reliable bag that can make the trek.
If you've ever experienced a trip with a poor-quality bag, you know the burden. Here, we're taking a look at a few of the bags that have earned a vote of confidence among snowboarders. From those on a budget to those with far too much gear they just can't go without, there's an option for almost every scenario.
Identifying what's important to you always makes these lists more navigable. So, before perusing, consider some common bag-to-bag differentiators that can help you figure out which bag might be best for your needs.
Capacity
How many boards will you travel with, now and in the future? Keep in mind a backup is always recommended, even if you don't have one yet. When you buy your next board, your old board becomes your backup. It's also common to carry three or four decks depending on your preference, and there are bags specifically designed for a fuller quiver.
Weight/Protection
With any case or bag, added protection often means bulkier and heavier. Snowboard bags are no different, and you'll need to evaluate your bag choice based on the situations you'll be putting it through. From hard cases to thin fabric designs, gauge your weight-to-protection level based on how rough you expect travel to be.
Price
At a glance, you're looking to spend about $100-$300 for a full-size board bag capable of fitting at least two decks. Most quality brands make a few bags that are even more affordable–and completely capable–but just note you might lose out on space for that extra deck and additional protection.
Features
Frills are nice, especially when they're purposeful–like extra zippered exterior pockets, or separate boot and gear bags. The pricier the board bag, the more features it's likely to include, which can be extremely handy if you're trying to fit all your gear into one package. But just make sure you've identified exactly what you need.
Comfort
As a last note, remember you're going to be traveling with your board bag–hopefully, a lot.So make sure your bag has a comfortable fit. Take the time to try these in person, if possible. Or, at the very least, read up on reviews to ensure your bag of choice is comfortable to carry.
And now onto the list.
Snowboard Bags: Some Top Choices
Dakine High Roller
This bag scores points in all the important categories: protection, space, and design. Consider this a great all-around option for all of your primary snowboarding gear, including multiple boards, your boots, bindings, and outerwear. On the interior of the High Roller, you'll find separate, removable boot and outerwear bag that makes for easy organization. We also like the two exterior zippered pockets, perfect for storing your tuning equipment, board wax, and other board accessories. 
Featuring 360 degrees of padded protection, this bag keeps everything safe from all angles. Everything is subject to dings and bumps when it comes to traveling, but this bag does its diligence in keeping your stuff intact. And, speaking of traveling, enjoy the oversized 9cm urethane wheels that can tackle stairs and uneven terrain. Or simply utilize the locking interface that attaches the board to your rolling suitcase.
The High Roller comes in three different color schemes: olive Ashcroft camo, olive Ashcroft coated, and black.

Capacity: 2 decks
Size: 165cm, 175cm
Price: $157.50 – $209.95
K2 Padded Snowboard Bag

When it comes to your standard, protected carrying bag, look no further. The K2 Padded is a perfect combination of quality and affordability–all with a classic look to boot. Its tarpaulin padded lining and TPU-coated bottom side make for durable use, and a padded shoulder strap make this one an easy carry, especially as it only fits two boards. 
Consider this one for your weekend trips, the quick overnight visit, or your short-hop flights when you want something quick but protective. Running right under $100, this comes in two different sizes with the same price for each, a 158cm and a 168cm version. While this bag doesn't come with rolling wheels, it's an easy carry at 1lb 15oz.
Capacity: two boards

Size: 158cm, 168cm
Price: $99.95
Series 3 Sportube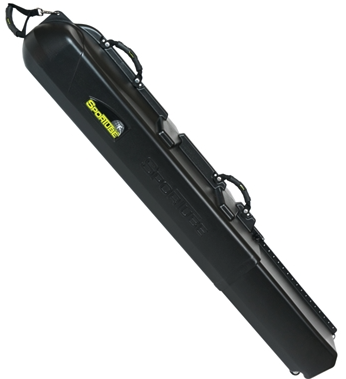 The Series 3 is Sportube's largest multi-use hard case that's capable of properly storing two snowboards with boots and bindings. Sportube notes that customers have also used the spacious design of the Series 3 to store skis for adults and children, as well. But when it comes to ultimate protection, hard case bags like this are unbeatable.
Unique to the Series 3, you can adjust the length of the case to fit the length of your snowboard or skis. This prevents unnecessary movement during transport that might cause damage should the gear inside move around. With ½" adjustments, you can truly customize this case to snuggly fit your snowboards.
Not only will the Series 3 travel safely in the luggage bay of a plane or otherwise, but a case like this makes it possible to confidently ship your equipment ahead of time to your intended destination via carriers like FedEx or UPS.
The Series 3 comes in black or "blaze" (orange) color styles.
Capacity: two boards
Price: $249.95
Burton Wheelie Locker

If you're more concerned with having all the right gear with you than the size and weight of your haul, the Burton Wheelie Locker is right up your alley. As the largest snowboard bag Burton makes, this rolling locker provides all the space you need for several primary boards, a few backups, and additional gear, all made conveniently towable with IXION skate wheels.
You're looking at room enough to fit your helmet and bulky outwear, plus a deployable gear bag that fits your boots and bindings. We like this setup because it's all-or-nothing—you lose some of the anxiety wondering where certain gear is if everything is packed in this single bag. Its internal webbing straps keep everything in place as well, including the included boot and binding bag.
The larger skate wheels are a great touch for navigating stairs, carpet, and graveled or uneven sidewalks. And the Comfort Cush telescoping handle makes towing easy, with the option of cinching down to reduce length.
Also note: this bag comes with a lifetime warranty–which is an inarguable benefit for any board bag.
Capacity: multiple boards
Size: 156cm, 166cm, 181cm
Price: $314.95
Chamonix Argentiere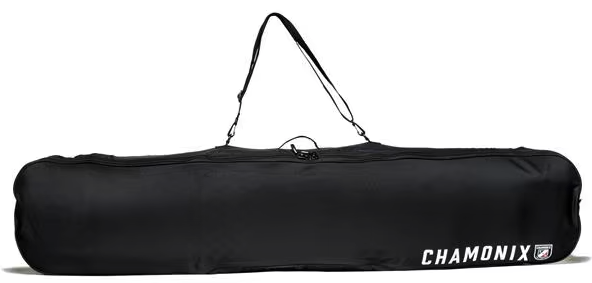 What we like about the Chamonix Argentiere most is the quality you get for the price point. This is the most affordable bag on our list, but that doesn't mean it's any less of an option. Protect your board with this bag that features heavy-duty 600 denier polyester as well as padding throughout the case. Weighing only 2.3lbs, that's a lot of protection for not a lot of heft.
Other features of the Argentiere include a full-length zipper, a zippered accessory pocket, and a Chamonix-branded straight-black design.
Capacity: 1-2 decks
Size: 166cm
Price: $314.95
Bonus: The Best Boot Bag
Because not every snowboard bag comes equipped with an internal boot bag, we figured we'd highlight a favorite option should you take the route of the board-only snowboard bag.
Dakine Boot Pack 50L Boot Bag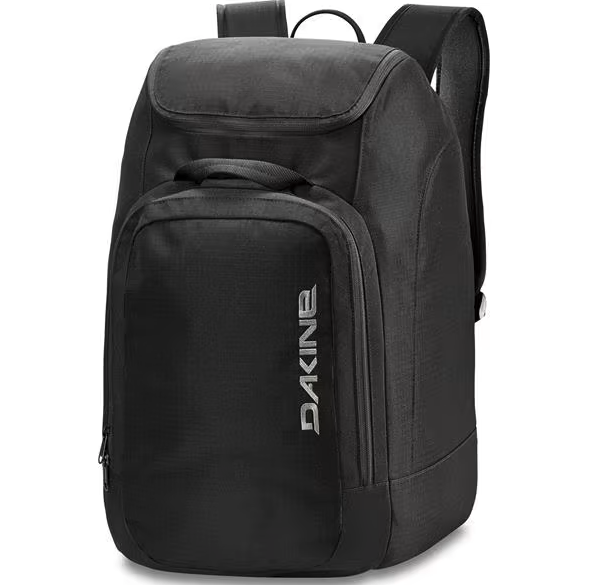 A stylistic bag coming in six different color combinations, we like the Dakine Boot Pack 50L for even more than its appearance. For starters, "boot bag" is a limiting term, considering this will have storage for your helmet, outerwear gear, and goggles. For someone whose snowboard bag is focused on boards and decks only, this boot bag makes for the perfect combo.