Gear Guide: The Best Smokers for the Campground
Slow cooking meat has never been better.
Camping and the sweet smell of smoke go hand-in-hand. It's natural, the smell of smoke mingling with all of the fresh air around you. And it's even better when you start to mingle that with the smell of slow-cooked meat. 
Believe it or not, we're not talking about cooking hot dogs over a roaring fire. We're talking about smoking: cooking a hunk of meat low and slow all day until you're left with something smokey and delicious at the end of the day. 
A lot of smokers aren't necessarily travel-friendly. Unless you're a seasoned pro and have one of the large tow-behind types or can easily pack one into the back of your tow vehicle, bringing along a big smoker—especially just for one meal—can be a hassle. But that's not to say there aren't plenty of perfect smokers to bring to the campground. 
Not only are smokers a handy way to whip up a delicious meal for the end of a long day at the campsite, but they're also a relaxing way to cook. Plus, you'll no doubt make some friends as they smell the delicious aromas wafting from your site. Heck, you may even find yourself a designated camp cook and have people waiting in line for your food. 
What Are the Types of Smokers?
Smokers come in all shapes and sizes. In fact, if you're new to the world of smoking meat, it can be exhausting to figure out which type is right for your home—let alone the type you want to bring along to your campsite. Here's a crash course in smokers, but keep in mind that there's plenty more research you can do to learn more about them. 
Charcoal

– One of the classic smoker styles, charcoal smokers—quite obviously—use charcoal as their heat source. While dependent on the shape, so-called "bullet" smokers have a bed in the bottom to hold hot coals, and wood chunks are placed on top of them to create smoke. There's usually a water tray and then two trays to hold the meat you're cooking above those, then the lid.   

Propane – Propane smokers have a hookup for a propane tank, and usually a single burner that sits beneath a wood box where you'll place small chunks or chips. Because the burner requires less space than charcoal to provide enough heat, there's usually a little more cooking space in these.
Wood Pellet – A relative newcomer to the world of smoking (and grilling, for that matter), wood pellets are used as the fuel source and as the smoke source in these smokers. Some models require a power source, as they feature an electric hopper that continually feeds the smoker to maintain an ideal temperature.
Electric – A heating element and thermostat keep things hot in an electric smoker. They obviously require a power source, and these little units are often built like little mini-fridges to help keep the heat in. These are some of the easiest smokers to work with, as they're very "set it and forget it" friendly. That said, many claim to have issues getting the classic "bark", which is a trademark of good smoked meat when using an electric smoker.
What Are the Best Smokers for the Campground?
There are plenty of options to consider when you're looking for a good camp smoker. With different fuel sources, you get different benefits and drawbacks. You should also keep in mind the type of camping you tend to do. For example, if you're usually boondocking, then running an electric smoker all day on your generator may not be the best use of your fuel. However, if you're planning to be out exploring the majority of the day, you won't have time to babysit a charcoal smoker and help tame its temperature fluctuations. 
Char-Broil 16″ Bullet Smoker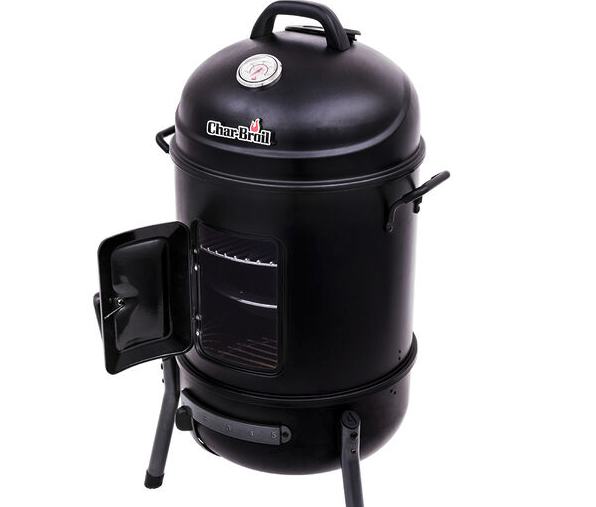 This little charcoal smoker is a classic. It's also built to stand up to a little banging around that may come from travel. It has a numbered damper system to help you easily control airflow and keep your coals warm. The body is steel, yet coated in porcelain for both durability and to help retain heat and maintain your ideal cooking temp. Its 16" size is just about perfect for a couple of racks of ribs or a pork butt—or thanks to its two cooking grates, why not both?
Dyna-Glo Compact Charcoal Bullet Smoker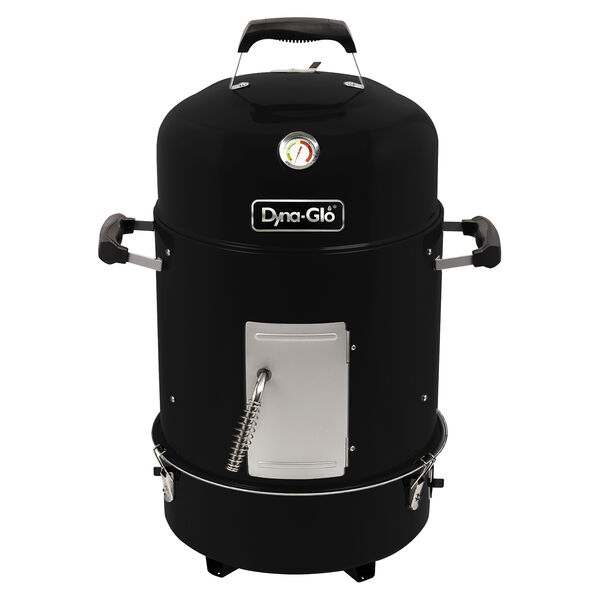 Another little charcoal bullet smoker, this Dyna-Glo is technically a little two-in-one unit that makes it even better for camping. While the entire unit works beautifully as a smoker, the removable middle section can be effectively used as a portable grill. This too has two cooking grates, and the lid includes a temperature gauge that has two ranges clearly identified: grilling and smoking. So if you're a novice, you can learn quickly. 
Pit Boss 2-Series Red Rock Gas Vertical Smoker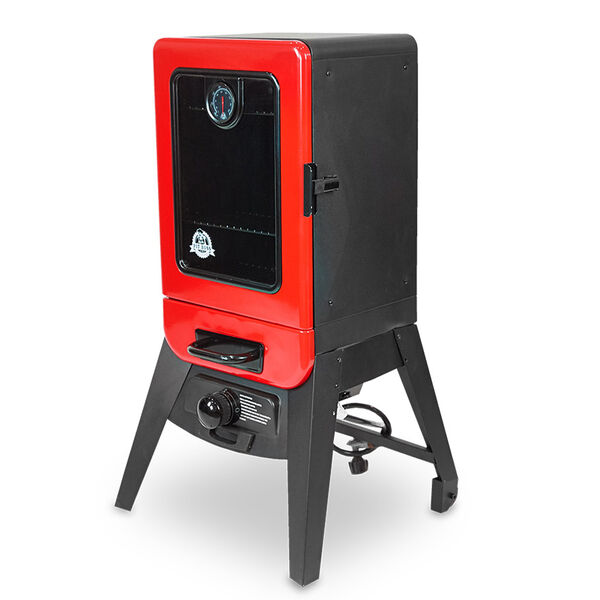 Pit Boss is a big name among smokers right now and for good reason. They build hardcore machines that are tough and cook like crazy. This 2-Series Red Rock is a propane smoker, but it's small enough to still be portable. The little guy comes with push-button ignition and an easy dial to help set the flame, and there's a large thermometer to make sure the numbers set where you want them. A big bonus with this is the large glass door, so you can see exactly how well your cook is progressing. 
Masterbuilt 40″ Bluetooth Digital Electric Smoker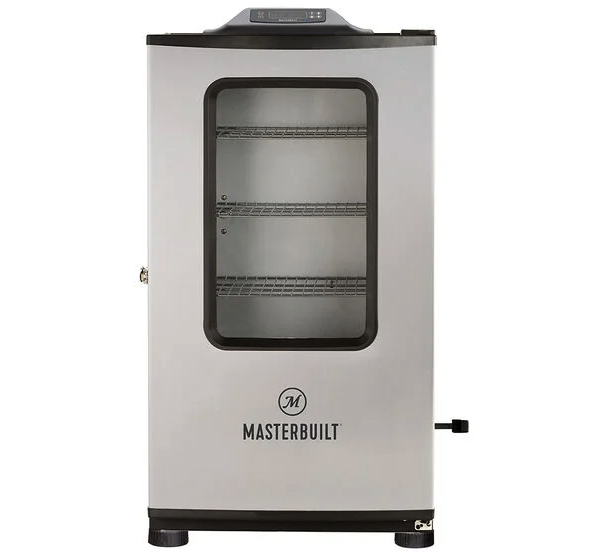 This 40" monster may not be exactly easy to lug around, but hey: you're probably in an RV, and you've got space for it. The real beauty of this electric smoker is the ability to set the temperature and go about your day. You can leave the campsite if need be, or take a nice afternoon nap, knowing that the temp on your smoker will be just fine. Worried about something anyway? Even better, the Masterbuilt comes with an attached Bluetooth-compatible meat thermometer. If your meat hits the done temp, your smartphone will let you know. And to be clear, there's a lot of cooking space on this, so invite all of your campground neighbors. 
Char-Broil Vertical Gas Smoker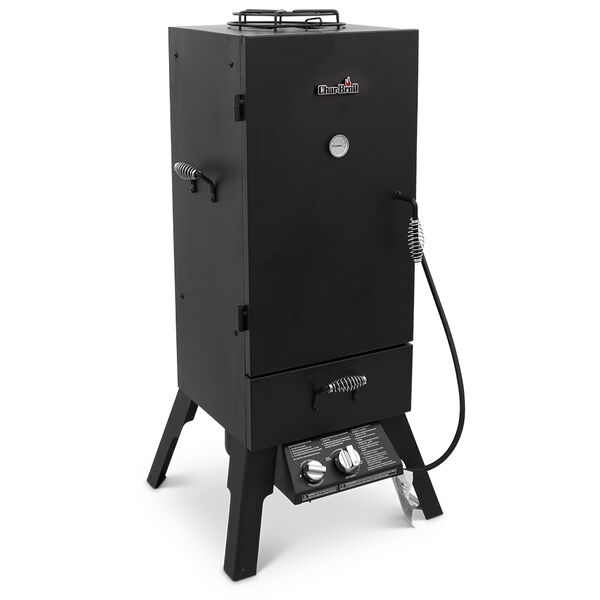 A more streamlined vertical gas smoker, the Char-Broil is a classic box design that cooks like a dream. There's temperature control for the flame, but what's even nicer is that there's a separate chamber for the flame and wood chips. That way, if you need to add wood, you can do so without the temperature plummeting in your cooking zone. Want to warm up a sauce while you cook, or maybe a side dish? There's a grate on top to make use of the heat that works like a charm.