Gear Guide: The Best Multi-Tools for Campers
Every camper needs a multitool for their trip.
When you're an RVer, it's important to have a dedicated toolbox. You're driving a full home down a road, and it's getting shaken around, jostled, and bounced. No matter how well the thing is built, things are eventually going to come loose. And, unfortunately, things break. 
Most RVers tend to be pretty handy. If nothing else, you get to be that way so that you're able to fix simple things on your rig before paying a service a lot of money for five minutes' worth of work. So a full set of tools are always handy. 
More than that, there are dozens of things around an RV that sometimes require a tool. It doesn't mean they're complicated—it's just the nature of working with something that has a lot of moving parts. 
But there's something about preparedness that goes a long way when you're an RVer—or a camper in general. And it's not always practical to have your full toolkit on you. That's where the handy-dandy multi-tool comes in. They're small, convenient, and put a variety of easy-to-access tools right in the palm of your hand. 
What is a Multi-Tool?  
Multi-tools come in a lot of shapes and sizes, and they've evolved a lot over the years. At the core, though, a multi-tool is a compact, usually a handheld gadget that includes a variety of practical tools.
Some multi-tools are unbelievably complex—and with that complexity also comes weight and size—while others are sleek and streamlined. There's even been a focus lately on creating a multi-tool that can be used with one hand. Which is, of course, idea when your other hand is taming a group of wires or branches. 
What Tools Does a Multi-Tool Include?
The answer to this question is part of the beauty of a multi-tool. While there are a few mainstays on any multi-tool, the kind of tools—and their quality—may vary wildly. Some are better suited to particular professions (say, an electrician for example), while others are general and perfect for random, everyday jobs. 
Some common tools you'll find on a multi-tool include:
Knife

Saw

Pliers

Phillip's Head Screwdriver

Bottle Opener

Can Opener
A few of the more esoteric tools you might find include:
Wire strippers and cutters

Scissors

Carabiner

Comb

Spoon/Fork

Axe
What Are the Best Multi-Tools for Campers?
When you're setting up camp, or trying to get that pesky issue with the RV fixed, there are a certain few tools that are always handy to have right at your disposal. These multi-tools contain the bare minimum, as well as a few others for good measure. 
Victorinox Swiss Army Super Tinker Multi-Tool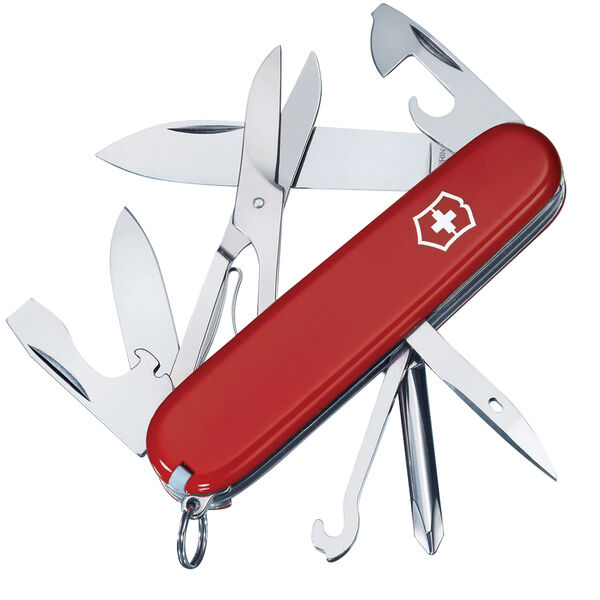 The Victorinox Swiss Army knife is the mother of all multi-tools. You'll be hard-pressed to find a young scout who doesn't have one of these or a well-seasoned adult who loves camping who also has one of these.
For many of us, it was our first foray into the world of pocket knives. This pocket-sized wonder includes 14 tools, including two blades, bottle and can openers, screwdrivers, tweezers (perfect for removing splinters when you've been handling firewood, and even a toothpick. This model even includes a keyring, so you can keep it as handy as you keep the keys to your RV. 
Gerber Suspension NXT Multi-Tool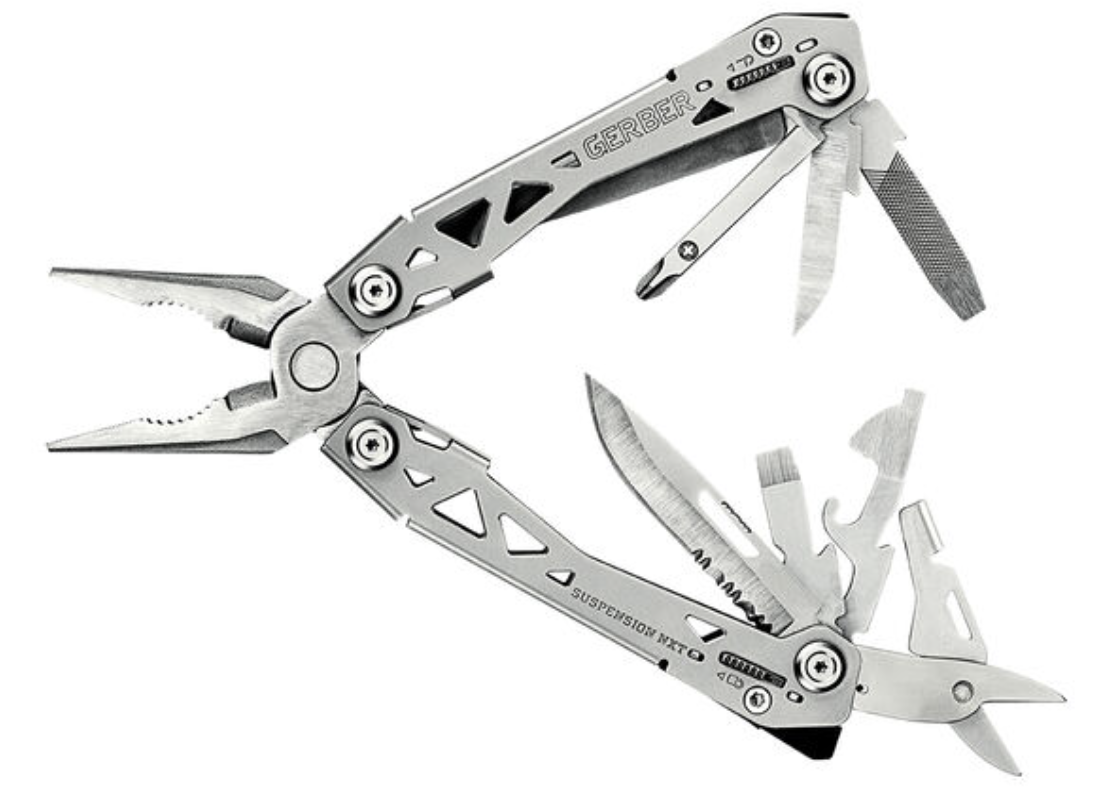 Gerber is well-known for its knives and hatchets. It shouldn't come as a surprise that they make a monster of a multi-tool as well.
Gerber actually builds multi-tools for the US military, so it's clear this thing is built to last. The NXT is a butterfly design and includes 15 tools (like spring-loaded pliers, a serrated blade, wire strippers and cutters, and more), plus a clip to slide into your pocket. It's also remarkably affordable for the quality at just over $30. 
Victorinox Swiss Army Trekker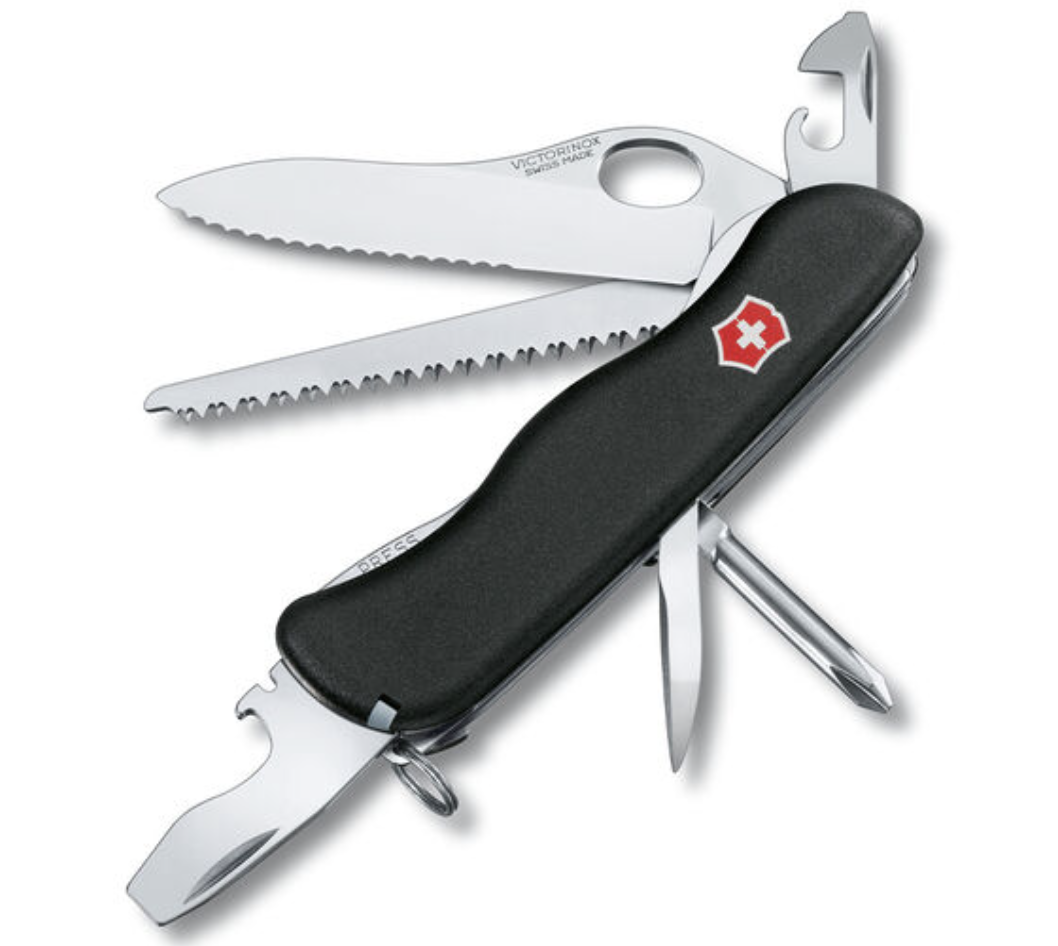 Looking for a bare-bones multi-tool? Look no further than Victorinox again. The Trekker is a perfect little tool to keep handy in a backpack for a hike or overnight backcountry camping trip away from your RV.
It includes the basic necessities, including a knife and bottle and can openers, as well as a few nice-to-haves like a reamer and saw. Get creative, and there are few issues you can't solve with this handy little multi-tool. 
Leatherman Free P4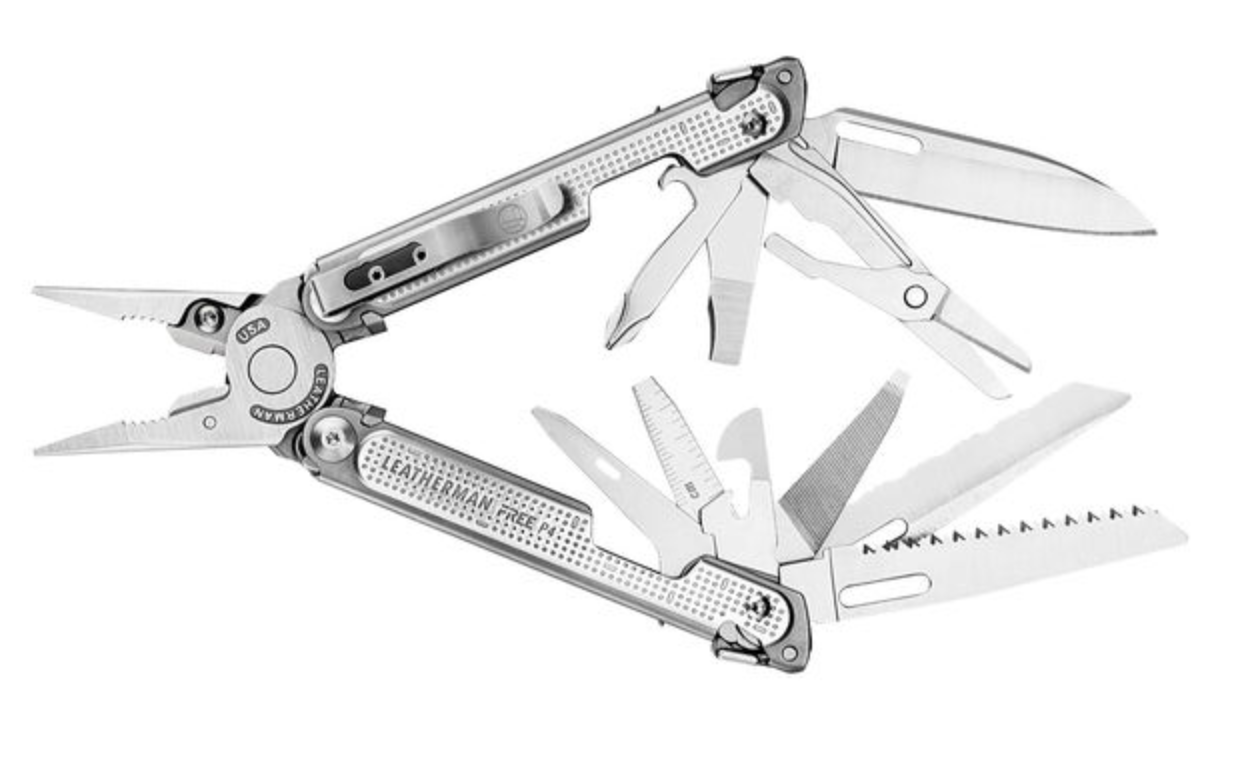 No multi-tool list is complete without at least one Leatherman. These are perhaps some of the best-known examples of multi-tools on the market, and for good reason. They're built to withstand abuse and come absolutely loaded to the gills with smart, handy tools. The Free line unfortunately isn't named for its low-low price (it's actually pretty spendy).
Rather, it's named because it can be easily used with one hand—your free hand. The P4 includes 21 different tools, from two knives to two different wire cutters, to a ruler to wire crimpers to several different sizes of screwdrivers. While it packs a wallop to your wallet at just under $140, every Leatherman comes with a lifetime replacement guarantee. If anything should break—you've got a new one coming. That's a quality worth paying for. 
SOG PowerAccess
SOG doesn't mess around. Their tools are meant to be manhandled and keep going, no matter what you throw at them. The PowerAccess is a little bigger and bulkier than the other multi-tools on this list, but that doesn't mean it doesn't have a place here.
The star of this SOG show is the pliers, which are heavy-duty, and there's also a big emphasis on screwdrivers. In fact, the PowerAccess has a centered, magnetic hex bit driver that accepts standard driver bits, so you can drive that screw no matter what type of head it has on it.