Gear Guide: Hanging Chairs and Hammocks
If you're looking for a good place to relax, we have you covered.
If there's anything that both RVers and tent campers can agree on, it's that a nice, shady camping site full of trees is one of the best types of outdoor experiences. What's best to do with those trees? Why, put up a hammock, of course. 
A nice, lazy day lounging in a hammock strung between two trees is what getting away from it all is about. Whether you're taking a nap with a cool breeze blowing over you or taking the time to read a book—or hey, even catching up on a new show on your tablet—anything you do in a hammock is immediately better. 
Not all hammocks or hanging chairs are created equal, and you may find that you enjoy certain types more than others. Here's a brief guide to some of our favorites to get you started. 
Mac Sports Portable Folding Hammock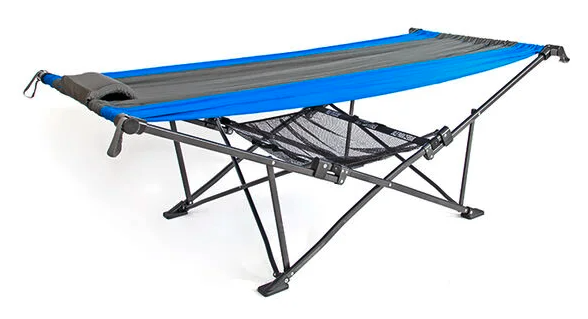 Ok, you might think this one is kind of cheating…and it might be. But we won't tell if you don't. With this one, you don't need two trees—or even one tree. The Mac Sports Portable Folding Hammock has its own built-in structure, which means you can throw it down anywhere that's remotely level and crash.
The bright side is that you can set it up just about anywhere, whether you have shade or not, like on the beach. The downside is that you're not going to get much sway. It does include a pillow and a small tray beneath it to keep valuables up off the ground, which will come in especially handy if you're somewhere sandy.
ENO DoubleNest Hammock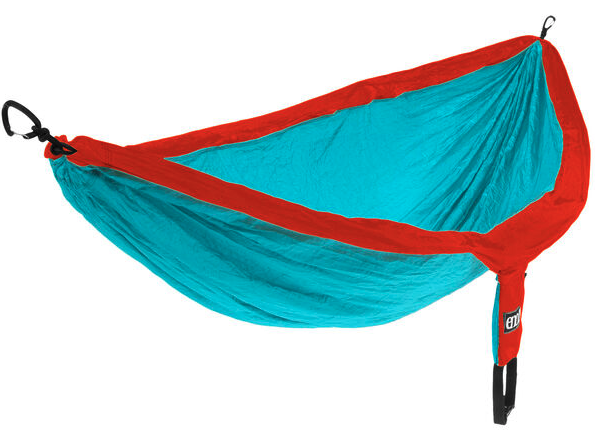 This might be a little more like what you think of as a traditional hammock. In fact, the ENO DoubleNest Hammock makes a great option for any kind of camping, whether you're in a tent or an RV. But more than that, it's super strong, very lightweight, and packs down into a very compact package, meaning it's a great option for backpacking as well—especially if you're in an area where you don't need or want a tent.
The DoubleNest feature means it's large enough to fit two, should you want to co-nap with someone, but it's also perfectly set up for a solo napper. As such, it's rated for up to 400 pounds. And you don't need to worry about it getting wet—it's made of quick-drying 70-denier nylon taffeta.  
Blue Ridge Camping Hammock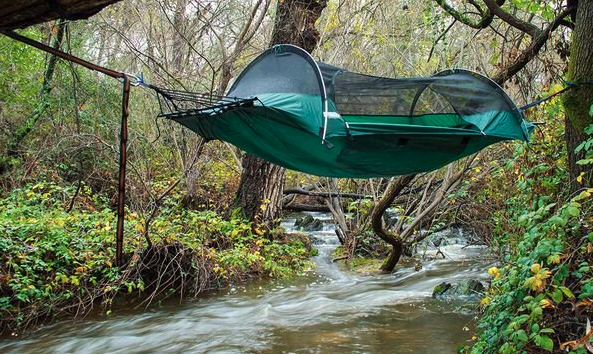 Ever get the urge to sleep in a tent but in a hammock? Or, just maybe, string your tent up over a creek? The Blue Ridge Camping Hammock is probably as close to that as you'll get. It's specifically designed for backpacking, but that doesn't mean it can't be used in any type of camping situation. It's unique in that it's fully enclosed—almost a combination of a tent and a hammock.
Two arch bars and a divider bar keep the hammock from wrapping up around you, creating a comfortable space where you can do more than just lay down. You can sit upright as well. The canvas is particularly ideal if you're in particularly mosquito-infested environments—making it much, much easier to get a nice night's sleep.  
Single Brazilian Barbados Hammock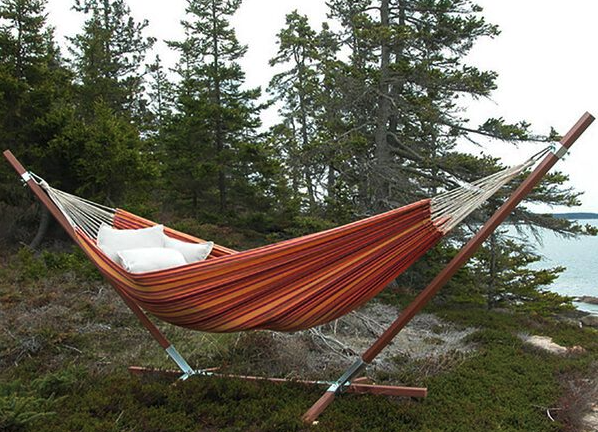 Hammocks are by no means some newfangled contraption. They've been used in other countries for centuries—one of those being Brazil. The Barbados is a Brazilian-style hammock and is hand-crafted by artisans in Brazil for a particularly authentic feel.
While other hammocks in this style can be made of rough and irritating material, Barbados is made of a recycled cotton/polyester blend to be smooth on the skin and comfortable for hours at a time. It's great at a campsite, or just as nice on a patio at your home. It's a single-fit, so you'll be hard-pressed to share it—but why would you want to anyway? Holds up to 330 pounds. 
Hangout Pod and Stand Hammock Set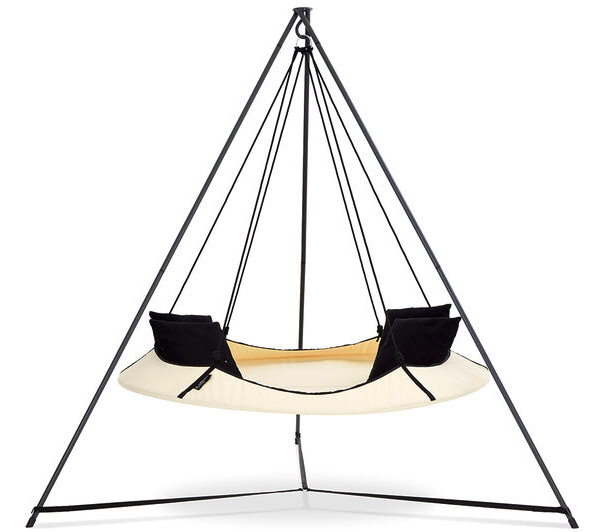 Want to get the whole gang together? Well, that might not work, but the Hangout Pod and Stand Hammock make it easy to enjoy a hammock-style afternoon with friends. You'll float casually just above the ground, and with a 450-pound capacity, it's perfect for piling on the kids or even several adults.
Both the pod and the stand pack up easily into bags, so it's easy to travel with and packs up quickly into an RV. The stand means you can set it up just about anywhere, but you don't need it—find a sturdy tree branch and add an extra bit of levity to your afternoon. It's made from durable fabric, and it has a surface area of six feet, so people can even have a little personal space as they share it.