Are Walkie-Talkies Even Relevant Anymore?
Simple communication is sometimes best.
Think back to your favorite gift-receiving occasion. I'm talking birthdays, Christmas, or end-of-the-school-year congratulations gift. Chances are you received your very own set of walkie-talkies somewhere along the way and immediately broke the pair free from their plastic prison and tossed one to your sibling or best friend. The two of you ran in separate directions, turned the handheld device on to hear the now-nostalgic click of static, and took turns speaking into it.
They're arguably one of the best parts of childhood, but who says those memories have to stay in the past? Many consumers are starting to wonder if walkie-talkies are even relevant anymore. With the increased popularity, dare I say addiction, of smartphones, it's a question worth answering. It's time for a good old-fashioned Walkie Check. Copy? Copy.
New Experience, Same Device
Times have changed. It's a fact we can't deny, but just because we're all a little older doesn't mean we've outgrown everything. That shirt from high school with the holes? Yes. The classic walkie-talkie with a two-way source of communication? Not so much. In actuality, walkie-talkies have had a rebirth. With more adults working from home and having to juggle work tasks and responsibilities on their computers and phones, it should come as no surprise that another method of communicating with other members of the house is necessary.
Enter the walkie talkie. It's retro. It's vintage. It's perfect. You can say something quick to your spouse or child without interrupting the call you're currently on. You can respond to yet another request for a snack refill from your little one or confirm that the chicken is on the counter to thaw for dinner. Not only can you do it without taking your eye off the task at hand, but you can do so without using Wifi.
Off-Grid, Unplugged, But Available
The advantage of using the humble walkie-talkie is that it doesn't require a bunch of strings. There aren't a ton of loose ends to tie up before operating them. Simply toss one to your buddy and you can both go do your own thing knowing you're just the push of a button away.
Taking them on the road and off the grid makes perfect sense. You don't have to worry about using data or hogging the Wifi. You don't have to worry about misdialing or speaking to the wrong person. Those scenarios are eliminated and replaced with a simple, straightforward method of contact.
What's the 20? 
It means location… 20 is walkie-talkie lingo. My inner kid is all over this. Where can you find a fine set of walkie-talkies these days? I've rounded up a few options that won't disappoint.
Midland LXT500 Walkie Talkie
With a 24-mile range, communication is a sure thing. The high/low power setting lets you adjust power to conserve battery life while the silent operation system offers the option to turn off all tones for a quieter operation. Where were these features when we were younger and trying to pull one over on our parents? This set is also water-resistant and has an auto-squelch feature to remove annoying background noise.
Cobra CXT 145 Two-Way Radios
The Cobras have a built-in 10-station weather radio receiver. Can you believe it? A built-in, full functioning, weather radio receiver covers all 10 government-operated weather channels to keep you prepared for storms and emergencies. A 16-mile range, an LCD display screen, and a belt clip are all features of these two-way radios that will have you reaching for them over and over again.
Midland X-Talker XT T61VP3 Two-Way Radios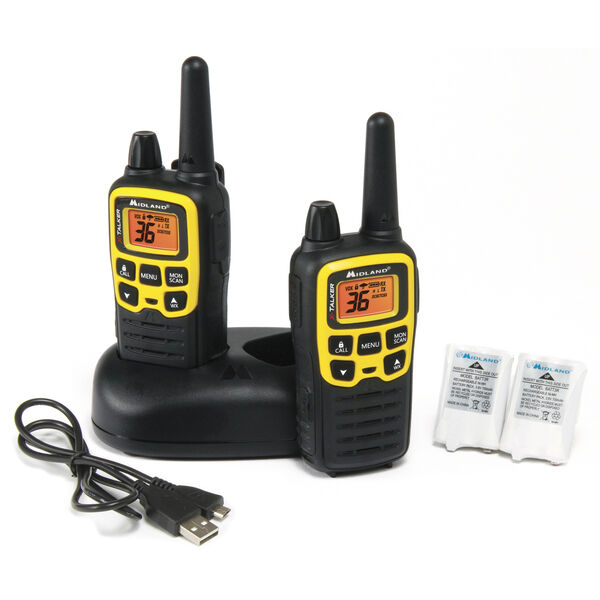 Range? Up to 32-miles. Channels? 36 channels with 121 privacy codes to give you up to 2,662 channel options total. Designed with nine levels of eVOX for hands-free operation and easy voice activation. These are definitely not the walkie-talkies from our youth. These are full-grown adult walkie-talkies. Equipped with Weather Alert technology that automatically locks on to your local weather channel for alerts and updates.
Midland X-Talker XT T41VP3 Two-Way Radios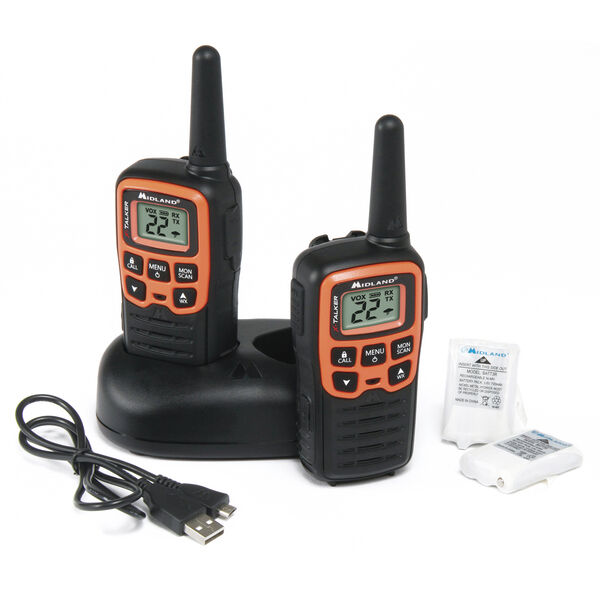 Offering a 28-mile range, 22 channels, and 38 private codes, this version of the X-Talker Two-Way Radios from Midland offers crisp communication in open areas without obstruction. Toss it in your backpack for your next hike or clip it to your belt when you step off the RV, you won't regret it. This buy includes rechargeable battery packs as well as a desktop charger and micro USB charging cable.
Midland X-Talker XT T75VP3 Two-Way Radios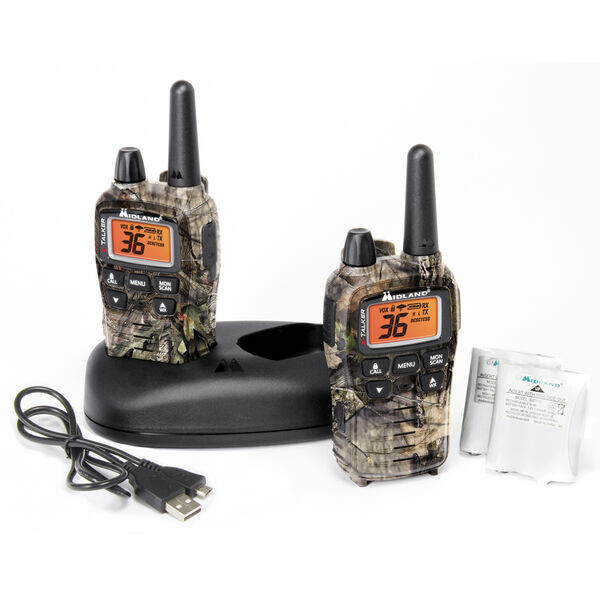 Looking for 10+ hours of talk time? Look no further! These two-way radios have up to a 38-mile range and 36 channels with 121 privacy codes. They have the same eVOX levels for hands-free operating and voice activation, but they also feature a vibration alert to notify you of incoming messages. Plus, and most obviously, these come in the popular Mossy Oak Break-Up Country camo pattern. Admit it… 10-year old you would be jealous.
Midland X-Talker T10 Two-Way Radios
At a lower price point than the other walkie-talkies on the list, the Midland X-Talker T10 packs in all the must-have features saving you both money and time looking for something else. A 20-mile range, 22 channels, and 38 private codes, and the same eVOX hands-free technology ensures communication is quick and clear. Perfect for your next adventure or for your inner child that's calling out for a new pair of walkie-talkies. Just me? It can't be.
---
In short, to answer the question if walkie talkies are even relevant these days? Yes. Of course, they're still relevant. They offer unlimited communication effortlessly while being adaptable and easy to use. Plus, they're fun for kids and adults alike. Those types of features never go out of style or become irrelevant. Treat yourself to a new pair. Your past self will thank you.
10-4? 10-4. Over and out.