Adventurer Folding Bike Review
These compact bicycles are an RV'ers best friend.
As an experienced bicyclist who has ridden a number of high-end road and mountain bikes, I find the idea of pedaling a folding bike somewhat less than invigorating. But as an RVer, I understand the benefits of having a bicycle that can fold into a small package that can be easily stowed in a storage compartment. So I took the assignment of testing Camping World's line of Adventurer folding bikes with an open mind.
Folding Bicycles
There are a number of folding bikes on the market, and the Adventurer models are built using an interesting assortment of well-known components in the cycling world and less exotic materials like a steel frame, which is heavier than carbon or aluminum. But strength, which is obviously provided by the steel frame, is important when designing and building a bicycle that folds into a compact package and relies on hinges to keep it together.
Adventurer Models
The result is a lineup of models that have reliable, easy-to-use components and a few more pounds that are offset by multiple-speed gearing. Adventurer folding bicycles come in models with three, six and 12 gears and, of course, a single-speed version for the purists or for those riders who rarely go uphill. Multiple gear sets, made by Shimano, an icon in the cycling industry, make it easier for riders to regulate pedaling effort. Speeds are changed by turning a grip-type shifter on the handlebars, except for the trike.
For most RV owners, there are enough bells and whistles to make these bikes practical for tooling around campgrounds and nearby neighborhoods, without the high cost. Make no mistake; folding bikes are not performance machines, but they transform into highly rideable transportation that's a healthy alternative to using a tow or dinghy vehicle. I have to admit, these bikes were a lot more fun to ride than I expected.
How to Operate a Folding Bike
The operation for folding the bikes is pretty simple; quick-release clamps are used in strategic locations.
We found it easiest to drop the seat after releasing the clamp, then the handlebar is turned to be parallel with the frame. Next the stem is released and folded down. The bigger clamp on the top tube is then released and the bike folded in half. Opening is just the opposite, and the entire process takes only a few minutes after the acclimation. Make sure the seat post is not extended past the marked limit line; even most taller riders will be able to find a comfortable position. The trike folds similarly but is a little more bulky due to the extra wheel and basket. Nevertheless, it's still pretty compact when folded.
The following bicycles are the most popular among RV owners.
Adventurer Single-Speed Folding Bike
Remember your first bike? Chances are, it was a one-speed. It was simple, and you loved it. The Adventurer single-speed folding bike harks back to those days, with all the features you need and none that you don't. It sets up fast with quick-release clamps on the handlebars and seat post, as well as a folding hinge in the steel top tube. Once unfolded, the bike's seat and handlebars adjust for riders of just about any height.
Even with its rugged construction, it's still manageable at 35.4 pounds and supports up to 250 pounds. It folds to just 30¾ inches long by 17½ wide by 26 inches high, so it will fit in many storage compartments or in the bed of a pickup or trunk of a dinghy vehicle. Unlike your first bike, however, this one has front and rear hand brakes instead the ol' coaster brake. It's most practical for cruising around flat, paved roads.
Adventurer Six-Speed Folding Bike
For more ambitious rides, consider the Adventurer six-speed folding bike. Like the single-speed model, it is designed for fast setup with quick-release clamps on the handlebars and seat post, as well as a folding hinge in the frame. The handlebars and seat are adjustable, and shifting is performed via the handy twist-shifter on the right-hand grip and a Shimano derailleur. Braking controls are right at your fingertips as well. Even with the added features, this bike is only a few pounds heavier than the single-speed model at 37.7 pounds and folds to the same dimensions. Good for flat roads with some minor grades.
Adventurer Twelve-Speed Folding Bike
Half the size of the 10-speed you used to "borrow" from your older siblings, this diminutive cruiser actually packs two more speeds for a bike that bridges the gap between campground runner and road bike. Ready to ride in less than a minute, this bike features quick-release clamps on the handlebars and seat post, and a hinge in the top tube. However, where the single- and six-speed bikes have 20-inch wheels, this one boasts 22s, as well as a thickly padded 8½-inch-wide seat for more comfortable riding. As a result, it's a little larger than its siblings at 35 inches long by 16½ inches wide by 30 inches high but weighs the same as the six-speed version at 37.7 pounds. A twist-grip and Shimano derailleur handle the shifting duties, and hand brakes help bring the rider to a safe stop. This is the best bike for those who want to venture out of the RV park and tackle longer rides with elevation changes.
Adventurer Three-Speed Folding Trike
Maybe what you need is a little extra stability in your life. If so, check out the Adventurer folding trike. This three-wheeler features a large cargo basket so you can carry groceries, supplies or your pet, and a thumb shifter lets you select gears effortlessly. Braking is controlled by a motorcycle-style drum brake with a hand lever on the front and a coaster-style brake on the back for smooth, easy stops. Though not lightweight at 50 pounds, it does support up to 250 pounds of rider and folds to 36 inches long by 29½ inches wide by 29½ inches high. The handlebar and seat height can be adjusted for riders short and tall, and the wide, padded seat is designed for hours of comfortable riding. All-weather durability is ensured by a red powder-coated finish that resists corrosion and 20-inch all-surface tires mounted on rugged alloy wheels. Once you get the hang of making turns, the ride is fun.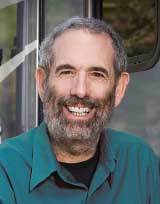 An RV/MH Hall of Fame inductee and publisher emeritus of Trailer Life and MotorHome, Bob Livingston is a lifelong RV enthusiast. After more than four decades at the RV publications, in 2017 Bob set out with his wife to travel and live full time in their fifth-wheel trailer.