Travel Trailer Cover Roundup
In a perfect world, we could all live in our RVs full time, roaming from RV park to RV park. However, in the real world, many times that's simply not possible, as work, funds, family matters and all types of outside influences require us to store the motorhome. And although some of us are lucky enough to have a garage, covered concrete pad or other facility, the rest of us should consider purchasing an RV cover to protect the motorhome from the worst Mother Nature can throw at it, from searing heat to damaging UV rays to rain, sleet, hail and even heavy snowfall.
Selecting the right cover is akin to selecting the proper type of sunscreen for your skin; that is, be sure you get the proper level of protection for y ourexposure to the elements. Just as SPF 10 will do little to no good when you're working all day in a field in direct sunlight, a lightweight, universal-fit cover may not suffice for a million-dollar coach in an arctic ice storm. It's important to know the differences between the materials used in manufacturing the covers, and to prepare for the worst (weather) when deciding on which level of protection to buy.
The following are some of the RV cover offerings on the market; they offer all levels of protection at reasonable prices, and most are designed specifically for a wide range of ambient temperatures and weather conditions.
ADCO
There are few barometers for success that resonate as effectively as longevity, so the fact that ADCO has over 60 years of experience manufacturing RV covers is no small feat. Offering a wide assortment of cover applications, from all sizes of motorhomes to tire covers and more, ADCO provides consumers with enough choices to select exactly the right cover for their specific motorhome situation.
AquaShed
For short-term RV storage in moderate climates, the SFS AquaShed is designed to offer three times the protection of a standard cover. The cover beads water on contact, which offers a high resistance to overly humid climates, in addition to superior protection from UV rays. The breathable fabric is also resistant to ice buildup, mold and mildew, which can all be extremely harsh on the motor­home's outer skin and interior. SFS AquaShed is available in contour-fit (universal) covers only. Also available is a Designer Series, which includes the triple-layer AquaShed top panel and triple-layered, two-toned gray polypropylene sides.
Tyvek Designer Covers
ADCO's Tyvek Designer Covers are manufactured for more intense climates, and offer an effective shield from the sun with their white fabric designed to reflect infrared heat and block nearly 99 percent of the sun's damaging UV rays. The covers are "backed" with a layer of polypropylene for increased durability, and are available in custom and contour-fit configurations. In addition to the unique side walls, the Tyvek Wind Designer Series is currently the only cover on the market with a new, patent-pending wind-resistant technology, which ADCO is so confident will improve wind-protection that the company has upped the warranty to 3 years.
Sunbrella
At the top of ADCO's product line is the custom-fit Sunbrella fabric line of covers, which are designed for all climates. Sunbrella is well-known for its durable outdoor fabrics, and the soft, highly breathable material combats water damage and mildew, while the secure fit (custom applications only) offers superior protection from wind damage. Prices start at $34.95 per linear foot.
ADCO has also introduced RV roof covers with straps that don't actually come into contact with the side walls, which helps reduce the possibility of damage, while protecting the roof equipment, substrate and helping eliminate black streaks. As of press time, ADCO is set to introduce Winnebago-brand RV covers, offering multilayer protection from the elements and featuring retro graphics, the Flying W logo and even the famous Winnebago "brow." Prices will start around $200.
Calmark Cover Co.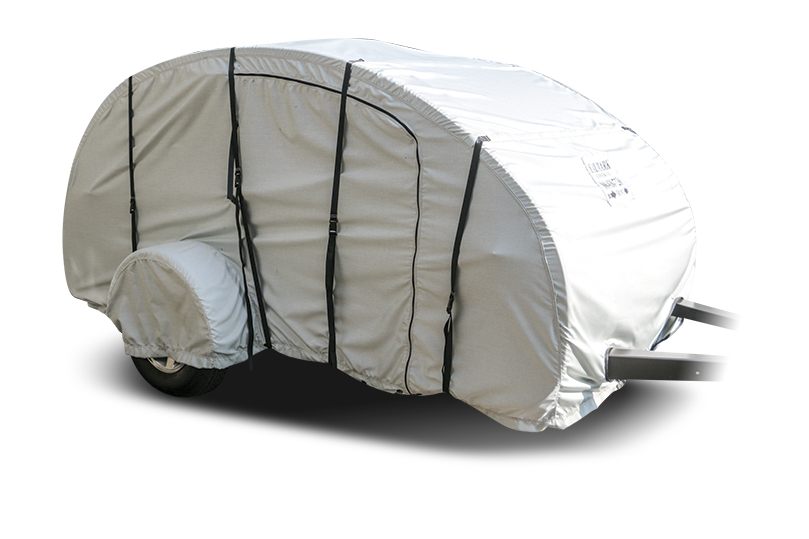 All Calmark custom and semicustom made RV covers are made to the specific length, width and height of your particular motorhome and include a full 6-year warranty. They are manufactured using Sunbrella fabric for protection from intense sun and harsh weather conditions. Calmark covers also feature Fabric Stress Reinforcing technology, which offers 1,000-pound tensile strength for added durability. The covers are water-resistant, breathable, mold- and mildew-resistant and are 100 percent nonabrasive. The covers feature zippered doors, tie-down grommets and friction-reducer tie straps. And, the 6-year warranty is proof that Calmark truly stands behind its products, even offering after-the-sale assistance. Contact the company for pricing.
Camco Manufacturing
Camco ULTRAGuard covers are designed for most RV types to provide reliable protection during storage. ULTRAGuard covers are ideal for more extreme climates, including cold, snowy regions and feature a triple-layer SFS top panel that beads water on contact, offering increased resistance to rainfall and snow. The covers also utilize tough, interlocking seams and a heavy-duty polypropylene fabric around the sides for maximum protection. Vented flaps help reduce wind lofting and moisture, and work in combination with a fully breathable design to help resist mold and mildew growth. ULTRAGuard covers utilize an integrated, self-adjusting hold-down system that the company says is guaranteed to keep the cover in place. Camco ULTRAGuard covers carry a 2-year limited warranty, applicable to the original purchaser when used under normal operating conditions. A storage bag is included.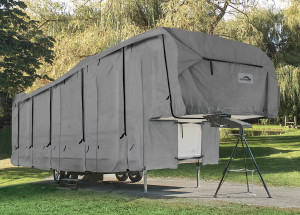 Classic Accessories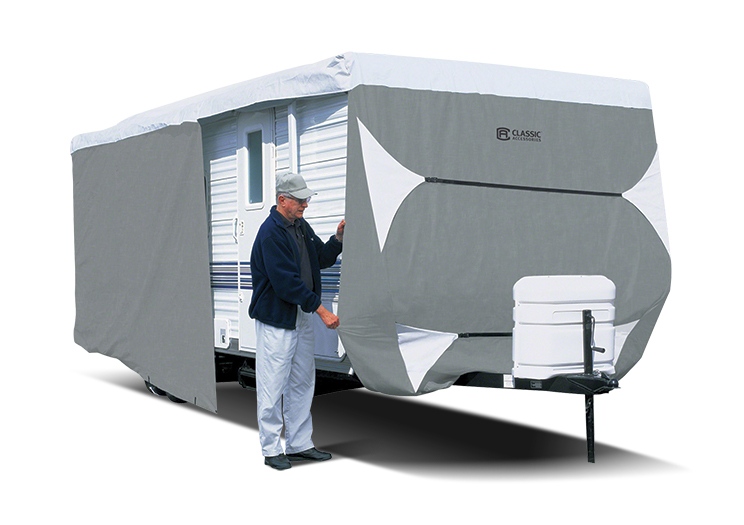 Classic Accessories offers three different lines available for each type of RV. The most advanced line is called PermaPRO. This material is made from treated polyester using rip-stop technology (much like a parachute) and is also treated to keep rain from penetrating the fabric. These covers are backed by a lifetime warranty.
The middle-grade line is called PolyPRO 3, which is made of polypropylene and is three layers thick on the top of the motorhome, where most of the UV rays hit. The additional layers at the top prevent moisture from damaging a motorhome's roof, and the material is designed so that it won't fade or discolor due to sun damage. PolyPRO 3 covers have a 3-year warranty.
Classic's entry-level cover is the PolyPRO 1, which is constructed using a single layer of polypropylene. It will still absorb UV radiation and prevent rain damage, and comes with a 2-year warranty.
Covercraft
Covercraft Covers are custom-designed with long-term storage in mind. These covers are manufactured using customer-supplied specifications, which are then input into a CAD system to develop a unique, custom pattern. One zippered entry and a polycotton storage bag are included. Additional entries or storage bags made from the cover fabric may be ordered at an additional charge.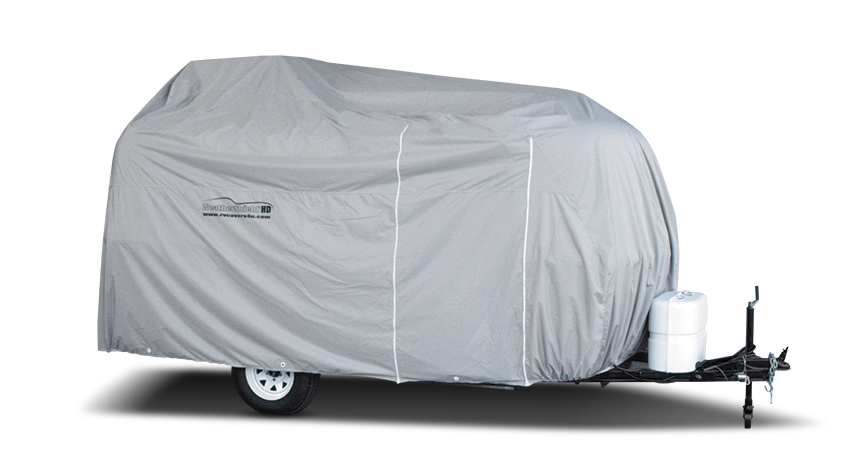 There are three fabric options available for custom covers:
WeatherShield HD fabric, developed primarily for intense sun environments and long-term storage, offers protection for extreme UV, water repellency, dust and other environmental hazards.
Ultra'tect RV fabric retains its color and strength in extended outdoor exposure while still providing a high degree of water resistance and UV protection at a reasonable price.
Covercraft's top-of-the-line covers are made from Sunbrella fabric, preferred by many RV owners in the Sunbelt because the acrylic fibers provide almost 100 percent UV opacity to protect the vehicle from the damaging rays of the sun.
For prices, visit the company's website to start the custom process.
CoverQuest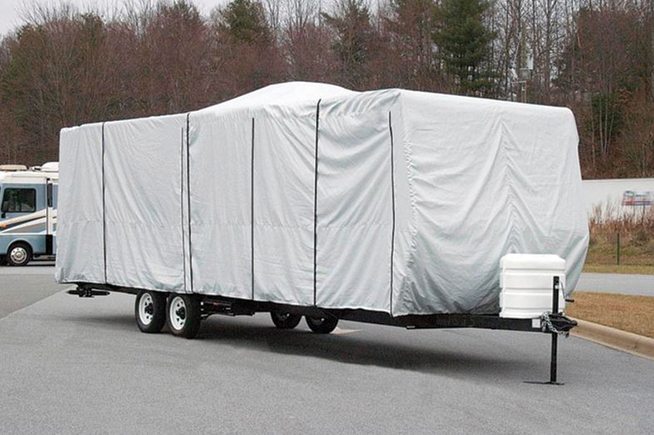 In addition to the ADCO and Classic Accessories covers mentioned previously, CoverQuest offers Carver Industries covers and products. The Carver line of RV products includes full covers for all styles and sizes of motorhomes. These covers are made in the United States. All Carver covers are double-stitched and folded four-ply, leaving no raw edges. Carver RV covers are offered in a marine-grade 8-ounce polyester, which the company calls Performance Poly-Guard. This material is available in the color Haze Gray. The Performance Poly-Guard fabric is a true loom-woven polyester, offering the strongest tear strength available and is highly UV- and fade-resistant. It is also extremely water-repellant and mildew-resistant, while remaining breathable to allow moisture to escape. All Carver motorhome covers come with hold-down straps, a storage bag and reinforcement kit to strengthen any areas of high wear. Carver motorhome covers carry a 5-year warranty.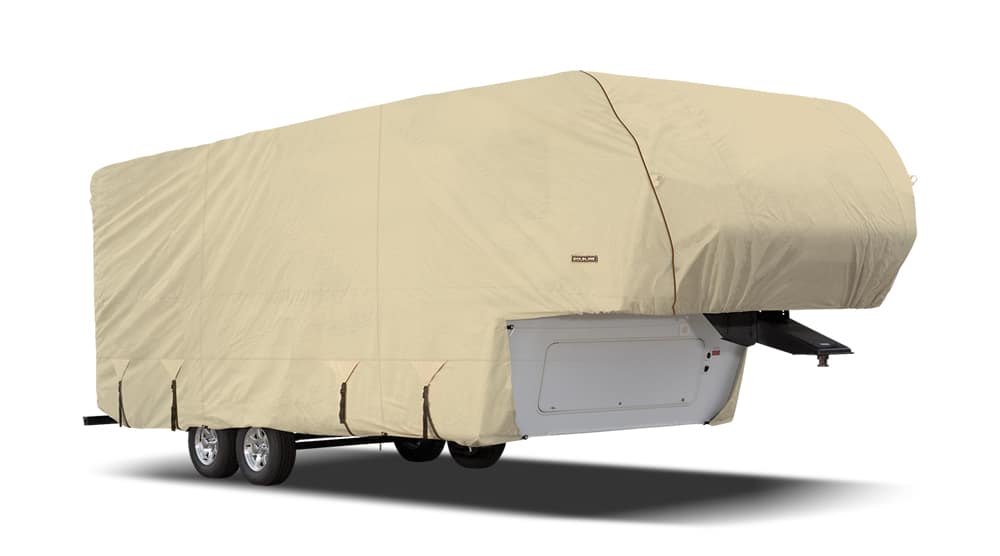 Eevelle Covers
Eevelle has 25 years of experience manufacturing a number of universal RV covers. The company's rugged Expedition S2 is Eevelle's midrange product and is made of lightweight polypropylene. Three breathable layers of X-Strength fabric offer superior protection, according to the company. The S2s feature straps, roof vents and zippered panels. Expedition covers carry a 3-year warranty.
The top-of-the-line Goldline covers are constantly being updated. New Goldline covers are made of a marine fabric and offer all the features of the Expedition, plus more. Goldline covers are coated with Durapel rain finish as well as a UV inhibitor, in addition to an antimicrobial finish, all of which help make it UV- and mildew-resistant.