Polydrops' Lightweight Towable was Inspired by a Space Capsule
The Budget-Friendly P17 Travel Trailer Weighs Less Than 800 Pounds
What do you get when an architect sets out to design the ultimate portable personal living space? In the case of the Polydrops P17 teardrop trailer, you end up with a futuristic-looking RV that takes inspiration from a space capsule. But perhaps more importantly, you also get an efficient and modern camper that is incredibly lightweight and surprisingly affordable.
The Origin of Polydrops
Polydrops founder Kyung-Hyun Lew designed his first travel trailer in 2017 while earning his master's degree in architecture. He built the original version as a one-off meant to serve as a portable study space for him and his wife, Jieun. They soon discovered that the cozy interior offered a quiet respite from the noisy, hectic world outside, turning it into one of their favorite places to seek sanctuary.
While traveling with their custom trailer, Kyun-Hyun and Jieun started to draw a lot of attention at the campgrounds. Other campers took notice of their trailers' unique design, which featured an angular, aerodynamic shape, gullwing doors, and a rear hatch. Even in its original form, the trailer was completely different from any other small travel trailer on the market.
It wasn't long before curious campers began asking where they could get a similar trailer for themselves. Early on, the couple told them that their teardrop was a one-of-a-kind product that they had built themselves. But with their mobile living space garnering so much attention, they soon began planning ways to produce similar trailers for others. It was from there that Polydrops was born.
What Is a Polydrop Made Of?
The company's P17 travel trailer takes inspiration from Kyun-Hyun's initial design, with a few upgrades that improve on the original. For instance, the architect's prototype featured a wooden frame, while the production model uses high-quality anodized aluminum instead. This provides more stability and durability while still managing to keep the trailer light and nimble. Even with the transition from wood to metal, the P17 weighs just 760 pounds, which makes towing it behind a small car a legitimate possibility.
Polydrop Trailer Models
Polydrops offers the P17 in three distinct models—the Essential, All Electric, and Explorer. Each shares the same basic design and comes with a cabin that can comfortably sleep two. The standard interior includes built-in Bluetooth speakers, LED lighting, storage cubbies, and AC electrical outlets. Those outlets are wired directly to an onboard lithium-ion battery, which supplies power to all the built-in electronics. An integrated control panel allows owners to monitor the battery's capacity and output at all times.
The P17's expansive rear hatch opens to provide additional storage on the Essential model but houses a nicely-appointed kitchenette on the All Electric and Explorer editions. The galley-style kitchen includes a slide-out two-burner induction stove and a 45-liter Dometic CRX-50 refrigerator. A sink and faucet connect to a pump that siphons water from a six-gallon freshwater tank, while the drain empties into a second six-gallon gray water tank. Four LED lights illuminate the counterspace, which provides ample room for meal prep.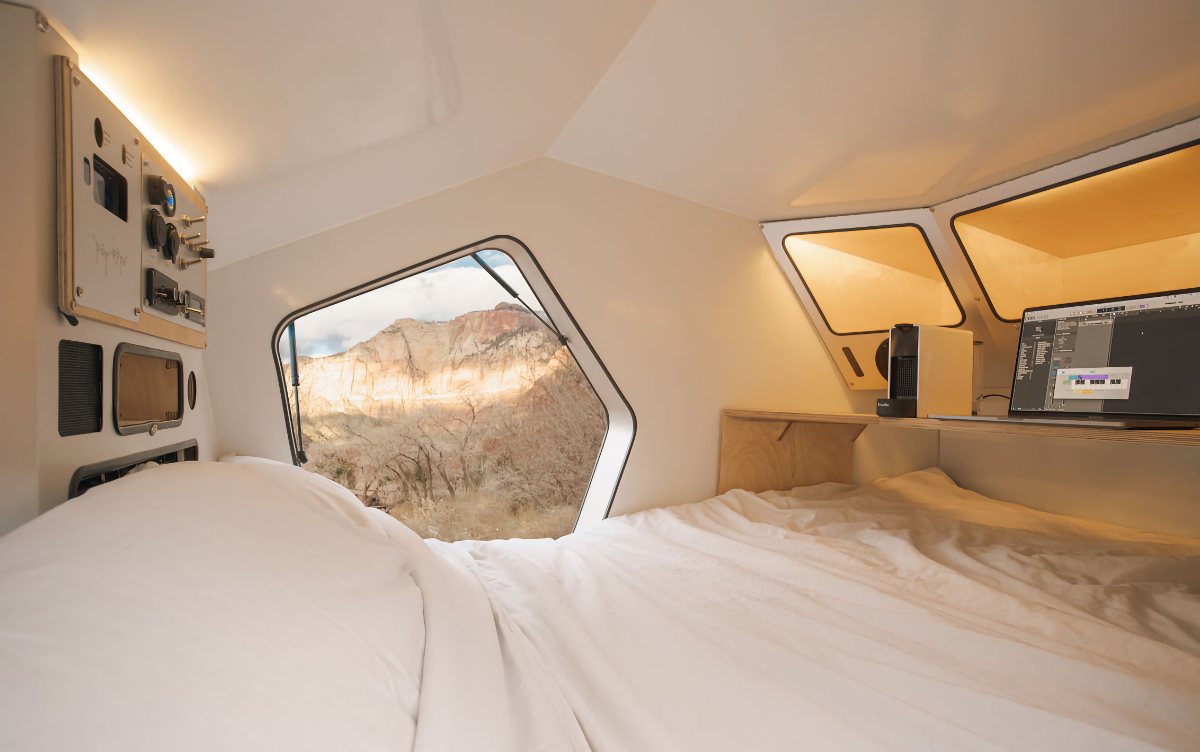 Polydrops Off-Grid
A 130-watt Solar panel is an optional add-on for the entry-level P17 Essential but comes standard on the two higher-end models. All versions of the P17 feature upgradeable electrical systems with larger battery packs and additional solar panels as available add-ons. When fully upgraded, the teardrop can go camping off the grid for more than a week at a time.
An air conditioning and heating unit—powered by the P17's built-in battery—comes standard on the All Electric and Explorer models. But Polydrops says that even without an HVAC system, the trailer can remain warm and comfortable in a variety of conditions. The insulated cabin can maintain an interior temperature of 73ºF at night, even when the mercury drops well below freezing outside. This makes the trailer ideal for camping all year round.
What's So Special About Polydrops?
In addition to the amenities mentioned above, the top-of-the-line P17 Explorer comes with additional features that set it apart from its siblings. Built for use off-road, this towable includes a heavy-duty suspension, all-terrain tires, and body armor to help protect its aluminum body. The Explorer also ships with a roof rack, built-in awning, and an outdoor shower.
While the P17's angular design gives it a unique look, the trailer's body was also carefully crafted to help reduce the amount of drag generated while being towed. The RV's aerodynamic shape, combined with its low weight, makes it a good option for use with small crossovers, SUVs, or electric vehicles. Polydrops even adds aero fenders and underbody features to the All Electric model to further reduce drag, making it the model to get for those who are looking to maximize the efficiency of their tow vehicle.
If you happen to be shopping for a travel trailer, Polydrops has a model for nearly every type of buyer. The P17 Essential represents an affordable starting point that gives buyers the option to add additional features without breaking the bank. Meanwhile, the mid-tier P17A All Electric trailer has a higher starting cost but comes with amenities that significantly improve the camping experience. Finally, the P17X Explorer is the most expensive of the models but is also equipped with extra features and is off-road capable.
For more details—including current pricing and availability—visit the Polydrops website.