Luxury, Tech, and Space from the Jayco Pinnacle 36SSWS
Jayco has crafted a truly impressive fifth wheel offering.
There's a lot to be excited about with the Jayco Pinnacle 36SSWS. A combination of luxury, technology, and an abundance of space make this a triple threat, and it's sure to catch the interest of anyone in the market for a high-end fifth wheel.
This rig doesn't hold back on ensuring even the details are perfect, and it's one of the six Pinnacle floorplans Jayco updated to give campers more comfortability and freedom indoors and out. Let's take a look at just a few of the many reasons the 2022 Pinnacle 36SSWS is a favorite.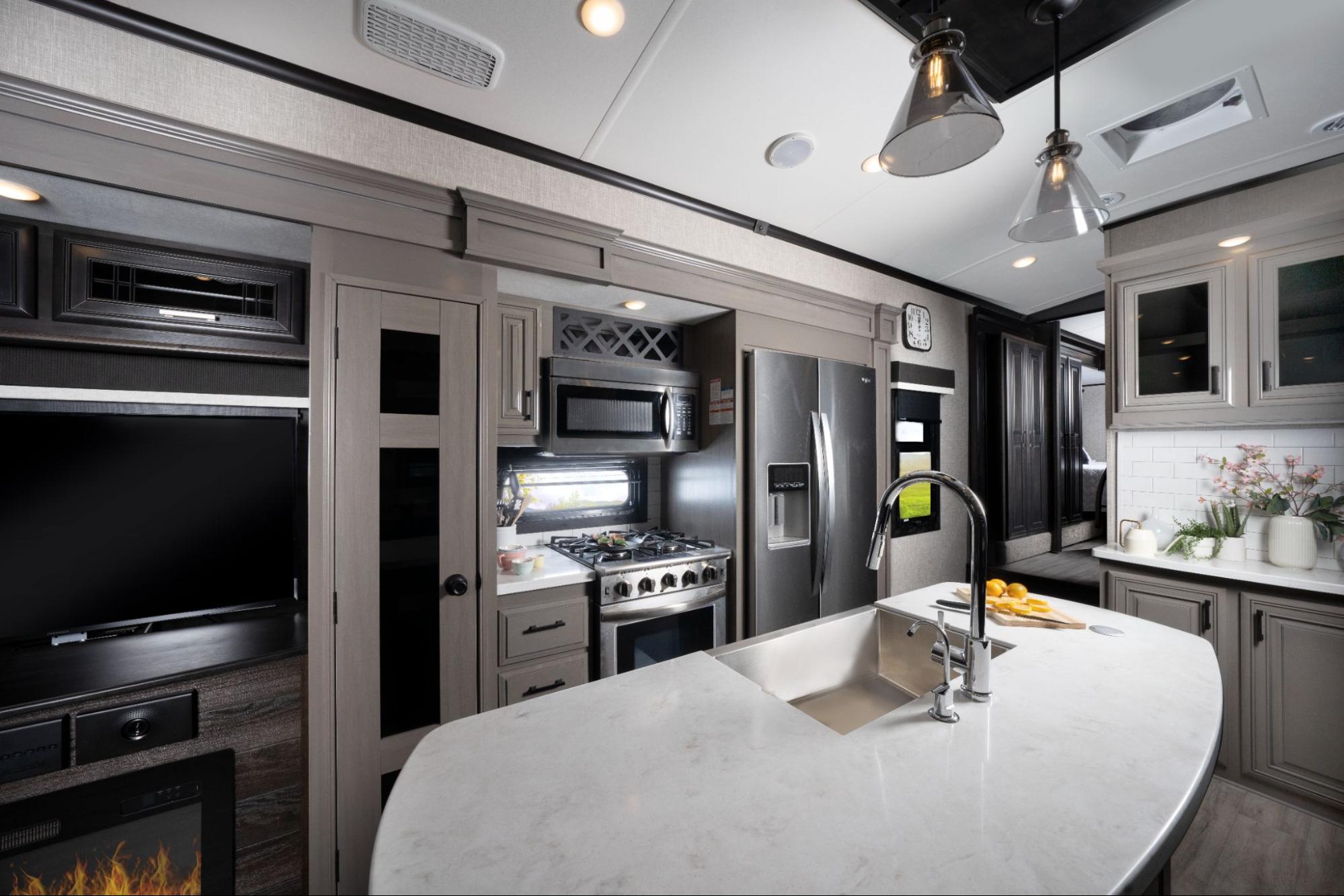 Luxury
You get the whole gamut of quality options with the Pinnacle line, starting with the cabinetry made from solid hardwood maple, which is representative of the other ways this fifth wheel pulls out the stops when it comes to quality and luxury. From the deluxe kitchen featuring a steel farmhouse sink to the cedar-lined wardrobe closet, each physical space surprises with yet another luxury feature.
This rig has three exterior paint options: diamond, sand, and steel. On the interior, you choose your design scheme between a Modern Farmhouse option and a Silvermist option with six unique components: wood, main fabric, window treatment, floor, countertop, and accent.
Technology & Entertainment
The home entertainment system comes equipped with a subwoofer, a 50-inch SMART LED HDTV with HDMI output, and a wireless remote control Bluetooth system controls all. Interior and awning LED lighting allows you to create any needed environment, whether entertaining guests or preferring a minimal, off-the-grid camping situation.
The Pinnacle 36SSWS comes equipped with JAYCOMMAND Smart RV system, which allows you to control the RV's features via your smartphone or tablet. Monitor various tank levels, amenities, and essential functions like lighting–and do all of it away from your RV. This gives you complete monitoring capability and control over things like your A/C, awnings, leveling, and slideouts. And for this model, you're going to want that extra tool to manage your slideouts.
Another marvel of technology on the Pinnacle 36SSWS is its cold-weather camping capability. Using the Climate Shield, this RV is designed for zero-degree weather protection. This is suited to meet some pretty challenging weather with heating floor vents, a fully enclosed and heated underbelly, a 40,000 BTU furnace, and double-layer fiberglass insulation.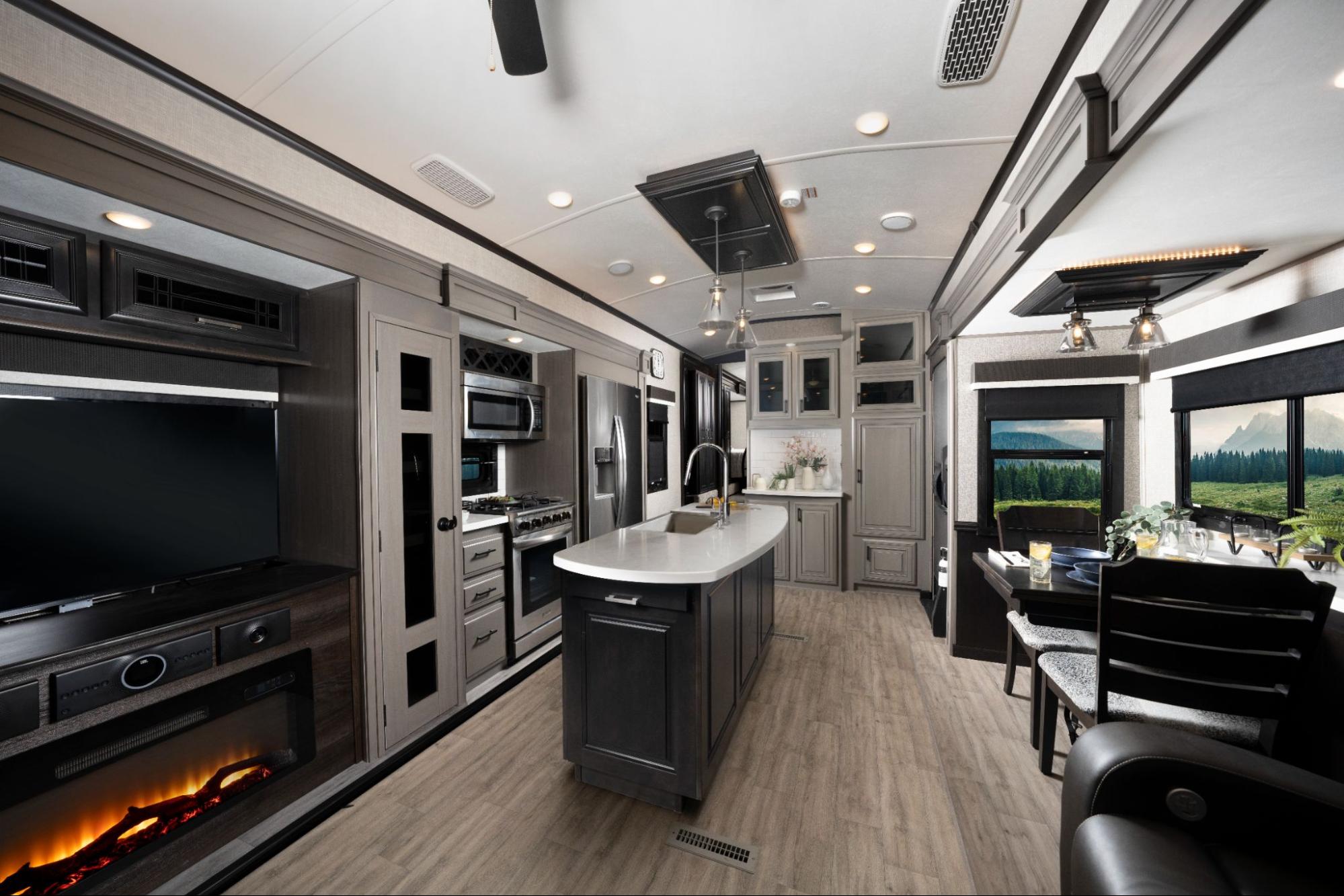 Space
Whether you're just looking for more room for your family or want to plan on hosting often and without space constraints, this 40-foot rig with its four slide-outs is perfect for getting the most out of your fifth wheel. And a great example of this is the "extra" slide-out, which further extends the king-sized bed out of the room, allowing for additional bedroom space.
All Pinnacle floorplans were designed to expand the bathroom areas, giving you, your family, and guests some added space. In addition, the slide-outs allow for a residential-sized refrigerator as well as space for a washer and dryer.
With all these added components and additional space, you might think the Pinnacle 36SSWS would be difficult to set up at the campground. On the contrary, the 6-point hydraulic auto-leveling system ensures you can get to your campsite and get set up in less time than it usually requires, especially when you make use of the backup and side observation cameras.
It's one thing to talk about all the incredible features and benefits the Pinnacle offers–and it's another thing to see it in person and get first-hand experience of the comfort and class this rig has.
Learn more on Jayco's website.