Campers You Can Tow with a Motorcycle
What to Know Before You Tow
Traveling across the country on a motorcycle appeals to the independent and adventurous in a way that's classic, simplified: just you, two wheels, and the open road. But the fact is, there's only so much you can carry in saddlebags, and the motorcyclists you've seen on the open highway are usually the same you see stopped at hotels along the way between start and finish. Or, in the RV world, the only motorcycles you've actually seen have been tethered to a trailer or mounted on the back of a camper, only to be used once the camp is set up and an evening ride is on the docket.
But many motorcyclists have been merging these two worlds—luxury and mobility—and it's now fairly common to see motorcyclists on the road towing something extra in back. While no one is claiming these motorcycle-friendly rigs can offer the same experience as even the smaller traditional campers or RVs, they create a lot of opportunities for motorcyclists to get creative with how they travel. From classic pop-up sleepers to the more unique applications, towable campers give two-wheeled travelers more independence along the journey and a more comfortable option for resting than a backpack tent.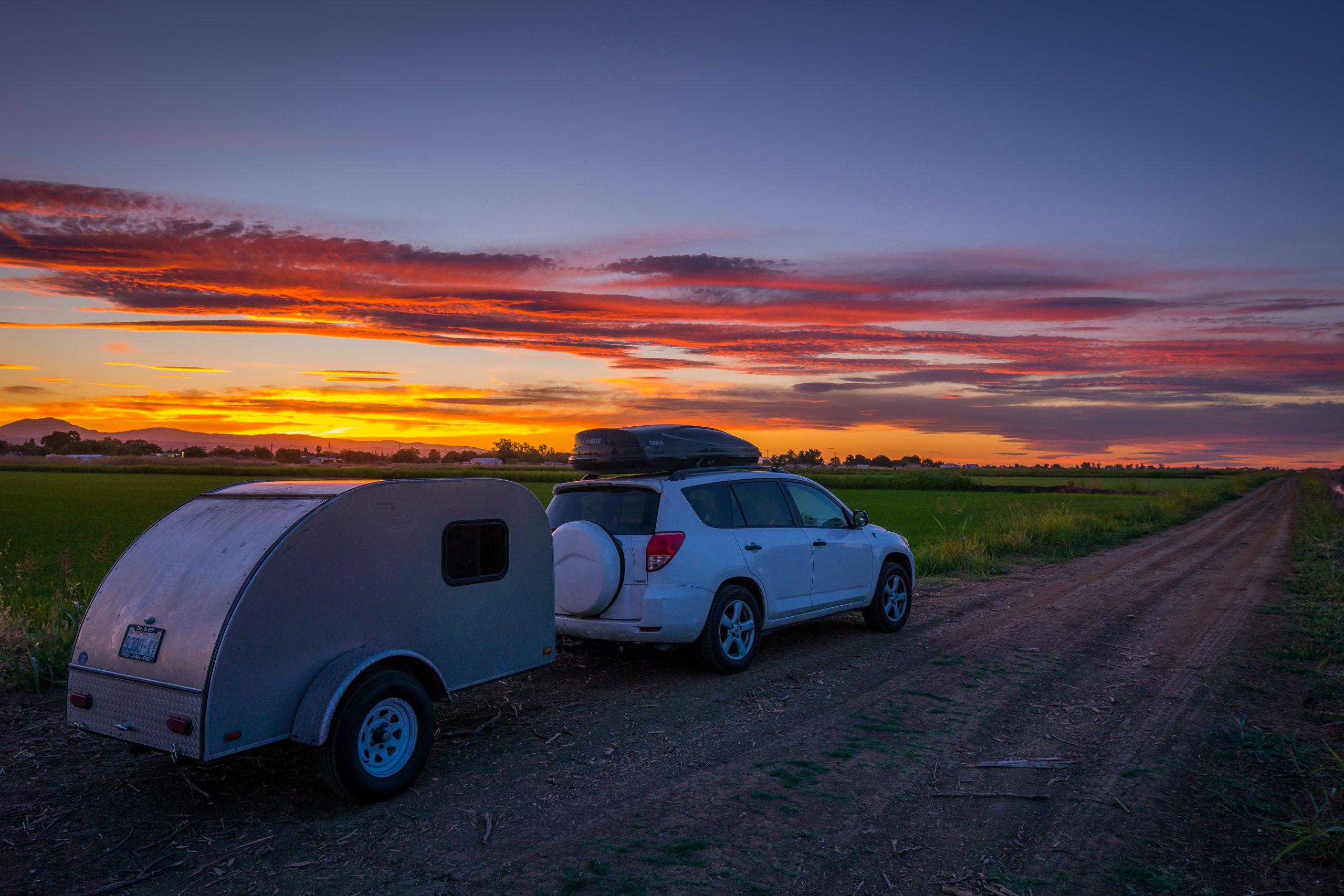 Matching the Motorcycle to the Camper
There are some elements of practicality involved when it comes to towing a camper with a motorcycle. Safety is the crux, here. Balance, an open cockpit, additional weight, exposure to the elements, manual steering—motorcyclists are aware of many of the inherent dangers involved already without a camper. And now you're adding that extra element of towing.
The size of camper you're able to tow will depend on the power of your engine, the size of the motorcycle, and the over-all length of the rig put together. In general, you won't want to attempt to tow anything with an engine smaller than 1000 ccs. And with a larger engine, you'll need to think about more than just power: the weight you pull should never be more than 20 percent of the weight of the driver and motorcycle combined. Note: motorcycle manuals and manufacturers will not recommend towing with a motorcycle due to liability and safety concerns. Take precautions by talking with experts at your local bike shop, with expert sources online, and from those with experience already.
Along with towing capacity, you'll want to properly equip your motorcycle with a hitch, safety chains, rear light wiring to connect with the trailer's brake lights—many of the same elements involved with hooking your car or truck to a trailer. But the key is to keep in mind how a camper will affect the driving experience: remember that the trailer is wider than your motorcycle, and the length of the entire rig should not exceed eight feet.
So with those caveats in check, what are the options available?
Campers You Can Tow With A Motorcycle
Pop-Up Campers
The motorcycle-friendly pop-up camper is the most common type you'll see out on the road. Compact in size while towing, these can expand to create sleeping arrangements that will keep travelers out of the elements. Along with creating a 1-2 person sleeping area, these can expand out to include a "living area" that's either enclosed or covered with a weather awning. Models from Kompact Kamp and Time Out trailers resemble a large, luxury tent setup that's off the ground, and quick to set up. Plus they're priced at an affordable rate and often allow for additional cargo space while traveling. These are a great option for any size motorcycle, but because of their light weight, it's a good way to learn the ropes when it comes to driving a motorcycle with a camper.
Teardrop-Style Campers
With less setup involved, teardrop-style campers are likely the closest model to the RV campers we typically see on the road. In fact, this style was prevalent in the 1930s when camper trailers were first gaining popularity; but as towing capabilities increased, so did the size of our campers. While quite a bit smaller, teardrop campers create a stand-alone space that's ready to act as your home-away-from-home as soon as you pull over to the campsite and find a level place to park. They don't offer amenities like a bathroom or kitchen, but they offer security and a closed door when you need it most.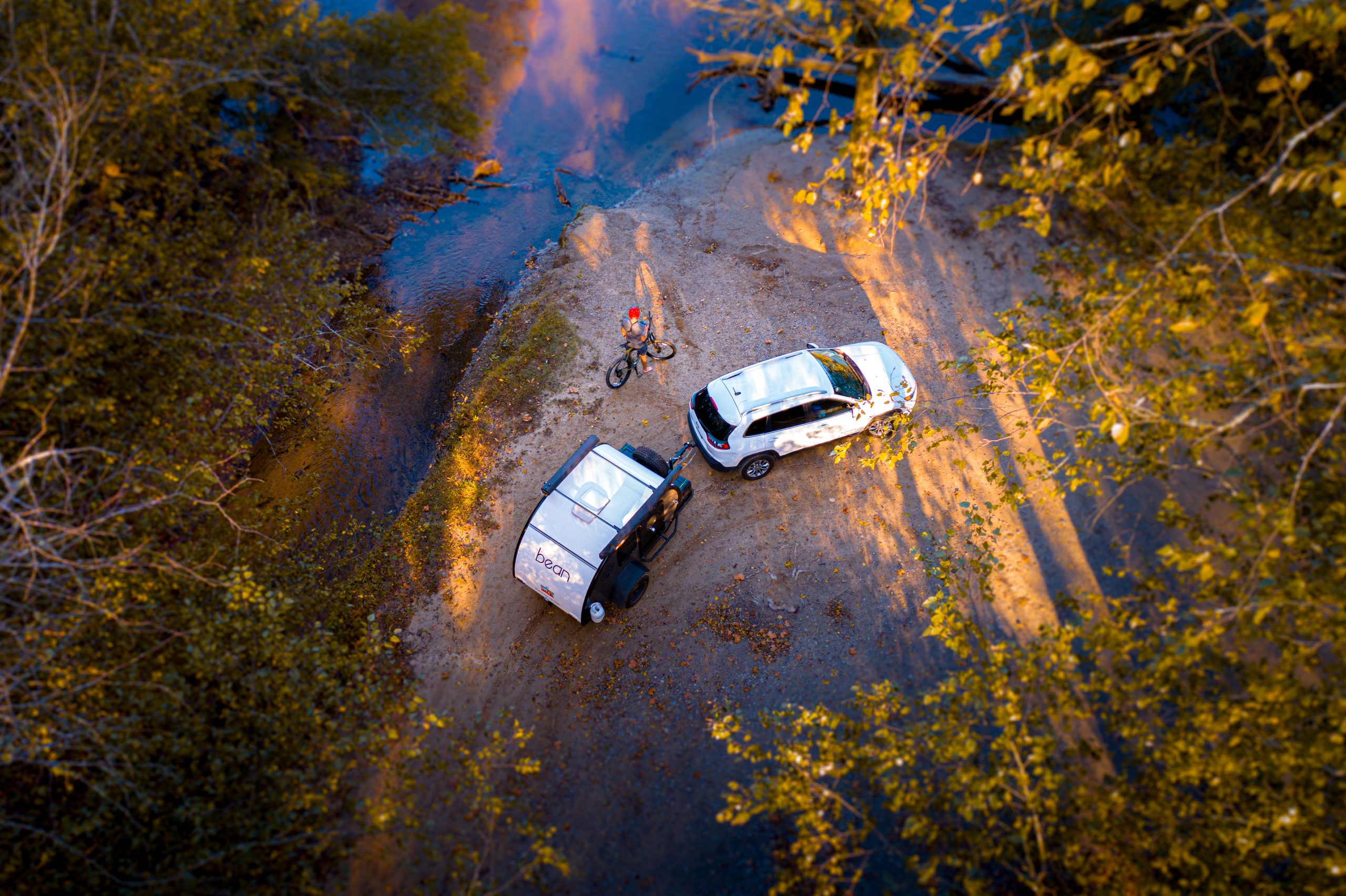 Clamshell Camper Trailers
Similar to the teardrop, but more streamlined in style, clamshell camper trailers are another great option. Like their name, these are hard-shelled trailers that open up to create a tent environment that can protect travelers from tougher elements like hail or heavy rain. While traveling and compacted, they offer better fuel efficiency and don't limit driving visibility as much as a teardrop style camper while on the road.
Cargo Trailers
Typical cargo trailers may not offer sleeping arrangements for motorcyclists, but you can still use these to transform your camping experience. Stow away the gear you need to set up camp, but also adapt these lightweight additions to act as kitchenettes to bring the comfort of home cooking to your over-the-road travels. What's cool about the cargo trailer is how adaptable they are to whatever you imagine, from kitchenette to roadside emergency repair shop—and at an affordable price and with little in the way of changing your motorcycle rig and driving experience.
No doubt there's a lot of headway to make in this industry as manufacturers continue to better equip both motorcycles and campers and adapt them to offer more possibilities for travelers on long, cross-country adventures—all while staying compact. Look for them on the road, camper in tow, knowing they operate small in scale but with the mobility and independence the motorcycle was originally designed for.