Buying RVs Factory Direct
The RV purchasing process is rife with choices: which vehicle type, which floorplan, which fabric color, which sofa bed. These are all essentially of equal importance; as a buyer, you're making a substantial investment in a recreational vehicle, and it should be delivered as you like it. But when you're buying through a dealership, choices can be limited to aesthetics or basic add-ons, leaving things like tank capacities and layouts to the mercy of the manufacturer and its "options" packages. Then there's the additional cost the manufacturer is required to pay to the dealership. To make it profitable for both dealer and manufacturer, the purchase price can contain markups in the thousands.
Prospective buyers ready to lay down the monetary equivalent of a vacation home don't have to settle: they can choose to buy their new RV directly from the factory. Among many other benefits, buying factory-direct can give consumers more bang for the buck.
"The most important advantage of buying factory-direct is the reduced cost," said Marsha Trautman, president of custom fifth-wheel builder Space Craft Manufacturing. "You are not paying the dealer to sell you the product."
That sentiment is echoed across the factory-direct board. "The most obvious benefit is that we have eliminated the middleman," said Tammy Harmatuik, business manager for Escape Trailer. "This allows us to keep the costs down."
To their credit, most manufacturers that utilize the dealership model have a good handle on their customer base and are able to offer some combination of features to satisfy most potential buyers in that area. However, that still leaves a considerable amount of "settling" for what's available.
"We hear too often that previous experiences of ordering an RV through a dealer have resulted in the [RV] coming in not like they thought it would be," said Phil Brokenicky, president and CEO of custom-trailer builder New Horizons. "By then, it is too late to change it, and the customer just has to live with it," he said.
"Buying factory-direct allows the manufacturer [to produce] a higher-quality product with higher-end components at an advantageous price," said Brian Shea, owner and founder of the RV Factory, which manufactures the new Avion trailers. "The attention to detail, with a degree of customization, means we can allow a customer to have exactly what they want."
This, of course, includes changing up designs to suit the vehicle's intended use. "Everyone has a different style of camping and different requirements based on that style," said Escape's Harmatuik. "The customers can even provide personal items for installation during production, as long as they are CSA [safety] approved."
Advantages of Buying Factory Direct
Regardless of how convenient it may be to purchase from the local dealership, settling for something that isn't what you had in mind can result in a case of buyer's remorse, especially when the price can quickly rise to six digits. But if you take your time and do some homework up front, you can find a number of factory-direct manufacturers who sell directly to the buyer — many of them custom-trailer manufacturers.
Buying factory-direct is a process; it's not a decision made on a Friday and expect to be camping the following weekend. "Most buyers start months or even years before they arrive at our door," said Paul Meyer, president of Class B manufacturer Sportsmobile. "Most already have a good idea of what they want and how we can help. I'd estimate that 90 percent of potential customers make an appointment to sit down for a couple hours to design their conversion and get an estimate."
It's that face-to-face interaction that is so important in the factory-direct process. "It opens a direct line of communication for questions, warranty and customer service, and we think that gives the customer a more personal, comfortable and intimate experience in our industry," said Steve Garzeny, vice president of Class C motorhome manufacturer Coach House. "Our goal is to educate the customer so they can make intelligent, informed decisions."
Others in the factory-direct business agree. "We listen to our customers, and being factory-direct allows us to do some custom design and make changes quickly without going to some corporate headquarters," said Earl Robbins, sales manager for Class B manufacturer Phoenix Cruiser.
Plus, being so involved with the manufacturer during the planning and construction process helps provide clarity to some of the problems that stem from having a dealer be your point of contact.
"When buying factory-direct, you have the luxury of speaking with the people who have built your new home," said Space Craft's Trautman. "How many times have you asked a dealer how an item works in a trailer only to have them tell you they don't know? That does not happen when you buy factory-direct," she emphasized.
New Horizon's Brokenicky agrees. "The most significant advantage to the consumer of factory-direct buying is dealing with the people who build their unit," he said. "This aids the communication process."
"Any time we better meet the needs of our customer, it's good for business," said Annie Stein, director of sales and marketing for Xpedition Vehicle manufacturer EarthRoamer. "Selling factory-direct allows us to really get to know each owner individually and provide a level of customer service that is unmatched in a dealership environment."
After Your Purchase
The royal treatment often continues even after the vehicle is built, with manufacturers offering red-carpet deliveries, online forums and, perhaps most importantly, extensive aftercare programs. Most even take extra steps to make sure the new owners have a complete understanding of how their vehicle works. This contrasts to the typical dealership experience, where impending sales and a vast collection of different models can overwhelm a salesperson, and the walkthrough with the customer may last only an hour or two.
"We give the customer a three-day orientation at the [New Horizons] factory, during which time they are living in their new unit," said Brokenicky.
It's definitely a trend among factory-direct manufacturers. "We offer to have all our customers stay a day or two with us to make sure that they understand how to operate everything," said Phoenix Cruiser's Robbins.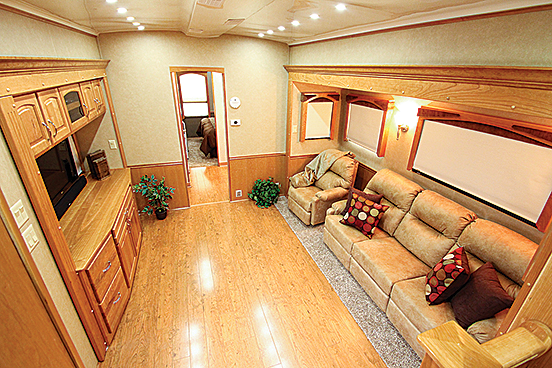 Not to be outdone, Meyer said, "We set [Sportsmobile buyers] up in a campsite for a few days for a shakedown trip. They always leave with a smile."
By the time the vehicle is delivered, the customers and the manufacturer often know each other like family, so it makes sense to continue that close relationship for years to come. "We take pride in getting to know our customers, educating them, keeping in touch after the sale, and because we are factory-direct, we are the only call they need to make should they have questions, warranty issues, comments, etc.," said Garzeny of Coach House.
In addition to offering RV-service-center authorization to most outlets, Robbins points out that Phoenix Cruiser also offers factory service, a feature that will definitely save time in the long run. "I have had customers tell me that we can get them in and out in sometimes only a few hours while they wait," he said. "Whereas if they had to depend on a dealer, they would have to drop off their coach and wait for weeks to get work done."
The factory-direct sales process places a tremendous amount of importance on the customer, and rightfully so. As consumers, we are accustomed to dealing with high-pressure sales techniques for everything from homes to cars to electronics, so a relatively hands-off sales approach combined with a here-when-you-need-us service attitude is welcome by customers and often leads to positive reviews. "We frequently hear how much [EarthRoamer customers] enjoy the individual attention they receive during the purchase process and the continued customer care beyond the sale," said Stein.
The advantages of direct customization are not overlooked by buyers. "We have been told we offer the ultimate buying experience, like buying an Apple product or even a Tesla car," said the RV Factory's Shea.
Building Trust Between Manufacturer and Customer
The factory-direct process can go a long way toward building trust between the manufacturer and customer. "[Coach House] customers feel comfortable knowing they will be taken care of if they should experience any problems," said Garzeny.
The factory-direct process is beneficial for both manufacturer and buyer, for a number of different reasons, but one thing is clear: factory-direct purchasing is a powerful consumer tool, and with continual access to information afforded by the Internet will likely only get bigger and more widespread.
"We've been selling factory-direct for more than 55 years, and it has worked very well for our customers and us," said Sportsmobile's Meyer.
Still, old buying habits die hard, so factory-direct manufacturers are doing their best to break the mold. "Our largest challenge is the mindset of customers that what they see is what they get," said Space Craft's Trautman. "We offer the ability to create a trailer that reflects your needs and lifestyle."
Where to Buy Factory Direct