5 Pop-Ups That Deliver Beyond Expectations
Live your best life and go exploring with the help of one of these pop-up campers.
When you're looking for a pop-up camper, you're looking for something pretty specific. And the odds are, you've already got a good idea in mind of what you want.
Pop-up campers are a perfect transition away from tent camping into the world of RVing, without going so far as "glamping." You still get the breathability of the mesh tent, but it's a pull-behind that provides a few other amenities—usually like a small galley, for example—which means you don't have to pack along a separate camp stove or other things.
Still, a lot of people have very set ideas of what a pop-up camper can provide you, but (like with most areas of RVing) there have been plenty of advancements made in the last few years. You may still picture these as the type of camper that families in state parks would use, but they're becoming an increasingly popular option among boondockers and people that are trying to get off-grid.
With some of these developments, they're easier to set up just about anywhere than a larger coach would be and still provide a little more comfort than a sleeping back on the ground. 
Let's look at five pop-up campers that go above and beyond, and might just change the way you think about a tent camper. 
Forest River Rockwood ESP 2318ESP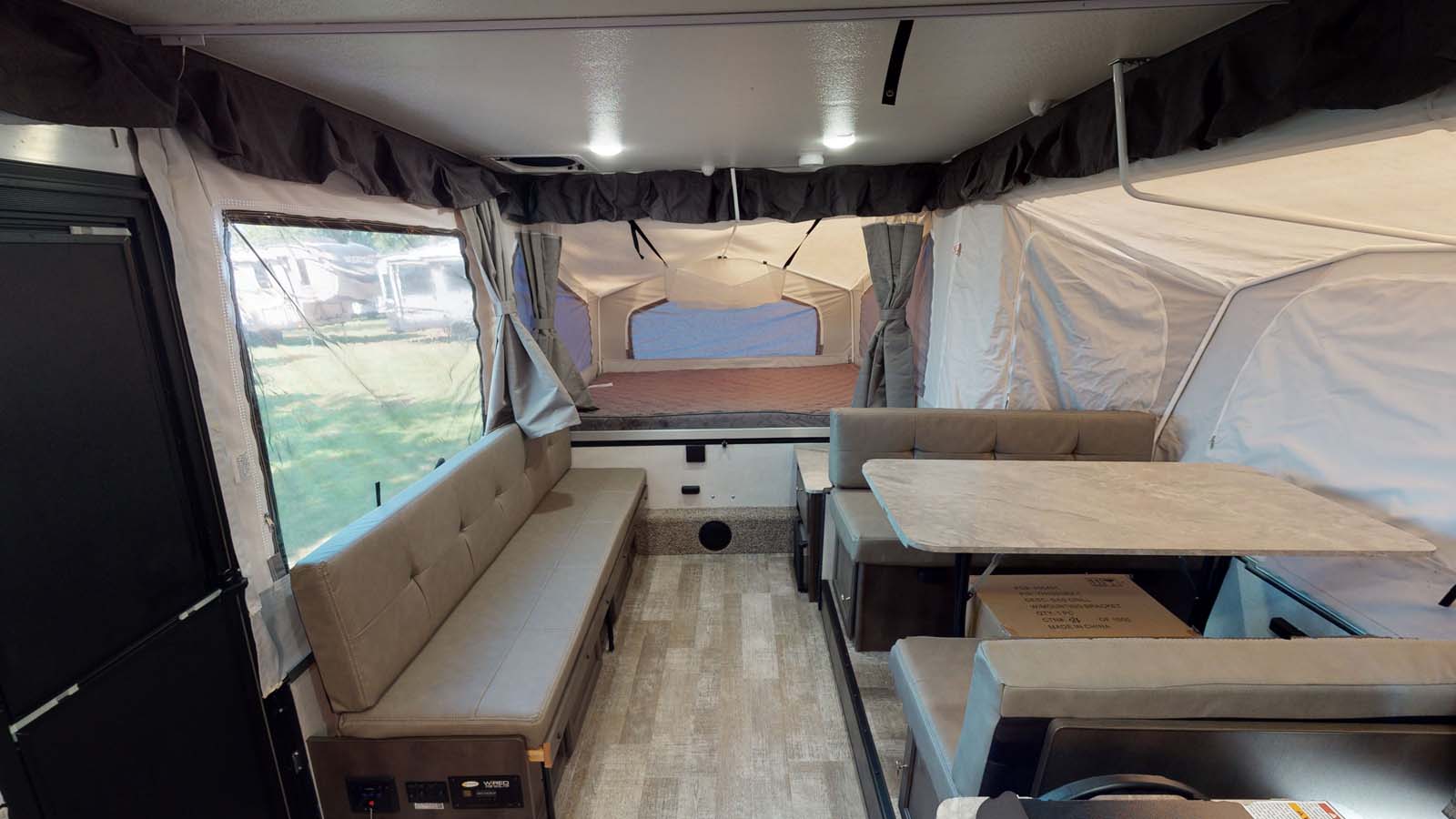 The Forest River Rockwood is an extremely popular 12-foot box-style pop-up camper. ESP, though, stands for "Extreme Sports Package." And they're not kidding. This package ratchets up just about everything about the pop-up. In fact, it's about as close as you can get to a coach-style RV while maintaining the mesh-style walls of a tent camper.
A water pump and hot water package are both are standard, and a 20-gallon freshwater tank keeps clean water handy. You can go off-grid with a 100w solar panel which is included, and it's prepped for even more. Option up for the "Extreme" Extreme Sports Package (yes, it's different), and you get the camper rolling on 15-inch wheels with heavy-duty mud tires. You can take this guy off-roading nearly anywhere, which is perfect for an explorer who's looking for a little extra comfort. 
Coachmen Viking Express 12.0TD XL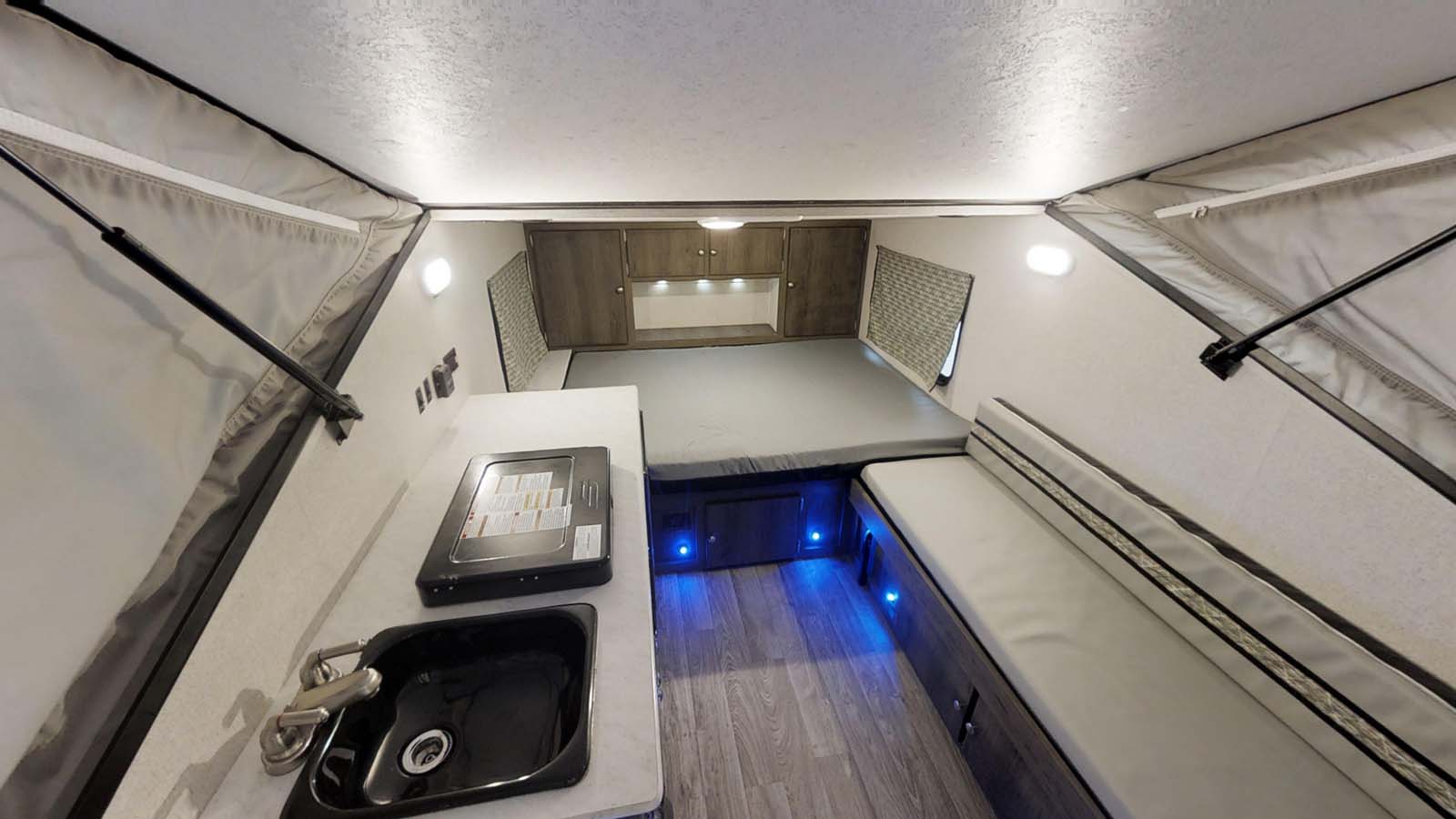 The Viking Express by Coachmen is a unique combination of a solid-walled pull-behind with a pop-up feature to help expand out the interior space. This concept offers a little more stability and a little less-tent, making it a great step up from a traditional pop-up. The XL version offers a ton of interior space, plus other amenities.
A whopping 27-gallon freshwater tank is included. And a laminated fiberglass roof helps keep the elements out. You can even option up for a whopper of an air conditioner and—because the camper is more walled than tent—it's not wasting energy. A furnace comes standard too, so you can stay a little warmer should you decide to take it to the mountains, which it's very capable of handling with its three tire size options. 
Aliner Expedition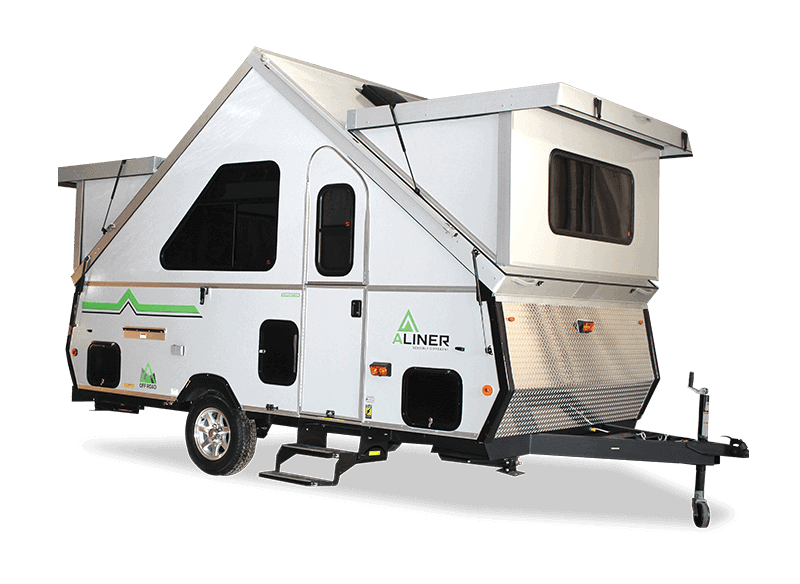 We love a camper that stands out from the crowd, and the Aliner Expedition is one of the best examples of an a-frame pop-up on the market. The Expedition is a solid-walled pull-behind, and even the pop-ups are also solid-walled, making this one robust camper that's perfect for taking on an adventure.
The unique shape means you get a little extra headroom—a must if you're on the taller side—and the living space is plentiful. It also allows them to raise the countertop and bed heights. Several layouts are available to help make it yours, from permanent beds for those who really enjoy sleeping in or don't plan to be in the camper much, to a sofa conversion for when you need more living space. Add the Extreme Off-Road Package and you're ready to take this bad boy anywhere. 
Opus OP4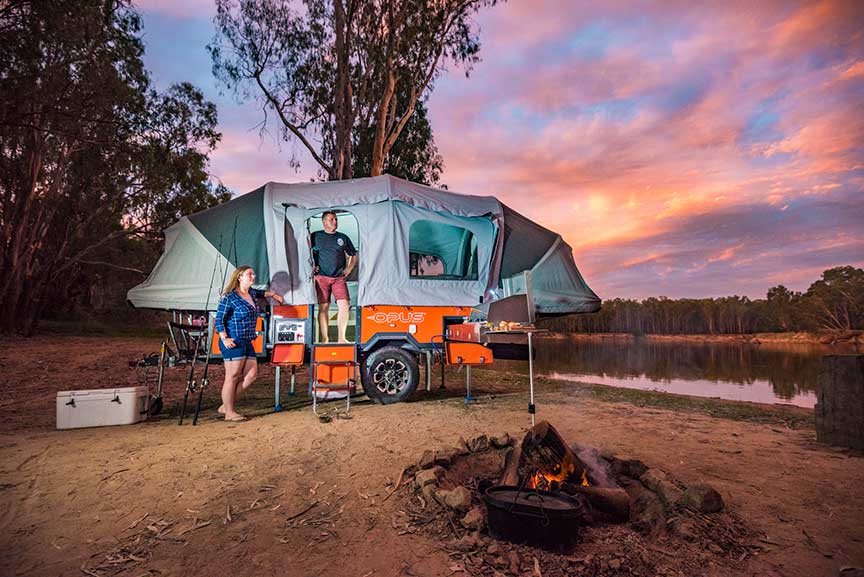 Some pop-up campers are made for more extreme camping. Almost military-esque. The type that might be perfect for an apocalypse kind of situation. The OP4 by Opus is designed very specifically to go offroad: it has an independent suspension and a unique trailer hitch that lets it roll as it hits bumpy terrain. Seriously—Opus tests their campers hard, and it's remarkable what this one is capable of. But that's not even its most unique feature.
The tent of the OP4 sets up in 90 seconds because it inflates. It uses "air beams" that are extremely tough and inflate with a built-in pump to set up. To take it down? Just release a few air valves. Once it's up, it easily sleeps six comfortably and honestly offers a lot of luxurious amenities you won't find in a lot of pop-ups. That includes an astounding roll-out outdoor kitchen that includes a four-burner cooktop and pump-fed faucet. Opus claims it can handle being off-grid for up to four days, and frankly, that seems like fun. The OP4 will make you even more adventurous than you already are. 
SylvanSport Go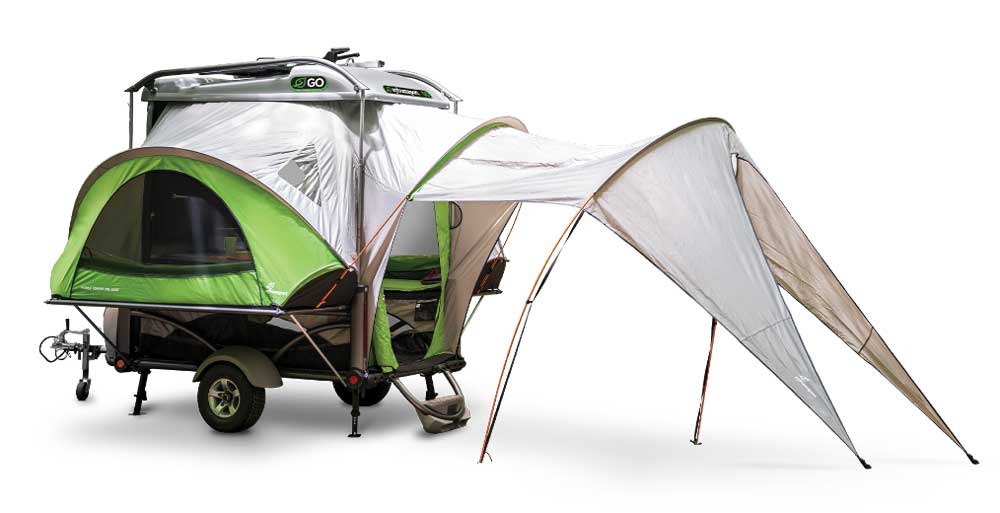 Take a look at the SylvanSport Go when it's all packed up and you might think, "Uh, I thought you said this was a pop-up camper?" Because it just looks like a cargo hauler. Because, well, it kind of is. It folds down so compactly and includes loads of packing space that it's ideal for carrying bikes, kayaks, PUP boards, or other toys on the equipment rack. But more than that, it includes an adjustable gear deck that can fit a small ATV, dirt bike, or simply bring along a few containers of camping gear. It's a remarkable unit already, but what makes it shine is that it is, in fact, a pop-up camper.
Or rather, a pop-down camper. There's a hinged case beneath the equipment rack that houses the tent pod. Raise up the poles, fold it down, and in a matter of minutes, that's a spacious, 80-inch by 116-inch tent set up that sleeps up to four people—along with a spacious porch area. This is a pop-up that lets you bring along all of your favorite toys, so you can enjoy the outdoors the way you want to.