5 Campers to Consider Under 2,000 Pounds
You can tow these with practically any car, crossover, or SUV!
If you're new to the world of RVs—or, let's be honest, even if you're an old pro at this—there are a lot of RVs out there. For a lot of travelers, the huge Class A motor coaches and even the large trailers and fifth-wheels just aren't practical or necessary. They don't have the means or a vehicle to tow something that heavy, or maybe you're just not on the road often enough to justify that kind of purchase. A lot of those larger campers are serious business. If you're a casual camper, you just don't need that. 
But just because you're not interested in something massive doesn't mean you have to "rough it." Lighter weight coaches get more and more advanced every year, with more inclusions and innovations that make them more than just comfortable—they're downright luxurious. 
When you start looking for a camper under 2,000 pounds, how do you know what to look for? There are dozens of brands out there producing lightweight campers.  Which ones are the best? 
Thankfully, that diversity means there are plenty of options for finding the one that's right for you. Because of that, many of these little guys fly under the radar, despite being excellent campers that will take you anywhere you want to go. 
Let's look at five campers to consider that are all under 2,000 pounds. 
TAXA Cricket Overland
It may be named for something small, but the TAXA Cricket Overland comes in big with the options, features, and versatility. And while their standard Cricket is a perfectly suitable lightweight camper, the Overland takes everything up a notch or two. It has higher clearance than its non-Overland counterpart, letting you get further off the grid. If you're looking for a camper that will stand out from the crowd, the style alone sets it apart. Its funky, angular look is striking, but functional too. There's a pop-up roof for better ventilation, and five windows (with screens), and five more mesh windows, there's plenty of cross breeze to be had. 
Inside, the Cricket Overland sleeps two adults and two kids comfortably. But there's plenty of seating as well—plus a small cafe table in case you're working on the go. And the kitchen is completely redesigned, featuring a two-burner cooktop, a counter, and a covered sink to add even more space. There's also a furnace and water heater to help with cooking and cleanup. 
Despite its size, storage is also not an issue, with plenty of space all around. It even comes with stackable milk crates that can be easily removed and filled for packing. 
Dry Weight: 2,000 lbs. 
NuCamp T@G Teardrop Trailer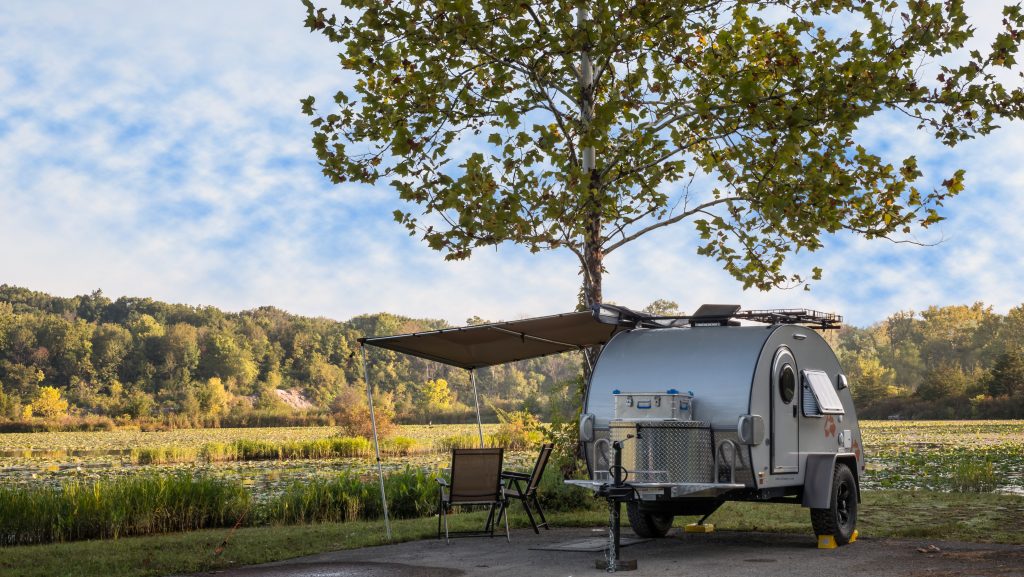 TAG (or T@G) teardrop trailers are the epitome of small in stature but big in features. Coming in both standard and XL versions, it's a lightweight unit that offers the basics you need for camping. Unlike some other trailers you'll see here, the interior of the TAG is literally just a bed—albeit a massively comfortable one. A queen-size mattress lets you stay comfy and cozy when you crawl in at the end of the night. You'll also find a nice ceramic heater with a dial thermostat inside, and a stargazer window that lets you take in the nighttime views before you drift off to sleep. 
That's not all, though. The kitchen lives under a pop-up at the rear of the outside of the camper. It includes a deep sink with a 10-inch faucet, a two-burner cooktop (there's a large storage plate to hold an LP tank), and a microwave. There's a space that's perfect for holding a large cooler, plus storage. (The XL floor plan comes with even more storage space. The kitchen also has a couple of speakers so you can rock out while you cook. 
With under-bed storage and other cabinets, you won't have to worry about packing too much. Plus, if you're really going off-grid, you can upgrade to a solar option. 
Dry Weight: 1,284 lbs. 
InTech Luna Rover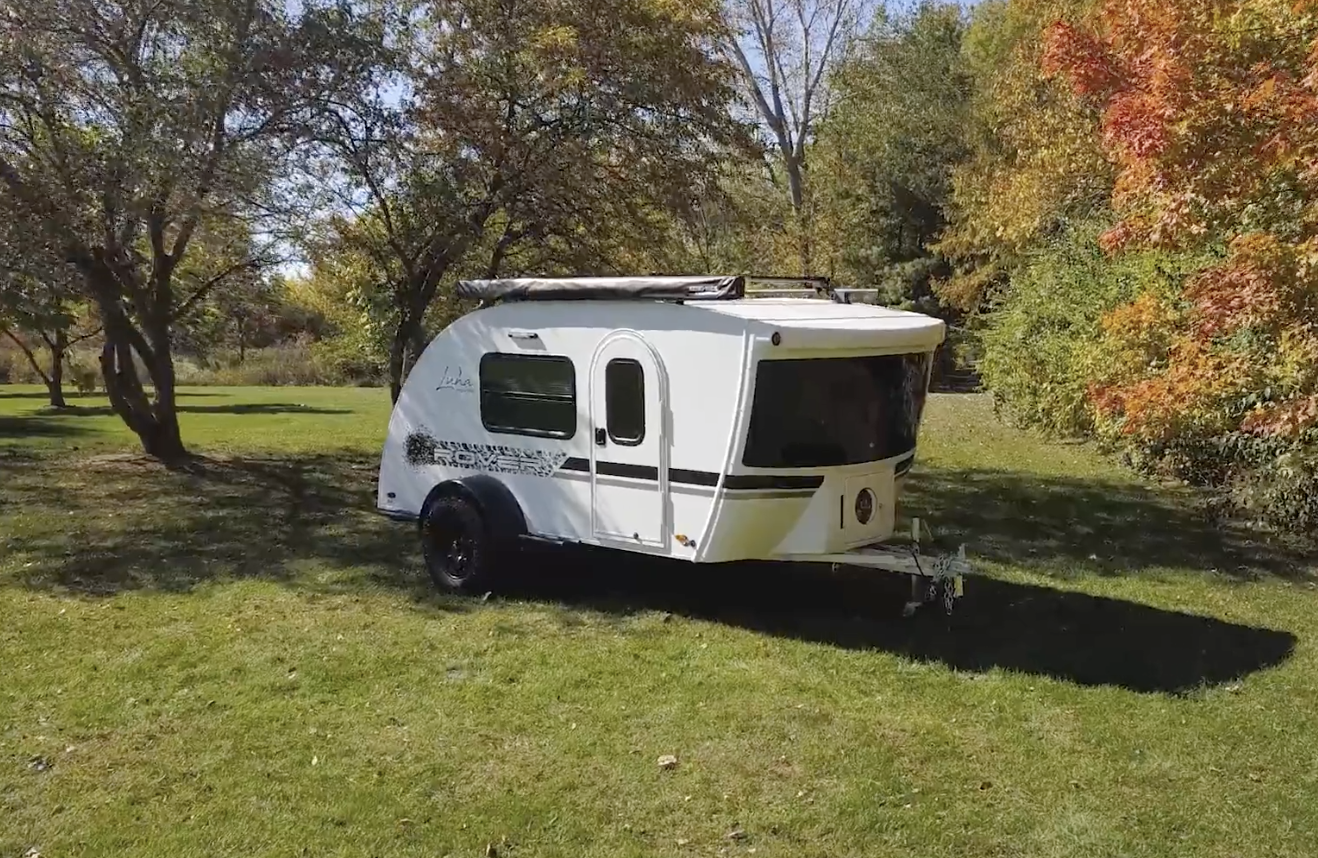 Teardrop shapes make for great campers because they're so easy to tow and offer so much space inside. The InTech Luna Rover is no different. While the Luna comes in three available packages (Base, Rover, and Platinum), the Rover offers a little more to those who like to go off-grid and really be outdoors. That said, you can't go wrong with any model.
The interior of the Luna is also primarily a bed, but this one folds up into a couch to allow for a little living space. You'll also find a few more amenities inside the Luna: an electric fireplace, an air conditioning unit, a radio, and a small television. You can also find a couple of seats and a small table at one end of the camper—ideal if you come across a little bad weather. 
The Rover package upgrades the base with off-road tires and an adjustable roof rack, among other things. It sleeps two adults comfortably, and can even include a toilet if you want to upgrade. While it does stow away…whether you want a toilet in your living room is up to you. 
Dry Weight: 1,775 – 1850 lbs.
Forest River Rockwood Tent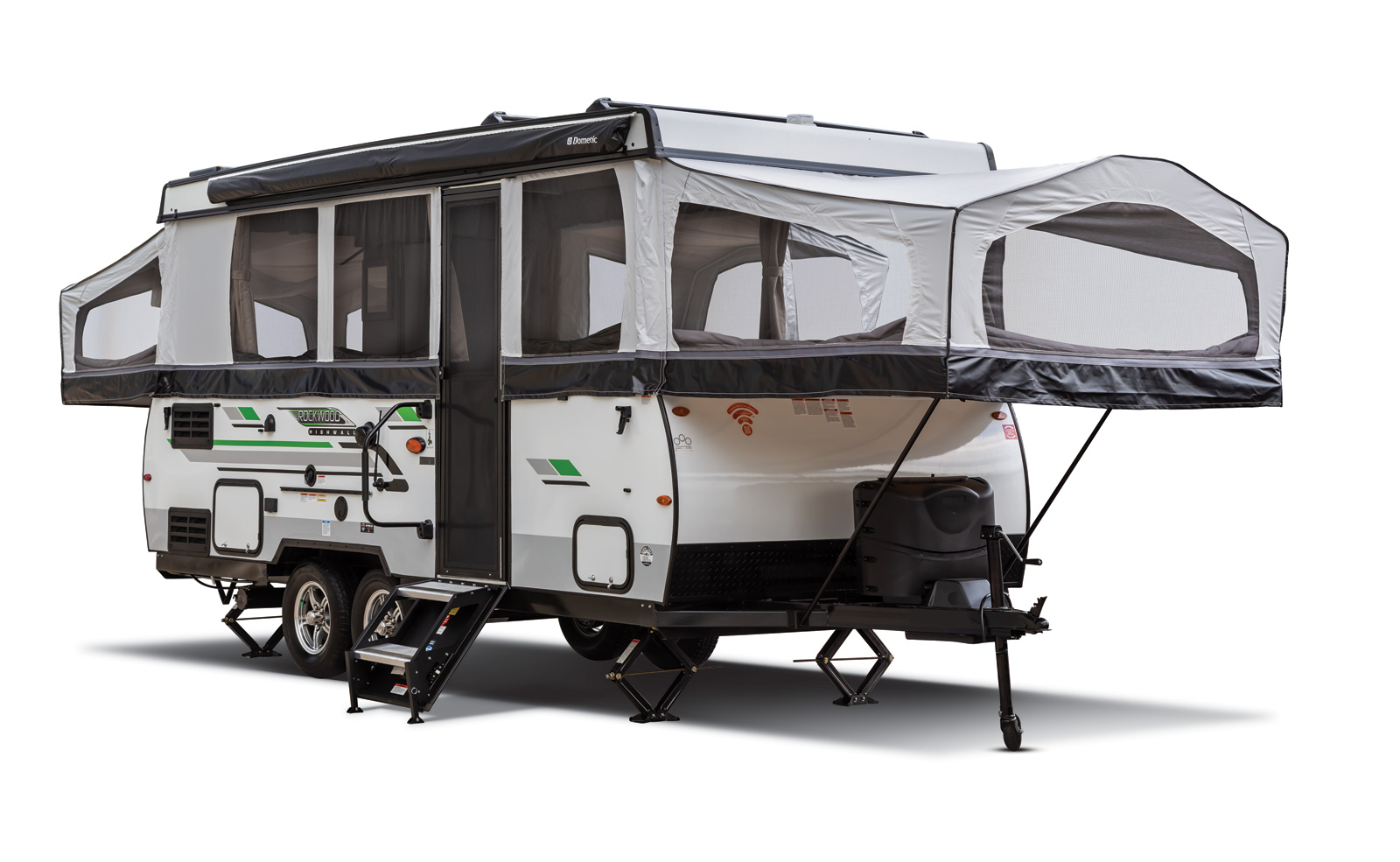 On a serious budget? It shouldn't come as a surprise that there are plenty of lightweight camper options that are still on the wallet-friendly side. The Forest River Rockwood Tent is one of them. This pop-up tent camper folds up nicely to be towed easily, but when "popped," offers a ton of space inside. Two beds (yes, you read that right) come standard, so you can sleep up to four easily. 
Ten different floor plans offer different furniture layouts. Some include a spacious dinette and table, others include a couch, others still a toilet and shower,  and they all include a nice kitchen—with some including an exterior kitchen as well, or at the very least, a carry-out burner so you can do your cooking outside without smoking up the tent. There's a fridge, oven, microwave, and counter space in all of them. 
Because the sidewalls of the camper are mesh (it's a tent, after all) it's easy to get a nice cross breeze and stay cool at night. When you need a little privacy, zip the windows up. 
Dry Weight: 1,465 – 2,000+ lbs.
Read More
Forest River No Boundaries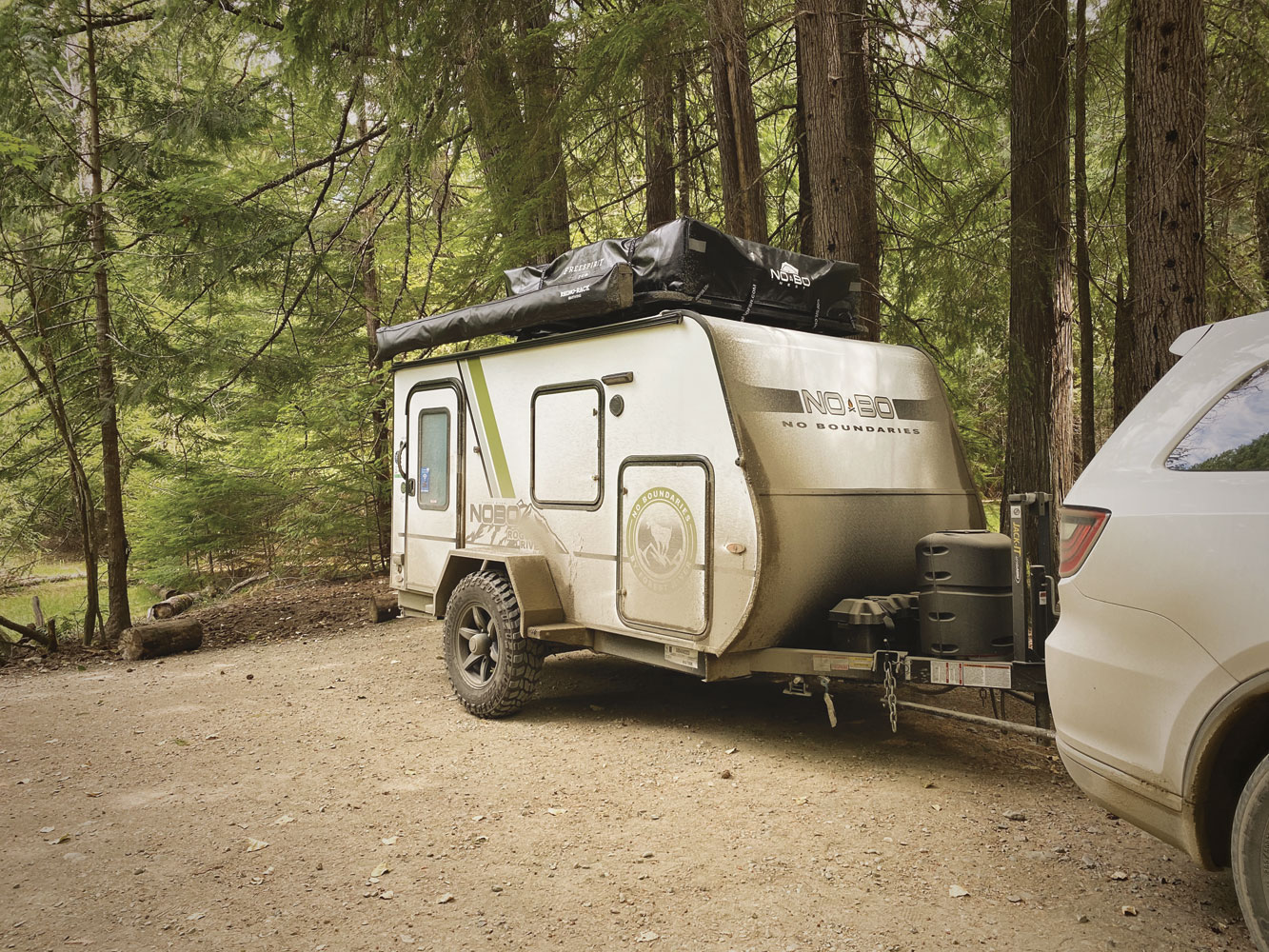 This one is for serious explorers. The Forest River No Boundaries is similar to a teardrop but with a full ceiling all the way across. You need that extra height because No Boundaries is actually a toy hauler. Yes, you can load up your ATV or motorcycle or whatever outdoor toys you enjoy and bring them along with you wherever you go. In a lightweight camper.
It accomplishes this by using a fold-out sofa bed, providing storage beneath the floor of the garage, and using a roof rack, and a NoBo Nest Rooftop Tent. The back wall folds down into a ramp to give easy access to your toys. Behind the front wall (where there's a space for an optional TV), there's storage space and a wardrobe. They've also moved the kitchen outside, with a two-burner cooktop and a small refrigerator. 
It offers the most ground clearance in its class, which is obviously important when you're trying to get off-grid. You can even add an optional awning to provide a little more comfort outdoors—whether it's from the sun or rain. 
Dry Weight: 1,973 lbs.