Two Studies Reveal List of Most-Dangerous National Parks
One study looked at total deaths while the other looked at deaths per capita.
Two studies recently released have determined the most-dangerous U.S. National Parks. The first study, by outdoor publication Outforia, utilized information from the U.S. National Park Service from 2010 through 2020. The study from Outforia based their ranking on total deaths per park. As such, they determined that the three most-dangerous national parks are also three of the most popular by visitors per year – The Grand Canyon, Yosemite, and The Great Smoky Mountains.
The Grand Canyon experienced 134 deaths. The most prevalent cause of death between 2010 and 2020 was medical or natural causes. Many of the 42 cases were due to extreme heat. Falls came in second at 27 lives lost. Yosemite National Park experienced 126 deaths. Falls ranked the highest in the cause of death. Some of the 45 lives lost to falls happened while taking photos of famous spots like Taft Point, Nevada Fall, and Half Dome. And, The Great Smoky Mountains came in third with 92 deaths. The most common cause of death was motor vehicle crashes with 37 losses. Outforia's complete list is below:

Data visualization agency 1Point21Interactive, in partnership with the personal injury law office of Panish Shea & Boyle LLP, conducted the second study. Instead of Outforia's study, they looked at deaths per capita. The researchers took the total visits for each location and then adjusted the total deaths per 10 million visits. With these measures, North Cascades National Park in Washington state was the most-dangerous national park and most likely park for people to suffer a fatal accident, averaging 652.35 deaths per10 million visitors.
"North Cascades National Park had, by far, the lowest visitation of any park in the top 50. At the same time, it's made up of rugged and steep mountain and glacial terrain with very few roads or structures," said project lead Brian Beltz. "As most of the deaths there involved falls or environmental incidents, I would imagine that this plays a big role."
Denali National Park in Alaska came in second with 100.50 deaths per 10 million visitors. The causes of death included climbing falls, exposure, avalanches, and acute altitude illness. The Upper Delaware Scenic & Recreational River followed in the list with 68.51 deaths per 10 million visitors. With most deaths due to drowning. In some cases, victims were not wearing life jackets or wearing their life jackets improperly. Other times drugs or alcohol were involved. Swift currents, sudden drop-offs, and slippery rocks have caused deaths as well. 1Point21Interactive's complete list is below: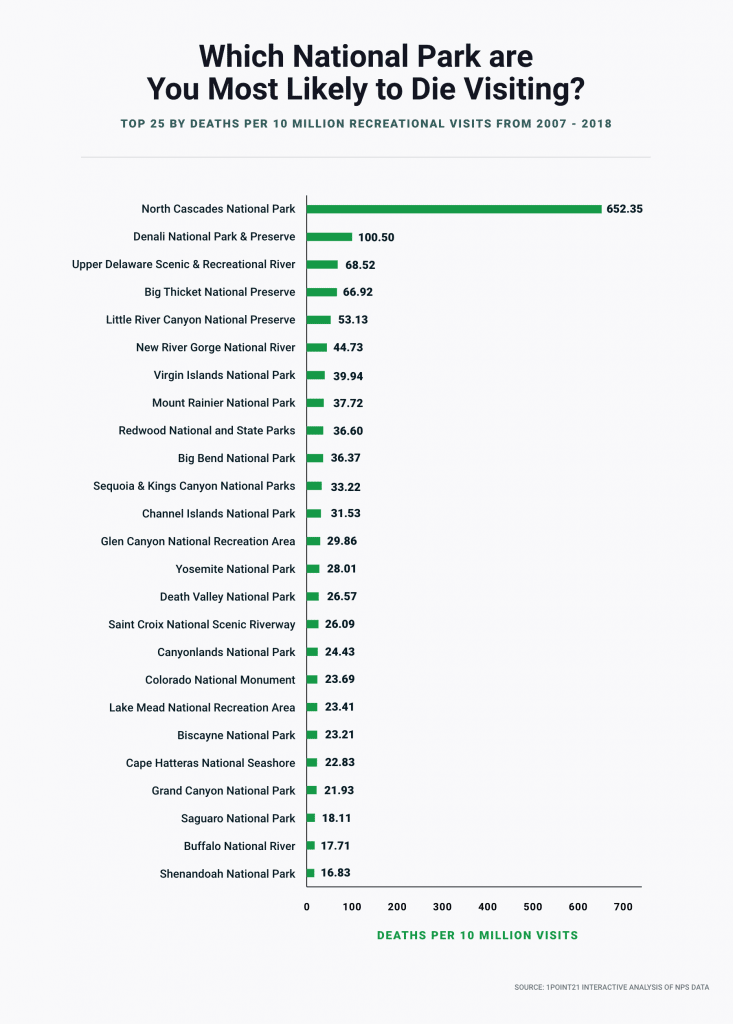 According to both studies, the top leading causes of death at national parks and recreation areas involved drowning, motor vehicle crashes, slips/falls, medical/natural causes, and unexplained. Other causes of death included suicide, environmental occurrences, transportation via other vehicles like bicycles or boats, poisoning, homicide, and wildlife attacks.