10 Spring Break RV Destinations That Won't Be Crowded
Forget the Typical Spots
Ah, springtime. When the warmer weather comes, the travel itch isn't far behind. Especially after another winter stuck in quarantine, the prospect of hitting the road in the family RV for a spring break getaway has never been more attractive. Then again, the idea of going to a crowded party destination has never been less attractive.
If you're ready to finally get out and enjoy the outdoors but avoid throngs of tourists, skip the Fort Lauderdales of the country and focus on destinations that don't even appear on most spring break destination lists. With your RV as the perfect hotel-on-wheels, you're free to venture off the beaten path and find the relaxing getaway you're dreaming of—if you know where to look.
Here's our list of the top 10 RV spring break destinations, complete with recommendations for top-rated RV resorts and campgrounds near each one.
Portland, Oregon
It might seem counterintuitive for us to highlight a major city as an RV vacation spot, but Portland, Oregon is too amazing to pass up. It's the best of both worlds: A quirky city with a fantastic food scene paired with outdoors destinations like Mt. Hood and the beautiful pine forests of the Pacific Northwest.
Top-Rated RV Park Nearby: Jantzen Beach RV Park
Bryce Canyon, Utah
You won't get sandy beaches at Bryce Canyon State Park—but you'll get plenty of sand! The stunning red rock formations of Bryce Canyon are the perfect backdrop for a desert vacation filled with hiking, horseback riding, rock climbing, or just relaxing around a campfire. With year-round ranger programs and camping options nearby both public and private, there's something for everyone here.
Top-Rated RV Park Nearby: Bryce Canyon Pines Store & Campground & RV Park
Isla Blanca State Park, Texas
Okay, we get it. Beaches are an important part of spring break for a lot of people. If you count yourself among them, check out Isla Blanca State Park. Located in South Padre Island, Texas, this beautiful destination promises a less-popular beach vacation on the Gulf Coast. With our top RV resort pick's tropical theme, you might even think you're in the Caribbean.
Top-Rated RV Park Nearby: Tropical Trails RV Resort
Pictured Rocks National Lakeshore, Michigan
Michigan's Upper Peninsula might not be the warmest spring break destination, but it's certainly one of the most beautiful. Hikers love Pictured Rocks for its stunning arches and other rock formations jutting up from Lake Michigan. If you're willing to brave a bit of water in 50-degree weather, the UP is a perfect spot for kayaking, canoeing, and fishing, too!
Top-Rated RV Park Nearby: Newberry Campground
Grand Isle, Louisiana
Just south of New Orleans, Grand Isle is a sleepy Gulf Coast town that's perfect for anybody craving seafood and plenty of peace and quiet. The island's nature preserves make for gorgeous hiking, and the state park is a good rustic camping option. Want a more modern campground? Make this a day trip from New Orleans and enjoy the Big Easy, too.
Top-Rated RV Park Nearby: Jude Travel Park of New Orleans
Chincoteague Island, Virginia
Each spring, the famous wild horses of Chincoteague make their swim across the island's channels. That one week, Chincoteague Island is a jam-packed tourist destination. Otherwise? It's a scenic and quaint Atlantic Ocean town with all the charm you could ever want.
Top-Rated RV Park Nearby: Massey's Landing
Charleston, South Carolina
Another great city option, this one on the East Coast, Charleston has quickly become the sleeper travel destination of those in the know. The bustling Southern food scene in the city is renowned—don't miss the amazing shrimp and grits! And for a truly Southern experience, stay at our top-rated campground in the city, which is located on an old plantation.
Top-Rated RV Park Nearby: Oak Plantation Campground
Hocking Hills, Ohio
If you want to see Spring in full bloom, you can't beat the flowering fields and waterfalls of Hocking Hills State Park in Ohio. There are seven hiking trails throughout the park, plus ranger-guided hikes that promise breathtaking views of the park's wildflowers, falls, and stunning rock formations. The state park offers electric campsites if you want to stay right there, or you can find great RV parks nearby.
Top-Rated RV Park Nearby: Wolfies Campground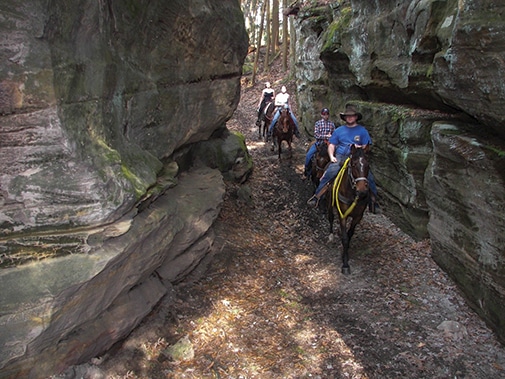 White Sands National Monument, New Mexico
Sledding during spring break? Not the first thought that might pop into your head, unless you realize the setting for your sledding fun isn't snow, but the beautiful white sands of New Mexico. The National Monument promises opportunities for backcountry camping under the desert sky at night, plus thrilling adventures like biking or dune buggy tours.
Top-Rated RV Park Nearby: Boot Hill RV Resort
Borrego Springs, California
Borrego Springs is a true oasis in the deserts of California. Visitors come for the super flower blooms in the springtime, and they stay for beautiful night sky views—Borrego Springs is the state's only International Dark Sky Community. Enjoy peaceful camping, or check out The Springs at Borrego, a world-renowned RV resort complete with a golf course you won't want to miss.
Top-Rated RV Park Nearby: The Springs At Borrego RV Resort & Golf Course