Fitness Apps Perfect for Use on the Road
Your Most Valuable Piece of Fitness Gear May Be in Your Pocket
Sometimes when we travel our exercise routines go out the window. Airports, lines, and unsatisfying fast-food meals weigh down any mental motivation to sustain a healthy lifestyle.
Don't let your travels de-rail any resolutions, goals, or fitness habits you made in 2021. In fact, let life on the road inspire healthy choices.
RV travel complements healthy habits. With an RV's space and privacy, you can practice a quick workout or squeeze in some stretches any time of day. Try a speedy 7-minute-high intensity workout after a long day of driving. Or wind down from navigating switchbacks with some deep breathing and yoga poses.
Body weight exercises are easy to do just about anywhere, but for those that like to bring their fitness to the next level with gear and equipment,  RV's make it possible with the extra storage space you need to bring along a personal gym. Pack Jump ropes, weights, resistance bands, kettlebells, and a yoga mat in an RV's storage bay. Set up your outdoor gym on your patio mat at the campsite and you'll find few excuses for not fitting in a workout.
RV's are also a vehicle to our favorite outdoor recreation. Install a bike hitch and bring along your bike to hit trails or climb cols. Some travel trailers come equipped with gear racks to hold fun toys like kayaks, paddleboards, snowboards, and surfboards. Let your RV be the gateway to engaging in the fun activities you wish you enjoyed more.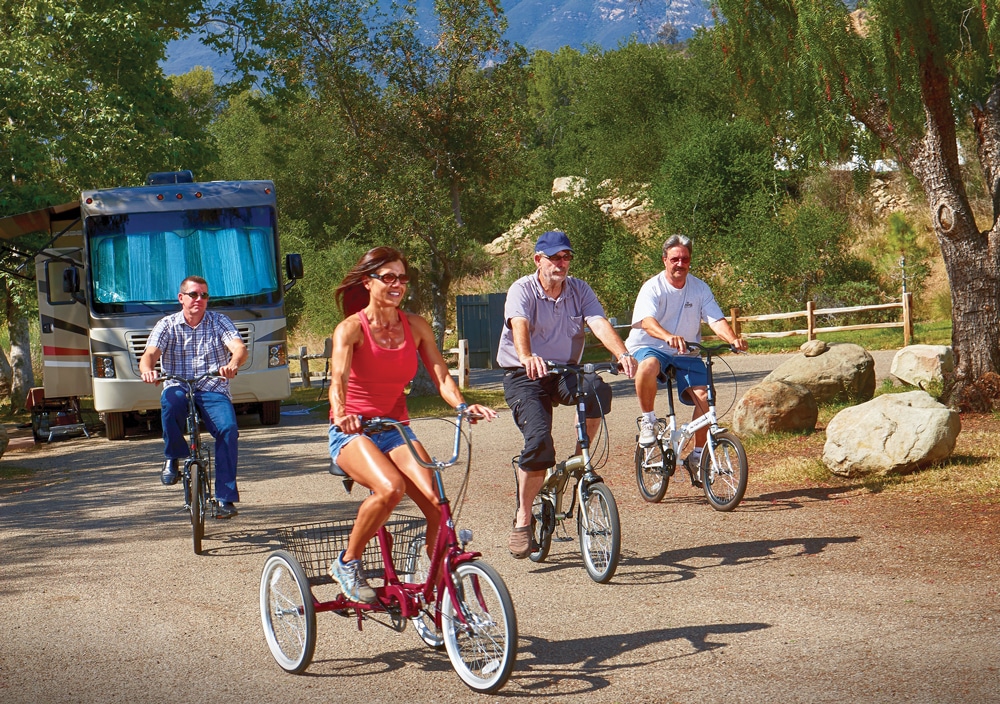 But RV's do more than just get us moving outside, they also provide us with the tools to maintain a balanced diet. Most RV's come equipped with basic kitchens, which is more than most hotel rooms can account for. A hot plate and a grill can go a long way in cooking up fresh food that far outperforms any roadside happy meal.
If you still need some extra motivation to stay fit on the road, try some of these fitness apps to complement your healthy habits. For some easy exercises and a dose of inspiration, explore The Fit RV's exercise videos on RV.com.
1.     FitOn
I love to mix up my workouts. Some days I feel up for a challenging strength workout, while others I need a gentler stretch, yoga, or barre routine. FitOn is a favorite for providing a variety of challenging workouts designed to keep workouts interesting and different. Choose a routine to target a specific part of the body, like legs, abs, or arms. Or filter for intensity or length. Find punchy workouts you can do in under 10 minutes for a quick kick of movement. Workouts are free, but a Premium membership allows you to download routines to stream offline with curated motivational music. You'll also gain access to recipes and literature to keep you motivated.
2.     AllTrails
If you prefer getting your sweat on outdoors, then look no further than the premier app for finding new and challenging trails to traverse. AllTrails may be the most comprehensive crowd-sourced location for keeping trail records. Users log and record their trails, be it on foot, board, bike, or by paddle, on the app and update fellow users on current trail conditions. A premium subscription provides the invaluable feature of real-time GPS tracking. Stay fit by finding new trails to explore while traveling in your RV.
3.     MyFitnessPal
Keep track of calories with one of the original (and still leading) apps for calculating your daily intake. The MyFitnessPal barcode scanner makes quick work of adding nutritional data to your intake. If you're having to pick up fast food on your drive, MyFitnessPal helps you find the best option to fulfill your daily quota of carbohydrates, protein, and fats. MyFitnessPal not only helps you log calorie count, it also deducts for exercise by using your weight and metabolic rate to calculate calories burned. Discover new recipes to help you stay on track and reaching for your goals.
View this post on Instagram
4.     Fitbit Coach
When step-counters exploded in popularity in the 2000s, it wasn't uncommon to see people walking in place or pacing around the office. Today, step-counters have been taken to the next level by smart devices made by FitBit, Garmin, and Apple. If you're a fan of tracking your fitness with this smart tech, get an app to compliment your savvy software. The FitBit Coach app integrates with your bio-data to provide real-time customized workouts that help you achieve goals, like weight loss or increased endurance.
5.     Johnson & Johnson 7-minute workout
It's hard to find an excuse for not fitting in a 7-minute workout. When RVing, a workout this length could be done at a rest stop before the family gets back from a bathroom break. These short, high-burst workouts are designed by Johnson & Johnson's Director of Exercise Physiology at the Human Performance Institute. The 7-minute workout app shows users previews of exercises before a timer tracks duration. Listen to a motivational coach while you sweat or pump up the tunes for maximum amp. Simply repeat the 7-minute circuit for a heartier workout.
6.     YogaGlo
Low impact workouts don't mean low returns. Those new to workouts like yoga, Pilates, and barre will discover muscle groups they didn't even know they had. Tone up and train your balance with the help of YogaGlo. The app houses over 4,000 workouts. If you're missing the ambiance of a group class, tune in to their live-streamed classes to engage with the YogaGlo community. Meditation, foam rolling, and dance HIIT are just a few interesting classes to supplement your mind and body health. If you're new to yoga, try out Stef's standing yoga routine first for a gentle introduction.
7.     Calm
Staying fit isn't just about training your body. Fitness is a full-body practice, and that means taking care of your mental health too. The brain behaves like a muscle—it requires habitual practice and challenges to stay plastic and malleable, particularly as we age. The Calm app guides users through approachable mediation practices that anyone can follow. Cater your mediation to help you focus, alleviate stress, find peaceful sleep, or tune in to inner emotions. Still, think meditation is just for monks? Think again. Berkley College outlines a host of scientific studies that analyze the effects of mindfulness practice. The results of the secular studies suggest far-reaching health benefits, from improving immune response, slowing cognitive decline, and even lowering blood pressure.