Recipe: Raw Apple Cake with Buttercream Frosting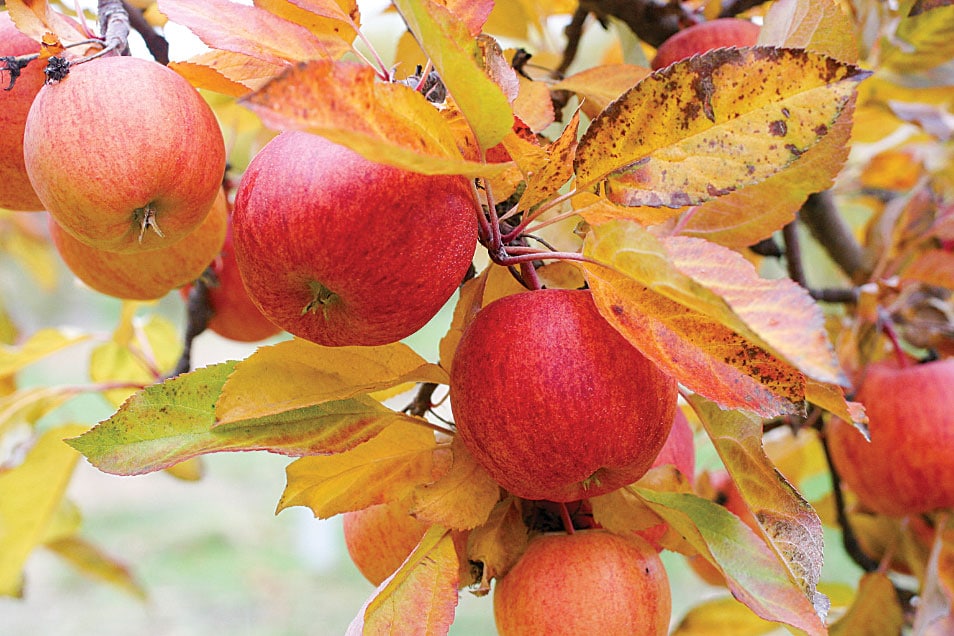 About
In September and October – the peak months for apple season in North America – communities all over the nation celebrate the apple, one of the most delicious and ubiquitous fruits. Originally from Central Asia, archaeologists have found evidence of humans eating this member of the rose family as early as 6500 B.C. Today, 7,500 varieties of apple are grown around the world; 2,500 total varieties are grown in the U.S. (about 100 varieties grown commercially).
There's an old saying, "An apple a day keeps the doctor away," and that may just be true. An unpeeled apple contains about 100 calories, 2.4 grams of dietary fiber and is a healthy source of antioxidants. Preliminary evidence suggests nutrients and some phytochemicals apples (with skin on) contain may even prevent certain types of cancer.
For travelers, apples are terrific because they're available year-round, they're inexpensive and they travel well. In fact, sliced apple and a bit of cheese is a go-to snack for me on the road.
Apple celebrations also make a great destination for RVers. In spring, many places have apple-blossom festivals and, in fall, there are hundreds of apple-harvest festivals throughout the U.S. and Canada. One of my favorites is the Hood River Valley Harvest Fest in Hood River, Oregon, held this year October 14-16. This picture-pretty farm community is perched in the hills above the river in the Columbia River Gorge and is home to Hood River County's Fruit Loop, a 35-mile driving loop. This meandering route is perfect for exploring several farm stands and orchards such as Kiyokawa Family Orchards & Fruit Stand, where more than 80 different varieties of apples and pears are offered. Many of the farm stands offer picked and pick-your-own apples (including many heirloom varieties) and other fruit; fresh apple juice and hard apple cider; local artwork; pastries; desserts; and even apple donuts.
This recipe from our friends at Bear Creek Artichokes farm stand in Beaver, Oregon, is a variation of an old-time recipe you may recognize from your mother or grandmother. The cake is easy to make and rich and super moist. It also travels well. Share it with other campers during your next trip and you'll be the darling of the RV park.
What You'll Need
9X13 inch pan
2 large bowls for mixing
Mixer
oven
Ingredients
    4 cups apples, chopped (a tart variety is best)
    2 cups sugar
    3 eggs
    ½ cup oil
    1 teaspoon salt
    2 teaspoons vanilla
    2 cups flour
    1 cup walnuts, coarsely chopped 
    2¼ teaspoons baking soda
    2 teaspoons cinnamon

Buttercream Frosting
    6 tablespoons butter
    ¾ pound powdered sugar
    1 teaspoon vanilla
    1/8 teaspoon salt
    3½ tablespoons half-and-half
Directions
Preheat oven to 350 F.
Combine first two ingredients and let stand while preparing the rest of the cake.
Beat eggs slightly before beating in the oil and vanilla. Mix all dry ingredients and sift in. Add apple/sugar mixture and stir until apples partially break down. Stir in walnuts.
Pour mixture into greased 9-by-13-inch pan. Bake at 350 F for 40 minutes, or until a toothpick inserted in the middle comes out clean. Cake will still be very moist. Allow it to cool before frosting.
Frosting:
Whip all ingredients until light and airy. Allow the cake to cool before applying frosting.