Recipe: Peppermint Bark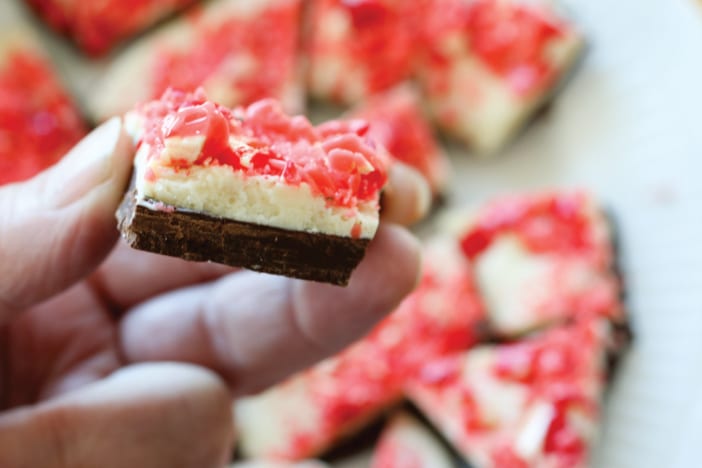 Candy comes to mind at this sweet time of year, and no one does holiday treats better than Hammond's Candies, an old-time candy maker in Denver, Colorado, that's been hand-making candy for more than 90 years.
You've likely seen the company's handcrafted candy canes, ribbon candy and lollipops at stores such as Bloomingdale's, Cracker Barrel, Nordstrom, Shopko, Whole Foods and other retailers.
But it takes visiting Hammond's Candies in the Mile High City to really appreciate its craft.
Located in an industrial section of Denver, Hammond's offers plenty of RV parking. Its factory features a retail shop and an "Oops!" shop for not-quite-perfect candies at discounted prices.
Take a free, 30-minute factory tour (Monday through Friday, 9 a.m. to 3 p.m.; Saturday 10 a.m. to 3 p.m.; closed Sundays). The tour leads visitors through a bit of Colorado history, tidbits about nostalgic candy and scientific insights into candy making. While health regulations prevent visitors from actually going through the factory, video screens and large viewing windows allow guests a first-hand look at the company's candy-making experience.
We found candy-cane making fascinating. At Hammond's, workers pull, twist and shape the candy canes by hand – just like in 1920. And it's amazing to see how they perfectly incorporate ribbons of color into the white candy base.
Hammond's employs more than 120 people, many of whom have worked at the company for decades, and uses recipes and techniques developed by the original founder, Carl T. Hammond. Hammond apprenticed at a candy company and, after inventing his first candy – Honey Ko Kos, a chocolate-coconut confection – he launched his own company. At first, Hammond did everything – developed recipes, made candy and sold it – always with the motto, "Nothing is more important than quality."
Today, the company still makes candies the old-fashioned way. In addition to the popular tours (which draw more than 100,000 people annually), Hammond's sponsors a Candy Cane Festival, generally held the second weekend in December. The free event includes a visit from Santa Claus, carolers, trolley rides, mini-tours, free cocoa and more.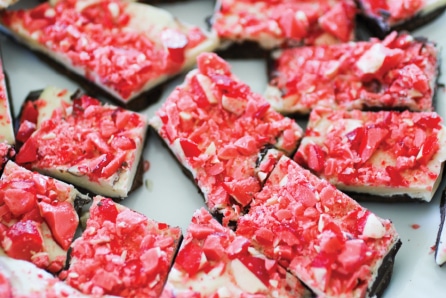 What You'll Need
Aluminum Foil
8 inch square baking pan
Food processor or mallet.
Ingredients
12 ounces high-quality semisweet chocolate, broken into pieces 
6 ounces high-quality white chocolate, broken into pieces
1½ teaspoons vegetable or canola oil, divided
½ teaspoon peppermint extract, divided
1â"3 to ½ cup candy cane, crushed
Directions
Line the bottom and sides of an 8-inch-square baking pan with aluminum foil, smoothing out any wrinkles.
Add 1 teaspoon of the oil to the semisweet chocolate and melt in a double boiler or in the microwave (on 30-second bursts, stirring frequently).
Once melted, stir in ¼ teaspoon of the peppermint extract. Pour chocolate onto the baking sheet, spreading with spatula, and refrigerate for 10 minutes.
With the remaining ½ teaspoon of oil, repeat the chocolate-melting and peppermint-extract (1/4 teaspoon) process with the white chocolate, and spread evenly over the semisweet chocolate layer.
Crush candy canes in a food processor, or in a plastic bag with a mallet. Sprinkle over the white-chocolate layer. Refrigerate until completely set. Break apart. Store in refrigerator (or candy cane will get soft).