Grillin' & Chillin'
All the Gear You Need to Make This Travel Season Your Best One Ever!
As an RV owner, you're already ahead of the curve. You know the convenience, comfort, and downright satisfaction that your trusty steed offers you on each trip. But even an RV needs help sometimes. And although you already have warm shelter, a place to lay your head, and a mobile kitchen and bathroom, it never hurts to maximize your experience with some of the latest gear. One of the main reasons we all took the RV plunge is to get outside even more, and the following products make that venture, well, more adventurous. All products can be found at campingworld.com and overtons.com. Time to get your chill on.
Grill Finder
Blackstone 22-Inch Tabletop Griddle
The Blackstone 22-Inch Tabletop Griddle with Cover allows you to take the cookout with you wherever you may roam. Two independently controlled heat zones allow for full control of the 330-square-inch plate for simultaneous low- and high-heat cooking. Two H-style burners with a total of 24,000 Btu provide even heat distribution for optimal cooking across the entire griddle surface. Adjustable-height rubber feet make it easy to enjoy on uneven terrain. Upgrade the standard 1-pound propane fuel source to a 5-gallon (20-pound) version with an adapter (sold separately).
Coleman RoadTrip 285 Grill
The portable Coleman RoadTrip 285 Grill features three independently adjustable burners for the ultimate temperature control. Become the talk of the RV park while perfectly cooking steaks, poultry, fish, and veggies with up to 20,000 Btu of grilling mastery on 285 square inches of porcelain-coated cast-iron grill grates. For added versatility, the Swaptop interchangeable cooktops let you switch the grill grates with a griddle or stove grate (both sold separately). Two sliding side tables keep utensils and sauces at the ready, while the quick-fold legs make for hassle-free setup, takedown, and transport—not to mention storage in your RV. The Instastart ignition makes for pushbutton, matchless lighting, while an integrated thermometer offers accurate temperature monitoring.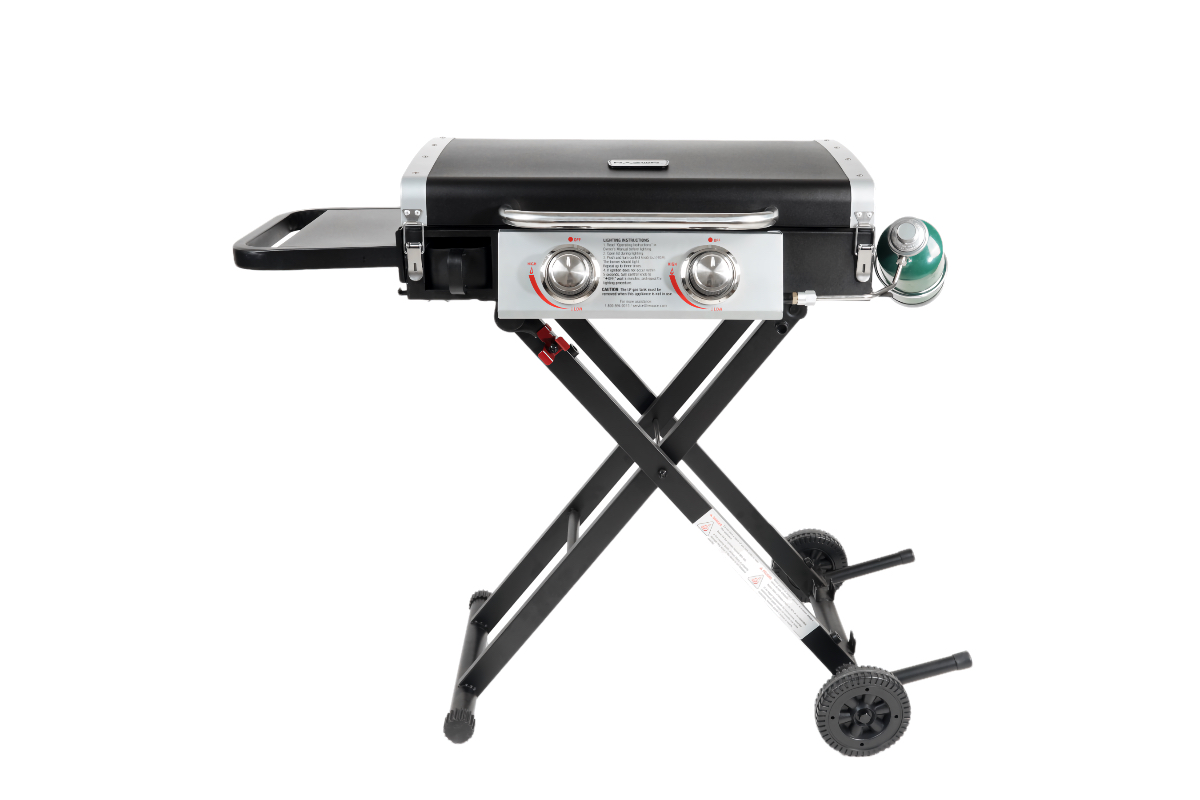 Razor Portable LP Gas Griddle
Perfect for camping and tailgating, the Razor Portable LP Gas Griddle features 318 square inches of thick-rolled steel surface area. The ignition is simple push-and-turn and utilizes a 1-pound propane cylinder to offer up to 20,000 Btu of heat. A secure front access drain and cup make for easy grease disposal and cleanup, while the attached lid protects the cooking surface and can be used while cooking to steam or melt foods. A side shelf offers much-appreciated space for food prep, and the foldable cart design and dual wheels make storing and transporting the Razor a simple affair.
Campsite Convenience
Mr. Bar-B-Q Portable Outdoor Firepit
Looking for a roaring fire for cozying up at the campsite, but the park prohibits wood-burning flames? Check out the 18.5-inch Mr. Bar-B-Q Portable Outdoor Firepit. Featuring a lightweight steel design and locking lid, the firepit utilizes push-and-turn ignition to produce 58,000 Btu of wood-free heat. It comes with a propane tank stand, 10-foot regulator hose, and lava rock—everything to fan the flames of family fun.
Coleman 316 Series 62-Quart Wheeled Cooler
What's an RV trip without cold drinks at the ready? Skip the countless trips inside and out of your rig with the Coleman 316 Series 62-Quart Wheeled Cooler. The fully insulated lid and body keeps the ice for up to five days in temperatures as high as 90ºF, so you can enjoy cold drinks at the campsite after hiking the trails or cooking hearty meals. The heavy-duty 6-inch wheels and durable tow and swing-up handles help you transport the fully-loaded cooler (up to 101 cans) to the perfect spot. And, the Have-A-Seat lid doubles as an extra seat that supports up to 250 pounds.
Nautica 6-Sided Screen Shelter
Perfect for bringing the party outside, the Nautica 6-Sided Screen Shelter will protect you and your guests from the hot sun or pop-up rainstorms. The spacious design (107 square feet of coverage) of the easy-set shelter accommodates eight people, with room for a picnic table. Mesh panels keep the bugs at bay, while the hub system allows for easy setup. Comes complete with durable all-terrain stakes and tie-down ropes, plus a convenient carrying bag.
Direcsource Blue Awning Rope Light
Light up the night with the Direcsource Blue Awning Rope Light which illuminates your campsite by attaching to an awning roller tube. Two or more of the 18-foot-long strings can be connected for additional length. The 120-volt rope lights are water-resistant and suitable for indoor or outdoor use.
Illuminated Wave Patio Mat
The Illuminated Wave Patio Mat improves visibility while adding some pizazz to your RV site. Just plug it in to your RV's 110-volt GFCI outlet and LED lights outline the edges of the rugged mat made of UV-coated polypropylene featuring tight weaving and reinforced stitching for long-lasting durability. Reinforced corners and stake loops (stakes sold separately) help keep things in place. The mat measures 9-by-12 feet.
Take a Seat
Oversized Padded Folding Chair
Goodbye, flimsy lawn chair, and hello Oversized Padded Folding Chair! This chair is a comfortable, roomy seat that's packed with features and easy to carry. Made with a durable powder-coated steel frame and 600-denier polyester fabric, the chair features a molded wine-glass holder, cup holder, high-loft padding, and side mesh ventilation. Its 350-pound capacity makes it enjoyable for RVers of all sizes. The included carry bag and strap mean you can have the best seat in the house wherever you travel.
Black Sierra Doublewide Padded Sofa
Why not make it a double? The Black Sierra Doublewide Padded Sofa offers all the conveniences of the Oversized Padded Chair, but for two happy campers with a weight limit of a robust 500 pounds. Now you don't have to argue who gets the prime seat around the campfire … you both do!
Nautica Folding Director's Chair
It's a chair, it's a table, it's a cooler, oh my! The Nautica Folding Director's Chair with Side Table and Cooler offers sturdy, comfortable seating and all-in-one convenience. The sturdy steel frame and 600-denier polyester means it can hold up to 300 pounds. And, at less than 12 pounds and foldable, it's easy to transport to the campsite, the ball game, the picnic, or wherever your adventures take you.
Chill Finder
Towable Nautica Deck Tubes
Cool off after your cookout on the soothing waves of the lake. Towable Nautica Deck Tubes are made with K-80, 66mm PVC and covered with 420-denier nylon, meaning they're built to last through the season and for many more. The 1-2 Rider tube (one adult, or two kids) supports up to 170 pounds, while the 2-Rider tube ups the limit to 340 pounds and adds soft neoprene body pads for an even more comfortable ride.
Nautica Chariot Towable Tube
Jump the wake like a king (or queen) on a Nautica Chariot Towable Tube. Available in two-, three-, and fourperson configurations, each tube features a heavy-duty, double-stitched, full nylon cover, durable RF-welded K80 PVC bladder, tubular webbing foamfilled handles with EVA knuckle guards, comfortable EVA foam seat and knee pads, a quick-connect tow system, and two reinforced tow harnesses. Weight capacity ranges from 340–680 pounds, depending on the selected model. Ride sitting up in the couch position, or unleash your inner Ben-Hur by towing from the other end for a chariot-style experience.
Nautica Extra Large Water Saddle
For a more personal (and much more tranquil) waterborne experience, the Nautica Extra Large Water Saddle lets you float lazily in the water while still allowing freedom of movement for your legs and arms. Made of five-ply poly foam material, the saddle doesn't need any inflating and dries quickly for storage. Now grab a cold one and let your cares float away with you.
Nautica Solstice Drop Stitch Inflatable Dock
Need an oasis on your lake or beach trip? Create your own island on the water's surface with a Nautica Solstice Drop Stitch Inflatable Dock. Constructed of highly durable PVC reinforced fabric, the dock supports up to five adults. Use it to extend the space (up to 80 square feet) from your boat to play or fish—it can even accommodate beach chairs and coolers. The 8-by-5-footer supports four to six adults, while the 10-by-8-foot version is good for six to eight people. The docks are lightweight and have six sturdy, reinforced grab handles for easy transport. They come with six stainless-steel D-ring tie-downs to secure the platform. The Solstice features an H3 highpressure valve for a rapid inflate/deflate.
Table for You
Fold-N-Half Table with Heat- Resistant Top and Storage Bins
Set up your own outdoor food-prep and serving space with the Fold-N-Half Table with Heat- Resistant Top and Storage Bins. Heat-resistant up to 212ºF, the aluminum top is the perfect surface for setting up your portable grill. Storage bins underneath are perfect for storing everything from grilling accessories to toys and games to bags of chips and the like. The strong, lightweight aluminum frame is easy to setup and adjusts to four different heights. The weather-resistant table folds up and has a built-in handle for easy transport.
Nautica Quik-Fold Side Table 2-Pack
Impromptu barbecues may find you lacking table space to serve your hungry companions. The Nautica Quik-Fold Side Table 2-Pack solves that problem and so much more. Use them for an accent table for the patio, or for holding laptops, books, sunglasses, and more; each weighs in at only 3 pounds but can support up to 25 pounds. The tables fold flat to only 2.25 inches thick for storage.