Want Trailer Life or MotorHome On The Go? There's An App For That!
Trailer Life and MotorHome apps put a wealth of RV information at your
fingertips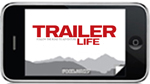 Next time you head out the door
on another road trip, don't forget to pack your copies of Trailer Life and
MotorHome magazines – on your iPhone, iPad or iPod Touch. Now, two of the most
popular magazines for recreational-vehicle enthusiasts are available for download to your
Apple device, so wherever you may be you can search for articles about the RV lifestyle,
reviews of the latest RVs, tech tips and the best RV travel destinations.
Continued from newsletter…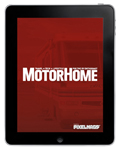 Scroll or tap your way between the
latest industry news, zoom in and out, search for a topic in a back issue, send an article
to a friend and customize your reading experience by picking the font size and color you
desire. They're the same magazines you've loved for years, in a new and exciting format.
Wherever your travels take you, Trailer Life and MotorHome will be
there.
To download the Trailer Life app, click here
To download the MotorHome app, click here